UP, UP AND AWAY! ANTELOPE ISLAND BALLOON STAMPEDE

Syracuse - Visit Antelope Island State Park for a hot air balloon festival - the Antelope Island Balloon Stampede Friday, September 15 and Saturday, September 16. This largest island in the Great Salt Lake will be a spectacular setting for this first-ever event.

Activities begin Friday evening at 5 p.m. Enjoy good food and stroll through vendor booths, then watch as balloonists fly above Antelope Island and the Great Salt Lake. Family entertainment continues through 10 p.m. with a balloon glow at dusk and a performance by Fire On The Mountain.

State park gates open at 5 a.m. Saturday. Balloons are expected to launch between 7 and 8 a.m. Enjoy the island throughout the day visiting vendor booths, the Kids' Corral, and the Historic Fielding Garr Ranch. A second balloon launch is scheduled around 3 p.m., followed by a balloon glow at dusk. Mid-Life Crisis performs at 7:30 p.m. and activities continue until 10 p.m.

All balloon events depend on weather conditions. The cost is $10 per vehicle. To visit Antelope Island State Park, take I-15 to Exit 332, turn west and travel along Antelope Drive for approximately seven miles to the park entrance gate.

For more information, call (801) 593-2200 or visit http://www.antelopeballoons.com .

FREE STATE PARKS DAY SEPTEMBER 30

Salt Lake -- Celebrate Free State Parks Day and National Public Lands Day Saturday, September 30. Day-use fees will be waived at all Utah state parks. (Special fees, such as golf and camping fees still apply.) Visit for the day or volunteer to improve your state parks. Events include:

Rockport State Park - Trail Construction: Participants will begin construction of a two-mile trail from 9 a.m. to 1 p.m. Water and snacks will be provided. Participants should bring gloves, hats, sunscreen and insect repellant. For more information, please call (435) 336-2241.

Antelope Island State Park: Join park staff with weed removal, fence repairs, building corrals, rock removal, and trash pickup. Participants are encouraged to bring water, hat, sunscreen, bug spray, gloves, and are welcome to bring rakes, shovels, hammers, and saws. Meet at the park's headquarters at 9 a.m. For more information and to register for this event, please call (801) 209-4678.

Camp Floyd/Stagecoach Inn State Park and Museum: Camp Floyd Days - Stagecoach rides, free museum tours, battle re-enactments, Calvary display, Civil War encampment, food, music and entertainment. Events run from noon to 6 p.m. For more information, please call (801) 768-8932.

Wasatch Mountain State Park: Enjoy a hike along the Pine Creek Nature Trail featuring interpretive signs, beautiful scenery, and a chance to view the fall colors. Come immerse yourself in nature. For more information call (435) 654-1791.

New Kit Lets Hunters Score Right Away
TUCSON, Ariz., September 8, 2006 - The Trophy Record Department of Safari Club International is pleased to announce the arrival of their Field Scoring Kit, the first of its kind from the only world wide recognized Big Game scoring system.
Developed by Michael Roqueni, SCI Measurers Coordinator, the idea for the Field Scoring Kit came up at SCI's Annual Hunters' Convention 2006, when the Trophy Records staff realized there was a demand for the ability to take measurements of hunts while still in the wild.
"SCI members have expressed that they wish they had recorded information like the measurements of horns and antlers while on the hunt," said Doug Luger, Director of Trophy Records at SCI. "Documenting details such as scores of the trophies and details of the hunt is very important to SCI members. We wanted to give them a tool they could use out in the field that would answer their questions regarding scoring trophies."
Designed for the more novice level hunter who wants to journal or track his hunting experience, the Kit includes a field scoring book for North and South America, Africa, and Rest of the World, which contain a pen, calculator, and multiple score sheets for each species, official SCI measuring tape, cable, and clip, an official SCI decimal point conversion card, and Outdoor Edge 3 inch folding knife, and an SCI Scoring CD.
Some of the species a hunter can record with the Field Scoring Kit are White-tail deer, red stag, kudu, elk, rhino, chamois, mule deer, pronghorn antelope, bighorn sheep, pudu, moose, caribou, cape buffalo, crocodiles, wildebeast, and many more.
SCI recognizes more than 600 Big Game species world wide. The score sheets found in the books have easy to follow instructions and a place to record method of take, place and date taken as well as the Hunting Company used.
Included is also a 5 inch by 8 inch nylon zippered pouch that will hold the scoring book of your choice and all the materials necessary to score a record take on your next hunt.
To order a Field Scoring Kit, which are available now, information on the SCI Scoring System, or to order a copy of the latest SCI Record Book, please contact the SCI Trophy Record Department at 520-620-1220.
Kits will also be available at measuring seminars and events held at several Cabela's locations around the country through December and January. For more information on these events and the North American Big Game Contest they are benefiting, log on to http://www.safariclub.org .
SCI-First For Hunters is the leader in protecting the freedom to hunt and in promoting wildlife conservation worldwide. SCI's 173 Chapters represent all 50 United States as well as 13 other countries. SCI's proactive leadership in a host of cooperative wildlife conservation, outdoor education and humanitarian programs, with the SCI Foundation and other conservation groups, research institutions and government agencies, empowers sportsmen to be contributing community members and participants in sound wildlife management and conservation. Visit http://www.safariclub.org or call 520-620-1220 for more information.
SCI's record-breaking 34th Annual Hunters' Convention hosted more than 19,700 sportsmen from 50 countries around the world. Thanks to over 1,100 top exhibitors helping hunters realize dreams around the globe, the Convention raised $11.8 million for SCI and the SCI Foundation. To register to attend SCI's 35th Annual Hunters' Convention, in Reno Jan. 24th - 27th, 2007, call 888-746-9724 toll-free or visit http://www.safariclub.org

NEW EXHIBIT AT UTAH FIELD HOUSE

Vernal -- The Utah Field House of Natural History State Park Museum announces a new temporary exhibit of Pleistocene mammals. This dynamic exhibit features two sabre-tooth cats and prehistoric bison with a seven-foot spread of horns.

The exhibit is on loan from Dinolabs in Salt Lake City and will remain at the Field House until the end of October.

Utah Field House is open daily 9 a.m. to 5 p.m. Admission is $6 for adults, $3 for Utah seniors 62 and older, and children six to 12, children under six are free. For more information please call (435) 789-3799.

UPCOMING UTAH STATE PARKS EVENTS
September 18 - 22 Edge of the Cedars State Park Museum - Blanding
Basketweaving Workshop: Ute Mountain artist Amanda May instructs participants on the art of weaving traditional Ute coiled baskets. Students will learn how to work with willow rods and split willow weavers to create their own six-inch diameter basket. Amanda will demonstrate preparation of the willows, dying of materials, weaving techniques, and finishing. No prior experience is needed for this weeklong workshop. The class runs 9 a.m. to 5 p.m. and registration is required. For more information, please call (435) 678-2238.

September 20 - December 30 Edge of the Cedars State Park Museum - Blanding
Quilt Display: This exhibit features two-dozen handcrafted quilts stitched by the Grayson Country Quilters of Blanding, and is accompanied by stories of the artists and history of the quilts. For more information, please call (435) 678-2238.

September 22 - 24 Fremont Indian State Park and Museum - Sevier
Pottery Workshop: Learn pottery making the way of the prehistoric Indians. Potters Ruth Bradfield and Scott Turner teach participants a variety of techniques to make and design pottery. Pots are pit-fired in the campground. For more information or to register, please call (435) 527-4631 or e-mail karicarlisle@utah.gov.

September 23 Sand Hollow State Park - Hurricane
Kokopelli Triathlon: Sand Hollow State Park hosts this three-sport event. The boat ramp will be closed to boat traffic from 6 a.m. to noon. For more information, please call (435) 680-0715.

September 23 Antelope Island State Park - Syracuse
Ranching at Fielding Garr Ranch: Join Max Harward at 2 p.m. for an informative lecture on how Antelope Island's ranchers lived at one of Utah's earliest ranches, the historic Fielding Garr Ranch on Antelope Island State Park. For more information, please call (801) 649-5742.

September 23 Antelope Island State Park - Syracuse
Star Party: Join Ogden Astronomical Society and Weber State University at dusk for an evening under the stars. Participants can expect to enjoy beautiful celestial views (weather permitting), and stellar conversation with our local astronomers. If you bring a flashlight, please have a red-colored lens. For more information please call (801) 773-2941.

September 23 Palisade State Park - Sterling
Golf Tournament: Palisade Golf Course sponsors the Women's Club Championship for Association Members only, at 9 a.m. Course is open to the public as tee times are available. For registration or tee times, call (435) 835-4653.

THE DWR WILL RELEASE CHUKARS BEFORE THE WEEKEND!
This week, the Utah Division of Wildlife Resources (DWR) will again release some 4,000 Chukar Partridge throughout the state in advance of the hunting season opener on September 16th. Adult pen-reared birds will be turned loose as part of a continued effort to provide more hunting opportunity for Utah's upland game sportsmen.
Since the closing of DWR's last game farm in 1993, many Utah upland game hunters have expressed an interest in seeing some of their license funds used to propagate game birds for release into the wild for hunting. Limited releases of Chukar Partridge began by DWR in 1997.
DWR will not be operating a game farm of its own as was the case until 1993. Instead, birds for release will be grown by a Utah game bird producer, purchased under contract by DWR, and released into the wild. Chukars will be released into areas of Utah where DWR has constructed new game bird water guzzlers using Habitat Funds and areas where chukar populations have been depressed because of severe drought or winter conditions.
Chukars are an exotic bird, 15 inches in length and weighing 20 ounces. Chukars are native to places like India and Afghanistan in the Middle East. The Chukar Partridge inhabits some of the most inhospitable habitat Utah has to offer. Chukars are found in the barren desert areas of the state and prefer steep, rocky, arid slopes. Low growing shrubs such as sagebrush or saltbush, and cheatgrass vegetative zones above and below the juniper tree belt seem to be preferred. Talus and rocky slopes provide chukars with concealment as well as escape cover. Foods consist of grass seeds, weed seeds, buds, flowers, and in the winter, new growth cheatgrass. Male and female chukars are mostly identical in appearance, except that male birds will often have a "button-like" spur on the back of the leg.
Pen-reared Chukars will be released in 5 areas in Carbon and Emery counties. Locations are selected in suitable Chukar habitat that will provide hunter opportunity. These areas include the following; Miller's Canyon southeast of the town of Emery; southeast of Moore off the Moore Highway; above Millsite reservoir near the town of Ferron; Pinnacle Canyon, 5 miles west of Price; and the Farnum area, southeast of the town of Wellington. Hunters are encouraged to take advantage of this opportunity but hunt in a safe, responsible manner. Wing barrels may be placed at some of these locations so that biologists can monitor harvest rates.
The 2006 chukar season opens on September 16th and runs through January 31st in Southeastern Utah. Both males and females are hunted with the bag limit being 5 birds and a possession limit being 10 birds. If you have any questions contact the Utah Division of Wildlife Resources Office in Price at (435) 636-0260.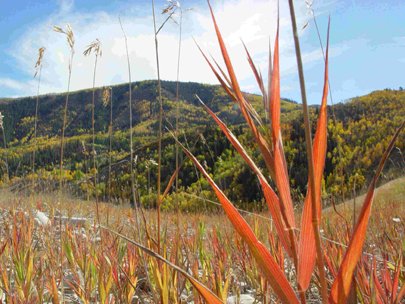 Summer To Fall

Weather forecasts have it feeling like summer for a while longer, but summer officially ends here in Utah and the rest of the northern hemisphere on Friday, the 22nd of September, at 10:03 p.m. MDT (12:03 a.m. on Saturday the 23rd Eastern Time).

According to NASA Solar System Ambassador to Utah Patrick Wiggins, "At that moment the Sun will glide southward across the celestial equator, an event known as the September equinox." The celestial equator is an imaginary line in space directly above Earth's equator.

On the day of the equinox the periods of daylight and dark are nearly equal and the Sun rises due east, and sets due west, which Wiggins notes, "Can be a problem for drivers in Utah where so many roads run due east and west." While we in the northern hemisphere think of this equinox as the start of the shorter, cooler days of fall, those in the southern hemisphere, where the seasons are reversed, see it as the start of the longer, warmer days of spring.

The next similar event, known as the March equinox, will occur when the Sun moves northward across the celestial equator next March, marking the start of northern hemispheric spring. Similarly, there are two times a year when the Sun is furthest from the sky's equator. One is at the start of summer, when it's furthest north, and the other is at the start of winter, when it's furthest south. These events are known as the June and December solstices.

For further astronomical information visit Wiggins' NASA Solar System Ambassador web site at http://utahastro.info .

Biologists study predator/prey relationships at Bear Lake
On a moonless night in August, Scott Tolentino, Bear Lake fisheries project biologist, and his crew braved the deepest, darkest night of the month to probe the deepest, darkest abyss of Bear Lake to study the fish life that live on the bottom of lake.
The purpose of the study is to determine the relative abundance of Bear Lake sculpin, a fish that is native to Bear Lake. "It is important to keep track of the population of sculpin to make sure that we do not overstock Bear Lake cutthroats and create a decline in sculpin populations, and yet we want to provide the maximum opportunity for sport fishing in the lake" Tolentino said. The survey takes place every other year.
Tolentino says the moonless night is the best time to do the study because sculpin are more active and not as susceptible to being preyed on by other fish. "Bear Lake whitefish are one of the biggest consumers of sculpin in Bear Lake. On these darker nights, the fish are a little more active because they are not as easily pursued by predators and they do not have as great of a chance of being eaten, compared to a moonlit night," Tolentino said.
Tolentino said that a great deal was learned about sculpin habits and activity when they were intensely studied by Utah State University in 1988-89. As the USU studies tapered off, the Utah Division of Wildlife Resources determined to resume studies as a way to monitor the overall abundance of fish populations in the lake.
Tolentino said that the year's preceding this year's survey saw lower water levels, which meant less spawning habitat for the sculpin. Tolentino is optimistic about higher water levels this year and the new "native fish spawning reef" that was created to create more spawning habitat. The reef also provides better opportunities and access for anglers Tolentino noted.
The Bear Lake sculpin, Cottus extensus, is a small fish that naturally occurs in only one place in the world, Bear Lake, on the Utah-Idaho border. The Bear Lake sculpin has, however, been introduced and become established in Flaming Gorge Reservoir, on the Utah-Wyoming border. The Bear Lake sculpin is listed as a sensitive species by the Utah Division of Wildlife Resources.
Like other sculpin species, the Bear Lake sculpin is benthic, spending much of its time on the bottom of the lake. The species eats invertebrate animals and, in turn, is an important food source for cutthroat trout and the introduced lake trout. The Bear Lake sculpin spawns from April to May among rocks close to the shoreline.
NOW ENROLLING - STEPHAN BOSCH BOBSLED DRIVING SCHOOL
The Utah Olympic Park is now offering one day bobsled driving schools. The Stephan Bosch Bobsled Driving School is your chance to learn how to drive a bobsled from an experienced coach. Stephan Bosch is the current America's Cup champion, former 4-time junior world champion and world cup medalist.
Instruction includes video training, visualization techniques, track inspections, stretching exercises, sled mechanics, runner alignment, and a feedback session. Only six Stephan Bosch Bobsled Driving Schools will be offered this year so sign up early. Dates for the bobsled schools are March 9, 10, 16, 17, 23, and 24 and are held from 2-9 p.m. The cost bobsled driving camp is $500.
Schedule includes:
Meeting and video about bobsledding
Sled mechanic, runners, alignment
Track walk
Sliding from junior start, 2 runs
Dinner
Feedback session
Sliding from junior start, 2 runs
Each participant will receive a catered dinner and a photo. All participants must be 18 years or older. All participants must meet the same health guidelines that are required for the Comet ride including, no heart, neck, back, kidney problems, recent surgeries or pregnancy.
Date and class size accommodations can be made for private or corporate groups. Space is limited to six participants per school so reserve you spot now! If you have any questions or would like to reserve you spot now please call reservations at 435.658.4206.
X-Citing Information for Barnes Bullets Club Members.

MRX bullets in 308-180 grain have been shipping to our distributors and dealers.
You should be seeing them in your favorite sporting good store shortly, if you haven't already. These bullets can also be ordered from our internet store site by visiting http://www.barnesbullets.com and clicking on "store".

MRX 308-165 grain will be shipping the week of September 25th. Distributors and dealers that have them on order will receive them as soon as they are off the production line. These bullets can also be ordered from our internet store site by visiting http://www.barnesbullets.com and clicking on "store".

We appreciate your membership and support and wish you a great and successful hunting season.
Wild Bird Center celebrates 5th Anniversary
September 9, 2006
The Layton, Wild Bird Center (WBC) will celebrate its 5th Anniversary, Saturday, October 14, 2006.
The festivities will begin at the Layton, Wild Bird Center where Hawk Watch International and the Ogden Nature Center will be exhibiting live Birds of Prey from 10 a.m. until 4 p.m. Come and see a Bald Eagle, Great Horned Owl, Red-tailed Hawk, Swainson's Hawk and many other beautiful raptors. Bring your camera and photograph a raptor up close and personal. The Wasatch and Great Salt Lake Audubon Chapters, The Utah Nature Conservancy, Utah Division of Wildlife Resources, Farmington Bay Nature Center and Bear River Migratory Refuge will be on hand, participating in the celebration with exhibits that shows their good works. It is a celebration that the whole family will enjoy, children will especially delight seeing and learning about the wildlife on exhibit from the experts.
The Wild Bird Center is a tremendous community resource with extensive free outreach programs. Its Outreach Program has won 3 National awards presented to owner, Bill Fenimore at the Bird Watch America & Wild Bird Center's of America Trade Show and Convention in Atlanta in 2003, 2004 and 2005. Utah Division of Wildlife Resources late Director, Kevin Conway and current Director Jim Karpowitz have each presented Fenimore with the Division's Partnership Award in 2004 and again in 2006.
The WBC expert staff makes "free" educational nature presentations to scouting groups, schools, senior centers, garden clubs, conservation groups and many other organizations throughout Davis, Weber and Salt Lake Counties. Backyard habitat, landscaping for wildlife, enjoying wildlife and wild bird identification are just a few of the classes available. Currently, the Wild Bird Center hosts the Utah Rare Bird Alert and Bird Sightings hotline (801) 538-4730 and bird sightings web page for the Utah Division of Wildlife Resources at http://wildlife.utah.gov/birdsightings .
Enjoying nature and wildlife, especially birds through observation, feeding, backyard habitat development, preservation and conservation are just a few of the areas that the Wild Bird Center staff can help those who would like to make a connection with nature. Moms especially find the Wild Bird Center a great place to bring their children for an introduction to the world of nature.
There will be refreshments, snacks, door prizes and a drawing for a free Audubon Equinox Binocular, as well as other surprises for those joining the Wild Bird Center, as it celebrates its 5th Anniversary from 10 a.m. to 7 p.m. The Wild Bird Center is located in the Layton Market Center, 1860 North 1000 West, Layton, exit 335 Antelope Drive off I-15 (located across from Barnes & Noble). Call the Wild Bird Center at (801) 525-8400 if you have any questions or check its web site at http://www.wildbird.com/layton .
LEARN TO SKATE AT THE UTAH OLYMPIC OVAL
Refreshments will be offered to attendees with a free Introductory Ice Skating Lesson to follow from 6-7 p.m.
September Learn To Skate program dates are as follows:
Tuesdays and Thursdays:
September 5 - 21, 6:00 - 7:00 p.m.
Saturdays:
September 2 - October 7, 12:00 - 1:00 p.m.
Each 3-week program is $50 per participant. You can receive $5 off if you pay in full prior to the first class. 2002 wasn't just about the Games…it was about building a legacy for YOU! So come out, get involved and say "It's MY Olympic venue!"
The Utah Olympic Oval is located at 5662 South Cougar Lane (4800 West) in Kearns. Please call (801) 968-OVAL or visit our website at http://www.olyparks.com for more information. For program information contact Ann Pearson, programs coordinator at (801) 963-7121 or ann.person@olyparks.com
AUGUST - MARCH 2007 UPCOMING EVENTS AT OLYMPIC PARKS
Nov. 27 - Dec. 2, Luge World Cup, Utah Olympic Park
Dec. 4-9, Bobsled and Skeleton World Cup, Utah Olympic Park
Mar. 2-5, 2007, Chevrolet Jumping/Nordic Combined Junior Olympics, Utah Olympic Park
Mar. 5-10, 2007, Chevrolet Cross Country Junior Olympics, Soldier Hollow
Mar. 8-11, 2007, 2007 World Single Distance Championships - Utah Olympic Oval
Mar. 15-17, 2007, Champions Challenge - Utah Olympic Oval
Layton, Wild Bird Center Nature/Bird Walk Schedule
The Wild Bird Center leads free nature/bird walks. The cost of the walk, as we like to say is "enthusiasm." We provide the rest. We leave the store at 8 a.m., (unless otherwise noted) and carpool to the destination. The walks are designed for birders at all levels, especially families. Dress for the weather and bring binoculars.
September 16 Blue Bird Trail (Clean and count Nest Boxes used this past season).
September 30 Francis Peak Raptor Migration
October 7 USU Botanical Gardens
October 28 Nature Conservancy Great Salt Lake Shorebird Preserve
Our Nature/Bird Walks begin winter hours starting in November, leaving the WBC at 10 a.m.
November 4th Riverdale Weber River parkway
November 11th Beus Pond
November 18th East Kaysville Foothills, Wilderness Park
December 2nd Bear River Migratory Bird refuge (Bill will present a Nest Box Workshop; registration required to adequately plan needed materials)
December 9th Kayscreek
December 16th Ogden Nature Center
December 23rd Wasatch Audubon Christmas Bird Count
January 1st Antelope Island Christmas Bird Count
SEVEN OLYMPIANS NAMED TO 2007 U.S. CROSS COUNTRY TEAM
Sprinters Newell, Randall lead largest team since 1998
PARK CITY, Utah (Sept. 12) - Sprinters Andy Newell (Shaftsbury, VT), who produced the first U.S. World Cup podium in over two decades last winter, and Kikkan Randall (Anchorage, AK), who produced the alltime best U.S. women's Olympic cross country finish, are among 14 athletes named to the 2007 U.S. Cross Country Ski Team.

U.S. Nordic Director Luke Bodensteiner said the Ski Team - the largest since 11 athletes were named for the 1998 Olympic season - also includes seven other 2006 Olympians. There are seven men and seven women on the squad.

Newell posted the best U.S. men's Olympic sprint result in Italy, finishing 14th and went on to finish third in the first World Cup cross country race in China last March. It was the first top-3 finish by a U.S. skier since March 1983 when Vermonters Tim Caldwell and Bill Koch finished 2-3 in a World Cup race in Anchorage, Alaska.

During the Olympics, Randall - whose uncle, Chris Haines, was a 1976 Olympic skier and aunt, Betsy Haines, was on the 1980 Olympic Team in Lake Placid - finished ninth in the sprint. It became the finest U.S. women's cross country result in any Olympic race; after the Torino Games, she went on to post the best U.S. women's finish in the 25-year history of the cross country World Cup, finishing fifth in a night sprint in Borlange, Sweden.

"I'm very excited about this team. We had our first podium in two decades last year from Andy and Kikkan was close to a podium, and we had two guys in the Red Group [i.e., top 30 in sprint or distance]. We had some real highlights, and that gives us good momentum heading into this season," Bodensteiner said.

The 2007 U.S. Cross Country Team (age, hometown, * if Olympian)

World Cup Team - Men: Chris Cook (26; Rhinelander, WI*), Kris Freeman (25; Andover, NH*), Andrew Johnson (28; Greensboro, VT*), Torin Koos (26; Leavenworth, WA*) and Andy Newell (22; Shaftsbury, VT*); Women: Kikkan Randall (23; Anchorage, AK*).

Continental Cup Team - Men: Matt Gelso (18; Truckee, CA) and Leif Zimmermann (22; Bozeman, MT*); Women: Morgan Arritola (20; Sun Valley, ID), Taz Mannix (20; Anchorage, AK), Morgan Smyth (20; Vernon, VT), Liz Stephen (19; Montpelier, VT), Lindsey Weier (22; Mahtomedi, MN*) and Lindsay Williams (22; Hastings, MN*).

"It's refreshing for the veterans to have some young skiers around them," Bodensteiner said. "This is the largest team we've had for quite a few seasons, and we have good, diverse personalities. The Continental Cup Team is going to be spending much of the season in Europe, along with the World Cup group, because we want them exposed to not only the rigors of travel but also to racing regularly against their peers, to have friends on other teams and do what the World Cup group does. we want them to get ahead of the development curve.

"We feel we're on target in nailing down how to deal with travel and training," he said, "and we've got a great group of new coaches [headed by former World racer and coach Pete Vordenberg], and there are tons of energy and focus helping to make this team hum," he said.

The cross country World Cup season opens Oct. 28-29 in Dusseldorf, Germany, with sprints alongside the Rhine River. The FIS Nordic World Ski Championships will be held Feb. 22-March 4 in Sapporo, Japan.
Here is the Ogden Nature Center's line up of Community Classes and Events for Fall

The Ogden Nature Center is located at 966 W. 12th Street in Ogden, Utah. For more information or to pre-register for classes, please call 621-7595.

Beginning Nordic Walking Class
Thursday, Sept 21, 2006 6 p.m.
Cost: $5/member $6/nonmembers
For adults
Call to pre-register / 621-7595
Christine R. Schnitzer, a certified Nordic walking instructor, will teach this fun full body workout. Anyone who enjoys walking will love this versatile and posture strengthening exercise. Poles will be provided. Participants should bring comfortable shoes, hats and water. We will have a short walk around the nature center trails.

Make and take Rainsticks
at the Harvest Moon Festival on 25th Street/Downtown Ogden
Saturday, Sept 23, 2006 2-5 pm
Cost: FREE
Hosted by the Ogden Nature Center

The Wolves of Yellowstone Slideshow & Talk with George Bumann
Thursday, Sept 28, 2006 7 pm
Cost: $5/members $6/nonmembers
For Adults
Call to pre-register / 621-7595
Are you intrigued by wolves and hungry to learn more? This course will satisfy even the biggest appetite for wolf knowledge and experience. You'll begin with a comprehensive overview of wolf evolution, behavior, communication, and predation. Then youıll learn about Yellowstone wolf restoration, how well the wolves are doing, and how they relate to prey species, scavengers, and other animals.
A wildlife biologist, Bumann has taught natural history and art programs for youth, adult, and university audiences since 1990. He currently teaches programs for the Yellowstone Association Institute. Through his teaching and personal outings, George is fortunate enough to spend more than 1500 hours each year in the wilds of Yellowstone National Park.


Drawing Flying Creatures with George Bumann
Friday, Sept 29, 2006 6 pm
Cost: $25/members $30/nonmembers
For Adults (limit - 12 per class)
Call to pre-register / 621-7595
A gifted teacher, Bumann has taught natural history and art programs for youth, adult, and university audiences since 1990. He currently teaches programs for the Yellowstone Association Institute. Through his teaching and personal outings, George is fortunate enough to spend more than 1500 hours each year in the wilds of Yellowstone National Park. All supplies will be provided.


Sheet Composting
Thursday, October 12, 2006
6pm
Cost: $5/members $6/nonmembers
For Adults
Call to pre-register / 621-7595
Alexandra Parvaz the Youth Education Coordinator from Tree Utah will demonstrate this effective and cheap way to compost your garden during the winter. Sheet composting uses local materials to increase your soilıs fertility and decrease weeds with almost no cost.


Leaf Rubbing Note Cards
at the Ogden Arts Festival at Union Station/Downtown Ogden
Saturday, October 14, 2006
10am - 2pm
Cost: FREE
Hosted by the Ogden Nature Center


Mouse in a Nutshell - Childrenıs Craft Workshop
Saturday, October 21, 2006
10:30am - 11:30am
Cost: $5/members $6/nonmembers
For ages 6 and older
Call pre-register / 621-7595
Using walnuts and acorns, kids will create a little mouse sleeping in a nutshell. All materials supplied.


Creatures of the Night Halloween Event
Friday, October 27, 2006
6-8pm
Cost: $5/members $6/nonmembers
All ages welcome
Call to pre-register / 621-7595
The Ogden Nature Center presents a non-scary Halloween event for the whole family. Learn about native nocturnal creatures like owls, bats, spiders and more. Enjoy activities along jack-o-lantern lit trails, fun games, treats, entertainment & learning. Creatures of the Night will be held rain or shine. Please dress for the weather and wear your Halloween garb -we will have a costume contest for children!

Alien Invaders: Weeds in the Great Basin Exhibit Debut
Thursday, November 9, 2006
6pm
Cost: FREE/members $3/nonmembers
All ages are welcome
You are invited to the unveiling of a brand new traveling exhibit. Alien Invaders: Weeds in the Great Basin is making its first public appearance right here at the Ogden Nature Center. The exhibit creator, April Phillips, will give a brief presentation to introduce the exhibit, discuss how weed invaders are impacting your community and give tips on how to stop weed spread.


Copper Embossed Leaves - Childrenıs Craft Workshop
Saturday, November 25, 2006
10:30 am - 11:30 am
Cost $5/member $6/nonmember
For ages 6 and older
Call to pre-register / 621-7595
Using copper sheeting kids will create an embossed autumn leaf. A great decorative addition to any room during fall! All materials supplied.


Holiday Open House at The Nest Gift Shop
Saturday, December 2, 2006
9am - 4pm
Cost: FREE
All ages are welcome
Enjoy holiday shopping, free gift wrapping, crafts and goodies prepared by the Ogden Nature Centerıs Board of Directors. Also for sale will be fresh holiday swags and centerpieces. The Nest Gift Shop features nature related
books, stationary, toys, games, art, birdfeeders, jewelry and casual clothing. All proceeds benefit the Ogden Nature Centerıs mission to unite people with nature and nurture appreciation and stewardship of the environment.


Nature Collage Craft at the Holiday Open House Saturday, December 2, 2006
10am
Cost: FREE
All ages are welcome
Local artist Nancy Grisanti Clark will be hosting a nature collage craft in the discovery room. This will be a fun and easy craft for both children and adults. All supplies provided.


Preschool Programs
Geared for ages 3-5, our preschool programs are one hour and cost $3 per child. Adult chaperones are free. Each program teaches something about the season at hand.
Call to pre-register / 621-7595.

Seed Stories
Sept 19 11 am 1 pm
Sept 21 9:30 am 11 am
Oct 12 9:30 am 11 am 1pm
Oct 17 9:30 am 11 am 1 pm

Winter Weather
Nov 14 9:30 am 11 am 1pm
Nov 17 9:30 am 11 am
Dec 8 9:30 am 11 am 1 pm
Dec 12 9:30 am 11 am


Scout Programs
Boy and girl scout programs are offered throughout the year. Please call the Nature Center at 621-7595 to set up an appointment for various merit badges.


Wildlife Wednesdays
Every Wednesday at 3:30pm our Wildlife Educator, Bryce King will present a short talk about one of the native animals that call the Ogden Nature Center home. Learn about owls, tortoises, spiders, hawks and more. Members are free, nonmembers pay regular admission: $3 for adults and $1.25 for children.
Gardening Reflecting a Western Sense of Place
For those of you interested in creating a native garden: Intermountain Native Plant Growers Association is sponsoring a talk by David Salman from High Country Gardens on September 27, 7 pm at Vieve Gore Hall, Westminster College.
Time: September 27, 2006 7:00pm
Place: Westminster College Vieve Gore Concert Hall
1840 South 1300 East
Salt Lake City
Tickets: $7.00 each (available at the door)
Topic: Always engaging and insightful, David Salman will speak about creating a western garden. He will be sharing a beautiful slideshow presentation and his knowledge and experience of plants appropriate for our western landscapes and arid climate. David, Chief Horticulturist and President of High Country Gardens/ Santa Fe Greenhouses, is a nationally recognized and sought after expert in the field of water wise and western gardening.
Young Waterfowl Hunters: The Marsh Is All Yours on Sept. 30

Waterfowl hunters 15 years of age and younger will have the marsh all to themselves when Utah hosts its annual Youth Hunting Day on Sept. 30.

Youth Hunting Day is a unique way to introduce young people to waterfowl hunting. "Holding this day is important to the future of waterfowl hunting and the future of Utah's wetlands," says Tom Aldrich, migratory game bird coordinator for the Division of Wildlife Resources.

"The number of young people who participate in all types of hunting has declined in recent years," Aldrich says. "If that trend continues, the funding hunters provide to conserve wetlands will also decline, and that will affect everyone who enjoys these areas.

"Letting young people hunt waterfowl, without the adult hunters out there and when waterfowl numbers are high, is a great way to get them interested in and excited about waterfowl hunting," he says. "And, since adults can't hunt that day, it gives the adults who accompany these young hunters more time to teach them good hunting skills, safety and ethics."

All of the state's waterfowl management areas, and certain areas on the three federal migratory bird refuges in Utah, will be open to youth hunters on Sept. 30. To hunt that day, hunters must be 15 years of age or younger; be a Hunter Education course graduate; possess a small game or combination license and a Migratory Bird Harvest Information Program (HIP) number; and be accompanied by their parent or an adult who's at least 21 years of age.

The adult may not hunt or possess a firearm and must supervise the young people they take. An adult may take as many young people as they like provided the hunters are the proper age and possess the proper licenses.

Shooting on Sept. 30 begins at 8 a.m. Youth hunters may take ducks, geese, coots and mergansers and must stay within general season limits. The 2006 - 2007 daily duck bag limit is seven ducks, including not more than two hen mallards, one pintail, one canvasback, two redheads and three scaups.

The daily Canada goose bag limit is three.

Snipe and swans may not be taken on Youth Hunting Day.

For more information, call the nearest Division of Wildlife Resources office or the DWR's Salt Lake City office at (801) 538-4700.

See Thousands of Kokanee Salmon

Strawberry Reservoir -- Thousands of spawning kokanee salmon can be seen at the Strawberry Wildlife Festival. The annual festival will be held Sept. 22 (Friday) and Sept. 23 (Saturday) at the Strawberry Reservoir Visitor Center located about 25 miles southeast of Heber City along U.S-40.


The festival is free of charge.

The annual festival gives people a chance to see the fluorescent red salmon up-close and to hear biologists explain the unique life cycle of the fish as the salmon work their way into the fish trap and egg-taking facility located behind the visitor center. A boardwalk with several overlooks is also available near the visitor center. The overlooks provide an excellent view of the salmon in the stream.

Biologists take eggs from about half of the salmon that enter the fish trap, while the rest are allowed to spawn naturally upstream and at other locations.

Strawberry Wildlife Festival

The festival is sponsored by the Friends of Strawberry Valley, which includes the U.S. Forest Service, the Division of Wildlife Resources, the Strawberry Anglers Association and many other organizations.

"Besides giving people a chance to view the kokanee salmon, there are many other reasons for holding the festival," says Scott Root, regional conservation outreach manager for the DWR. "We also want to highlight the many amazing wildlife species found in the Strawberry Valley and the beautiful and colorful forest that surrounds Utah's most popular fishery. We also want to let people know about the importance of preserving the pristine nature of this important watershed area."

Root encourages visitors to bring a camera so they can capture the valley's incredible fall colors. "I often see families posing for photos during the festival because of the colorful setting," he says. "I also hear many people who are frustrated because they forgot to bring their cameras to capture the breath-taking beauty of the landscape and its abundant wildlife.

"I often see sandhill cranes, elk, moose, deer, osprey, turkey vultures, coyotes, fox, songbirds, waterfowl and many other species. I like to have both a wide-angle lens and a telephoto lens on hand when I am in the Strawberry Valley, but a simple camera works great too."

Activities offered at the festival will include a fishing simulator; a pellet gun shooting range; Smokey Bear; USFS fire fighters and fire truck; bird demonstrations by Tracy Aviary on Sept. 23 from noon to 3 p.m.; a lecture by expert angler Dan Potts on "How to Catch Rainbows in Strawberry Reservoir" on Sept. 23 at 4 p.m.; and several booths, including a American Land & Leisure's booth about camping opportunities around the reservoir, a booth about wildlife tracks identification and several other activities.

The festival is free of charge. For more information, call Root at (801) 491-5656.
News from the Utah Rivers Council
Fall is here, which means there is just enough time left to take advantage of all Utah Rivers Council has to offer. Our Fall Explore series is underway, which includes the popular Provo River Cleanup and Jordan River canoe trips! Read below for details and information on how to sign up.
Happenings at the Council:
Alternatives to Developing Bear River Water: Utah Rivers Council authored a report that analyzes the most cost effective means of meeting future water needs along the Wasatch Front. The Analysis found that future water needs can be met at nearly $4,000 per acre-foot cheaper using means other than building dams and diversions on the Bear River. Click here to read the full analysis.
Third Annual Provo River Cleanup: Mark your calendars now - join Utah Rivers Council on September 30 for the Third Annual Provo River Cleanup! For the past two years, the Council has gathered numerous volunteers to help clean up the banks and trail along the beloved Provo River. Help us to bring more volunteers than ever together for this event once more. RSVP's aren't required, but appreciated so we may accommodate all participants. Service groups welcome! To sign up, contact Lisa at 801-486-4776 or lisa@utahrivers.org .
Visit with the Council this weekend: Council staff and volunteers have been out and about this month talking to the community about river protection issues. You may have chatted with us at the Farmer's Market or Oktoberfest at Snowbird Resort. If you missed us, take the chance to say hello this Saturday at the Jordan Valley Water Conservancy District's Garden Fair or down in Green River for the 100th anniversary of Melon Days!
Canoe the Jordan River: The Council's ever popular Jordan River canoe trips wrap up this fall on October 4. Join the Council on a "new members" canoe float down the Jordan for a $20 donation per seat ($10 for those ages 4-10). Your donation includes a year-long membership with the Council. Already a member? Give your donation and receive a gift membership for a friend! For more information and to reserve your place, contact Lisa at 801-486-4776 or lisa@utahrivers.org . To view the Council's additional fall Explore series outing opportunities, visit http://www.utahrivers.org . Thanks to REI for donating boats and paddles!
Tell us what you do in and on Utah's rivers! Throughout the month of September, we are hosting small group discussions in our office to find out what rivers you are recreating on and how. The discussions will take less than an hour, and we'll provide tasty pizza and soda. Results of this discussion will be used to advocate for water quality standards that protect you from pollutants! Think you might be able to spare an hour? Contact Merritt at 801-486-4776 or merritt@utahrivers.org for more information and dates.
News/Events:
Nevada/Utah water debate continues: A number of Utah State legislators visited with ranchers in the Snake Valley area along the Utah-Nevada border. The purpose of the visit was to discuss the proposal from Nevada water officials to pump groundwater from that area, which would then be sent to Las Vegas. Snake Valley locals are concerned about the impact the groundwater pumping will have on local water supplies. For more details, read the article in the Deseret Morning News.
Public access to the Weber River may return: Public angler access to the Weber River was limited last fall when parking was restricted along Interstate 84. However, a new land swap between the Utah Department of Transportation and the Division of Wildlife Resources may create a new public access area. To find out more, read the article in the Provo Daily Herald.
Central Utah pipeline to begin construction in 2007: The Utah Lake System pipeline project will begin construction in 2007, along with construction on US-6. The pipeline will bring water to cities in north central Utah, including Nephi, Spanish Fork, and Springville. For details on the project, read the article in the Deseret Morning News.
Cougar Hunting Applications Available by Sept. 19

Applications to hunt cougars on limited entry areas during Utah's upcoming season will be available one week earlier this year. Hunters can obtain applications beginning Sept. 19 from hunting and fishing license agents statewide, Division of Wildlife Resources offices and the DWR's Web site (wildlife.utah.gov).

A total of 348 limited entry permits will be offered. A total of 136 of those permits are for areas that will remain limited entry areas throughout the season, and 212 are for areas that will transition into harvest objective areas on Feb. 17, 2007.

To be entered in the draw for permits, mail-in applications must be received no later than 5 p.m. on Oct. 4. Applications submitted through the DWR's Web site must be received no later than 11 p.m. on Oct. 4. Hunters who have a major credit card are encouraged to apply on the Web site. "That's the quickest and easiest way to apply," says Judi Tutorow, wildlife licensing coordinator for the DWR.

Hunters who don't have a major credit card must mail their application in. To avoid missing the 5 p.m., Oct. 4 cut-off date, Tutorow encourages applicants to obtain an application and mail it in as soon as possible.

Tutorow also reminds hunters that if they draw a permit for a limited entry area, they may not purchase a permit to hunt on a harvest objective area. "Before applying for a limited entry permit, hunters need to decide which hunt they want to participate in," she said.

Draw results will be posted by Nov. 6 at DWR offices and the DWR's Web site.

For more information, call the nearest Division of Wildlife Resources office or the DWR's Salt Lake City office at (801) 538-4700.
TRCP Supports Congressional Approval of Wetlands Program
Passage of bipartisan measures "essential to continuing strong, partner-driven restoration efforts"
WASHINGTON - The Theodore Roosevelt Conservation Partnership (TRCP) today indicated its strong support for efforts in both the House and Senate to reauthorize the North American Wetlands Conservation Act (NAWCA). House legislation, H.R. 5539, passed yesterday, and the Senate version, S. 3617, is expected to move forward in the very near future.
The North American Wetlands Conservation Act encourages partnerships among federal and state agencies and others to protect, restore, enhance and manage wetlands and other habitats for migratory birds, fish and wildlife. The act obligates annual appropriations for the implementation of the North American Waterfowl Management Plan, which provides a broad framework for waterfowl conservation and management in North America.
"NAWCA has a 17-year-long track record of getting the job done," said Alan Wentz, Senior Group Manager for Conservation Programs for Ducks Unlimited and a TRCP Board Member. "It is essential to continuing strong, partner-driven restoration efforts."
"The members of Congress who will be stepping forward from both sides of the aisle to support the reauthorization of NAWCA will show that they recognize the value of these vital resources," said Dave Nomsen, the Vice President of Governmental Affairs for Pheasants Forever who serves on the TRCP Policy Council.
"Our wetlands, which already are too few, would be in dire straits without NAWCA. The law has established itself as the gold standard of cooperative conservation programs," said Matthew B. Connolly Jr., TRCP President and CEO. "The measures advancing in Congress, along with enabling appropriations, will allow for continued continental conservation of a natural resource valued by all Americans."
The Theodore Roosevelt Conservation Partnership is a coalition of leading hunting, fishing and conservation organizations and individual partners working together to guarantee access to places to hunt and fish, conserve fish and wildlife habitat, and increase funding for conservation.
Researching the Hunt
NEWTOWN, Conn.?What more can be learned about hunting? After all, humans have been students of their most primal instinct for thousands of years, so what possibly could be left to discover?
Plenty, as it turns out.
The National Shooting Sports Foundation (NSSF), a trade association now representing a record 3,200-plus member companies of the firearm industry, conducts and compiles research on new trends in hunting and shooting sports participation, sales, demographics, business environments and more.
Here's a roundup of some 2006 findings:
RETAIL VALUE OF A HUNTER? During his or her lifetime, an average American hunter spends $17,726.59 on hunting equipment. When licenses and lodging, food and fuel, magazines and meat processing, plus other expenses are included, the average lifetime total spent on hunting jumps to $96,017.92. These figures were calculated as part of 2006 NSSF-commissioned research. The study looked at hunters' total expenditures from age 16 to 75. During that period, an average hunter in the U.S. annually spends: $70 on rifles, $53 on shotguns, $9 on muzzleloaders, $21 on handguns, $49 on ammunition, $12 on decoys, and $49 on dogs and supplies.
HUNTING'S GOOD OLD DAYS? A majority of U.S. taxidermists report growing numbers of customers and increasing workload. But quantity isn't the only thing on the rise. The average specimen of America's most popular trophy, the whitetail buck, is getting larger over time, most taxidermists say. NSSF conducted a 2006 national survey to research taxidermy business trends, operations and challenges. More and better trophies spell good news for hunting today, but most taxidermists foresee trouble from the animal rights movement, wildlife habitat loss, and rising costs of business.
HUNTER NUMBERS UP? A 2006 study suggests there are more hunters in the U.S. than previously thought. Nearly 12 percent of Americans 16 and older, or 26.4 million people, said they hunted with gun or bow last year. The study is by the Outdoor Industry Foundation, which usually focuses on contemporary pursuits such as paddle sports and rock climbing. It is the organization's first look at hunting. NSSF is optimistic yet wary until further studies are completed, since veteran researchers maintain more conservative figures. NSSF-commissioned research shows 23 million Americans consider themselves hunters, even if latent or inactive. The National Sporting Goods Association reports 20.6 million active hunters. U.S. Fish and Wildlife Service surveys show 14.7 million people, or about 5 percent of Americans, purchased a hunting license last year.
IVY LEAGUE ENDORSES HUNTING? Show Cornell University researchers a young hunter, and they'll show you a future environmentalist. A 2006 study shows that children who hunt, fish or play in the wild before age 11 are more likely to grow up with deeper understanding and respect for nature. Domestic outdoor activities like gardening also positively influence adult environmental attitudes and behaviors, but their effects aren't as strong. When kids become truly engaged with the natural world at a young age, the experience is likely to stay with them in a powerful way, shaping their environmental path, Cornell researchers say. Interestingly, participating in Scouts and other formalized outdoor education programs has no effect on adult attitudes toward the environment.
For more information on NSSF and its research programs, visit http://www.nssf.org or call 203-426-1320.
SEVEN ATHLETES, INCLUDING FIVE WOMEN NAMED TO 2007 U.S. SKI JUMPING TEAM
Team hopeful of women's jumping added to 2010 Olympic program
PARK CITY, Utah (Sept. 13) - Seven athletes, including five women - led by Lindsey Van and Jessica Jerome (both Park City, UT), the No. 2- and No. 3-ranked athletes in the world last season - and two men have been named to the 2007 U.S. Ski Jumping Team, U.S. Nordic Director Luke Bodensteiner announced.

The women, who are hopeful of seeing their sport accepted into the 2010 Olympics after a major vote of confidence from the International Ski Federation (FIS), are the first to be named to the U.S. Ski Jumping Team.

Van, Jerome and three other Park City jumpers - Alissa Johnson, Abby Hughes and Brenna Ellis, were named as women's jumping was approved last spring by the FIS as an event in the 2009 World Nordic Ski Championships, a vital step if it is to be added to the 2010 Olympics schedule.

Van, 21, a University of Utah student when she's not training or competing, has been ranked second in the world for the last three seasons. Jerome, 19, a student at Westminster College in Salt Lake City, has been No. 3 twice as the Women's Grand Prix became the Continental Cup with the 2005 season. Van and Jerome, the only two athletes to win U.S. women's titles since their championships began in the late Nineties, each have won Continental Cup jumping meets and all five women were in the top 15 of the 2006 Continental Cup standings.

"USSA [the U.S. Ski and Snowboard Association] has been a leader in promoting women's jumping, and naming the first women to the jumping team is a great step forward. It gives the right message to aspiring jumpers and, we feel, it will help further advance the sport in this country and around the world," Bodensteiner said.

He also pointed out FIS changed its rules during its biennial convention in May, extending the age for junior jumping to 19 for 2007, to 20 in 2008. "I think we have an excellent chance for medals at Junior Worlds, especially in the team event," Bodensteiner said.

The 2007 U.S. Ski Jumping Team (with age, hometown and * if Olympian):

Men's Team
Alan Alborn (25; Anchorage, AK*)
Clint Jones (21; Steamboat Springs, CO*)

Women's Team
Brenna Ellis (18; Park City, UT)
Abby Hughes (17; Park City, UT)
Jessica Jerome (19; Park City, UT)
Alissa Johnson (19; Park City, UT)
Lindsey Van (21; Park City, UT)

The women, as they have been for three years, are coached by Casey Colby of the National Sports Foundation staff while Mike Keuler, another NSF coach, is the men's coach.

At the biennial FIS Congress last May in Portugal, USSA - which has conducted national championship events annually for women since the late Nineties - took a leadership role with Canada and Norway in helping establish the framework for including the sport in the 2010 Olympics. To become an Olympic sport, it must have held a world championship and FIS delegates voted to include women's jumping in the 2009 Worlds with an individual event and a team event in 2011.

Women's jumping officially was included for the first time in the 2006 Junior Nordic World Ski Championships. It had been a demonstration event for a couple of years; Van was the 2004 bronze medalist.
UTAH'S GAS PRICES STILL WELL ABOVE AVERAGE
Only Four States Have Higher Prices, Reports AAA Utah
SALT LAKE CITY, September 12, 2006 - Utah's gasoline prices are still well above the national average despite a downward turn that has taken place over most of the country, according to AAA Utah, which tracks gas prices as a service to consumers.
The average price for a gallon of regular, self-serve gasoline in Utah is currently $2.94. This is a 4-cent drop from AAA's Fuel Gauge Report on August 15 and is 4 cents higher than last year at this time. The highest recorded price in Utah was $2.99 on August 21, 2006. Only four states, Nevada, California, Idaho and Hawaii have prices higher than Utah. Hawaii's price is the highest at $3.28. Ohio's average price, $2.31, is the lowest in the country.
"The drop in the national average price can be attributed to many factors including falling world oil prices, the end of the summer driving season and the slowing of the U.S. economy," said Rolayne Fairclough, AAA Utah spokesperson. "The thus-far benign 2006 Atlantic hurricane season and a relatively quiet Middle East, from an energy production standpoint, have eased speculator's concerns about oil supplies and helped lower prices."
The current national average price is $2.61. This is 39 cents lower than last month and 36 cents lower than a year ago. The highest average national price was $3.06, recorded on September 5, 2005 as a result of Hurricane Katrina.
The states in the Intermountain West have enjoyed double-digit decreases in the price of regular, self-serve gasoline. The only exception is Idaho. The current average price in Idaho is $2.97, a 5- cent decrease from last month. Montana's motorists saw prices drop 23 cents to the current average price of $2.91. Wyoming's price fell 17 cents to $2.86. Colorado's price is currently $2.86, a 20-cent decrease from August. Arizona's price dropped 29 cents to the current average of $2.63. Nevada's current average price is $2.96. This is 11 cents lower than last month. California's average price is $2.96, a drop of 26 cents from August.

The Utah cities surveyed by AAA saw slight decreases in the average cost for regular, self-serve gasoline. Logan and Salt Lake City both enjoyed a 5-cent drop since last month. The average price in Logan is currently $2.94. The average price in Salt Lake City is $2.88. Moab's price dropped 4 cents to $2.97. Prices dropped 3 cents in Provo and St. George. The current price in Provo is $2.93. The average price in St. George is now $2.99. Average prices only decreased 2 cents in Ogden and Vernal. The price in Ogden is $2.92 and the price in Vernal is $2.95.
During these times of unstable gas prices, motorists can often find savings by comparing gasoline prices while driving. Keeping vehicles well maintained and tires correctly inflated also help fuel economy. AAA's tips to increase fuel efficiency can be found at http://www.aaa.com/gasprices .
AAA's Fuel Gauge Report is the most comprehensive retail gasoline survey available, with over 85,000 self-serve stations surveyed everyday nationwide. Data is provided in cooperation with OPIS Energy Group and Wright Express, LLC.
AAA Utah offers a wide array of automotive, travel, insurance and financial services to more than 150,000 members. AAA has been a leader and advocate for the safety and security of all travelers since it was founded more than 100 years ago.