20TH ANNUAL BISON RANGE RIDE AND ROUNDUP

Syracuse - The public is invited to attend a modern, western roundup from 8 a.m. to 5 p.m. Wednesday, October 25 through Saturday, October 28 when horseback riders move the Antelope Island bison herd from the southern tip of the island, to the handling facility located at the park's northern end. This annual event is an opportunity for the public to see the roundup of one of the nation's largest and oldest public herds.

Visitors may view progress of the riders from the eastside road leading to the Fielding Garr Ranch. A complete and sweeping view of the action is available from a safe distance. Visitors are encouraged to bring binoculars for a closer view of the animals and handlers.

If necessary, helicopters will be used Saturday, October 28 to gather any stragglers and complete the roundup. The public can view the helicopter push from the eastside road and from Buffalo Point.

From November 3 through 5, between 8 a.m. and 5 p.m. daily, visitors may observe as the bison are weighed, blood-tested, inoculated, and scanned. All bison have a microchip implanted behind the ear, which serves as permanent identification and stores the animal's health history.

On Saturday, November 18 the island's excess bison will be sold in order to keep the bison population within the carrying capacity of the island's available forage. The sale is held at the Antelope Island State Park Bison Corrals. Sale animals may be viewed beginning at 8 a.m. with the sale beginning at 10 a.m. sharp. For additional sale information, please call Steve Bates at (801) 209-4678.

Food, drink, and memorabilia, such as t-shirts and sweatshirts, are available for purchase throughout the Bison Roundup. To reach Antelope Island State Park, take I-15 to exit 332 (Syracuse- Freeport Center) and travel west on Antelope Drive to the entrance station. Park fees are $9 per vehicle or $6 for bicyclists and walk-ins. For more information, please contact Antelope Island State Park at (801) 773-2941.
UPCOMING UTAH STATE PARKS EVENTS
October 27 - 28 Snow Canyon State Park - Ivins
Halloween Storytelling Trail: Bring the entire family beginning at 7:30 p.m., and enjoy a short Halloween night hike full of storytelling fun sprinkled with a dash of fright. Space is limited and registration is required. For more information, please call (435) 628-2255.

October 28 Bear Lake State Park - Garden City
Halloween Spooktacular: Join park staff for Halloween events. For more information, please call (435) 946-3343.

October 28 Camp Floyd/Stagecoach Inn State Park and Museum - Fairfield
Ghosts of Camp Floyd: Is Camp Floyd haunted? Members of the Utah Ghost Hunter's Society present a program beginning at 1 p.m. on their paranormal investigations of Camp Floyd; view their ghost hunting equipment, see photos, and hear recordings. Hot chocolate and donuts will be served, along with treats and a candy cannon for children. For more information, please call (801) 768-8932.

October 28 Fremont Indian State Park and Museum - Sevier
Scary Story Trail: Trick-or-treat along the Parade of Rock Art Trail and listen to spooky sounds and scary stories from 7 to 9 p.m. Admission is $1 per person; children 12 and under are free. For more information, please call (435) 527-4631.

October 28 Wasatch Mountain State Park - Midway
Pumpkin Carving at the Yurt: Join park staff for a fun day of carving pumpkins into Jack-O-Lanterns to be used to line the walkway to the park's new educational yurt. Learn about the history of Halloween. Prizes will be given to those in attendance. Program is from 1 to 3 p.m. For more information, please call (435) 654-1791.

Female Participation Rising in Hunting, Shooting Sports
NEWTOWN, Conn.?A new survey suggests remarkable growth in female participation in hunting and shooting sports. According to the research, 72 percent more women are hunting with firearms today than just five years ago. And 50 percent more women are now target shooting.
The statistics, from National Sporting Goods Association surveys spanning 2001 through 2005, show more than 3 million women now hunt and over 5 million women now enjoy shooting.
Women today account for just over 15 percent of the shooting, hunting and firearms marketplace, which could equate to $420 million in commerce this year alone, projects the National Shooting Sports Foundation (NSSF), the industry trade association.
Why the increase?
"More and more women are discovering that hunting and shooting sports are great family activities," said Doug Painter, NSSF president. "It's a new awareness borne from many programs introducing females to these traditionally male sports, along with a growing list of manufacturers who design products especially for, and retailers who cater to, women."
Activity
Trend in Female Participation, 2001-05*
Trend-Supporting

NSSF Programs

and Sponsorships

Hunting
Up 75 percent
Families Afield .

Hunting Heritage Partnership.

Step Outside .

Wingshooting USA .

NWTF s Women in the Outdoors

Becoming an Outdoors-Woman

Discipline
Firearms
Up 72 percent
Archery
Up 176 percent
Target Shooting
Up 50 percent
First Shots .

Scholastic Clay Target Program .

Step Outside .

National 4-H Shooting Sports

NWTF s Women in the Outdoors

USSA s Trailblazers Program

Becoming an Outdoors-Woman

U.S. Practical Shooting Association

USA Shooting

Discipline
Shotgun
Up 16 percent
Handgun
Up 33 percent
Rifle
Up 53 percent
Air Gun
Up 55 percent
* Source: National Sporting Goods Association
The increases also can be attributed to rising firearm ownership for self- and home-defense purposes, which often leads to more women discovering the fun of recreational shooting.
NSSF manages a variety of programs to keep hunters and shooters safe and active, and has witnessed firsthand the upswing in female participation.
For example, in just the past two years, participation among teenage girls in NSSF's popular Scholastic Clay Target Program (SCTP) rose 178 percent.
In a 2005 SCTP survey, 94 percent of parents said competitive shooting is a positive influence in their child's development. Overwhelmingly, parents observed improved responsibility, teamwork, sportsmanship and leadership skills. In fact, 98 percent of SCTP parents believe shooting is just as important as other sports, and 94 percent would support shotgun sports as a school-based athletic program.
Women also regularly make up at least half of attendees in NSSF's First Shots program. Launched a year ago, the program partners with local shooting ranges nationwide to introduce newcomers to handgun shooting, safety and regulations.
In addition to its own programs, NSSF also actively sponsors many other efforts, events and organizations that introduce women and other newcomers to hunting and shooting, such as National 4-H Shooting Sports, U.S. Practical Shooting Association, the National Wild Turkey Federation's Women in the Outdoors program, U.S. Sportsmen's Alliance's Trailblazers Adventure program, and Becoming an Outdoors-Woman.
ROLLER DERBY IS RETURNING TO THE UTAH OLYMPIC OVAL OCTOBER 28
The Utah Olympic Oval is proud to host the Salt City Derby Girls (SCDG) third flat track roller derby bout of the season on Saturday, October .
The Bomber Babes will take on the Death Dealers in this bout consisting of 3 twenty minute periods.
Doors will open at 7 p.m. with the bout starting at 8 p.m. Tickets can be purchased online for $10 at http://www.saltcityderbygirls.com . Day of event tickets can be purchased for $15 (cash only at the door).
Come dressed up for the Halloween costume party. Prizes will be given away for the best, most creative and scariest costumes. To keep the "Fastest Ice on Earth" at the Olympic Oval, the temperature is kept at a chilly 62 degrees. Music and entertainment by Thunderfist.
SCDG formed in 2005 and they currently have over 40 women participants. With names like Destroyher, Saya Prayers, and Yanita Beating roller derby is not for the faint of heart. There are injuries.
Members of the league come from all walks of life from housewives to students and full-time professionals, but they hold one thing in common: they have a love and passion for roller derby. +
The Utah Olympic Oval is located at 5662 South Cougar Lane (4800 West) in Kearns.
Please call (801) 968-OVAL or visit our website at http://www.olyparks.com for more information.
MARK YOUR CALENDAR FOR JANS WINTER WELCOME ON OCTOBER 28
The freestyle and skeleton programs at the Utah Olympic Park are among the beneficiaries of the JANS Winter Welcome on October 28 at the Silver Lake Lodge at Deer Valley. This year marks the 26th anniversary of JANS Winter Welcome.
Quest have the opportunity to spend the evening mingling with Olympians and Champions, enjoying fine hors d'oeuvres and libations from a variety of specialty bars, a fabulous dinner from Deer Valley's finest chefs and of course bidding on a plethora of exciting silent auction items.
Monies raised through JANS Winter Welcome will directly support the athletic programs affiliated with the Youth WinterSports Alliance - a collaboration of non-profit organizations brought together to foster in our children the love of winter sports in a positive, safe, and fun environment.
The Utah Olympic Park is one of 10 youth organizations under the umbrella of the Youth Winter Sports Alliance that benefits from this annual fundraising event, including the Deer Valley Freestyle Team, Kids Inc. of Utah, National Sports Foundation, Park City Alpine Club, Park City Nordic Team, Park City Ski Education Foundation, Park City Snowboard Team, Summit Ski Team and the Wasatch Luge Club.
For further information on attending JANS Winter Welcome please contact the Youth WinterSports Alliance at 435.901.3715 or youwinpc@xmission.com
OCTOBER 2006 - MARCH 2007 UPCOMING EVENTS AT OLYMPIC PARKS
Oct. 27-28, Halloween "Spookiest Ice On Earth" Public Skate, Utah Olympic Oval
Oct. 27-29, "Weekend Warrior" Long Track Speed Skating Camp, Utah Olympic Oval
Oct. 28, Salt City Derby Girls - Roller Derby Tournament, Utah Olympic Oval
Nov. 3-4, Christmas Tree Permit Sale and Pre Winter Ski Sale, Soldier Hollow
Nov. 7-12, US National Skeleton Team Selections, Utah Olympic Park
Nov. 10-11, Community Skate Night, Utah Olympic Oval
Nov. 14-17, FIBT/FIL International Training Week, Utah Olympic Park
Nov. 17, Turkey Bowling Public Skate, Utah Olympic Oval
Nov. 17, Soup and Soldier Hollow Fundraiser, Soldier Hollow
Nov. 27 - Dec. 2, Luge World Cup, Utah Olympic Park
Dec. 1, 5th Annual Holiday Festival, Utah Olympic Oval
Dec. 2-3, Long Track American Cup, Utah Olympic Oval
Dec. 4-9, Bobsled and Skeleton World Cup, Utah Olympic Park
Dec. 5, 114 Days: The Race To Save A Dream Screening, Utah Olympic Park
Dec. 6, 114 Days: The Race To Save A Dream Screening, Utah Olympic Park
Dec. 8, 2nd Annual World Record Skate, Utah Olympic Oval
Dec. 8-10, "Weekend Warrior" Long Track Speed Skating Camp, Utah Olympic Oval
Dec. 9, Community Skate Night, Utah Olympic Oval
Dec. 13-21, Bobsled and Skeleton America's Cup, Utah Olympic Park
Dec. 15-22, US Freestyle Team Selections, Utah Olympic Park
Dec. 15-16, Nordic Jumping World Cup B, Utah Olympic Park
Dec. 29-30, US National Bobsled and Skeleton Qualifying Races, Utah Olympic Park
Jan. 1-7, 2007, US National Bobsled and Skeleton Championships, Utah Olympic Park
Jan. 4, 2007, Freestyle Regional Competition, Utah Olympic Park
Jan. 12-13, 2007, Utah Winter Games - Nordic Jumping, Utah Olympic Park
Jan. 14, 2007, Utah Winter Games - Luge, Utah Olympic Park
Jan. 19, 2007, Freestyle Regional Competition, Utah Olympic Park
Jan. 27, 2007, Wasatch Luge Club Founders Race, Utah Olympic Park
Feb. 10, 2007, Ice Engineer's Open, Utah Olympic Park
Feb. 8-11, 2007, FIBT Invitational, Utah Olympic Park
Feb. 4-10, 2007, Deaflympic Winter Games, Soldier Hollow
Feb. 6-10, 2007, Freestyle NorAm, Utah Olympic Park
Feb. 6-11, 2007, USBSF Western Championships, Utah Olympic Park
Feb. 13-25, 2007, Luge Youth Nationals, Utah Olympic Park
Feb. 16-17, 2007, Nordic Jumping Junior Olympics Qualifier, Utah Olympic Park
Feb. 20-22, 2007, Freestyle Divisional Championships, Utah Olympic Park
Feb. 23-25, 2007, "Weekend Warrior" Long Track Speed Skating Camp, Utah Olympic Oval
Feb. 27-Mar. 3, 2007, Nordic Jumping Junior Olympics Championships, Utah Olympic Park
Mar. 2-5, 2007, Chevrolet Jumping/Nordic Combined Junior Olympics, Utah Olympic Park
Mar. 5-10, 2007, Chevrolet Cross Country Junior Olympics, Soldier Hollow
Mar. 8-11, 2007, 2007 World Single Distance Championships - Utah Olympic Oval
Mar. 15-17, 2007, Champions Challenge - Utah Olympic Oval
FIVE COSTLIEST CAR REPAIRS AND HOW TO AVOID THEM
Protect Your Car and Your Wallet with Maintenance and Common Sense
SALT LAKE CITY, October 16, 2006 - Want your car and your money to go as far as possible? October is Car Care Month, and AAA Utah has advice for consumers on how to extend their paychecks as well as the lives of their automobiles.
By performing scheduled maintenance, being alert to signs of wear, and changing a few driving habits, vehicle owners can help save themselves the money and trouble associated with the repairs below:
1. Engine failure - $3,000 and up: Rapid acceleration and speeding wear out an engine more quickly, as well as decreasing fuel efficiency, so driving less aggressively is definitely good for your bank account. Let your car run for a moment before you leave to allow the oil to warm up and circulate. Check fluids and replace oil on schedule according to the owner's manual.
2. Transmission - $2,000 and up: To protect your transmission, avoid quick starts and try not to overload your vehicle. This places more stress on the transmission system than it was designed to take. Don't use overdrive when towing for the same reason. Check transmission fluid often and add more whenever needed.
3. Full brake system - $1,200 and up: Quick stops, tailgating and riding the brakes are all bad driving habits that shorten the life of your braking system and add more risk for accidents. Pay attention to leaks, noises and smells and take the vehicle into the shop if you notice anything irregular. Get regular inspections of the brake system to check wear.
4. Drive line repairs - $700 and up: The drive line includes axles, drive shaft, and joints and transfers power from the engine to the wheels. To prolong its life, avoid fast starts and get regular inspections to make sure it stays lubricated and in good repair.
5. Suspension - $500 and up: Prevent damage to shocks and struts by avoiding potholes and rough roads, straddling obstacles instead of running over them, and by slowing down to a crawl for speed bumps and driveways. Be aware of any changes in steering and handling, and bring them to the attention of your automotive technician.
"Vehicle maintenance is as important as putting gas in your car," said AAA automotive expert Mark Woods. "Today's vehicles are expensive and very sophisticated. In order to protect your investment and keep you on the road, have services preformed on schedule and you'll save time and money in the future."
In order to promote overall vehicle safety, AAA has declared October "Car Care Month." Participating AAA Approved Auto Repair facilities in Utah will be offering free inspections to AAA members with an appointment. Items to be inspected include tires, fluid levels, windshield wipers, batteries, brakes, lights, belts, and hoses. For participating locations, visit http://www.aaa.com or call the AAA Approved Auto Repair referral hotline at (800) 645-4288.
AAA Utah offers a wide array of automotive, travel, insurance and financial services to more than 150,000 members. AAA has been a leader and advocate for the safety and security of all travelers since it was founded more than 100 years ago
State of Utah Sponsors Warren Miller Off the Grid Tour Across the U.S.
Local Screenings to be Held in Salt Lake City, Park City, Ogden and Logan
SALT LAKE CITY - The Utah Office of Tourism's sponsorship of OFF THE GRID marks the first time that any state entity has sponsored the Warren Miller film tour, in the 57-year history of the series of action winter sports films.
"An increase in our advertising budget due to the generous support of the Utah Legislature has allowed us to partner with Warren Miller for the first time," said Leigh von der Esch, managing director of the Utah Office of Tourism, Governor's Office of Economic Development. "This is a great opportunity for us to showcase our new Utah Life Elevated brand to ski enthusiasts across the country."
The Warren Miller tour crisscrosses the country from October to December 2006 as a limited release with 400-plus screenings in more than 180 cities in 35 states. City stops include New York, Los Angeles and Chicago. Often arriving in town for one night only, the screenings have historically marked the official start of winter for skiers from coast to coast. The film's star athletes attend many screenings, generating audience excitement and a festival-type atmosphere.
"Warren Miller Entertainment is the most recognized and respected name in the action sports film industry. It is only fitting for Utah, the home of The Greatest Snow on Earth®, to team up with them," added Nathan Rafferty, Ski Utah's president. "We're pleased that the State recognizes the Warren Miller films as a viable outlet to promote Utah skiing. Utah's sponsorship of this tour coupled with the epic snow footage in our segment provides unmatched exposure for our superior ski product to hundreds of thousands of skiers nation-wide."
OFF THE GRID features an 8-minute Utah ski segment featuring renowned, locally-based athletes Jeremy Nobis, Jamey Parks, Jamie Pierre, Julien Carr and Jenn Berg. A Utah commercial will air before each screening to provide additional exposure for the state's ski industry.
Local Screening Schedule:
Oct. 19: Park City, George S. and Delores Dore' Eccles Center, 8 p.m.
Oct. 20: Salt Lake City, Abravanel Hall, 6:30 and 9:30 p.m.
Oct. 21: Ogden, Peery's Egyptian Theatre, 3 p.m., 6 p.m. and 9 p.m.
Nov. 9 and 10: Logan, Kent Concert Hall at Utah State University, 8 p.m.
Warren Miller Utah Athlete Bios
Jenn Berg - Salt Lake City, UT
With a multitude of SKI Magazine appearances and skiing for several film companies, not to mention her fifth Warren Miller movie, Jenn has continued to show her presence in the ski industry. After spending ten years in Truckee, California, Berg has made the move to Salt Lake City, Utah. Jenn can now be found skiing every inch that the Wasatch Mountains have to offer.
Julien Carr - Salt Lake City, UT
Racking up over 2,100 vertical feet in cliff drops is just one thing that Julien Carr accomplished last year in Utah. He has made a name for himself as one of the best freeskiers in the world and also as one of the top hucksters; putting himself out in the air with the world's best, Jaime Pierre. Carr does not think of himself as the rock star skier he is, but simply says "It's simple, I just love cliffs."
Jamey Parks - Salt Lake City, Utah
Jamey Parks grew up skiing and racing in Vermont at Mount Snow and Sugarbush. Before graduating from University of Colorado in 2000, Parks spent two years racing in Steamboat Springs. Since college, he has been living and skiing in Salt Lake City because of the awesome snow. After qualifying for the X-Games, Jamey was picked up by both Salomon and Scott. Recently, Parks has been focusing more on photos and film and really enjoying his time in the backcountry as he searches for great turns, cliffs, and lines.
Jeremy Nobis - Park City, Utah
After Jeremy Nobis experienced a respectable, though unremarkable, career as an Olympian and World Cup racer, he quit ski racing at twenty-six. Now, at thirty-four, he is known as "The Icon" among freeriders in Europe and America. Nobis has also been called "Psycho Nobi." As a skier, it was either full-throttle on or off. Top finishes at the World Extreme Championships (1996) and the X-Games (1999) landed Nobis on several magazine covers, a peak achievement for athletes in the freeskiing world. Consequently, filmmakers instantly recognized Nobis as a unique talent.
Jamie Pierre - Salt Lake City, UT
"Escaping Death" is Jamie Pierre's middle name. Residing in Utah has afforded Pierre endless opportunities to drop some of the biggest cliffs known to man. After setting the record for the largest cliff drop at 145 ft, Pierre decided that wasn't enough. Last year he did the unimaginable by dropping 255 feet in the Teton backcountry, shattering his previous record and most likely creating a record that will stick for quite sometime.
Project WILD Reaches One Million Teachers
Wildlife agencies across the country are celebrating the fact that one million educators have gone wild!
State wildlife agencies are the primary sponsors of Project WILD, an education program established in 1983 that teaches children about wildlife and wildlife conservation. In 2006, the agencies achieved a remarkable milestone-one million educators across the United States have completed the Project WILD training since the program began.

The Utah Division of Wildlife Resources (UDWR) was one of the first agencies in the country to get involved in Project WILD and has offered the training since 1983. Since that time, more than 12,000 educators in Utah have completed the training.

*Research conducted on a national level shows that educators trained in Project WILD reach an average of 88 students per year, so thousands and thousands of students in Utah are learning about wildlife and wildlife conservation through Project WILD lessons every year,* says Diana Vos, Project WILD coordinator for the UDWR. *Project WILD materials capitalize on the natural interest children and adults have in wildlife, providing exciting hands-on activities that enhance student learning in all subject and skill areas.*

To expand the program*s effectiveness in Utah, Vos trains groups of volunteer Project WILD trainers called facilitators. *It*s estimated that this nationwide network of Project WILD facilitators has presented between 66,000 and 100,000 educator workshops in the past 23 years,* Vos says.

In addition to traditional schools and universities, facilitators host trainings at nature and community centers, Boys and Girls Clubs, zoos, museums, aquariums, outdoor schools, and even 4-H and scout facilities.

Educators who complete Utah*s 10-hour Project WILD training receive a copy of the award-winning Project WILD curricula and a wealth of additional supplemental materials.

*Educators leave the training with a renewed appreciation for wildlife and are excited about how they*ll be able to share that appreciation with the kids in their classrooms,* Vos says. *Many of the teachers have told me that the training was much more than what they had expected, and they wish they had taken it sooner.*

Vos says at a time when educators are working hard to comply with the mandates of the federal *No Child Left Behind* Act, Project WILD offers activities and materials that incorporate proven effective educational practices.

*Project WILD makes learning relevant to students, incorporates problem-based learning, uses multiple contexts to teach concepts and engages students with real world examples,* Vos says. *Since 1983, more than 40 studies have been conducted on Project WILD activities, materials and its professional development offerings. Findings from these studies have been very positive.*

Vos says Utah's goal is to have **No child left unWILD!*"

Established in 1983, Project WILD is the nation*s longest standing wildlife education program and is distributed nationwide by the Council for Environmental Education (CEE) through partnerships with state wildlife agencies. CEE is a national non-profit environmental education organization, founded in 1970 and based in Houston, Texas.

Project WILD was honored at the White House in 1991 as one of the first recipients of the Gold Medal of Education and Communication in the President*s Environment and Conservation Challenge Award program.

You can learn more about Utah*s Project WILD program and its professional development trainings by visiting http://wildlife.utah.gov/projectwild on the Web.

Refuge Awareness Day November 1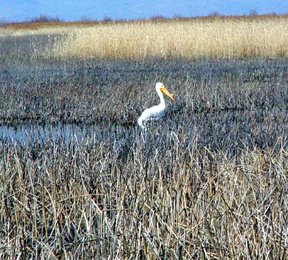 Join the birds and migrate to the Bear River Migratory Bird Refuge on Wednesday, November 1, 2006 from 10:00am to 5:00pm. for a "Refuge Awareness Day." This is your opportunity to learn more about the "bird refuge" and up-coming family programs, events and environmental education classes hosted by the Refuge, Volunteers, and the Friends of Bear River Refuge.

The day's scheduled events include a guided refuge tour with Al Trout and De Ann Lester at 10:30am; tours of the Teaching Lab by Kathi Stopher at 11:00am, 1:00pm and 2:00pm; a presentation on "Birds of Northern Utah" at
1:00pm with Keith Evans and Jack Rensel; and a presentation on "Northern Utah Ghost Towns & Railroads" at 2:00pm by Steve Carr.

On-going activities during the day include making a fall grapevine wreath, building a refuge scrapbook page, talking with the Retired Senior Volunteer Program coordinator or Refuge Volunteer Coordinator, and taking part in a
tour of the new Wildlife Education Center. Refreshments will be served. Drawings for door prizes will occur throughout the day. (you must be present to win).

The event is being sponsored by the Friends of Bear River Refuge, and will be held at the new James V. Hansen Wildlife Education Center, 2155 West Forest Street in Brigham City. Free admission. Directions: From I-15 at Brigham City, turn west on Forest Street (exit #363) and travel 1/4 mile to the center.

For more information: (435) 734-6425 or visit the refuge's web site at:
http://bearriver.fws.gov/events.html or the Friends of Bear River Refuge web site at: http://www.fobrr.org .

Bear River Migratory Bird Refuge Tundra Swan Day November 11
Join refuge staff and volunteers for a day of learning about tundra swans on Saturday, November 11, 2006 from 10:00am - 4:00pm. Guided tours to the refuge are scheduled to view swans at 10:30am and 1:30pm. Be sure to bring binoculars, spotting scopes and cameras.
Educational displays on swans and a children's activity will be available at the education center. This event is appropriate for the entire family. Fee is $1.00 per person or $5.00 max. per family, but you must pre-register. Fore more information or to register, call (435) 734-6422.
Bear River Migratory Refuge is located at 2155 W. Forest Street, Brigham City (I-15 exit #363, turn left one block to the education center) Sponsored by: Friends of the Bear River Refuge.
Utah Geological Survey Announces Discovery of New Horned Dinosaur, "Last Chance Ceratopsian"

Salt Lake City, Utah -- Utah's newest dinosaur is a yet-to-be-named ceratopsian, found in the Grand Staircase-Escalante National Monument. Utah Geological Survey (UGS) paleontologists made the announcement today in Canada. The skull will be available for viewing next week.

UGS paleontologist Don DeBlieux discovered the new dinosaur in 2002. He was part of the UGS team, funded by the
Bureau of Land Management, conducting a multi-year inventory of paleontological resources in the Grand Staircase-Escalante National Monument. DeBlieux was taking a photograph of a nearby site when he made the discovery. "I stopped and put my backpack down on a sandstone ledge and saw bone," said DeBlieux. "If I had stopped three feet away, I might have missed it." Upon further investigation, DeBlieux realized he had an almost-complete skull of a dinosaur.

For eight days, over the next three years, the team used a gas-powered cutoff saw to separate the block containing the skull from the surrounding rock ledge. "We trimmed the block to the point where it weighed approximately 1,000 pounds," said DeBlieux. In September 2005, the block was transported from a remote area by helicopter to a truck and then driven to the UGS preparation lab in Salt Lake City. Since then, several hundred hours of preparation have been completed on this skull.

DeBlieux and Utah State Paleontologist, James Kirkland, presented the discovery October 20, 2006, at the annual meeting of the Society of Vertebrate Paleontologists in Ottawa, Ontario, Canada. The dinosaur will not be formally named until next fall, so for now they are referring to it as the "Last Chance Ceratopsian;" Last Chance is the name of a nearby stream.

The dinosaur is a new genus of long-horned centrosaurine ceratopsid. Ceratopsids are large-horned dinosaurs, including the better-known Triceratops. The ceratopsid family is divided into two subfamilies: the chasmosaurines with big horns over their eyes (brow horns) and long frills (the bony protrusion from the back of the head) and the centrosaurines with long nose horns and short spiny frills.

"Unlike the typical centrosaurines, this dinosaur has big brow horns and short nose horns," stated Kirkland. Historically, large brow horns were thought to be an advanced feature, which would have made the centrosaurines more primitive than the chasmosaurines. However, this new discovery confirms Kirkland's long-held hypothesis that the large brow horns and short nose horns are primitive features. Kirkland had hypothesized this since his 1997 work on the Zuniceratops (the ancestor of all horned dinosaurs) that has large brow horns and no horn on its nose with Arizona paleontologist Doug Wolfe.

Another unique feature of the Last Chance Ceratopsian is that it has two nose horns. Other horned dinosaurs have only one nose horn.

The length of the main frill horns surprised the paleontologists. One horn was accidentally severed while cutting the block of rock that contained the skull. "It kept going and going, eventually measuring about two-feet long," said DeBlieux. The other horns are shorter: the two brow horns are about 12-inches long, the two horns from the nose are very short, and the cheek horns are about five-inches in length. The dinosaur actually has a total of 26 horns, some of which are short ones along the sides of the frill. According to Kirkland, "this is one of the spiniest horned dinosaurs ever discovered."

The Last Chance Ceratopsian was probably about 15 feet long and six feet tall at the shoulders, or about the size of a modern rhinoceros. It lived about 80-82 million years ago (during the Cretaceous Period) in an environment similar to modern-day coastal Louisiana. The climate was warm and humid, yielding lush vegetation, which was the diet of this wandering plant-eater.

According to Kirkland, this centrosaurine is the most primitive and oldest ever found. The Last Chance Ceratopsian is also the first definitive member of this group of dinosaurs to have been found south of Montana.

These dinosaurs probably had a 20 to 25 year life span, which is similar to a rhinoceros. The Last Chance Ceratopsian was probably close to being a fully developed adult at about seven years old.

This fossil gained international fame earlier this year when a scorpion emerged from the protective plaster jacket after having been sealed inside for more than a year. The scorpion had been without food and water for all of that time, yet somehow managed to stay alive.

Next year, the UGS paleontologists hope to unveil a full reconstruction of the entire skull along with the official naming of the new dinosaur.

DeBlieux and Kirkland will be available for questions and a viewing of the skull at 11:00 a.m. on Wednesday, October 25. The skull is in the preparation lab located in the UGS's Utah Core Research Center, 240 North Redwood Road, Salt Lake City.

The Utah Geological Survey is an applied scientific agency that creates, interprets, and provides information about Utah's geologic environment, resources, and hazards to promote safe, beneficial, and wise use of land.

DWR SEEKS INFORMATION ABOUT DEAD BULL ELK
PRICE--The Division of Wildlife Resources (DWR) in Price is seeking information about the death of a mature bull elk, killed on Friday or Saturday, October 13 or 14. The bull was found in Swen Canyon near the north end of Electric Lake. The bull died from a gunshot wound to the lower chest. The bull may have been killed by accident, while hunters were shooting at other legal animals, such as spike bulls or cow elk.
The DWR is asking for the public's help in determining who killed the bull elk. A reward permit or a monetary reward may be given for information leading to the responsible person or persons. We would ask anyone with information to call the Price DWR office and speak with Lieutenant Carl Gramlich at: 435-636-0270. Callers may also speak with Sergeant Stacey Jones at: 820-6445 or Mike Milburn at: 820-6014.
Anyone who observes illegal activity during the hunting season is encouraged to call the "Help Stop Poaching" hotline at: 1-800-662-DEER. The caller's identity may remain anonymous or held in confidentiality.
Curtain Call for Warm Water Fish

As fall progresses, open water fishing for warm water fish closes down. But just like in a good play, the cast always comes out for a final curtain call or two.

In northern Utah, the curtain calls are usually in October while in southern Utah, they might stretch into November.

Near Surface and In the Shallows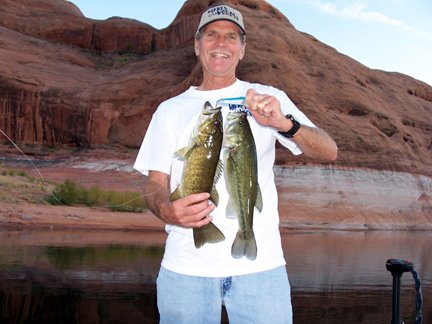 As the weather cools the surface of the water, bass, walleye, bluegill and other warm water predators move back into the shallows to feed on minnows, the last of the summer insects, crayfish and other prey. This gives anglers one last opportunity for some fast fishing for warm water fish.

*During the end of the summer, the surface waters on many of our lakes and reservoirs gets a bit too warm,* says Ron Stewart, Utah Division of Wildlife Resources (UDWR) regional conservation outreach manager. *Fish usually respond by going deeper to reach cooler waters, making it more difficult for anglers to find them. In the fall the surface waters cool, allowing these fish to come back up and making them more accessible to anglers.

*These fish are generally quite aggressive in their search for food and can often be found in the shallows in search of prey. The combination of an aggressive predator, in close to shore, is an opportunity for anglers of all ages.*

Tips:

- Baits, lures and flies can all work well during the fall.

- Look for signs of fish activity along the shoreline. This includes viewing fish as they cruise along the banks, fish jumping, swirls where a fish is feeding or seeing minnows scatter among the shallows (when minnows do this, it often looks like someone threw a handful of sand into the water).

- If possible, try and match what the fish are feeding on. Then cast your line out into the general area where the fish are, or out ahead of the fish.

Make sure you get out and take advantage of this great fall fishing. It*s often a play worthy of a standing ovation.

Quail Hunting Could Be Fast in Some Areas

If you*re looking for some fast upland game hunting this fall, consider pursuing California quail in Duchesne and possibly Millard counties. California quail populations in both counties are doing great this year.

There*s also plenty of Gambel*s quail available to hunters in many areas in southern Utah.

Hunting for pheasants should be poor to fair in Utah this fall, and sharp-tailed grouse hunting should be good for the 278 hunters who obtained a permit.

All of these upland game hunts start Nov. 4. Dean Mitchell, upland game coordinator for the Division of Wildlife Resources, provides the following preview for each hunt:

Quail

Two species of quail are found in Utah.

The Gambel*s quail is native to southern Utah and is found mostly in the Mohave Desert habitats in Washington County.

The California quail is an introduced game bird. California quail populations are scattered throughout Utah, with the main concentrations found within urban areas along the Wasatch Front, east into the Uintah Basin and southeast into the Carbon and Emery county areas. If you*re hunting next to an urban area, you*re strongly encouraged to contact local authorities to learn what regulations those areas have regarding the discharge of firearms.

California quail populations appear to have increased somewhat over last year in some areas. Recent and ongoing transplants of California quail from the Wasatch Front to suitable habitats in outlying areas is the reason hunters are seeing quail in new places in Utah. Duchesne, Sevier and Uintah counties are traditionally the best areas to hunt.

Here*s what to expect in each of the DWR*s five regions:

Northern Region: Urban populations.

Central Region: The quail population is similar to last year. Most of the quail habitat in the Central Region is along the Wasatch Front where hunting is very limited, if not restricted altogether. Caution should be used when hunting in the foothills above housing areas, taking note where city limit boundaries are to avoid illegal shooting.

Northeastern Region: Excellent hunting is expected in Duchesne County. The extended opportunity to hunt quail in the Uintah Basin through December has provided some good recreational opportunity for hunters.

Southeastern Region: There are a few small quail populations in the region. Production seems to be improved this year, but hunting will be spotty.

Southern Region: California quail provide only limited hunting in localized areas. 2006 brood counts within the Millard County area are as high as ever, though. Hunting should be good in areas where quail can be safely pursued.

Gambel's quail in Kane County are found in the Kanab area where the population seems to be increasing. Many of these quail tend to live within city limits and cannot be hunted. However, with some scouting, you can locate birds in areas where you can hunt them. As always, make sure you obtain written permission before hunting on private lands.

Although the number of Gambel*s quail observed during water hole counts in Washington County decreased this year, production appears to be good and quail are plentiful. Despite the fact that thousands of acres of quail habitat was destroyed by wildfires this summer, success is expected to be good in the desert areas west of St. George. There*s more water for the birds this year, and quail may be distributed over a larger area. Hunters should concentrate their efforts along dry washes. Calling can be an effective way to locate coveys of birds.

Ring-necked Pheasant

Despite the fact that Utah pheasant populations have declined considerably over the years, many Utah hunters will be afield this year for the wily ringneck. Hunters will probably see about the same number of birds as last year.

Hunters should concentrate their efforts in areas that still have suitable habitat for pheasants. Most of Utah's pheasant hunters participate during the opening weekend only. Those who are persistent and hunt on weekdays are usually successful in harvesting some birds.

Pheasant hunting will be fair at best throughout Utah this fall. Here*s a preview for each of the DWR*s five regions:

Northern Region: In Box Elder County, fewer pheasant chicks survived because of dry spring conditions, but hunters can still find healthy, isolated pockets of pheasants throughout the county. In Cache County, pheasant populations appear stable and are similar to last year.

Waterfowl management area personnel report fair pheasant numbers at the Salt Creek and Public Shooting Grounds waterfowl management areas and good numbers at the Ogden Bay and Farmington Bay WMAs. A late pheasant hatch was noted at the Ogden Bay WMA. At most of the WMAs in northern Utah, habitat for pheasants is improved over last year.


Central Region: Pheasant populations are similar to last year throughout the region.

Northeastern Region: Fair hunting is expected in both Duchesne and Uintah counties.

Southeastern Region: Biologists have seen fewer pheasants in the region this year. Hunting will be difficult.

Southern Region: Incidental sightings and brood counts in Millard County were higher than last year, but are still well below numbers that were found in the county a decade ago. There are some reports of birds in the Escalante Valley and Washington Fields areas. Pheasant numbers are low in Garfield and Kane counties, and hunters should expect a poor hunt in those two counties. The Sevier Valley population seems to be increasing from last year, and a fair hunt is expected in that area.

Walk-in Access Program

To provide hunters with more access to private lands, the DWR is kicking off a brand new pilot Walk-in Access program in its Northern Region. Under this new program, more than 37,000 acres of private lands in northern Utah will be open to hunting for a variety of species, including pheasants. To learn more about the program, please visit http://www.wildlife.utah.gov/walkinaccess/ on the Web.

Sharp-tailed Grouse

Sharp-tailed grouse numbers in Box Elder County have decreased slightly from 2005. Hunters who obtained permits are allowed to take two birds during the season. A total of 278 permits were allotted this year.

Permits are issued on a conservative basis, and there should be plenty of birds available for those who obtained a permit.

Hunters are reminded that nearly all sharp-tailed grouse hunting in Utah occurs on private land in eastern Box Elder County. Hunters are encouraged to contact landowners before the season to secure permission to hunt. Hunters are encouraged to complete and have the landowner sign the landowner permission card available on the DWR*s Web site at http://www.wildlife.utah.gov/law/permissioncard.html

Sharp-tailed grouse hunters will also have some additional areas to hunt in eastern Box Elder County this fall. To learn more about Utah*s new Walk-in Access program, please visit http://www.wildlife.utah.gov/walkinaccess/ on the Web.


Applications for 2007 Sportsman Permits Available by Nov. 1

Applications for some of next year*s most prized Utah hunting permits -- 2007 Sportsman permits -- will be available by Nov. 1.

Only Utah residents may apply for Sportsman permits. One Sportsman Permit is offered for each of the following species: Desert bighorn ram, Rocky Mountain bighorn sheep ram, buck deer, buck pronghorn, bull elk, bull moose, hunter*s choice bison, hunter*s choice Rocky Mountain goat, black bear, cougar, sandhill crane and wild turkey.

Sportsman Permit season dates vary, but in many cases they*re longer than the regular season. Hunters may hunt on any unit open for the respective species, except Antelope Island for bison; the Pilot Mountain unit for elk; and the Pine Valley, Virgin River unit for desert bighorn sheep.

*The long season dates and ability to hunt every open hunting unit in the state except three make Sportsman permits a highly prized item,* says Judi Tutorow, wildlife licensing coordinator for the Division of Wildlife Resources.

Beginning Nov. 1, hunters who have a major credit card can apply for a Sportsman Permit online at the DWR*s Web site ( http://www.wildlife.utah.gov ).

Hunters who don*t have a major credit card must mail their application in. Sportsman Permit applications will be available by Nov. 1 from almost 400 hunting and fishing license agents statewide and the DWR*s six offices.

Applications submitted through the DWR*s Web site must be received no later than 11 p.m. on Nov. 15 to be entered in the draw for permits. Mail-in applications must be received no later than 5 p.m. on Nov. 15.

*Those who don*t apply on the Internet are reminded that it will take a few days for their application to arrive through the mail and to mail it as far in advance of the Nov. 15 date as possible,* Tutorow said.

She also reminds hunters that a $5 nonrefundable handling fee is required for each species a hunter applies for.

Results of the 2007 Sportsman Permit Draw will be posted by Dec. 6. Successful applicants will also receive a letter that lets them know they drew a permit.

Those with questions may call the nearest Division of Wildlife Resources office or the DWR*s Salt Lake City office at (801) 538-4700.