Contra Dance Scheduled
If anyone is looking for a friday night activity, join us for the Ogden Contra Dance. Please pass this on to your mailing lists as we are trying to spread the word and get Ogden more involved!

Ogden Contra Dance

Ogden Unitarian Church
705 East 23rd St. (Madison and 23rd)
Ogden

Music By
The Blue Sage Trio

Calling By
Mike Cottle
Friday, October 13th
And continuing on the second Friday of each month.

Beginner Workshop 7:30 PM
Dancing 8:00 PM - 11:00 PM
Cost $5.00 adult, $3 youth
For More Information Contact:
Brock at B_CHENEY@peoplepc.com or call Brenda at 801-363-7442

Ski Utah Launches KeepUtahCool.com
New Web Site Focuses on Environmental Concerns of Ski Industry
SALT LAKE CITY - Ski Utah is pleased to announce the October 10 launch of its new KeepUtahCool.com Web site. The site addresses the problem of global warming, informs how it can impact the ski industry and offers suggestions for what individuals can do to make a difference. It also contains a section devoted to environmental programs Utah ski areas have implemented to help alleviate the effects. Learn about what each resort is doing from re-vegetation to purchasing wind power, all in an effort to Keep Utah Cool.
"We want to ensure that future generations of skiers and snowboarders can continue to enjoy The Greatest Snow on Earth®," explained Nathan Rafferty, president of Ski Utah. "Much of our state's economy relies on tourism dollars that the ski industry delivers, so we felt compelled to launch a site that would remind people of global warming's impact and also let them know that it is a fixable problem if we act now, as individuals and organizations."
The National Ski Areas Association (NSAA) has created a global warming awareness campaign called Keep Winter Cool. Ski Utah, inspired by NSAA's efforts, used some of the organization's content for http://KeepUtahCool.com
UPCOMING UTAH STATE PARKS EVENTS
October 21 Rock Cliff Nature Center / Jordanelle State Park - Francis
Halloween Program: Bats and other nocturnal animals are not as scary as you think. Come to the Nature Center from 1 to 3 p.m. and learn cool facts about bats, play batty games, and take home a batty craft. For more information, please call (435) 782-3030

October 21 Snow Canyon State Park - Ivins
Wildlife Tracks: Join park staff at 9 a.m. for a 2.5-mile, round-trip hike and learn to identify different animal tracks. If conditions permit, participants will make plaster casts of tracks to take home. Space is limited and registration is required. For more information, please call (435) 628-2255.

October 25 - 28 Antelope Island State Park - Syracuse

20th Annual Bison Roundup: Horse riders move the bison herd to the north end of the island. The public may view the roundup from the eastside road leading to the Fielding Garr Ranch. Helicopters may be used Saturday, October 28 to gather any stragglers and complete the roundup. Saturday viewing is best from Buffalo Point. For more information regarding this event, please call Steve Bates at (801) 209-4678.

October 27 - 28 Snow Canyon State Park - Ivins
Halloween Storytelling Trail: At 7:30 p.m., bring the entire family for a short, Halloween night hike full of storytelling fun sprinkled with a dash of fright. Space is limited and registration is required. For more information, please call (435) 628-2255.

October 28 Bear Lake State Park - Garden City
Halloween Spooktacular: Join park staff for Halloween events. For more information, please call (435) 946-3343.

October 28 Camp Floyd/Stagecoach Inn State Park and Museum - Fairfield
Ghosts of Camp Floyd: Is Camp Floyd haunted? Members of the present a program on their paranormal investigations of Camp Floyd; view their ghost hunting equipment, see photos, and hear recordings. Hot chocolate and donuts will be served, along with treats and a candy cannon for children. For more information, please call (801) 768-8932.

October 28 Fremont Indian State Park and Museum - Sevier
Scary Story Trail: Trick-or-treat along the Parade of Rock Art Trail and listen to spooky sounds and scary stories from 7 to 9 p.m. Admission is $1 per person; children 12 and under are free. For more information, please call (435) 527-4631.

October 28 Wasatch Mountain State Park - Midway
Pumpkin Carving at the Yurt: Join park staff for a fun day of carving pumpkins into Jack-O-Lanterns to be used to line the walkway to the park's new educational yurt. Learn about the history of Halloween. Pumpkins are provided, but visitors are encouraged to bring their own tools. Prizes will be given to those in attendance. Program is from 1 to 3 p.m. For more information, please call (435) 654-1791.

November 3 - 5 Antelope Island State Park - Syracuse
Working of the Bison: The public is invited to watch as bison are worked through the chutes and receive vaccinations and health checks. This event allows managers to check the health of the herd and manage the bison population. Excess bison are sold in order to keep the bison population within the carrying capacity of the island's available forage. Bison are processed through the chutes each day from 8 a.m. until 5 p.m. For additional information, please call Steve Bates at (801) 209-4678.

Whirling Disease Resistant Trout Planted in Two Utah Waters

Rainbow trout that have shown a resistance to whirling disease were stocked into Hyrum and Porcupine reservoirs in May, and now the fish are big enough to catch.

The Utah Division of Wildlife Resources (DWR) needs the help of anglers to learn how well these fish survive and grow, and how their fighting ability compares with rainbow trout that are already in Utah.

So far, biologists at the DWR*s Fisheries Experiment Station in Logan have been happy with the growth rates of the whirling disease resistant trout. Biologists say their growth rates are superior to the rates of a Utah hatchery strain of rainbows called TenSleep.

Rainbow Strain Shows Promise

The whirling disease resistant rainbow trout strain is a cross between two strains - the Harrison Lake strain and the Hofer strain.

The Harrison Lake strain comes from Harrison Lake, Montana, which received rainbows from Lake DeSmet in Wyoming in 1981. Work by Richard Vincent with the Montana Department of Fish, Wildlife and Parks indicates these fish may have some resistance to whirling disease.

DWR biologists at the Fisheries Experiment Station conducted more research and found that Vincent was right -- even after exposure to high doses of the whirling disease parasite, a high proportion of this wild strain was not infected with whirling disease or had significantly lower numbers of whirling disease spores in them.

Researchers have also done work with the Hofer strain, and they*ve found the Hofer strain is even more resistant to whirling disease than the Harrison strain is.

The Hofer strain was derived from rainbow trout that were shipped from Colorado to Germany in the 1880s. After more than a century of exposure to the whirling disease parasite in Germany, a fast growing, domesticated, whirling-disease resistant strain evolved.

Some of these fish were then imported back to the United States by researchers at UC Davis in California and the Colorado Division of Wildlife.

Trout Planted in May

The Colorado Division of Wildlife has provided the Utah Division of Wildlife Resources with eggs that are a cross of the Harrison and Hofer rainbows. DWR biologists are using these eggs to develop a broodstock in Utah. They*re also conducting studies to see how well these fish do in the hatchery and in the wild.

In May, the whirling disease-resistant strain of rainbows and the TenSleep strain were stocked as fingerlings in Hyrum and Porcupine reservoirs in northern Utah.

Anglers who catch the fish can tell the difference by looking at which pelvic fin is missing. If the right fin is gone, the fish is from the whirling disease resistant strain. If the left fin is gone, the fish is from the TenSleep strain. Fish that have not had a pelvic fin removed by biologists are not part of the study.

Anglers: Biologists Need Your Help

The DWR needs the help of anglers to conduct its study. Biologists want to know how many fish anglers catch and keep from each strain, and how many fish anglers catch and release from each strain. A wooden box with cards anglers can fill out is available at the Hyrum State Park fish cleaning station located by the boat ramp. Anglers are asked to fill the cards out and deposit them in the box.

Anglers can also call the Fisheries Experiment Station at (435) 752-1066 ext. 22 to pass data along or to get more information about the study.

The biologists also welcome information about the fish*s size, its fighting ability (or other sport fishing characteristics) and any deformities.

The Whirling Disease Foundation has provided a grant to help cover the costs of the study.

*Biologists hope the disease-resistant fish perform well,* says Eric Wagner, director of research at the DWR*s Fisheries Experiment Station. *If they do, they*ll help reduce parasite numbers in wild and stocked fish, and prevent further spread of the disease.*

Bull Elk Permits Almost Gone

If you*d like to hunt bull elk during this fall*s rifle hunt -- or you*re a muzzleloader hunter who hasn*t bought his permit yet -- you need to buy it fast.

Permits to hunt on spike only units are sold out, but on the morning of Oct. 11, a total of 843 any bull elk unit permits were still available.

You can purchase permits at the DWR*s Web site ( http://www.wildlife.utah.gov ), at DWR offices and from more than 340 license agents across the state.

Utah*s general bull elk rifle hunt ends Oct. 19 on the state*s any bull units. The general muzzleloader hunt runs Nov. 1 - 9.

At least one report from a DWR wildlife manager indicates the rifle hunt has gone well so far. With the nice weather that*s forecast for the weekend of Oct. 14 and 15, it should be a perfect weekend to get out and hunt elk.

*I think the harvest on the South Slope [of the Uintas] has gone very well in some areas this year,* says Boyde Blackwell, wildlife manager in the DWR*s Northeastern Region. *Areas where populations have been good in the past are producing higher than normal bull numbers and more branch antlered bulls too.*

Blackwell says the opening weekend of this season went really well for hunters, but the elk often seem to scatter out a bit after the first days of the hunt. There are plenty of elk to pursue, however.

*Last year, I checked three elk at my check station [at the beginning of the hunt],* Blackwell says. *This year we put people out on the mountain, going into camps and checking, and I estimate that we checked five to six times more bulls. I checked 18 bulls this year vs. three last year, and I know the other folks also checked a lot more.*

If you*ll be hunting on an any bull unit that has private property, consider purchasing a 1:100,000 scale BLM Edition Surface Management Status map. These maps will show you private and public land in various areas across the state.

Fifty different maps are available. You can purchase them at the DNR Map & Bookstore at 1594 W. North Temple in Salt Lake City and from Bureau of Land Management offices across Utah.

Women Can Learn How to Fly Fish at Upcoming Clinic

Salt Lake City -- Women can learn the art and sport of fly-fishing at classes offered Oct. 24, 26 and 28 in Salt Lake City.

The Division of Wildlife Resources* Becoming an Outdoors Woman program is offering the classes.

The first two sessions will be held the evening of Oct. 24 and 26 at Western Rivers Flyfisher, 1071 E. 900 S. in Salt Lake City. Women learn about fly-fishing equipment, how to tie knots and cast, and about the insect biology that makes fly fishing work.

On the morning of Oct. 28 the class will meet at one of Utah*s world-class fly-fishing waters to try out their new skills.

*Fly-fishing is a finesse sport, rather than a strength sport, which makes it easy and fun to learn,* says Jill West, volunteer coordinator for the DWR. *We will have mastered the basics during the classroom sessions, and we*ll hit the river on Saturday, ready to get our feet wet.*

Steve Schmidt, owner of the Western Rivers Flyfisher, will instruct and guide the class.

The cost to participate is $100, which includes classroom instruction and a fly-fishing book. All of the gear needed for the class will be provided, including the use of waders and a fly rod and reel.

The class is limited to 12 women, and pre-registration is required. To register, call Western Rivers Flyfisher at (801) 521-6424.

For more information, contact Jill West at (801) 557-0605 or
AAA Utah Reports Only Six States Have Higher Prices
SALT LAKE CITY, October 10, 2006 - Despite double-digit drops in gasoline prices this past month, Utah's average gasoline price is still among the highest in the country, according to a new report from AAA Utah, which tracks gas prices as a service to the consumer.
The average price for a gallon of regular, self-serve gasoline in Utah is currently $2.60. This is 35 cents lower than the last AAA report on September 12 and 23 cents lower than a year ago. Only six states, Alaska, California, Hawaii, Nevada, Oregon and Washington have higher prices. Missouri's price, $2.05, is the lowest in the country.
The current average national price is $2.26. This is 35 cents lower than last month and 63 cents lower than a year ago.
"Oil supplies appear to be strong, and prices should continue to move lower through October," said Rolayne Fairclough, spokesperson for AAA Utah. "When prices rise or fall quickly some stations will raise or lower prices more aggressively than others. This is the time when motorists can save money by watching out for stations with the lowest prices."
All of the Intermountain States enjoyed falling gasoline prices this past month. Idaho's average price for regular, self-serve gasoline dropped 39 cents to $2.58. Montana's price, $2.47, is 44 cents lower. Wyoming's motorists enjoyed a 41-cent decrease in the cost of regular gasoline. The current average price in Wyoming is $2.45. Colorado's average price also dropped 41 cents to the current average price, $2.45. Arizona's current average price is $2.29. This is 34 cents less than last month. Nevada's price, $2.64, is 32 cents lower. California's motorists currently pay an average of $2.60, 36 cents lower than last month.
All of the Utah cities surveyed by AAA enjoyed substantial decreases this past month. St. George's average price dropped the most, 44 cents. The current average price in St. George is $2.57. Salt Lake City and Moab motorists both saw prices drop 36 cents from September's average. The current price in Salt Lake City is $2.52. Moab's current average price is $2.61. Vernal's current average price is $2.62. This is 33 cents lower than last month's average. Provo's average price $2.60 is also 33 cents lower than last month's price. Ogden's average price dropped 32 cents to the current average, $2.60. Logan's current average price, $2.63 is the highest of the Utah cities AAA surveyed. It is 31 cents lower than its average price in September's report.
Autumn's change in temperature affects tire pressure. To be safe and to save money, motorists should check their tires' pressure. Not only do tires wear faster when improperly inflated, an under-inflated tire can adversely affect fuel efficiency.
One way consumers can reduce the amount of money they spend on fuel is to shop aggressively for the lowest price. AAA Utah has a tool that can help. Located online at http://www.aaa.com/gasprices , the AAA Fuel Finder has real time information on gas prices at more than 85,000 gas stations throughout the United States.
AAA's Fuel Gauge Report is the most comprehensive retail gasoline survey available, with over 85,000 self-serve stations surveyed everyday nationwide. Data is provided in cooperation with OPIS Energy Group and Wright Express, LLC.
AAA Utah offers a wide array of automotive, travel, insurance and financial services to more than 150,000 members. AAA has been a leader and advocate for the safety and security of all travelers since it was founded more than 100 years ago.
UTAH STATE PARKS BOARD MEETS IN BRIGHAM CITY

Brigham City-- The Board of Utah State Parks and Recreation meets Friday, October 20. The public is welcome to attend a public meeting at 8 a.m., at the Bear River Migratory Bird Refuge Visitor Center in Brigham City.

Topics to be discussed include off-highway vehicle (OHV) rules changes and grants, boating rule changes, This Is The Place Heritage Park, non-motorized trail grants, and the Gunlock Resource Management Plan (RMP).

BOARD OF UTAH STATE PARKS AND RECREATION MEETING
OCTOBER 20, 2006, 8 A.M. - 2 P.M.
BEAR RIVER MIGRATORY BIRD REFUGE VISITOR CENTER BRIGHAM CITY, UTAH

AGENDA

8:00 a.m. 1. Welcome and Review and Acceptance of Agenda ACTION
Parks Board Chairman Scott Parson

8:05 a.m. 2. Review and Acceptance of Minutes ACTION
Scott Parson

8:10 a.m. 3. Division Update INFORMATION
Administrative Services - Deputy Director Steve Roberts
Operations - Deputy Director Bruce Hamilton
Administration - Director Mary Tullius

8:40 a.m. 4. Planning and Development INFORMATION
Planning and Development Manager Jamie Dalton

8:55 a.m. 5. Website Presentation INFORMATION
Public Affairs Coordinator Deena Loyola

9:15 a.m. 6. Vision 2010 Update INFORMATION
Planning Coordinator Rock Smith

9:35 a.m. 7. Budget Update INFORMATION
Financial Manager Mark Forbes and Mary Tullius

9:50 a.m. Break

10:20 a.m. 8. Legislation and Broadening Support INFORMATION
Mary Tullius and Steve Roberts

10:40 a.m. 9. Off-Highway Vehicle Rule Changes and Grants ACTION
OHV Coordinator Fred Hayes

11:00 a.m. 10. This Is The Place Heritage Park INFORMATION
This Is The Place Board Chairman Ellis Ivory and This Is The Place Executive
Director Matt Dahl

12:00 p.m. 11. Award Presentation INFORMATION
Scott Parson

12:05 p.m. LUNCH

12:45 p.m. 12. Boating Rule Changes ACTION
Boating Coordinator Dave Harris

1:00 p.m. 13. Non-Motorized Trail Grants ACTION
Steve Roberts

1:15 p.m. 14. Gunlock Resource Management Plan (RMP) Approval ACTION
Planner Shannon Peterson

1:30 p.m. 15. Upcoming Board Meetings INFORMATION
Scott Parson

1:40 p.m. 16. Public Comment

2:00 p.m. 17. Adjournment

In compliance with the Americans with Disabilities Act, anyone needing special accommodations (including auxiliary communicative aids and services) should contact Wendy Griffith at (801) 538-7418 at least five working days before the meeting.
DON'T LET YOUR TIRES RUN AWAY WITH YOUR MONEY
Attention to Tires Can Cut Car Owners' Costs, Says AAA
SALT LAKE CITY, October 6, 2006 - As part of October Car Care Month, AAA Utah is encouraging motorists to pay more attention to the most overlooked and overworked part of their vehicles: tires. Statistics show that most Americans don't know how to take care of their tires correctly, and many pay for it in shortened tire life and lower fuel efficiency, as well as flat tires and dangerous accidents.
Waiting until there's a problem can also add the significant cost of inconvenience caused by a flat tire or blowout. In 2004, AAA reported that 15 percent of all member road service calls were tire-related.
"Most people don't pay attention to tires until they're flat," said Rolayne Fairclough, spokesperson for AAA Utah. "You can either pay a little more attention or a lot more money. Timely check-ups and rotation can increase fuel efficiency, prevent accidents and breakdowns, and extend the life of your tires."
In order to promote overall vehicle safety, AAA has declared October "Car Care Month." Participating AAA Approved Auto Repair facilities in Utah will be offering free inspections to AAA members with an appointment. Items to be inspected include tires, fluid levels, windshield wipers, batteries, brakes, lights, belts, and hoses. For participating locations, visit http://www.aaa.com or call the AAA Approved Auto Repair referral hotline at (800) 645-4288.
Tire Tips
·Check your tires regularly.
Check pressure in all tires, including spares, at least once a month, and take time to inspect them for uneven wear, bumps, bubbles, or other damage. It's also good to check before long trips. Underinflated tires don't last as long and can become unsafe as they wear. Tire pressure is also affected by hot or cold weather and overloading of the vehicle.
·Use a tire gauge.
Tires can easily be underinflated by as much as 50 percent without visible difference. The only way to be certain is to check your tires with a tire pressure gauge when the vehicle hasn't been driven for at least three hours. Seal the valve firmly - if you hear air escaping, you won't get an accurate reading.
·Inflate your tires to the correct pressure.
The ideal pounds per square inch (psi) is printed in the owner's manual or inside the door frame. The psi printed on the inside of the tire is the maximum, and overinflated tires don't grip the road as well and are far more susceptible to punctures and irregular wear.
· Know when your tires need to be replaced.
The two best signs for when it's time to replace tires are built-in tread wear indicators and the penny test. When "wear bars" on your tires become level with the tread, it's time for a new tire. Or take a penny and insert it into the tread with Lincoln's head pointing down. If you can see all of Lincoln's head, it's time to replace.
Rotate your tires regularly.
Follow your vehicle manufacturer's guidelines for regular tire rotation and alignment. In general, tires should be rotated every 5,000 to 7,500 miles. This helps keep wear even and extends the life of your tires.
Consult your vehicle owner's manual for the correct size of new tires to buy. Wrong-sized tires can interfere with the speedometer, transmission and automatic braking system.
Here are some additional signs that your tires may need attention:
• A side-to-side "waddle" at slow speeds.
• An increased shimmy or vibration at highway speeds.
• A sharp pull to the side.
• Weaving or fishtailing.
AAA Utah offers a wide array of automotive, travel, insurance and financial services to more than 150,000 members. AAA has been a leader and advocate for the safety and security of all travelers since it was founded more than 100 years ago.
Using the Internet to Find Hunting Places
NEWTOWN, Conn. Looking for a place to hunt? Don't jump in your truck jump online instead.
"Using the Internet to find hunting places is the 21st century version of driving country roads, knocking on farmhouse doors and asking permission," said Doug Painter, president of the National Shooting Sports Foundation (NSSF).
For bird hunters, NSSF launched http://WingshootingUSA.org , a free online directory of places to hunt. The site links to over 1,000 daily-fee preserves, another modern solution for busy hunters seeking an easy way to stay in the game.
Painter says today's wingshooting preserves offer convenient access, managed habitat, stylish dogs and classic gunning, close to home or across the country, with packages to fit all budgets and tastes.
"From a simple afternoon outing with your dad, to a couples weekend at a luxury resort destination, a great hunt today is really just a few clicks away," he said.
NSSF is the nonprofit trade association for the shooting, hunting and outdoor industry. Founded in 1961, it administers a variety of industry-service programs, with an emphasis on keeping hunters and shooters safe and active.
DUCKY DETAILER MAKES FINISHES GLEAM
For boaters who want to show off their craft's appearance, having the finish shine under the sun is a reflection of their great pride in the vessel. Ducky Detailer from Ducky Products creates a wet look finish and protects it, too.
Not all finishes were created equal, and owners know how the sun can fade colors and make paint look dull. The Ducky Detailer conditions and protects surfaces from harmful UV rays at the same time. UV brighteners can bring out the depth of nearly any hull color and enhance it as well. The wet look finish is slick to the touch.
Biodegradable and non-toxic, the Ducky Detailer won't harm the environment. It also won't damage other materials if accidentally spilled or the wind misdirects spray during use.
Ducky Detailer from Ducky Products is available in a 28-ounce spray bottle for $11.75 at http://www.duckyproducts.com .
Contact Ducky Products, 530 South Lake Ave., #163, Pasadena, California 91101; Phone: 626-797-7226; duckyprod@earthlink.net ; http://www.duckyproducts.com .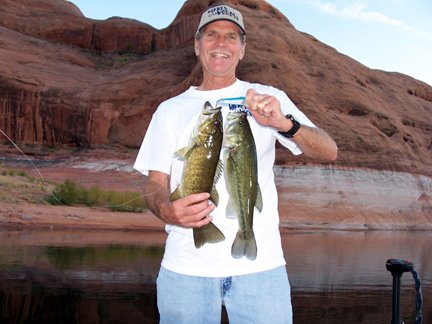 Lake Powell Fish Report
By: Wayne Gustaveson October 12, 2006 Lake Elevation: 3605 Water Temperature: 68-70 F
If this were springtime with water temperature in the upper 60's, fishing would be peaking. Couple that with rising water from recent rains and the parallels with fishing in late April are uncanny. Expect fishing this week to similar to the best spring has to offer - except for bedding fish.

Bass are active throughout the water column. They will eat plastic grubs and dropshot baits along the rocky edges. They will chase spinnerbaits and suspending lures at mid depths around brush, grass, and rocky ambush points. They will come up to the top for surface lures at any time of the day. Expect bass to travel in groups. Some likely looking points may have no fish present but then the whole school may be found on the next outcropping. In these active conditions move often until fish are found or change techniques to find fish location within the water column. Once found the pattern should provide steady catching for an extended period. Bass fishing is excellent lakewide. If fish are not readily found, try dropshotting a plastic worm or grub as the go-to method for catching fish.

Striped bass are in transition from deep water to shallow coves as they constantly look for forage. Shad are scarce in much of the southern lake. Stripers are then looking for grass beds where sunfish hide. Occasionally, a remnant school of shad may be located and pushed to the top by schools of stripers still strong enough to catch and eat shad. The ensuing boil will be memorable as stripers can be caught at will for a very long time. They stay in the area for as long as any shad are left to be found. Then they leave the canyon to search for another elusive foraging opportunity. Boils can
recur but that is not the norm in the southern lake. Boils are usually singular events.

In most lake locations, stripers are not boiling but will come up to surface lures. It is productive to cast surface lures all day long if that is the desire. A better approach would be to have 3 rods rigged with a topwater walking bait, a suspending crankbait and a heavy slab spoon. Alternate using these techniques at each location for maximum coverage of the existing habitat. At the end of the day the most successful lure will be the jigging spoon offered to fish
seen on the graph.

Stripers are still caught most often on anchovy bait fished at any location where stripers are found. Find a surface feeding fish or catch one on the bottom with a spoon then use anchovies to maximize the catch from that school when the active fish stop biting. The best method of locating stripers is to troll a deep diving crankbait at depths exceeding 20 feet. Once located the method of catch is up to you. Active baits, like lures and spoons, tend to select healthier fish while anchovies attract slower moving fish that are showing signs of malnutrition. Please harvest all striped bass so that the over population of striped bass can be brought back into balance.

Bonus fish encountered while fishing this week will include increasing numbers of walleye and crappie.

DINNER WITH THE PHANTOM
On October 28, 2006, Peery's Egyptian Theater will host a spooky Halloween evening. Guests are encouraged to join the fun by wearing Halloween costumes. Festivities will begin on stage at 6:30 with dinner prepared by the Ogden Eccles Conference Center's award winning Chef, Wendy Hunter. The menu will be as follows:
Raven's Nest Salad with 1000 year old eggs
Blood Orange Chicken with Chipotle
Black beans & Midnight Rice
Fire Roasted Vegetables
Giant Pumpkin Ice Cream Sandwiches with Almond Praline
Witches' Brew
Dinner tickets must be purchased no later than Wednesday Oct. 25th 2006. Movie-only tickets are available up to time of show.
Immediately following dinner, guests will enjoy the 1925 silent classic, Phantom of the Opera. The film will be accompanied by Blaine Gail on the Mighty Wurlitzer Theater Organ. Movie begins at 8:00pm.
Prices are $24.95 per person, all inclusive, and a movie only price of $5.
Tickets are available at the Peery's Egyptian Theater Box Office (801)395-3227 and online at http://www.peerysegyptiantheater.com
UTAH WINTER GAMES SPONSORS WINTERFIT
Park City, UT (October 11, 2006) -- Thirty-three thousand Iowans can't be wrong! They're competing on teams to lose weight and get healthy, and the same sort of program they're using is now in Utah. It's called WinterFit, and it's designed to encourage healthy, fit lifestyles.
Because Utah is the heart of North American winter sports, it only makes sense that Winterfit also takes advantage of our unique Olympic legacy for winter recreation.
WinterFit is sponsored by the non-profit Utah Winter Games to give Utahans a unique format for having a good time while getting healthy. The competitive program will run for five months and will allow teams made up of anywhere from two to ten people to choose their own schedule of activities so that the exercise is as much fun as possible. Teams can be made up of friends or of workplace groups from companies which promote employee health and wellness.
"Winters are long in Utah, and it's really easy to forget about a fitness program when it's cold outside and the sofa is so comfortable," said Utah Winter Games Executive Director, Heidi Hughes. "Utahns have a unique advantage. Our Olympic legacy is terrific winter sports facilities and programs. Through Utah Winter Games clinics and competitions, and with the motivation of the WinterFit program, Utahns of all ages and abilities can try out a variety of winter sports, find some they love, and incorporate them into a healthy lifestyle."
While this is the inaugural year for WinterFit in Utah, similar programs have proven extremely successful for companies who have embraced this fun yet competitive format for their employees. "…in the face of huge medical insurance premiums for most companies, we were able to move through 2005 with zero increase in premiums and, in fact, actually were able to give our employees four free weeks of insurance," said Ric Jurgens, Chief Executive Officer and president of HyVee in support of the Lighten Up Iowa program. "Lighten Up Iowa isn't the only event we have been involved with," Jurgens continued, "but we feel confident that improved health and the corporate emphasis on personal commitment to health make a difference."
Win prizes! Get incentives! Teams can compete in either the Weight Loss or the Minutes of Activity programs, or they can enter both divisions. Prizes from sponsors are still being collected, but the incentives will get you weekly activity and nutrition tips, a WinterFit T-shirt, an online activity and nutritional journal, and weekly drawings for gift cards. There will also be grand prizes at the end of the program.
To enter a team, you select a captain and a name and register online. It costs 12-dollars a person for the season's competition. Each week, the captain posts the team's results, and everyone can watch the leader board.
Oh, and back in Iowa, those 33-thousand people lost nearly 20-thousand pounds and racked up an impressive 2,394,018 miles.
To sign up or learn more, log onto the Utah Winter Games website at http://UtahWinterGames.org .
The Utah Winter Games are the oldest and biggest amateur winter sports event in the country. They continue the legacy of 2002 in Utah by making it possible for large numbers of people of all skill levels to have a wonderful time with winter sports.
In the 2005-2006 20th anniversary season, more than three thousand people took part in 20 competitions in 15 sports and 32 instructional clinics. With the help of principal sponsor KSL, this coming season's Games will be significantly larger with more sports at more venues for more people.
The Utah Winter Games: All Ages, All Abilities, Always Fun.
For more information on WinterFit and the Utah Winter Games, please contact Christa Graff at 435-640-7921 or christa@graffpr.com or visit the Utah Winter Games web site at http://www.utahwintergames.org .
THIS ACTION ALERT ITEM IS OF KEY IMPORTANCE TO ALL AMERICANS! PLEASE HELP OUT
HR 6298 is the bill number for this session of Congress. It was introduced in the United States House of Representatives on September 29th of this year by New Mexico Congressman Stevan Pearce. The bill number will change next session.
This bill (View H.R. 6298 here Just type in "HR 6298") would help solidify the latest 10th circuit ruling. It will also protect the ruling from attacks should the 9th circuit rule in opposition to state and county rights. It is important to get this legislation passed it will SIGNIFICANTLY protect what valuable case law has been established. Don't let the efforts of the state of Utah and its counties be picked away at in the coming years, lets protect our progress. PLEASE ACT!
We wanted to forward this along form our friends at Blue Ribbon Coalition. We would also like to add that USA-ALL and BRC had the opportunity to have a lot of input into this bill and speaking for USA-ALL we FULLY and emphatically support it. We have recently spoken with the author of the bill and he has asked that you not only encourage your congressional delegation to support this bill now but to also support the successor of this bill when it is introduced in the next session, next year. It is likely that this first attempt will not pass, that's okay, that's part of the design, but it is especially important that the Utah delegation support this bill by co-sponsoring HR 6298 or the senate version and the one that will be re-introduced. Please read Brian's advice and follow accordingly. Here is the rest from Brian…
Greetings all.

Is everyone calling our Utah congressionals and asking them to co-sponsor this bill? If not, you really should be. Think about how, if this bill were law, the Muddy River Road and the Segers Hole Road situation would be different.

Pasted below is a sample letter you can fax to Congressman Cannon, Matheson, Bishop and Senator's Hatch and Bennett.

Find their contact info and fax number via BRC's website at: http://capwiz.com/share/home/
Just enter your zip code. Easy, huh?

Don't wait. Do it today.

Brian H.
****

SAMPLE LETTER IN SUPPORT OF CONGRESSMAN STEVE PEARCE R.S. 2477 LEGISLATION

The Honorable (Name Here)
U.S. (Senate or House of Representatives)
Washington DC (20610 or 20515)

Dear Senator or Representative (Last Name)

(A BRIEF PARAGRAPH DESCRIBING YOU, YOUR INTERESTS, OR YOUR CLUB WOULD BE GREAT.)

The importance of public access to the vast federal lands has been expressly recognized by our citizens and our Legislature. The bottom line is this: the only guaranteed access across public lands is that granted pursuant to section 8 of the Mining Act of 1866, commonly referred to as R.S. 2477.

That section provides in full:
…and be it further enacted, That the right of way for the construction of highways over public lands, not reserved for public uses, is hereby granted.

Since 1976, R.S. 2477 rights of way have been subjected to numerous Interior Department interpretations and policies which virtually change with each Interior Secretary. With Secretary Babbit's initiative to completely reverse the reasonable approach of a previous Interior Secretary, Don Hodel, it became necessary to deny Interior the authority to develop any R.S. 2477 road policy until Congress gave them the authorization to do so.

In recent years, R.S. 2477 rights of ways have been subject to increasing challenge by extreme environmental groups. These anti-access groups continue to put pressure on land managers to close rights of way which the counties insist are protected under the 1866 R.S. 2477 grant.

In September 2005, the 10th U.S. Federal Circuit Court of Appeals in Denver reversed a Federal District Court decision relating to 17 Rights of Way in 3 counties in Utah. The well-reasoned10th Circuit decision restores county rights to these access routes and the court correctly recognizes state law as the basis for determining the legitimacy of any R.S. 2477 road claims. But this decision only applies to states in the 10th Circuit.

New Mexico Representative Steve Pearce has introduced legislation in Congress (H.R. 6298) designed to begin the dialogue in Congress to help remove the cloud over title to these public access rights, once and for all. Although Congressman Pearce has cautioned us to keep in mind that the legislation will not be the conclusive end this controversy, we believe his legislation will lead to a comprehensive solution for all who value access to and protection of our public lands.

We are urging you to support Congressman Pearce in this effort and co-sponsor the legislation now and also when it is re-introduced in the 110th Congress. We look forward to hearing from you on this issue.

Sincerely,
Letters are best but if you only have a second at least give the Utah delegation members a call and encourage their participation as co-sponsors and supporters. In addition please call Congressman Pearce. I'm am requesting all access advocates to call Pearce's Washington office and thank him for his leadership. No doubt he'll be hit hard by the greenies and we need him to know that lots more people support this. The number is: 202-225-2365 and his Legislative Director's name is Tim Charters.
****Contact Info****
CALL BOTH NUMBERS
and call all of the delegation especially your congressman and both senators, Out of state people please call these numbers as well as your local congressman.
Congressman Rob Bishop (District 1)
Washington DC: 202-225-0453
Ogden: 801-625-0107
Email: http://www.house.gov/robbishop/contact/
Congressman Jim Matheson (District 2)
Washington DC: 202-225-3011
Salt Lake City: 801-486-1236
Email: http://www.house.gov/matheson/contact.shtml
Congressman Chris Cannon (District 3)
Washington DC: 202-225-7751
Provo: 801-851-2500
Email: cannon.ut03@mail.house.gov or http://chriscannon.house.gov/email.htm
Senator Orrin Hatch
Washington DC: 202-224-5251
Salt Lake City: 801-524-4380
Email: http://hatch.senate.gov/index.cfm?FuseAction=Offices.Contact
Senator Bob Bennett
Washington DC: 202-224-5444
Salt Lake City: 801-524-5933
Email: http://bennett.senate.gov/contact/emailmain.html
_______________________________
Utah Shared Access Alliance (USA-ALL)
PO BOX 131 PAYSON, UT. 84651
Main: 801.465.1145
Fax: 801.465.6972
Toll Free: 800.944.UTAH (8824)
Email: info@usaall.org
Visit our website or call and JOIN TODAY!