Still Time to Get Outdoors

Now that some parts of Utah have received their first good snowfall, it might seem like a good time to retire indoors to the fire or the front of your television set.

It's not quite time to pack up everything just yet, though. There are still plenty of outdoor activities out there for you to enjoy.

For example, the fall hunting seasons are just getting started. Many upland game and waterfowl hunts start in September or October and then stretch into December or even February. Some upland game hunts, such as pheasant and quail, start in November along with the elk muzzleloader, cougar and bear seasons. Fall and early winter general season hunts in Utah include:

Waterfowl

Ducks, Mergansers, Coots and Snipe: Oct. 7 - Jan. 20

Geese: most of Utah Oct. 28 - Jan. 28
Northern goose zone Oct. 7 - Jan. 20

Big Game

Elk, General Season Muzzleloader: Nov. 1 - 9

Bear (fall hunt/pursuit): Nov. 1 - 26 (most units)

Cougar (fall hunt/pursuit): Nov. 22 - June 3 (most units)

Upland Game (Note: the following are general season dates; please check the proclamation before you hunt as many upland game season dates vary depending on the region or county):

Pheasant: Nov. 4 - 19

Chukar: Sept. 16 - Nov. 30

Blue and Ruffed Grouse: Sept. 16 - Nov. 30

Quail: Nov. 4 - 19

Rabbits and Hares: Sept. 16 - Feb. 28
(Cottontail rabbit, Snowshoe hare)

Furbearer Trapping Seasons Mid-October to April (season dates depend on species; check the proclamation for details)

Besides hunting, great fishing and wildlife watching are also available in the fall. So don't shut yourself indoors just yet -- there's plenty to do outside!

See Bighorn Sheep Near Moab

Moab -- A chance to view desert bighorn sheep in sunny southeastern Utah awaits Nov. 17 and 18 as the Division of Wildlife Resources hosts its annual Moab Bighorn Sheep Festival. The event is free, and people of all ages are invited to attend.

Sheep watchers are encouraged to bring a pair of binoculars or a spotting scope along with snacks, beverages and a
camera. DWR biologists will guide participants to locations where bighorns have been recently observed. The biologists will have extra spotting scopes and binoculars for people to use. They'll also have several large four-wheel drive vehicles for those who don't have the type of vehicle needed to reach the areas where the sheep are.

The festival begins on Friday evening, Nov. 17 at 7 p.m. in the Moab Information Center, located at the corner of Center and Main. Bill Bates, the DWR's wildlife manager for southeastern Utah, will present a PowerPoint program on bighorn sheep ecology and their life history. Bates studied desert bighorn sheep in the Moab area for his Master's Degree thesis. He will display skulls and horns of bighorn sheep and answer any questions.

At 8 a.m. the following morning (Nov. 18) participants will gather again at the Moab Information Center, where they'll split into groups and go in search of bighorn sheep. A DWR wildlife biologist will guide each caravan of vehicles. All of the parties will be in radio contact with each other, so everyone can be advised as soon as sheep are spotted.

Those who drive their own vehicle can leave the group at any time. For those who ride with DWR biologists, the field trips generally finish by noon or early afternoon.

The festival has been scheduled for the Nov. 17 - 18 weekend because bighorn sheep are in the rut at that time. Bighorn rams seek out ewes for breeding and engage other rams in head-butting and other ritual showmanship. This makes for exciting public viewing.

For more information, contact Brent Stettler at (435) 636-0266 or brentstettler@utah.gov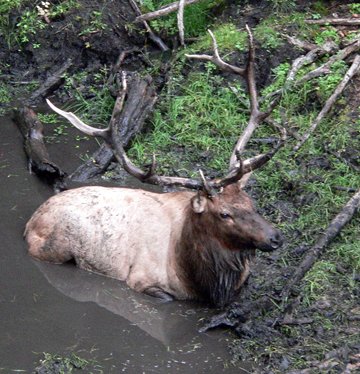 Bull Elk Hunting Changes Proposed for 2007

Rifle hunters could hunt buck deer for four extra days in southern Utah under a proposal the Division of Wildlife Resources is recommending for next fall.

Another proposal for 2007 would allow hunters to take more small bull elk on four of Utah's best limited entry units. All of these hunters would be under 18 years of age.

The DWR will present recommendations for Utah's 2007 big game seasons at a series of public meetings in November.

Those who attend the meetings can learn more about the proposals and can provide their input and suggestions. Citizens from Utah's five Regional Advisory Councils will take the public input received to the Utah Wildlife Board when it meets Nov. 30 in Salt Lake City to approve Utah's 2007 Big Game Proclamation.

Meeting dates, times and locations are as follows (please note that the Southern Region meeting will start at 5 p.m.):

Southern Region
Nov. 7
5 p.m.
Richfield High School
510 W. 100 S.
Richfield

Southeastern Region
Nov. 8
6:30 p.m.
John Wesley Powell Museum
885 E. Main St.
Green River

Northeastern Region
Nov. 9
6:30 p.m.
Western Park, Rm. # 2
302 E. 200 S.
Vernal

Central Region
Nov. 14
6:30 p.m.
Springville Junior High School
165 S. 700 E.
Springville

Northern Region
Nov. 15
6 p.m.
Brigham City Community Center
24 N. 300 W.
Brigham City

Highlights

Most of the proposals for Utah's 2007 big game seasons are from citizen groups, including Utah's Elk Management Plan Advisory Committee and the Cache (County) Deer Working Group. Among the proposals that will be presented at the meetings are the following:

- Lengthen the general rifle deer season to nine days in the Southern and Southeastern regions.

- Reduce the number of bull elk with smaller antlers on the Monroe, Pahvant, San Juan and Southwest Deseret limited entry units in southern Utah, where the ratio of bull elk to cow elk is almost equal. The Utah Elk Management Plan Advisory Committee is recommending "management bull" hunts that would allow additional bulls, with smaller or damaged antlers, to be taken on the four units. The DWR is recommending taking the additional bulls by providing more rifle permits to hunters who are less than 18 years of age. Youth hunters who took a bull with five or less antler points could keep their bonus points, and they would not incur a waiting period.

- Increase the age objective by one year on all of Utah's limited entry elk units. For example, the elk herds on most the units are managed so the bulls hunters take average between four and five years of age. This proposal would increase that objective so the bulls taken by hunters averaged between five and six years of age. The proposal would also raise by one year the age objective on three- to four-year-old units, and five- to six-year-old units. This proposal reverses a change the Utah Wildlife Board approved in 2005, when the age objectives were reduced to provide more hunters with a chance to hunt limited entry bull elk.

- Establish a combination buck deer/bull elk hunt in the Northern Region. A total of 2,000 Northern Region general season buck deer permits would be taken from the Northern Region allotment and made available for the special hunt. Hunters who drew one of the permits would also receive an any bull elk permit. The hunt would take place on any bull elk units in northern Utah during the general rifle elk hunt in early October. Hunters who drew one of the permits could take one buck deer and one bull elk.

- Establish a shed antler gathering season in the Northern Region. May 2 - Dec. 31 would be the only time that people could gather antlers shed by deer, elk and moose during the previous winter. The gathering season would apply to all land, both public and private.

Details

Improving Four Elk Herds

The number of bull elk on four of the West's best elk hunting units has increased to the point that the future of the four herds is in jeopardy.

"The quality of the bull elk hunters find on the Monroe, Pahvant, San Juan and Southwest Desert units is in jeopardy if something isn't done," says Craig McLaughlin, big game coordinator for the DWR.

"For the past few years, hunters have asked that a very limited number of bull elk permits be issued for the units. Because of the limited number of permits, the number of bull elk has increased to the point that there are almost as many bulls on the units now as there are cows."

Having lots of big bulls on the units might be exciting for hunters and those who enjoy viewing bull elk, but it spells trouble for the herds.

"During the breeding season, the largest bulls gather groups of cows. These large bulls will fight any other bull that tries to take their cows away from them," McLaughlin says. "There are so many big bulls on these units right now that there aren't enough cows for all of the mature bulls, and some serious fights are taking place among the bulls. Severe injuries can result from these fights, including injuries to the bulls' bodies and to their antlers."

McLaughlin says an even bigger problem is that the number of cows has had to be reduced to keep all of the bulls in the herds. And fewer cows mean fewer calves.

"Several factors, including the habitat that's available, limit the number of elk that can be on each unit," McLaughlin says. "Because there are so many bulls on these units, we've had to increase the number of cow elk permits to keep the herds from getting too big.

"For this reason, fewer and fewer calves are being born into these herds," he says. "The herds are doing great right now, but unless more calves are recruited into the herds, the herds will crash in a few years."

For the past two years, the DWR has recommended raising the number of limited entry elk permits for the four units. However, the agency has met resistance from elk hunters who are concerned about the number of large bull elk that would be killed.

This year the Elk Management Plan Advisory Committee has come up with a "management bull hunt" option that it believes addresses the concerns of hunters and will restore balance to the herds. The committee consists of 15 members of the public, including representatives from the Rocky Mountain Elk Foundation, Sportsmen for Fish and Wildlife and other conservation groups.

The committee is recommending that additional bull elk, with smaller or damaged antlers, be taken by hunters. To reach that goal, the DWR is proposing that more rifle permits be allotted for the four units.

Hunters less than 18 years of age would be the only hunters who could obtain these permits, and they could hunt only during the late rifle hunt in late November. These youth hunters would also be encouraged to only take bulls that have five or less antler points.

Nine-Day Rifle Hunt in the Southern and Southeastern Regions

Rifle deer hunters in the Southern and Southeastern regions could find themselves hunting four extra days next fall,
including an extra weekend, under recommendations the DWR will present at the meetings.

"Deer herds in Utah are continuing a slow but steady climb, and we believe the rifle hunt in the two regions can be lengthened without hurting the herds," McLaughlin says.

In 1999, hunters in the Southern Region asked that the season be cut to five days on the Pine Valley, West unit to try and improve the number of bucks on the unit. Five-day seasons were eventually expanded to cover all of the units in the region.

Hunters in the Southeastern Region asked for their first five-day season in 2000.

"The problem is that five-day seasons don't do what they're intended to do," McLaughlin says. "Most of the deer taken during the rifle hunt are taken during the opening weekend, so a five-day season really doesn't save many bucks.

"And five-day seasons take days away from hunters, especially young hunters. Because of school or church commitments, many of these young hunters can hunt only on weekends. Taking a weekend away means the rifle deer hunt for many of these young hunters consists of a single day. That isn't a very good way to get them interested in the outdoors and deer hunting.

McLaughlin says adding the four days should not have a negative effect on the deer herds in the regions. "Over the past three years, the buck-to-doe ratio in the Southeastern Region has averaged 16 bucks per 100 does," he says. "In the Southern Region, the buck-to-doe ratio over the past three years has averaged 15 bucks per 100 does, so there are good numbers of bucks in the herds."

The number of fawns per 100 does has also improved. This past spring, biologists counted about 65 fawns per 100 does in each region.

If the nine-day season is approved, biologists can still recommend fewer permits for the fall 2007 hunts if surveys after this year's hunting season find that the number of buck to does has fallen below management objectives.

For more information about the meetings, call the nearest Division of Wildlife Resources office or the DWR's Salt Lake City office at (801) 538-4700.

Cougar Permits Available Soon

Permits to pursue cougars, and permits to hunt cougars on harvest objective units in Utah, will be available beginning Nov. 7.

The state has 36 harvest objective units.

"Harvest objective units differ from traditional limited entry units in three main ways," says Judi Tutorow, wildlife licensing coordinator for the Division of Wildlife Resources.

"There is no limit to the number of permits that may be sold for each unit, and hunters may purchase the permits over-the-counter," she said. "The hunt on a harvest objective unit may close before the end of the season, however, if hunters take the number of cougars biologists want taken."

For example, if the objective is to take 10 cougars on a unit, the hunt on the unit closes when 10 cougars are taken, even if the ending date for the season hasn't arrived yet.

Utah's 2006 - 2007 cougar season begins Nov. 22, 2006 on some units and Feb. 17, 2007 on others. "The dates when the hunts start are found on page 15 of the 2006 - 2007 Utah Cougar Proclamation," Tutorow says.

The proclamation is available at the DWR's Web site ( http://www.wildlife.utah.gov ) and from hunting and fishing license agents statewide and DWR offices.

Hunters are reminded that they may not purchase a harvest objective permit if they've already obtained a limited entry cougar permit for this season.

Before each hunting trip, hunters must call toll-free 1-888-668-LION (5466), or visit the DWR's Web site at wildlife.utah.gov, to verify that the unit they'd like to hunt the next day is still open. The phone line and the Web site provide information for the next day's hunt and are updated by noon every day.

Following the lead of other Western states, Utah established harvest objective units in 1996 to help speed the recovery of deer herds in areas where predation is one of the factors that's limiting the growth of deer populations. By selling an unlimited number of permits, and setting a large desired harvest, biologists can increase cougar hunting pressure on these units. This increased pressure helps reduce the number of cougars and their predation on deer.

For more information, call the nearest Division of Wildlife Resources office or the DWR's Salt Lake City office at (801) 538-4700.
BLUERIBBON COALITION ACTION ALERT!
Dear BRC Action Alert Subscriber,
Attention All Recreationists!
National Off-Highway Vehicle Conservation Council (NOHVCC) has just emailed us their press release on the Instructional GPS Trail Mapping DVD which is now available. This is an outstanding tool to help riders and land managers save their favorite Forest Service trails during the Motorized Vehicle Route Designation process.
This DVD was developed jointly by the National Off-Highway Vehicle Conservation Council (NOHVCC), the Colorado Off-Highway Vehicle Coalition (COHVCO) and the Motorcycle Industry Council (MIC) with input from the USDA Forest Service (USFS), BlueRibbon Coalition, Americans for Responsible Recreational Access (ARRA), American Motorcyclist Association (AMA), Specialty Vehicle Institute of America (SVIA) and the United Four-Wheel Drive Association (UFWDA).
To read NOHVCC's Press Release or order your copy click the following link. http://www.nohvcc.org/IMAGES/prgps.asp . For more on the upcoming Route Designation workshops visit their Forest Service OHV Route Designation Page at http://www.nohvcc.org/forest/forest.asp .
UTAH WINTER GAMES REGISTRATION OPENS WITH A BANG!
Park City, UT (November 7, 2006) -- The Utah Winter Games has been promising a bigger and better season than every before, and it seems Utahns were just waiting for a chance to get in on it. Director Heidi Hughes says registration opened on Wednesday for this winter's learning clinics and the webmaster said the website was almost overwhelmed. In the first 24-hours, 372 people signed up for 470 spots in the clinics. As a result, five of the clinics are already sold out. This winter the nation's biggest and oldest winter games has 49 learn-to clinics in 15 sports, both numbers are the highest ever. To get in on the action, log on to www.UtahWinterGames.org.
The Utah Winter Games are the oldest and biggest amateur winter sports event in the country. They continue the legacy of 2002 in Utah by making it possible for large numbers of people of all skill levels to have a wonderful time with winter sports.
In the 2005-2006 20th anniversary season, more than three thousand people took part in 20 competitions in 15 sports and 32 instructional clinics. With the help of principal sponsor KSL, this coming season's Games will be significantly larger with more sports at more venues for more people.
The Utah Winter Games: All Ages, All Abilities, Always Fun.
For more information on the Utah Winter Games winter clinic and competition schedule, please visit the Utah Winter Games web site at http://www.utahwintergames.org .
Ski Utah To Throw First-Ever Season Kick-Off Party
Ski Utah will hold its season kick-off party to get the local ski and snowboard community pumped for the coming winter season while promoting Salt Lake City as America's biggest, most amazing ski town.
The free party will take place at the Gallivan Center in the heart of downtown Salt Lake City on Nov. 11 from 4 to 10 p.m. Utah SnowJam 2006 - Rockin' the Powder is geared for powder hounds of all ages and will feature live music by 80s cover band, the Metal Gods and music spun by DJ Knucklz. Other offerings will include the Ski Utah Photo of the Year contest, ski and snowboard videos, beer garden and food vendors, giveaways from all Utah resorts, local celebrity pro athlete poster signings, and a best '80s ski outfit contest, where the winner will receive new gear and clothing from Rossignol, Burton and Eider.
Local celebrity athletes will be signing posters in the Powder Lounge. Participating athletes include Sage Cattabriga-Alosa, Joe Pack, Grete Eliassen, Heidi Voelker, Graham Watanabe, Nikki Stone, Josh Madsen, and many more. Party goers are also encouraged to bring all their current and past season passes for a chance to win special prizes. Resorts will be giving away 2006-07 season passes.
Utah SnowJam 2006 is sponsored by Ski Utah, Salt Lake Convention & Visitors Bureau, Uinta Beer, X-96, KSL-TV, Newspaper Agency Corp, City Weekly, Valley Journals, Monster Beverage, Rossignol, Burton, Eider, Jacobsen Construction and all 13 Utah resorts.
Ski/Snowboard Publications Give High Marks to Utah Resorts
Following two consecutive seasons of above average snowfall and three years of record-breaking skier day numbers, it is no surprise that Utah resorts are appearing in greater numbers in the polls of the various ski and snowboard magazines.
Four of Utah's resorts placed in Skiing magazine's Top 25 resorts list: Alta/Snowbird (#2), Snowbasin (#10), Park City Mountain Resort (#11), and Solitude #25. Utah ranked #1 for Skiing's Secret Powder Stashes (obvious choice - Alta/Snowbird, next up - Powder Mountain).
SKI magazine's Top 30 Readers Poll included seven resorts: Deer Valley (#2), Park City (#5), The Canyons (#15), Snowbird (#21), Solitude (#25), Alta (#28), and Brighton (#29). In a list of Top Resorts for Snow, six of 6 of 10 resorts are located in Utah: Powder Mountain (#1), Alta (#2), Snowbird (#3), Brighton (#4), Solitude (#6), and Deer Valley (#8). Top 10 for Best Access included seven Utah resorts: Park City (#2), Deer Valley (#3), The Canyons (#4), Snowbird (#5), Solitude (#6), Alta (#8), and Brighton (#9). Deer Valley garnered coveted #1 slots for weather, grooming, service and on-mountain food. Powder Mountain scored a #1 ranking for value, and Alta for overall satisfaction. Snowbasin was rated #1 for best lifts.
Park City Mountain Resort was awarded Terrain Park of the Year by Transworld Snowboarding magazine for the third consecutive time. This marks the first time a single resort has earned the top slot three years running. And in Freeskier magazine, Alta/Snowbird ranked #3 in the Top 5 Rocky Mountain Resorts, The Best of the Rest list placed Snowbasin at #6, Park City Mountain Resort's terrain parks came in at #4, and Salt Lake City ranked #1 in the list of Best Rail Cities.
Ski Utah Launches Blog
With the growing popularity of blogging, Ski Utah is launching its own blog this season. Kent Hyden, a local skier, will make the rounds to Utah resorts to report on their unique offerings and convey the experience of skiing The Greatest Snow on Earth®. Reader comments and photos that Hyden takes on the slopes will also be featured in the blog.
"It will be a great addition to the Web site to have someone who truly lives for the sport to reach out to locals and visitors by giving them a first-hand account of daily conditions and what makes Utah skiing particularly special," explained Hilary Reiter, Ski Utah's communications director.
Having grown up ski racing in Minnesota, Hyden took on big mountain skiing in Aspen and Crested Butte. After appearing in the Matchstick Productions film Ski Movie, he moved to Utah in search of better snow. His recent accomplishments include placing 3rd at the U.S. Nationals at Snowbird and 10th at the U.S. Extremes at Crested Butte. This season Hyden will be competing in World Tour events.
The blog is expected to be online as the first resorts open. Ski Utah members are encouraged to link to the Blog on their Web sites and read it often to stay updated on Hyden's Utah ski adventures.
Utah Winter Games Sponsors WinterFit
WinterFit, sponsored by the non-profit Utah Winter Games, gives Utahans a unique format for having a good time while getting healthy. The competitive program will run for five months and will allow teams made up of anywhere from two to ten friends or co-workers to shape up or lose weight.
Teams can compete in either the Weight Loss or the Minutes of Activity programs, or they can enter both divisions. Prizes from sponsors are still being collected, but the incentives will get you weekly activity and nutrition tips, a WinterFit T-shirt, an online activity and nutrition journal, and weekly drawings for gift cards. There will also be grand prizes at the end of the program.
To sign up or learn more, log onto the Utah Winter Games website at http://www.UtahWinterGames.org .
Jeep King of the Mountain Series to Start Season at Snowbird
Organizers of the Jeep King of the Mountain Series, now in its 14th season, have announced that the first stop of its six-race tour will take place Dec. 2 at Snowbird Ski & Summer Resort.
In addition to the roster of pre-qualified invited athletes that includes past World Cup titlists, World Cup Champions, World Champions, National Champions and Winter X Games and Gravity Games gold medalists, the Jeep King of the Mountain Series will continue to incorporate a National Open Qualifier system at each event, allowing top-notch amateur and professional ski and snowboard racers to earn a spot against the worldb s best for a shot at the title of World Professional Champion.
Each race from the Jeep King of the Mountain Series is aired on CBS Sports, with additional coverage via national syndication.
Backcountry.com Sponsors AltaCam Photo Contest
AltaCam, an online community for Alta skiers, has announced its new photo of the month contest. Each month, contest participants can submit digital or print ski photos for a chance of getting their winning image published on the site and a Backcountry.com gift certificate for gear.
AltaCam's management will select the top three photos and post them in the Alta Skiing Forum for a community vote on Monday, November 27th. Voting will be open from midnight the 27th until midnight the 30th. The photo with the most votes after polls will be declared the winner.
For full contest details, visit http://www.AltaCam.com .
Snowbird Collects Two Tons of Food for Food Bank
On Oct. 25, Snowbird Ski & Summer Resort delivered over two tons of food collected during the resort's annual Customer Appreciation Days to the Utah Food Bank.
The four days of the annual food-raiser generated over two tons of non-perishable food for the charity, and $2,500 was raised for the Wasatch Adaptive Sports Program. Customer Appreciation Days, during which one can of food equals one free Tram ride, took place Oct. 14-15 and 21-22. In lieu of food, customers were able to make a $2 donation to Wasatch Adaptive Sports for a Tram ride.
On the Move: Michael Mack, Paula Fabel, Connie Jauregui, Sam Madsen
The Salt Lake Convention & Visitors Bureau (CVB) recently announced the appointment of Michael Mack to Vice President of Services, a new position responsible for overseeing the consolidation of all CVB service departments: convention & client, visitor and membership.
Paula Fabel recently joined the Park City Mountain Resort staff as communications coordinator after relocating from New York City where she worked for Porter Novelli, a large publication relations firm.
Newpark Resort Management, the property management company for the Newpark Townhomes and the impending Newpark Hotel in the Snyderville Basin, has hired Connie Jauregui as its first Operations Manager. She has held several management positions within the Park City lodging industry since 1996.
Also in Park City, the Yarrow Resort & Conference Center has named Sam Madsen as its new General Manager.
Adventure Rally underway this Weekend
American Rally Sport Group, Inc. (ARSG) created the Ramada Express International Rally USA that continues in 2006 as the Laughlin Internationally Rally, America s longest-running FIA-listed competition rally. ARSG also developed the unique Adventure Rally concept, a GPS-guided travel-tour challenge, now headquartered at Harrah s Laughlin.
The International Rally is the culminating event in the United Stages Rally Championship, a series sanctioned by the United States Auto Club (USAC) at the international level, and National Auto Sport Association (NASA) at the national and regional levels. As an FIA-listed event, the International Rally is open to all FIA-licensed competitors from around the world.
The Laughlin International Rally and Motorsports Festival is held in conjunction with the Laughlin Tourism Committee and the Las Vegas Convention and Visitors Authority.
SEASONAL CLOSURES AT WILLARD BAY STATE PARK

Willard - Most camping facilities are now closed for the season at Willard Bay State Park. Several sites in the front section of Cottonwood Campground remain available on a first-come, first-served basis. North Marina and Pelican Beach Day-Use areas remain open. Winter fees are $21 per night for camping and $9 for day-use. For more information, please call (435) 734-9494.

JORDAN RIVER OHV CENTER CLOSED FOR SEASON

Salt Lake - The Jordan River Off-Highway Vehicle Center is closed for the season.
Facilities are scheduled to reopen early April 2007. For more information, please call (801) 533-5425.


UPCOMING UTAH STATE PARKS EVENTS

November - December Statewide Snowmobile Education Classes
Utah State Parks is accepting registration applications for upcoming snowmobile classes in Cache, Carbon, Davis, Emery, Grand, Iron, Morgan, Salt Lake, Sanpete, Sevier, Summit, Tooele, Uintah, Utah, Wasatch, Washington, and Weber counties. Classes in other counties will be scheduled as applications for classes are received. Children eight to 16 must register one week prior to class. For registration materials, please call 1-800-OHV-RIDE or download the application at http://www.stateparks.utah.gov .

November 17 Antelope Island State Park-Syracuse
Hike with Naturalist: Join the park naturalist for an easy five-mile evening sunset hike along Lakeside Trail. Please dress for chilly weather, bring water, and camera. Participants should meet at the Lakeside Trailhead in White Rock Bay at 4:30 p.m. For more information, please call (801) 721-9569.

November 18 Antelope Island State Park - Syracuse
Second Annual Live Bison Auction: Sale animals may be viewed at 8 a.m., with the sale beginning at 10 a.m. sharp. Excess bison are sold to keep the bison population within the carrying capacity of the island's available forage. For additional sale information, please call Steve Bates at (801) 209-4678.

November 18 Antelope Island State Park - Syracuse
Saturday Programs: Junior Ranger - Join the naturalist on a tracking adventure at 11 a.m. Participants should dress for weather conditions; bring plenty of water, and sturdy shoes. This activity is intended for children ages six to 12, however all ages are welcome. Battle of the Wits - Participants test their knowledge of Antelope Island State Park. Participants should meet at the visitor center at 3 p.m. For more information, please call (801) 721-9569.

November 18 Wasatch Mountain State Park - Midway
Thanksgiving at Wasatch: From 11 a.m. to noon, children ages five to 12 are invited to join park staff to learn about American Indians who lived in this area and go on a turkey trot to find local wild turkeys. Meet at the Educational Yurt near the visitor center. For more information call (435) 654-1791.
Swans Are Migrating Through Utah

More Than 52,000 Counted on Nov. 7

The first swans of the fall - 22 of them - were spotted Oct. 10 during a Division of Wildlife Resources' survey along the Great Salt Lake's eastern shore.

What a difference three weeks makes.

During an Oct. 31 survey, DWR Migratory Game Bird Coordinator Tom Aldrich counted a whopping 40,132 swans. And that number climbed to 52,493 on Nov. 7.

"Swans are definitely migrating through Utah right now," Aldrich says.

Most of the swans spotted during the airplane survey flown during mid-morning on Nov. 7 were on Unit 1 at the Bear River Migratory Bird Refuge west of Brigham City. More than 28,000 swans were spotted on Unit 1.

"Unit 1 is not open to hunting, but swans from the unit may fly over units 2, 1A, 3A and 3B, which are open to hunting," Aldrich says.

Two other areas with lots of swans were the Bear River Duck Club east of the refuge and private duck clubs on the southeastern shore of the lake, south of the Farmington Bay Waterfowl Management Area.

A total of 9,308 swans were counted on the Bear River club and 2,354 swans were counted at the clubs on the southeastern shore.

Utah's swan hunting season ends Dec. 10. The 2,000 hunters who drew a hunting permit earlier this fall are the only hunters allowed to hunt swans.

Hunting Tips

To find success, Aldrich suggests hunters spend time watching the swans and learning their flight patterns. Tundra swans are very consistent in the times of day they fly and the routes they take. Hunters who learn these patterns will find the most success.

Swan activity also increases during the first ice-up, as swans search for areas with open water.

Factors that can change a swan's flight pattern include hunting pressure, weather changes and the availability of food, Aldrich says.

Hunters are reminded that the U.S. Fish and Wildlife Service has closed all of the areas north of the Bear River Migratory Bird Refuge and north of Forest Street (the road leading from Brigham City to the refuge) to tundra swan hunting.

The USFWS has restricted tundra swan hunting to try and lessen the number of trumpeter swans that are taken, Aldrich says. Trumpeter swans are less abundant than tundra swans.

Swan Hunting Reminders

Swan hunters are reminded about requirements that are designed to help the DWR and the USFWS obtain an accurate count of the number of trumpeter swans that hunters might accidentally take.

Within 72 hours of taking a swan, hunters must have the bird examined and measured at a DWR office, or the Bear River Migratory Bird Refuge. Also, everyone who drew a 2006 swan permit must return their harvest questionnaire within 10 days after the season closes, even if they don't hunt or take a swan.

People who fail to do these things won't be allowed to obtain a Utah swan permit in 2007.

"The U.S. Fish and Wildlife Service wants to make sure that all of the trumpeter swans that hunters might accidentally take are counted," Aldrich says. "We think the number of trumpeters taken by Utah hunters is very low. This monitoring program that we're continuing will help us know for sure."
Funding Available for Fishing and Boating Education Programs
Physical education teachers encouraged to apply for Physh Ed grants
November 9, 2006 - Alexandria, VA - The Future Fisherman Foundation (F3) has $200,000 available in grant funding for physical education teachers to incorporate fishing and boating education into their curricula, offering up to $5,000 in individual grants to help foster active leisure lifestyles and ethical attitudes about the outdoors.
Grant monies can be used for fishing and boating equipment, field trips, curriculum materials and other resources to assist instructors in carrying out fishing and boating education. Since its inception in 2003, the Physh Ed Grants Initiative has supported 152 schools in 39 states with more than $700,000 in grants. The program was developed through a partnership between the foundation, the Recreational Boating and Fishing Foundation (RBFF) and the National Association for Sport and Physical Education (NASPE).
"We've had wonderful success in exposing and engaging children all across the country to fishing and boating," said Michael Bolinder, executive director of the Future Fisherman Foundation. "Fortunately, enthusiastic teachers and committed partners have enabled this program to introduce students throughout the nation to fishing and boating."
In addition to grants, sponsoring organizations bring access to a nationwide network of outdoor educators, conservation groups and youth organizations that offer a variety of versatile fishing and boating education programs that can be tailored for teachers' specific interests and needs.
"The Physh Ed Grants Initiative is an excellent way to bring students close to aquatic resources while learning about life long sports like fishing and boating," said Jim Stewart, Manager of Education and Outreach for RBFF.
The partnership also provides training, access to discounted fishing gear and equipment and ongoing guidance from experts. A mandatory training workshop for grant recipients provides instruction on angling and boating skills, safety and ethics; basic equipment set-up and maintenance; fish and their habitat needs; taking part in community conservation efforts; developing partnerships for access to fishing and boating sites; and recruiting long-term mentors for children.
Applications must be received at the foundation office on or before Friday, March 2, 2007 at 5:00 p.m. All applicants will be notified in mid-May on the status of their grant proposals. The training workshop for grant recipients will be held in mid-July to help prepare teachers for the upcoming school year. Partners can also link teachers with state outdoor education professionals and community groups with tried-and-true fishing and boating education programs to help in the application process and ensure program success. The foundation staff is also available to provide technical assistance to complete the grant application.
To obtain grant application forms or for more information on the Physh Ed Grants Initiative and other angler education programs and services, please visit http://www.futurefisherman.org or contact PE Grants Coordinator Jesse Graytock at jgraytock@asafishing.org or 703-519-9691, x224.
The Future Fisherman Foundation and the Recreational Boating and Fishing Foundation provide a wealth of information on where to fish or boat, how to get started, how to obtain a fishing license and local fishing and boating regulations on their respective websites. For more information please visit http://www.futurefisherman.org and http://www.takemefishing.org .
Grant recipients for the 2006-2007 school year include: St. Pius X Catholic School (Mobile, AL), O'Rourke Elementary (Mobile, AL), Crossroads Alternative School (Rogers, AR), Holt Middle School (Fayetteville, AR), Pacheco School (Redding, CA), San Miguel Avenue Elementary (South Gate, CA), Anderson New Technology High School (Anderson, CA), Acres Green Elementary (Littleton, CO), Montrose High School (Montrose, CO), Garden Park High School (Garden Park, CO), Gunnison Valley School (Gunnison, CO), Gunnison High School (Gunnison, CO), Troy Junior Senior High School (Troy, ID), Independence Alternative High School (Blackfoot, ID), Riverside Brookefield High School (Riverside, IL), Minooka Community High School (Minooka, IL), Woodstock High School (Woodstock, IL), Prince George's County Adapted PE Program (Clinton, MD), Pillager Public School (Pillager, MN), Jefferson City High School (Jefferson City, MO), Florence-Carlton High School (Florence, MT), Cartoogechaye Elementary School (Franklin, NC), Atlantic Christian School (Egg Harbor Township, NJ), Cobleskill-Richmondville High School (Richmondville, NY), Homer High School (Homer, NY), Mechanicsburg High School (Mechanicsburg, PA), Perseus House Charter School (Erie, PA), Pittsburgh High School for the Creative and Performing Arts (Pittsburgh, PA), Wolfcreek and Rockyford Elementary (Pine Ridge, SD), Space Center Intermediate (Houston, TX), Stephenville High School (Stephenville, TX), Katy High School (Katy, TX), Cache Valley Learning Center (South Logan, UT), Robious Middle School (Midlothian, VA), Stonewall Jackson Middle School (Mechanicsville, VA), Tahoma High School (Covington, WA), Holmen Middle School (Holmen, WI), Barron High School (Barron, WI), Malcolm Shabazz Alternative High School (Madison, WI), Prairie Farm School (Prairie Farm, WI), and Lourdes High School (Oshkosh, WI).
The Future Fisherman Foundation is the fishing recruitment and education arm of the American Sportfishing Association, the sportfishing industry's trade association. The Future Fisherman Foundation unites the sportfishing industry with a nationwide network of state outdoor educators, national conservation groups, and youth organizations, offering a variety of fishing and boating programs, equipment, and services to community groups and schools across the country. These efforts help people of all ages have safe and enjoyable fishing experiences that foster conservation ethics.
GET THE MOST OUT OF YOUR HYBRID
AAA Offers Tips to Improve Hybrid Vehicle Fuel Efficiency
SALT LAKE CITY, November 9, 2006 - It's a hard truth that many hybrid car drivers have come to know all too well: The promises of fabulous fuel efficiency don't always turn out to be completely accurate. While this is due to a number of factors, AAA Utah has identified techniques drivers can use to increase the efficiency of their hybrid cars."As a rule, hybrid cars offer vastly superior mileage compared to their gasoline-only counterparts, but drivers don't always achieve the fuel efficiency they anticipated," explained Rolayne Fairclough, spokesperson for AAA Utah. "AAA's automotive experts have examined the issue and identified several tips and tricks that can help drivers get the most out of their hybrid cars."
Energy monitors: The energy monitor in most hybrids is a driver's best friend. It will tell you exactly what is happening with the power demands, state of battery charge and will calculate an instant miles-per-gallon average for you. A glance at strategic times can help you maximize the efficiency of the hybrid design. Pay attention to how your driving techniques are reflected in the monitor and make adjustments when possible.
Braking techniques: Identifying braking techniques unique to your hybrid can help recharge the car's battery and improve fuel efficiency. The following are tips for some of the more popular hybrid models:
· Toyota Prius: When you are able to anticipate an upcoming stop in a Prius, take advantage of the regenerative braking by lightly applying pressure to the brake pedal. This will help control speed and will send more energy to the batteries than coasting to a stop.
· Honda Civic Hybrid: The latest version of the Civic Hybrid uses an auto-stop feature to control gas engine use at stop lights and signs. This feature needs to be managed in order to maximize efficiencies. Once you come to a stop and auto-stop activates, do not allow your vehicle to creep up if the vehicle in front of you moves up. The engine will re-engage and may not activate auto-stop until the next long stop.
· Ford Escape Hybrid: When surpassing 30 mph., the Ford Escape's gas engine kicks in automatically. Max A/C will automatically engage the gas engine. The most efficient mode for the Escape is long smooth and steady braking events that help recharge the battery.
Maintenance: Regularly checking your tire pressure is one of the best ways to improve fuel efficiency and safety. Oil changes, balancing and rotating tires, air filters, etc. also need your attention. Brakes, exhaust and suspension systems of hybrids are based on conventional vehicle designs and require maintenance as well.
Cruise control: The best time to use cruise control is on a long stretch of road that doesn't have much incline or decline. When you come to a hill, it's best to anticipate the change and start accelerating to meet the demand.
Air conditioning: Using air conditioning in the max A/C mode will always force the gasoline engine to engage. If you manage the A/C so that you use it sparingly and only to cool when needed, you can improve your performance. Even turning off the A/C going up hill and waiting until you start downhill to turn it back on will have a positive impact.
Electronics: The more accessories you use, the lower your mileage will be. Radios, cell phone chargers, GPS devices plugged in the power port all drain the batteries and require the gasoline engine to engage so it can help the recharge process.
After-market accessories: Many aftermarket devices are available for the automotive enthusiast. Every time you install a bug shield, fender trim, custom wheels, or any other item, you decrease the vehicle's important ability to slip through the air. Even a simple antenna ball has a negative affect on mileage
Speed: Get up to speed quickly and don't exceed the speed limit. Some experts say that a hybrid has a sweet spot at 45 mph. They believe that for every mph over 45 mph you lose efficiency.
As part of November Hybrid Awareness Month, AAA Utah is offering a variety of free alternative fuel information and hybrid driving tips at all its local offices. November's activities are all part of the AAA Greenlight™ Initiative, AAA's program to promote the understanding and development of alternative fuels and vehicles. More information about the Greenlight Initiative is available at http://www.aaa.com/greenlight
AAA Utah offers a wide array of automotive, travel, insurance and financial services to more than 150,000 members. AAA has been a leader and advocate for the safety and security of all travelers since it was founded more than 100 years ago.