Jay & Carol Fuller crowned Utah State Champions

(Salt Lake City, Utah) --- Jay and Carol Fuller of Utah County took home the title of "State Champions" at Saturday's 2005 Utah State Championship Dutch Oven Cook Off at Cabela's in Lehi. The Fullers prepared three high-scoring dishes that wowed judges and impressed spectators. The winners were presented with a Cabela's gift certificate, a plaque, and a Nickel-plated mini Camp Chef Dutch oven courtesy of Ogden Chrome.

Their Stuffed Beef Tenderloin was served on a bed of lettuce, resting atop a reversed Dutch oven lid. A Stromboli Pizza Bread was filled with delicious flavors. Their Heavenly Tropical Pie was filled with great flavors that brought thoughts of an island getaway.

Seven excellent teams competed for the title. Each team prepared a Main Dish, Bread and Dessert using cast iron Dutch ovens and cookware. Cabela's offered prize money to each of the winning teams. Cabela's employees also awarded prizes to their favorite dishes.

Judges included Bryan Woolley of Love to Cook at Kitchen Kneads of Logan, Keith and Wendy Fisher who are the reigning IDOS World Champions, and Brad Memmott of Cabela's.

The Fullers also took home the coveted "Camp Chef's Choice Award" for their Heavenly Tropical Pie. The prize was a new $350-value Smoke Vault, a full-size propane smoker from the Logan, Utah-based manufacturer. The Fullers advance to the United States Dutch Oven Championship cook off next summer and are already qualified to cook in the March 2006 International Dutch Oven Society World Championship Cook Off.

Recipes from the event can be downloaded from the Camp Chef website at http://www.CampChef.com . For information on competing in the 2006 Utah State Championship Cook Off, please contact Todd Carter, event chairman, at schicken@comcast.net .

BUCK POACHED NEAR SOLDIER SUMMIT
PRICE, UTAH--On Sunday afternoon of October 30, 2005 a buck deer was killed on the Soldier Summit Cooperative Wildlife Management Unit (CWMU) in Utah County. The deer was on a hillside in Spring Canyon, approximately 50 yards from State Road 96, which is the highway running between U.S. Highway 6 with Scofield Reservoir. The deer appears to have been shot from the highway, dragged down the hill and loaded into a vehicle. The CWMU operator had watched a large buck breeding several does in the immediate area that afternoon. Later on, drag marks and a blood trail were all that were left. The general season deer hunt for the southeast region had closed four days earlier on October 26. Anyone with information about this illegal harvest should contact Conservation Officer Stacey Jones at 435-820-6445 or call the HSP hotline at 1-800-662-DEER.
2005 MOAB BIGHORN SHEEP FESTIVAL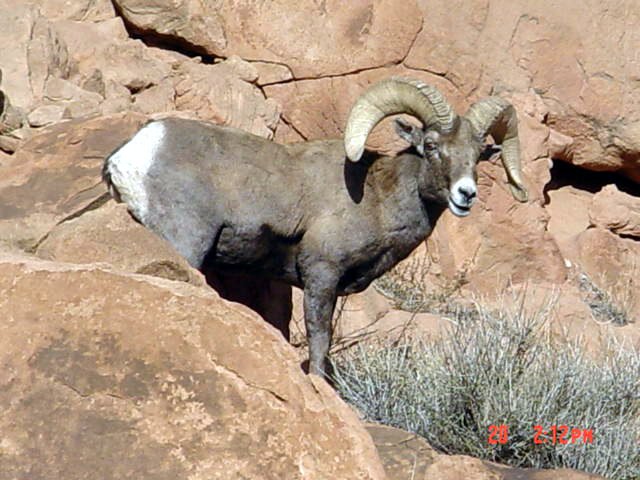 PRICE, UTAH--On November 18-19, 2005, the Division of Wildlife Resources (DWR) will once again sponsor its annual Moab Bighorn Sheep Festival. The event is free to the public. Participants of all ages are invited. Sheep watchers are encouraged to bring a pair of binoculars, spotting scope, snacks, beverage and camera. The DWR will guide participants to locations where bighorns have recently been observed. DWR personnel will have extra spotting scopes and binoculars for public use. The DWR will also have several Ford Expeditions on-hand for those who don't have adequate transportation.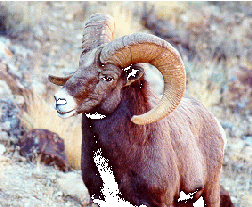 The event begins on Friday evening, November 18 at 7 p.m. in the Moab Information Center, located at the corner of Center and Main. Bill Bates, DWR Wildlife Program Manager for southeastern Utah, will present a PowerPoint program on bighorn sheep ecology and life history. For Mr. Bates' Master's Degree thesis, he studied Desert Bighorn Sheep in the Moab area. Bates will display skulls and horns of bighorn sheep and will answer any questions the public may have.
The following morning at 8 a.m., participants will gather at the Moab Information Center once again, where they will split off into groups in search of bighorn sheep. Each caravan of vehicles will be guided by a wildlife biologist. All parties will be in radio contact with one another, so that everyone can be advised of any other group's success at finding sheep. Those who wish to drive their own vehicles may leave the group at any time. For those, who ride-share, fieldtrips generally finish by noon or early afternoon.
The festival has been scheduled for the November 18-19 weekend, because bighorn sheep are in the rut at that time. Bighorn rams seek out ewes for breeding and engage other rams in head-butting and other ritual showmanship. This makes for exciting public viewing. For more information, contact Brent Stettler at 435-636-0266.
News from Monolithic Dome Institute
2005 Monolithic Dome Tour
This year's annual tour, held during the weekend of October 7, 2005, attracted hundreds. While dome owners in twenty different states participated, a Florida dome-home had one of the best responses. For a recap of the event, go to:

http://www.monolithic.com/dometour/index.html

2006 Monolithic Conference
February 17 and 18, 2006 at the Ft. Worth Plaza Hotel promise to be exciting and informative. Those are the dates for the 2006 Monolithic Conference. This twelfth annual conference will include presentations by experts on various facets of dome planning and construction, an opportunity to network with the pros and exchange ideas and information with future dome owners, a visit to Monolithic's headquarters in Italy, TX, and a banquet dinner with guest speaker David B. South, president of Monolithic. Register now: http://www.monolithicmarketplace.com/cgi-bin/shopper.cgi?key=PMDC001&preadd=action
2006 Monolithic Calendar
Looking for a unique gift for a special friend or coworker? Monolithic's 2006 Calendar is definitely an attention-getter and conversation piece. It features sharp, full color photos of unique domes in India, Russia, Poland, Canada and several of our states. For example, there's a hi-tech radio station in Krakow, Poland; the one-and-only Monolithic Dome home in Moscow, Russia; tsunami housing in New Delhi, India; fire going over a dome home in Yucaipa, California and eight others. You may order online:
http://www.monolithicmarketplace.com/cgi-bin/shopper.cgi?key=CAL06&preadd=action

Progress At Faith Chapel Christian Center
Construction of the six new domes at Faith Chapel Christian Center in Birmingham, Alabama is progressing nicely. Currently, tiling of their Word Dome is being done, and as the other domes are built they too will be tiled. Please see:
http://www.monolithic.com/gallery/churches/faith_chapel-newpic/

WASATCH WINTER FILM FESTIVAL CALLS FOR ENTRIES
The first annual Wasatch Winter Film Festival is looking for amateur ski and snowboard films from around the Wasatch. The White Room, as the film festival is being called, seeks to expose the local talent and cinematographers who catch snowsport action on film. The festival is presented by FreeRide Magazine, The Utah Ski & Snowboard Journal.
The film festival will take place Saturday, December 3rd at Prospector Square Conference Center in Park City. Films will be shown in the Celebrity Theater, one of the Sundance Film Festival venues. Scheduled starting time is 6:00 p.m., with clips from some of this season's most popular films. A portion of last season's local underground hit, "Chubby Snow," will kick off the amateur films at 7:00 p.m. Entry is $5 at the door, and includes one raffle ticket.
There are separate categories for age (middle school, high school, and open); discipline (alpine, snowboard, telemark, or mix); and setting (park, resort, backcountry). Over $10,000 worth of gear and lift tickets from sponsors will be split between filmmakers and raffle winners. Major sponsors are Winterstick and Rossignol. A portion of the proceeds raised will be split between the Youth Winter Sports Alliance and Friends of the Utah Avalanche Center.
The White Room is accepting both 5-minute trailers and 20-minute shorts. Entries are due by Saturday, November 26th, and can be mailed to FreeRide Media at 900 Bitner Road, G-11, Park City, UT 84098. They must be either DVD or VHS format. Questions can be directed to Mike Sharp at (435) 940-0590. See http://www.freeridemagazine.com for a complete list of sponsors and the latest information.
Sportsmen Against Hunger Week Returns a Third Year
TUCSON, Ariz. , Nov. 7, 2005 - As part of its ongoing efforts toward ending hunger, the SCI Foundation has proclaimed November 13-19, 2005 as its third annual Sportsmen Against Hunger Week. The SCI Foundation is challenging North American sportsmen and -women to give part of their harvests from this hunting season to the hungry in their communities.
"Last year, hunters did a wonderful job helping the SCI Foundation battle hunger in their communities," said SCI Foundation Executive Director Tom Riley. "This year, we are asking them to pull out all the stops. Hunters have the power to make hunger go away, and the SCI Foundation is ready to give them the opportunity."
Sportsmen Against Hunger is active in all 50 U.S. states, parts of Canada and in several countries around the world. Launched in 1989, this much-emulated program is supported by SCI's international network of over 170 Chapters, some 46,000 SCI Members and other sportsmen who establish local drives, fundraisers and other program support efforts.
Last year, hunters participating in Sportsmen Against Hunger Week provided the hungry across the United States with an astounding 575,460 meals'-worth of processed game meat. This year, the SCI Foundation is looking to top itself by urging the outdoor sporting community to give even more of this high-protein, low-fat food resource.
Sportsmen and -women who are unsure where to take their harvests for donation can look to the SCI Foundation's online databases of nearly 400 licensed game processors and over 300 relief organizations across the United States that use wild game for local hunger programs. These easy-to-use databases are located at http://www.sci-foundation.org/humanitarian/sah . Many of the processing companies and relief organizations are willing to pay for part or all of the processing and/or transportation costs.
To learn more, please contact SCI Foundation Humanitarian Services Coordinator Allyson Barreras at 520-620-1220, ext. 480; abarreras@safariclub.org .
The SCI Foundation is a 501(c)(3) nonprofit charitable organization that funds and manages worldwide programs dedicated to wildlife conservation, outdoor education and humanitarian services, including such programs as Sportsmen Against Hunger, Sensory Safari, SafariCare, Disabled Hunter, the American Wilderness Leadership School, Becoming an Outdoors Woman & More and Youth Education Seminars (YES) Outdoors. Call 877-877-3265 or visit www.sci-foundation.org for more.
SCI's record-breaking 33rd Annual Hunters' Convention hosted more than 19,700 sportsmen from 50 countries around the world. Thanks to over 1,100 top exhibitors helping hunters realize dreams around the globe, the Convention raised nearly $11 million for SCI and the SCI Foundation. To register to attend SCI's 34th Annual Hunters' Convention, in Reno Jan. 18-21, 2006, call 888-746-9724 toll-free or visit http://www.safariclub.org .
During SCI's 33rd Annual Hunters' Convention, the SCI Foundation beat past records for its annual Sportsmen Against Hunger "Feed the Hungry" Feast. Hosted with the Salvation Army Reno and Reno-area businesses, charitable organizations and individuals, the Feast fed some 1,200 of Reno's homeless, under-housed, and hungry. At the 2006 SCI Convention, the SCI Foundation is looking to feed even more Reno needy.