Test Site Fire Update
CEDAR CITY, UTAH - This afternoon, the Test Site fire looks good on the entire perimeter. The fire is still smoking and has isolated torching of interior trees. Containment is expected for this weekend.
Interagency resources on scene include: 13 engines, three hand crews and two water tenders. Air attack was needed this afternoon as the wind picked up, however the plane was only needed as another set of eyes on the fire.
Fire restrictions are now in place for Washington County, Zion National Park and northern Arizona (Arizona Strip) as of midnight May 26, 2006.
Landowner Gives Land and Money to Help Columbia Spotted Frog

Francis -- Something historic happened May 23 on the bank of the Provo River near Francis.

In addition to donating more than 600 acres of land to protect Columbia spotted frogs, a private landowner did something unheard of -- he gave the Division of Wildlife Resources more than $235,000 to help cover the costs of monitoring and protecting the frog.

A dedication ceremony on May 23 culminated a five-year effort among the DWR, other natural resource agencies and the Victory Ranch Club to protect the Columbia spotted frog.

The Victory Ranch Club is an exclusive development that includes home sites, golf cabins, an equestrian center and a Rees Jones designed golf course.

The development is also committed to preserving and enhancing the wildlife habitat found along the Provo River. In addition to donating more than 600 acres of land, at the dedication ceremony Victory Ranch Club owner Bob Larsen presented an endowment fund check for $237,500 to the DWR to cover the costs the division will incur to monitor the easement area throughout the future.

With tears in his eyes, Larsen said "It's an emotional thing for me to be able to say that nothing, nothing will ever be built on this river. "I think this agreement is a model for generations to come, and I think this will help Utah immensely. I'm proud to be able to do this."

Larsen says the area immediately surrounding the Provo River could have been developed into a beautiful golf course. Not only did the Victory Ranch Club decide to relocate the golf course to another location, the development may also preserve up to 2,000 additional acres of land for open space and wildlife.

Krissy Wilson, native aquatic species coordinator for the DWR, says the conservation easement is a good example of how private developers and natural resource agencies can work together to protect wildlife.

"Protection of this beautiful river corridor and adjacent wetlands would not have been possible if it weren't for the vision, persistence and hard work of Bob Larson of Victory Ranch Club, and his staff,"
Wilson said.

"It's a rare breath of fresh air and a welcome glimpse of open space in an area that's facing tremendous development pressure," she said. "We are pleased and proud to be a part of this historic event, another step in a long process made possible by a diverse and committed team of wildlife professionals and concerned citizens."

Background

On April 19, 2006, the DWR and Victory Ranch Club completed and signed a conservation easement for approximately 600 acres along five miles of the Provo River corridor. The Victory Ranch Club will restore and enhance this five-mile stretch of the river corridor, which is important
habitat for the Columbia spotted frog. Protecting this critical habitat is an important step towards the Columbia spotted frog not being listed as endangered under the federal Endangered Species Act.

Though the public will not have access to this stretch of river, improvements to the river will benefit both fish and wildlife.
Spotted Frog History
More than 50 years ago, the Columbia spotted frog was found throughout the Wasatch Front. Many people remember the Columbia spotted frog as being the most abundant frog around the Woodland and Kamas area. Spotted frog populations have declined since then because of a loss of wetland habitats, the introduction of mosquito fish and other wildlife species that aren't native to the area and poor water quality.
The Columbia spotted frog has been petitioned twice for listing as endangered under the federal Endangered Species Act. In 1998, an interagency Spotted Frog Conservation Agreement was
developed under the guidance of the DWR to address the decline of the Columbia spotted frog. The agreement's goal is to reduce threats to existing spotted frog populations and to put populations back into their historic range.

Because of the agreement, the Columbia spotted frog was not listed as endangered, but Utah's spotted frog populations were far from being secure.

Through a partnership among Utah's resource agencies, a spotted frog team was created eight years ago, and much has been accomplished for the Columbia spotted frog during that time.

The team includes representatives from the U.S. Fish and Wildlife Service, the U.S. Bureau of Land Management, the U.S. Bureau of Reclamation, the Utah Reclamation Mitigation and Conservation
Commission, the Utah Central Water Conservancy District, the Confederated Tribes of the Goshute Reservation and the Division of Wildlife Resources.

Some recent accomplishments include:
- Two recent conservation easements that protect 167 acres of critical spotted frog habitat in Sanpete County, have been entered into.
- Several more conservation easements are being negotiated.
- Two previously unknown spotted frog populations were recently discovered by DWR personnel as they conducted spotted frog surveys near Vernon and in the Diamond Fork River areas in central Utah.
- Several research studies to determine the habitat requirements for the spotted frog have been commissioned.
- Several thousand acres of spotted frog habitat in Juab and Wasatch
counties have been modified and enhanced. Most of the restored habitat is found within an area along the Provo River in the Heber Valley that is being restored by the Utah Reclamation and Mitigation Conservation Commission.
- Recently, the conservation team worked with Dr. Mark Belk at Brigham Young University to develop a reintroduction protocol to safely reintroduce the Columbia spotted frog back into its historic habitat along the Wasatch Front.
Wasatch Front Chapter of Backcountry Horsemen of Utah Plans a Trail Trotters' Day
The local Backcountry Horsemen of Utah Chapter is participating in the observance of National Trails Day on June 3rd 2006. The chapter is joining the Equestrian Land Conservation Resource (ELCR), a not-for-profit national organization, in its efforts to preserve open land for horses as well as with the Utah Division of Wildlife Resources, the American Hiking Association and Weber Pathways.
Date: 06/03/2006
Place: Middle Fork Wildlife Management Area, Huntsville Utah
Time: 9:00 a.m.
Event Details: The event is being conducted at the Department of Wildlife Resources Middle Fork Wildlife Management Area trailhead, a popular area for horseback riding in Northern Utah. Cleanup will begin at 0900. Rakes, shovels, forks should be brought to trailhead. We will furnish trash bags etc. A "Soon to be Famous" Burger Burn will be provided to all workers at about 1130. Following lunch, groups will ride the trails emanating from the trail head to collect litter, survey noxious weeds and to post boundary markers.
Directions to Site: Northeast of Huntsville
Middle Fork Wildlife Management Area
ALL ARE WELCOME!
The Backcountry Horsemen of America and ELCR are dedicated to promoting access to and conservation of land for equestrian and other compatible uses through education and partnerships.
ELCR was organized by equestrian conservationists who were concerned about the impact of changing land use for horsemen.
Back Country Horsemen of America, the parent organization of BCHU, has been around since 1973 working to perpetuate the historic use of recreational stock in the back country.
The Wasatch Front Chapter of BCHU and the ELCR recognize that unity among the diverse interests in the horse industry is the key to its success in raising awareness, assisting with conservation projects and encouraging equestrians to be proactive regarding land access.
"We encourage partnerships between equestrians, conservationists, and land managers through support of locally initiated projects and development of educational programs," says ELCR Executive Director Kandee Haertel.
Trail Trotters is a free program that is being funded with the help of ELCR's major sponsors including the National Forest Foundation and Tread Lightly!®,. Land and stewardship materials are being provided by Tread Lightly!®, one of ELCR's Alliance partners.
For further information regarding BCHU, contact Craig Allen at P.O. Box 3792 Ogden, UT 84409; Phone: 801-985-1909; email: allenceco@msn.com ; web page: http://www.bchu.com . For further information regarding the Equestrian Land Conservation Resource, contact Kandee Haertel at P.O. Box 423, 126B N. Main St., Elizabeth, IL 61028; phone: (815) 858-3501; email: info@elcr.org ; web page: http://www.elcr.org .
Hogle Zoo Announces "75 Years of Memories" Photo Contest
Help us celebrate our 75th anniversary
The focus is on memories, 75 years of memories! Do you have a memorable photo of your kids next to the Lion Head drinking fountain? Or an original photo of Princess Alice or Shasta the Liger? Gather your Zoo photos for the "75 Years of Memories" Photo Contest, running from May 26 through June 26, 2006.
The public is invited to be a part of our 75th anniversary celebration by entering their favorite photo taken at Hogle Zoo sometime in the past 75 years. The contest is open to anyone who has visited Hogle Zoo since 1931.
Entry forms and rules are available on line at http://www.hoglezoo.org/75th or at Hogle Zoo's Guest Services office. There will be an entry fee of $7.50 for up to three photos, no larger than 8x10. The entry fee will go towards future Zoo projects. Photos can be of animals, exhibits, Zoo features, or guest interactions, but it must have been taken at
Utah's Hogle Zoo sometime in the past 75 years. Pick your best Zoo photo and help us remember the great times.
Photos will be judged on the grounds of general interest and technical quality. Originality and artistic expression will also be taken into consideration. A panel of Zoo employees from various departments will judge all entries.
The top photographs, as selected by the judges, will be displayed during Hogle Zoo's Historical Retrospective, July 10 through August 6. The top three winners will receive Zoo memberships along with prize packages valued up to $200. The grand prize photo will also grace the cover of the fall issue of the Safari member newsletter, sent to over 16,000 households.
For more information about Hogle Zoo, the 75th Anniversary celebration or the Photo Contest, visit http://www.hoglezoo.org , or call (801) 582-1631, ext. 657.
The Clark Planetarium Super Summer Adventure Series.
Six IMAX® films. One package price. No luggage required.
Join us this summer for the Clark Planetarium Super Summer Adventure Film Series. Twelve weeks of cinematic world travel and adventures that will inspire you for the rest of your life. Featuring: To Fly!, The Living Sea, Space Station 3D, Journey Into Amazing Caves, Amazon and Everest.
Save 50% when you buy the Summer Film Series Passport. Passports are just $25 and include one ticket for each IMAX film.
And, if you purchase your Passport before June 29, you'll be entered for a chance to win a one year membership to Toyshare International. Toyshare International is a membership club giving customers access to the latest models of the best outdoor toys without the hassle and expense of owning each one individually. Visit http://www.clarkplanetarium.org for details!
Snowbasin announces Summer Activities
May 25, 2006
Huntsville, Utah -A 3k and 5k fun run, Children's 150-Yard Hill-Climb and Children's Challenge (obstacle) Race are planned for Snowbasin Resort's opening weekend on Saturday, June 24th.
Snowbasin invites everyone to test running/walking skills, and looks forward to the
special activities planned for children - the Children's Challenge Race (obstacle) and the Children's 150-Yard Hill-Climb up Little Cat ski run. Following the race, a pancake
breakfast will be provided to racers with the awards ceremony following. Proceeds from the race will be contributed to the Snowbasin Ski Education Foundation- Snowbasin Alpine Team. The team is a non-profit organization dedicated to the development of young ski racers. The Snowbasin Alpine Team provides a fun, yet challenging way for young men and women to improve their skiing and to develop skills and discipline that will provide lifelong enjoyment of an active outdoor life.
The Flying Moose racing events launch an enticing array of summer activities including free Sunday concerts, full moon star parties with gondola ride, and this summer season's new Sunday Brunch at Needles Lodge on Needles Patio al fresco.
Age Divisions:
Children's Challenge Race (Obstacle) Ages 7 and under
Children's 150-Yard Hill-Climb Ages 8-11
3k and 5k fun run/walk All ages
Age Divisions:
11 and under 12-14 32-37 56-60
15-17 38-43 61-65
18-24 44-50 66 and over
25-31 51-55
To pre-register, please call Steve Andrus at Snowbasin Resort at 801-620-1011. Pre-registration ends at 5:00 p.m. June 23rd
3/5k Adult Entry fee $16.00
Youth (12 and under) Entry fee $12.00
Late Registration on Day of Race Adult $18.00
Late Registration on Day of Race Youth $14.00
Children's 150-Yard Hill-Climb Entry fee $8.00
Children's Challenge Race (Obstacle) Entry fee $5.00
Pancake breakfast, and t-shirt included in the entry fee.
Registration: 7:00 a.m. until 8:30 a.m. at Information Desk in Earl's Lodge
Schedule:
9:00 Start at Snowbasin Plaza for 3k and 5k
9:30 Start at Little Cat Lift House 150 yard hill climb
9:45 Start at Wildflower Meadows Obstacle Course
10:00 Pancake Breakfast Earl's Lodge
11:00 Awards Ceremony on Snowbasin Plaza
Honda World invites to next Off Road Ride
Hello Friends!

Great news! We are having some succes on our rides, and we want to move it to the next level. We have had a stern talk with some of our employees that set a poor example on our last few rides, and we want you to come ride with us again. We also scheduled the rides out through July so you have plenty of time to plan it into your schedule. We have our bear lake ride planned as well as some great off road rides!
Check out our ride schedule at http://www.hondaworldslc.com and go to the events tab. We really would like to get some more customers coming to ride with us!

Thanks Steve

Perry Brothers Honda World
10764 S 300 W
Salt Lake City, UT 84095
(801) 572-9800

Please visit our website at the following location: http://www.hondaworldslc.com

Winners Announced for Utah Tourism Advertising and Marketing Contest
Ogden * Winners of the First Annual Utah Tourism Advertising and Marketing Contest have been announced by the Utah Office of Tourism and the Utah Tourism Industry Coalition. The contest celebrates excellence in Utah-related tourism advertising, marketing and promotion. Contest winners were recognized at a luncheon held on Friday, May 19 during the Utah Tourism Conference in Ogden.


"We are impressed with the creativity and quality of ads submitted by our tourism partners in Utah," says Leigh von der Esch, managing director of the Utah Office of Tourism, Governor's Office of Economic Development. "Our state has many great destinations and festivals to promote, including world-class ski resorts, challenging golf courses, unique dinosaur attractions, annual pioneer celebrations, and award-winning plays."

Contest winners:

Best in Show
* Less than $200,000 Annual Budget * Wolf Creek Resort and Club
* $200,001- $1,000,000 Annual Budget * St. George Area Convention and Visitors Bureau
* More than $1,000,000 Annual Budget * Park City Chamber

Activity/Special Event Brochures
* Less than $200,000 Annual Budget * Dinosaurland Travel Board
* $200,001 - $1,000,000 Annual Budget * Davis Area Convention and Visitors Bureau
* More than $1,000,000 Annual Budget * Western Leisure

Billboards
* Less than $200,000 Annual Budget * Ogden Pioneer Days
* $200,001 - $1,000,000 Annual Budget * Hogle Zoo
* More than $1,000,000 Annual Budget * Salt Lake City International Airport

CDs/DVDs
* Less than $200,000 Annual Budget * Westminster College
* $200,001 - $1,000,000 Annual Budget * Davis Area Convention and Visitors Bureau
* More than $1,000,000 Annual Budget *Ski Utah

Direct Mail
* Less than $200,000 Annual Budget * Westminster College
* $200,001 - $1,000,000 Annual Budget * Gastronomy Inc.
* More than $1,000,000 Annual Budget * Park City Chamber

E-mail Promotion
* Less than $200,000 Annual Budget * Westminster College
* More than $1,000,000 Annual Budget * Salt Lake Convention and Visitors Bureau


Logo
* Less than $200,000 Annual Budget * Ogden Pioneer Days
* $200,001 - $1,000,000 Annual Budget * Hogle Zoo

Media Kits
* Less than $200,000 Annual Budget * Ogden Pioneer Days

Miscellaneous
* Less than $200,000 Annual Budget * Wolf Creek Resort and Club
* $200,001 - $1,000,000 Annual Budget * Cache Valley Visitors Bureau
* More than $1,000,000 Annual Budget * Salt Lake City International Airport

Newsletters
* Less than $200,000 Annual Budget * Wolf Creek Resort and Club
* More than $1,000,000 Annual Budget * Salt Lake City International Airport

Radio/PSAs
* Less than $200,000 Annual Budget * Hogle Zoo

Specialty Items
* Less than $200,000 Annual Budget * Outdoor Utah
* $200,001 - $1,000,000 Annual Budget * St. George Area Convention and Visitors Bureau
* More than $1,000,000 Annual Budget * Park City Chamber

Television Ads
* Less than $200,000 Annual Budget * Snowbasin Resort Company
* $200,001 - $1,000,000 Annual Budget * Hogle Zoo
* More than $1,000,000 Annual Budget * Utah Shakespearean Festival

Tradeshow Booths
* More than $1,000,000 Annual Budget * Ski Utah

Visitor Guides
* Less than $200,000 Annual Budget * Dinosaurland Travel Board
* $200,001 - $1,000,000 Annual Budget * Davis Area Convention and Visitors Bureau
* More than $1,000,000 Annual Budget * Park City Chamber

Websites
* Less than $200,000 Annual Budget * Ogden Valley Business Association
* $200,001 - $1,000,000 Annual Budget * Cache Valley Visitors Bureau
* More than $1,000,000 Annual Budget * Ski Utah

The inaugural contest was conducted just as the Office of Tourism launched the new Utah "Life Elevated" brand, a new cooperative marketing program, and expanded advertising nationwide.

Washington County and Arizona Strip to Implement Fire Restrictions
Due to the high fire danger in southwest Utah and northwest Arizona Color Country Interagency Fire Management officials will implement fire restrictions beginning Friday, May 26 at 12:01 a.m. for all of Washington County, Utah and the Arizona Strip (including Grand Canyon Parashant
National Monument and that portion of Lake Mead National Recreation Area within the monument). These restrictions apply to all public and private lands in Washington County and the Arizona Strip and will be in effect until further notice.

The following acts are prohibited in Washington County and the Arizona Strip until further notice.

1. Setting, building, maintaining, attending or using open fire of any kind, except campfires within approved fire pits and grills provided, in improved campgrounds, picnic areas and permanently
improved places of habitation or except as otherwise authorized. Devices fueled by petroleum or LPG products are allowed in all locations.

2. Smoking, except within an enclosed vehicle, camp trailer, building, developed recreation site or while stopped in an area at least three feet in diameter that is barren or cleared to mineral soil.

3. Discharging, or using any kind of fireworks, tracer ammunition or other incendiary devices in any location on federal, state and unincorporated private lands. (Note that these acts are always
prohibited on federal lands.)

Exemptions:
Ø Conducting activities in designated areas where the activity is specifically authorized by written notice.
Ø Any federal, state or local officer or member of an organized rescue or firefighting force in the performance of an official duty.
Ø Person with a written permit that specifically authorizes the otherwise prohibited act.

For more information on fire restrictions: National Park Service 435 772-3256
Bureau of Land Management 435 586-2401
U.S Forest Service (Dixie National Forest) 435 865-3700
Utah Division of Forestry, Fire and State Lands 435 586-4408
Bureau of Indian Affairs 435-674-9720

REI To Sponsor Three National Trails Day Projects Along the Wasatch
Together with the Mountain Trails Foundation, the Intermountain Biking Association and the National Forest Service, REI's Utah- based stores have chosen Bells Canyon near Sandy City, the Spiro Trail near Park City, and Killyon Canyon near Salt Lake City as the locations for its 2006 service projects, in conjunction with National Trails Day. Volunteers are invited to join the trail maintenance effort on June 3rd. This represents REI's 14th year coordinating volunteers for National Trails Day projects in the Wasatch Range. National Trails Day, held the first Saturday of every June, is a nationwide celebration of trails. With close to 1,500 events hosted by trail clubs, conservation organizations, agencies, and businesses, National Trails Day is America's largest celebration of the outdoors.
Families are welcome, with special assignments for youth volunteers; and lunch will be provided. For more information, contact Eric Spreng at REI in Salt Lake City, phone (801) 486-2100. For directions to the work sites, visit http://www.rei.com and click on the stores and events link or visit http://www.americanhiking.org for a complete list of volunteer projects in the area.
BELLS CANYON RESTORATION
Event Details: Work will begin at 8:00am and continue until noon. Lunch will be provided. In addition to trail maintenance work such as installing erosion barriers, a less strenuous trail clean up effort will take place. Tools and work gloves will be provided. Families and children, 7 years or older, are invited to participate in collecting and bagging litter. Leave No Trace games and activities that teach outdoor ethics in a fun and active style will also be available for kids.
Where: Bells Canyon Trailhead in Sandy City
Time: Saturday, June 3rd, 8:00a.m.
On site coordinator: Kristen Kenley (801) 725-8220
Web site: http://www.rei.com/stores&events
Advance Registration: Required- please call REI Sandy at (801)501-0850 for details
SPRUCE UP SPIRO TRAIL
Event Details: "Spruce Up Spiro" will consist of significant trail building to kickin' rocks for the kids as we spruce up one Park City's favorite trails that leads to Mid Mountain Trail. IMBA Trail Builder Crews will join us for this day. Tools will be provided. Begin the day with coffee by Starbucks and bagels and lunch will be provided at noon at Silver Star provided by Silver Star and Park City Mountain Resort.
Where: Park City Mountain Resort in Park City.
Time: Saturday, June 3rd, 9:00a.m.
On site coordinator: Eric Spreng (303) 264-7014
Web site: http://www.mountaintrails.org
Advance Registration: Not Required
KLEEN UP KILLYON'S
Event Details: Presented by Cutthroat Racing and the International Mountain Biking Association. Bring work gloves, a tool (shovel, pick, rake), water, snacks, a hat and sun screen. We'll have coffee and bagels before heading up. Expect to work 4+ hours.
Where: Emigration Canyon near Salt Lake City
Time: Saturday, June 3rd, 9:00a.m and Sunday, June 4th, 9:00a.m..
On site coordinator: Ryan Miller (801) 661-1947
Web site: http://www.cutthroatracing.org
Advance Registration: Not Required
Community service has been an REI core value for more than six decades. Since REI employees also play and volunteer in the communities in which it conducts business, REI maintains a tradition of annual store service projects, bringing together employees, members and volunteers from a variety of organizations to improve local outdoor resources. In 2002 REI and REI-member volunteers donated more than 17,000 hours nationwide, restoring and improving the trails, rivers, and wildlands in support of outdoor recreation.
REI (Recreational Equipment, Inc.), founded in 1938 as a consumer co-op by a group of Pacific Northwest mountaineers, is a national multi-channel retailer of quality outdoor products. REI sells all of the top outdoor brands, including its own line of award-winning gear and apparel. While anyone may join or shop at REI, members pay a one-time $15 fee and receive a share in the company's profits through an annual patronage refund based on their purchases. A portion of REI's profits is set aside each year for support of conservation, outdoor recreation and environmental stewardship causes, with more than $9 million since 1976, to such efforts around the country. In addition to REI's Salt Lake and Sandy stores, REI operates 88 retail stores in 24 states; two online stores - REI.com and REI-OUTLET.com - and an adventure travel company; REI Adventures.
Panguitch Lake Reopens to Fishing

One of Utah's Best Trout Fisheries Opens Just in Time for Memorial Day

Panguitch -- A total of 20,000 trout were stocked into Panguitch Lake this morning, just in time for the Memorial Day weekend. Located southwest of Panguitch in the Dixie National Forest, Panguitch Lake was treated with rotenone on May 2 to eradicate Utah chubs from its waters.

Rotenone is a natural fish toxin that is produced in South America. Chubs made up more than 95 percent of the total fish in the lake and are considered a nuisance fish, as they out compete trout for food and space and are not utilized as a sport fish.

"Our aquatic biologists have been monitoring the toxicity of Panguitch Lake since the rotenone was applied earlier this month," says Doug Messerly, regional supervisor for the Utah Division of Wildlife Resources. "We are very pleased that the lake is now suitable for fish to be returned and that we can reopen it to fishing for the Memorial Day weekend."

On the morning of May 25, 20,000 catchable trout (8 to 10 inches in size) were released into the lake. The 20,000 trout should provide enough fish to keep fishing good for some time.

The lake is scheduled to receive more trout as the summer progresses, and fishing at the lake should be great well into the future.

"Panguitch Lake has always been one of Utah's best producing fisheries," says Mike Ottenbacher, regional aquatics manager for the DWR. "These fish that we are planting now will grow rapidly this summer and will weigh in excess of 1 pound to 1½ pounds by fall.

"Meanwhile, people can enjoy catching them now and take a few home to eat," he said. "It will be good to see Panguitch Lake producing some good fishing again."

Every year thousands of anglers visit Panguitch Lake to take in the natural beauty of the mountain and sample some of the trout that thrive in the lake and the streams that flow into it. The project at Panguitch Lake will ensure that this experience can continue for many years to come.

The lake is open to fishing now, and anglers who have a valid Utah fishing license can catch and keep four trout of any size. Licenses are available online at wildlife.utah.gov and from license agents and DWR offices.

Anglers under the age of 14 can fish without a license.

For more information, contact the DWR's Southern Region office at (435) 865-6100
As More Than 600-Inches of the Greatest Snow on Earth® Melts, Utah's Ski Areas Kick into Summer Gear
SALT LAKE CITY - After a second consecutive season of above-average snowfall, Utah resorts are preparing to welcome a growing number of summer visitors who seek mountain adventure, dynamic cultural offerings and dry, moderate temperatures. From hundreds of miles of mountain biking and hiking trails to ZipRider lines to alpine slides and outdoor concerts, there is no shortage of activities for those of all ages and interests.
"People are discovering that mountain communities such as Park City have more than just skiing and snowboarding", said Bill Malone, executive director of the Park City Chamber & Visitors Bureau. "Our summer business is showing continued growth, with visitors drawn to Park City by its numerous festivals and outdoor concerts, sporting events, a wide range of activities at our three resorts, fine dining, and much more."
An increasing number of resorts are recognizing the wide appeal that summer activities have for visitors, and they continue to enhance their offerings. "Activities range from Alpine Slides to Aerial Tram rides, patio dining to Oktoberfest celebrations, music festivals to endless hiking. The areas we all love to ski around in the winter shine in the summer with cool mountain air, incredible views and activities for everyone," added Laura Schaffer, Snowbird Ski and Summer Resort's public relations director.
Below is a sampling of summer offerings at Utah's resorts. For further details, please visit their individual Web sites.
Brian Head Resort
June 24 through September
• Scenic Chairlift rides to 11,000 feet on the Giant Steps Chairlift
• More than 200 miles of single-track mountain biking via lift access or shuttles
• 18-hole Disc Golf with hole #1 starting at 11,000 feet
• Hiking, horseback trail rides, ATV rentals and tours
• Live Music most weekends throughout the summer
• Summer events include:
July 4: Brian Head Town Annual Fireworks Show
July 14-15: Thunder on the Mountain Motorcycle Rally
Aug. 3-6: NORBA National Bike Race Series
Sept. 16-17 14th Annual Oktoberfest & Bavarian Bash
The Canyons Resort
June 22 to Sept. 3
• Access mountain biking and hiking trails and lunch at Red Pine Lodge via Flight of the Canyons gondola
• Summer events include:
June 18, 25, July 9: Sunday Locals Concert Series presented by Zions Park City Bank (free)
July 15-Aug. 19: Saturday Summer Concerts presented by Zions Park City Bank (free)
July 3: Live music by the Disco Drippers and fireworks (free)
June 7 to October (Wednesdays): Farmer's Market in the Cabriolet Parking Lot
Deer Valley Resort
June 17 to Labor Day, then weekends only thru Sept. 17
• Lift-served mountain biking and hiking via Silver Lake Express and Wasatch Express chair lifts.
• Deer Valley's Mountain Bike Rental Shop and Mountain Bike School operate daily and offer scheduled clinics and tours for all abilities
• Scenic, mountain-side deck dining is offered daily at Royal Street Café
• Deer Valley Summer Adventure Camp for children ages one to 12 years
• Live music at the Snow Park Outdoor Amphitheatre includes:
July 4-Aug. 19: Deer Valley Music Festival with the Utah Symphony & Opera
July 20: Lyle Lovett
Aug. 25-27: Fidelity Investments Park City Jazz Festival
Aug. 30: Bonnie Raitt
Sept. 4: Willie Nelson
Park City Mountain Resort
May 26 to Oct. 15
http://www.parkcitymountain.com
• Alpine Coaster - new this season- Glide through the aspen glades on an elevated track as it winds through nearly 4,000 feet of curves, bends, and loops.
• Lift-served mountain biking and hiking via the Town Lift from Park City's Main Street or the PayDay Lift from the resort village
• Park City Mountain Resort's ZipRider™ propels the rider more than 2,300 feet with a vertical drop of 550 feet at speeds up to 60 miles per hour hanging 110 feet in the air.
• Other activities include the Alpine Slide with four tracks, 18-hole miniature golf, and the Little Miner's Park for children which includes merry-go-round, kiddie car ride and choo-choo train.
Snowbasin A Sun Valley Resort
June 23 to October 1 (Friday thru Sunday and holidays)
• Scenic lift rides
• Lift-served mountain biking and hiking
• Full Moon Gondola Rides/Mountaintop Star Party with Ogden Astronomical Society on July 8, Aug. 12, Sept. 8
• New this summer: Ride the gondola up to the Needles Plaza Sunday Brunch Al Fresco
• Free summer concerts on Saturdays, June 25-Sept. 24, featuring a variety of musical genres such as reggae, bluegrass, Celtic and jazz
Snowbird Ski and Summer Resort
May 27 to Labor Day then weekends only, conditions permitting
• Hiking, mountain biking, fishing, mountain scooters
• Horseback riding and ATV tours in Mineral Basin
• Alpine slide, ZipRider, Bungy Trampoline
• Aerial Tram Rides to Hidden Peak
• All day activity pass provides unlimited use of Aerial Tram, Bungy Trampoline, ZipRider and Alpine Slide
• Summer concerts and festivals include:
July 7-9: 18th Annual Founders Title Folk & Bluegrass Festival
July 28-29: Snowbird Rock & Blues Festival
July 30: Wildflower Festival
Aug. 26-Oct. 8 (weekends): 34th Annual Oktoberfest
Solitude Mountain Resort
June 8 to September
• Unique summer mountain retreat in European style village condos featuring wonderful dining
• Scenic chair lift rides, Utah premier mountainside disc golf course
• Hiking, mountain biking, kids fishing, mountain scooters
• Summer Events Include:
July 1: Chris Allaire Memorial Mountain Bike Race (Intermountain Cup)
July 28: Wildflower Festival Weekend
Aug. 6: Taste of the Nation
Sept. 9 and 10: Utah Challenge Disc Golf Tournament
Sundance Resort
May 26 to Oct. 14
• Scenic lift rides with access to more than 10 miles of hiking trails
• Lift-served mountain biking
• Full moon lift rides offered June 10, July 11, Aug. 9, Sept. 7, Oct. 7
Utah Olympic Park
Open year-round
• Guided tours
• Xtreme & Ultra Ziplines, Quicksilver Alpine Slide
• "The Comet" wheeled bobsled rides
• Freestyle Big Air Shows on Saturdays at noon
FIRE RESTRICTIONS AT ANTELOPE ISLAND STATE PARK
Syracuse - Due to dry conditions, Antelope Island State Park managers have implemented a fire restriction beginning Thursday, June 1 until further notice. Only charcoal fires in designated fire pits and gas grills are allowed. No open wood fires allowed.

BOAT SLIPS AVAILABLE AT ANTELOPE ISLAND MARINA
Syracuse - Boat slip rentals are available at the marina at Antelope Island State Park. Slips are available with or without electricity from $100 to $140 per month. Overnight camping slips are available for $15 per night. For more information, please call (801) 773-2941.


FIRE RESTRICTIONS IN WASHINGTON COUNTY
Hurricane - Fire restrictions are in effect beginning Thursday, May 25 until further notice at Gunlock, Quail Creek, and Sand Hollow state parks. Gas grills with control valves are allowed, however open wood fires and charcoal are not. Smoking is allowed in closed vehicles only. For more information, please call (435) 586-4497.


MEMORIAL DAY WEEKEND REPORT
Salt Lake - Utah State Parks anticipates full campgrounds, and busy waterways and trails this Memorial Day Weekend. Whether you're camping, hiking, boating, biking, or riding OHVs, park rangers encourage visitors to be prepared for a safe holiday weekend.

Stay safe this weekend by following these safety tips:
- Wear your lifejacket
- Wear a helmet when operating and riding off-highway vehicles
- Don't forget sunscreen
- Wear bug repellent with Deet
- Stay hydrated - drink plenty of water
- Build fires in designated fire pits and extinguish thoroughly

It's not too late to reserve a campsite at a Utah state park. The following parks have campsites available, and reservations may be made up to two days before your arrival: Bear Lake, Red Fleet, and Starvation.

To make a reservation or for more information, please call 322-3770 from within the Salt Lake calling area and (800) 322-3770 from outside the area.


UPCOMING UTAH STATE PARKS EVENTS

June 1 Camp Floyd/Stagecoach Inn State Park and Museum - Fairfield
Pony Express Days: Join park staff from 6 - 9 p.m. for a picnic in the park; drinks and dessert provided, free museum and exhibit tours; kids activities. Event held in conjunction with Eagle Mountain's celebration. For more information, please call (801) 768-8932.

June 2 Wasatch Mountain State Park - Midway
Campfire Program: Dutch Oven Cooking - Join Park Ranger Drew Patterson as he demonstrates some tried and true Dutch oven recipes. Learn some tips and tricks, and sample the food. Program begins at 7 p.m. at the campground. For more information call (435) 654-1791.

June 3 Antelope Island State Park - Syracuse
Lil' Cowboy Junior Ranger program: Join park staff at 2 p.m., to experience how Antelope Island's cowboys worked their cattle. Though this informative Junior Ranger program is geared for ages six to 12, everyone is welcome. For more information, please call (801) 649-5742.

June 3 Wasatch Mountain State Park - Midway
Junior Ranger Program: Identifying Animals Through Tracks and Scat - If you are between six and 12, you can become a Junior Ranger by joining the naturalist in this one-hour program designed to get kids excited about nature! Program begins at 1 p.m. at Huber Grove. For more information call (435) 654-1791.

June 3 Wasatch Mountain State Park - Midway
National Trails Day: Heber Valley Overlook Trails - Come enjoy a one-mile nature hike with the naturalist and then help on trail construction to finish the Heber Valley Overlook trail at the Dutch Hollow Trail Complex. To register call Dawn at (435) 654-1791.

June 3 Wasatch Mountain State Park - Midway
Campfire Program: Wildlife Officers and Drug Dogs - Join Division of Wildlife Conservation Officer Jodi Becker and her faithful companion Bridger, as they discuss and demonstrate the life of a drug dog. This exciting program begins at 7 p.m. at the campground amphitheater. For more information call (435) 654-1791.

June 3 Rock Cliff Nature Center/ Jordanelle State Park Francis
Junior Ranger program: Leave no Trace. Children age six to 10 are invited to the Jr. Ranger program from 11 a.m. to noon at the Nature Center to learn about National Trails Day and low impact camping. Children will earn a badge and certificate. For more information, please call (435) 782 3030.

June 3 Territorial Statehouse State Park Museum - Fillmore
Car Show: Park staff host this annual event that includes vintage car display, burnout contest, entertainment, food, and craft booths. For more information, please call (435) 743-5316.

June 8-10 Camp Floyd/Stagecoach Inn State Park and Museum - Fairfield
Camp Floyd History Camp For Kids: A fun-filled educational experience about how soldiers lived at 1861 Camp Floyd, and how the Utah War served pre-Civil War objectives. Campers play 19th century games, drill, march and set up a soldier's camp; make and take home soldier craft activities, conduct a full-scale military exercise; see muskets and a cannon fired. Camp is for children eight to 11 years old. Limited to 24 participants; reservations and $65 camp fee required. For more information, please call (801) 768-8932.

June 1 - July 31 Antelope Island State Park - Syracuse
Art Exhibit: Roberta K. Crookston displays her watercolor paintings at the visitor center art gallery. The visitor center is open 9 a.m. to 6 p.m. daily. For more information, please call (801) 725-9263.

June 3 Antelope Island State Park-Syracuse
National Trails Day: Join members of the Antelope Island State Park Trail Patrol for an opportunity to enhance the island's backcountry trail system. Participants should meet at the White Rock Bay day-use area at 9 a.m., and bring water, hat, sunscreen, eye protection, bug spray and gloves. Additional items if available such as Pulaskis, shovels, and McLeods are welcome. Lunch is provided. Participants must be over 12 years of age. To register for this event, please call (801) 773-2941.

June 3 Huntington State Park - Huntington
IWA Wakeboard Tournament: This event is scheduled from 9 a.m. to 5 p.m. During this time there will be a no-wake rule in effect for the entire reservoir. To register or for more information, visit http://www.intermountainwakeboard.com .

The North Slope of the Uintas: Utah's Secret Fishing Holes

Kamas -- You can't access lakes along the popular Mirror Lake Highway (SR-150) yet, but that doesn't mean great fishing isn't available in the Unita Mountains right now.

All you need to do is shift your focus to lakes along the lower part of the North Slope of the Unitas, which are located east of the Mirror Lake Highway in Utah.

Many of these lakes are accessible right now, and the fishing can be great this time of the year.

Ted Hallows knows. As supervisor of the Kamas State Fish Hatchery, he's among the Utah Division of Wildlife Resources personnel who stock the lakes with fish. He provides the following report:

The lower North Slope lakes are opening up and many have been stocked with nice 10-inch rainbow trout. The North Slope is one of those out-of-the-way places that people don't talk about because they want to keep it to themselves.

If you enjoy cool, crisp nights and snow-covered mountain peaks as a back drop, then now is the time to go to the North Slope. The fishing is great right now, and that great fishing should continue through summer and into the early fall.

These little, hidden lakes are close to the Utah / Wyoming state line. They're accessible this time of year only through the state of Wyoming on pretty good dirt roads that add to the "out of the way"
atmosphere these pretty lakes provide. Many of the lakes have campgrounds or dispersed camping that allow you to combine a few days of camping with your fishing trip.

The following lakes are open right now, they've been stocked with fish and they have campgrounds in the area (the towns you'll drive through to access the lakes are also listed):

Lone Tree, Wyo. - Hoop Lake
Mountain View, Wyo. - Stateline Reservoir, Bridger Lake and Marsh Lake

The following lakes are among the lakes that will open by the first part of June. These lakes will also be stocked with fish by then (the towns you'll travel through to access the lakes are also listed):

Mountain View, Wyo. - Lyman Lakes
Evanston, Wyo. - Lilly Lake, Beaver Lake and Whitney Reservoir

Fishing Tips
The rivers and streams on the North Slope are running cold and fast right now. Don't be around them or allow your kids around them. The flows will go down in a few weeks and they'll provide good fishing, but for right now they're too dangerous to be near. Please note that the tributaries going into Whitney Reservoir are closed to fishing until July 8.

Anglers always do well from shore using powerbait and worms, but lures such as Panther Martin's, Jake's Spin-a-Lures or Rapalas seem to work best. As the weather continues to warm, the bugs will start to move and fly-fishing can be a lot of fun on these waters. Boats with
motors are allowed on some of the larger waters, such as Stateline and Whitney, so some good trolling opportunities are also available.

Rainbow trout will be the most common fish you'll catch, but many of these lakes are also stocked with brook trout. Whitney also has a good population of cutthroat trout, and it's being stocked with tiger trout as well.

For more information on campgrounds and road conditions, contact the U.S. Forest Service district offices that are in the area you'll be visiting (Evanston District - (307) 789-3194, Mountain View District - (307) 782-6555).

If you're looking for a place to get away from the crowds, and you don't mind driving on a few dirt roads to get there, then the North Slope of the Uintas might be just the place for you and your family this year.

Women: Learn How to Fly Fish at Upcoming Clinic

Salt Lake City -- Women can learn the art and sport of fly-fishing at classes offered June 6, 8 and 10. The fly-fishing clinic is offered by the Division of Wildlife Resources' Becoming an Outdoors Woman program.

The first two sessions meet at 6 p.m. on June 6 and 8 at Western Rivers Flyfisher, 1071 E. 900 S. in Salt Lake City. Classroom instruction will cover knot tying, equipment, casting and the insect biology that makes fly fishing work.

On June 10, the class will meet at 8 a.m. at one of Utah's world-class fly-fishing waters (probably the Provo River). "Fly-fishing is a finesse sport, rather than a strength sport, which makes it easy and fun to learn," says Jill West, volunteer coordinator for the DWR. "We will have mastered the basics during the classroom sessions, and we'll hit the river on Saturday, ready to get our feet
wet."

Steve Schmidt, owner of the Western Rivers Flyfisher, will instruct and guide the class. The cost to participate is $100. All of the needed gear will be provided, including waders and a fly rod and reel.

The cost includes the instruction and a fly-fishing book. The class size is limited to 12 women, and pre-registration is required. For more information or to register, contact Jill West at (801)
557-0605 or jillwest@utah.gov .

Fish for Free on June 10


A free day of fishing and fun awaits June 10, as Utah hosts its annual Free Fishing Day. You won't need a fishing license to fish in the state that day.

"Fishing is an activity that you can enjoy with your whole family, and it's an activity that can make your next outdoor adventure even more rewarding," says Roger Wilson, sport fisheries coordinator for the Division of Wildlife Resources. "We offer Free Fishing Day every year to attract more people to an activity that we believe will enrich their life and provide them with a fun thing that they can do with their family and friends."

Before Free Fishing Day, DWR personnel will stock extra fish into waters across the state. Wilson says most of the fish will be placed in lakes and reservoirs, and those are the places where anglers may want to focus their efforts.

Wilson reminds those fishing on June 10 that while no license is required, all of the other regulations found in the 2006 Utah Fishing Proclamation will still be in effect. Anglers, especially those who might be fishing for the first time, are encouraged to pick up a copy of
the proclamation and learn the rules.

Proclamations are available at the DWR's Web site ( http://www.wildlife.utah.gov/proclamations ); from fishing license agents statewide; and at Division of Wildlife Resources offices in Ogden, Salt
Lake City, Springville, Vernal, Price and Cedar City.

Several free fishing events will be held on Free Fishing Day. Among those the DWR will be involved with are the following:

LOGAN
Free Fishing Day at Willow Park. The park is at 419 W. 700 S. in Logan.

This free event, which runs from 10 a.m. to 4 p.m., is for children 14 years of age and younger. Activities include fly tying; fly and spin casting lessons; a casting contest; a "Bugs Don't Bug Me"
activity; fish crafts; fish printing and much more. Clinics also will be provided to teach kids more about fish and fishing. Fishing equipment will be provided, but those who have their own equipment are encouraged to bring it. Free tshirts and prize bags will be given to the first 250 participants. Sponsored by the Division of Wildlife Resources' Hardware Ranch Wildlife Management Area, Cache Anglers, the Utah State University Water Quality Extension and the Logan City
Environmental Department. For more information, call Marni Lee at (435) 753-6206.


OGDEN
Fifth Annual "Free Family Fishing Fair" at the Ogden Pioneer Rodeo Stadium, 668 17th St.

This free fishing fair runs from 10 a.m. to 2 p.m. and includes a fishing pond where children can catch rainbow trout. Kids can also participate in a casting contest and can learn how to cast and tie knots at Pathways to Fishing clinics offered by the Division of Wildlife Resources. Birds from the Ogden Nature Center will be on display, and free fishing will be available throughout the day along the Ogden River.
Ogden City and the Division of Wildlife Resources are the event's major sponsors. For more information, call (801) 629-8253.

MIDWAY
"Kid's Fishing Event," Wasatch Mountain State Park pond, about 2 miles west of Midway. The event runs from 9 a.m. to 1 p.m. Space is limited, and children who want to participate must register in advance by calling Wendy Wilson at (435) 654-1791. The park's pond will be stocked with rainbow trout before the event. A presentation that teaches kids about fish and fishing will be given to participants beginning at 9 a.m. After going through the presentation, kids can fish at the pond. Volunteers from the Division of Wildlife Resource's Dedicated Hunter program will be
available if participants want help fishing and cleaning their fish. Fishing poles, equipment and bait will be available for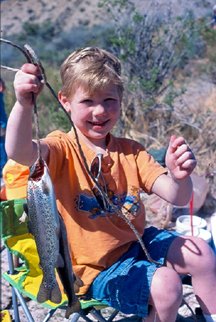 children who don't have their own.

NORTHEASTERN UTAH

Three Free Fishing Day events for kids of all ages will be held in northeastern Utah.
Events:
Moose Ponds, Daggett County, 9 a.m. to noon. Sponsored by the U.S. Forest Service and the Division of Wildlife Resources.
Pelican Lake, Uintah County, 8 a.m. to noon. Sponsored by the Bureau of Land Management with assistance from the DWR.
Red Fleet Reservoir, Uintah County, 8 a.m. to 2 p.m. Sponsored by XRQ 94 Radio.
Fishing demonstrations will be part of the Pelican Lake and Moose Pond events. Participants should bring their own poles if they have them, but a limited number of poles will be available at the Pelican Lake and Moose Pond sites for those who don't have a pole but would like to try fishing. All three events are "fun" events, and the organizers have arraigned for prizes and other give-aways for the younger children that drop by.

For more information, contact any of the sponsors or the Division of Wildlife Resources at (435) 781-9453.

FERRON
Free Fishing Day at Millsite State Park
The Division of State Parks and Recreation, in partnership with the Division of Wildlife Resources, will sponsor a special kids' fishing event at Millsite State Park just west of Ferron. Fishing rods, reels, tackle and bait will be provided free of charge to children who don't
have their own. Fisheries biologists will be on-hand to help parents and kids catch fish. Kids under 14 years of age can sign up for a drawing that will be held at noon. Every child who signs up will win a prize, but children must be present to win. Prizes range from rods and reels to small pieces of fishing tackle. Biologists will begin loaning out rods and reels at 8 a.m. Borrowed rods and reels should be returned by 2 p.m., although families may continue to fish for the rest of the
day. For more information, contact Brent Stettler at (435) 636-0266 or brentstettler@utah.gov

Those with questions about Free Fishing Day may contact their nearest Division of Wildlife Resources office or the DWR's Salt Lake City office at (801) 538-4700.

Utah Lake Festival scheduled June 3

From Birding Tours to Water Skiing Pyramids, the Festival has it all

Provo -- Utah Lake spans 24 miles in length and 13 miles in width. For recreation enthusiasts, that's a lot of space to use for a variety of activities. Whether watching a flock of birds playing the marsh, or jumping the wake of a boat on a pair of newly purchased skis, Utah Lake is a resource for recreation.

On Saturday, June 3, the Utah Lake Festival will take place at Utah Lake State Park. The festival will highlight many of these recreational activities through shows, tours and contests.

The day will begin with a free Catch-and-Release Fishing Rodeo at 7 a.m. Anglers of any age can participate in the contest and take their chance at winning some of the cash prizes to be awarded later that day. The Provo River, which feeds into Utah Lake, will provide the location for bicycle enthusiasts as they ride from Vivian Park in Provo Canyon along the Provo River Parkway.

The festival will officially kick-off at Utah Lake State Park at 11 a.m. with food, music, educational booths and art displays. At noon, many of the local city officials will join in a declaration signing, declaring June 3, 2006 Utah Lake Day.

Following that presentation the water-time fun will begin with a water ski show. Some of the stunts planned include a triple slalom, some barefoot skiing, an air chair exhibition, an adagio routine and a possible pyramid. The shows will begin at 12:20 p.m. and 1 p.m. at Utah Lake State Park.

Some of the other activities include birding hikes, Pathways to Fishing activities for children (including education, casting practice toward targets, learning how to tie a fishing knot, etc.), a fishing simulator and many other activities. The Division of Wildlife Resources will also have fishing poles, tackle and bait available for free use during the event for those wanting to try their luck at fishing the lake.

For additional information about the Utah Lake Festival, please visit http://www.junesuckerrecover.org or call Jason Carlton at (801) 531-0244.



TRCP Working Group Disappointed by Cuts to Wetlands Program
WASHINGTON ? The Theodore Roosevelt Conservation Partnership's Agriculture and Wildlife Working Group today expressed its disappointment in the rejection of a proposed amendment in the House of Representatives that would have restored full funding to the Wetlands Reserve Program (WRP). An earlier House measure asserted a dramatic cut to the program.
The WRP is a highly successful, voluntary conservation program contained in the Farm Bill that compensates farmers for taking marginal, often-flood-prone cropland out of production and restoring it to a more natural state. The amendment offered by Rep. Gil Gutknecht (R-Minn.) would have allowed the full number of acres authorized by the Farm Bill to be enrolled in the program, an approach backed by the Bush Administration. The amendment failed 235-185.
"Decreasing funding to the Wetlands Reserve Program is simply unacceptable to the hunting, fishing and conservation community," said Dave Nomsen, Vice President of Governmental Affairs for Pheasants Forever and a co-chair of the TRCP working group. "We hope that the Senate hears our concerns."
Bart James, also a working group co-chair and Ducks Unlimited Government Affairs Representative, commented, "Reducing the number of acres that can be enrolled in WRP is sending the wrong message to America. Saving and restoring wetlands that provide wildlife habitat, clean our water, and protect our watersheds at modest costs under the WRP is a tremendous value. There are few programs that give taxpayers this kind of documented return for their money."
The fish and wildlife resources about which hunters, anglers and other conservationists care greatly depend on wetlands, and at a time when the U.S. continues to annually lose an average of 100,000 acres of our best, naturally occurring wetlands resources, it makes little sense to gut a cost-effective program with successful projects in all 50 states.
The Agriculture and Wildlife Working Group includes representatives from Pheasants Forever, the Association of Fish and Wildlife Agencies, Ducks Unlimited, The Wildlife Society, The Nature Conservancy, Trout Unlimited, National Association of Conservation Districts, Ruffed Grouse Society, Quail Unlimited, North American Grouse Partnership, American Sportfishing Association, Max McGraw Wildlife Foundation, Izaak Walton League of America, Theodore Roosevelt Conservation Partnership, Conservation Fund, Wildlife Management Institute, Rocky Mountain Elk Foundation, and the National Wildlife Federation.
The Theodore Roosevelt Conservation Partnership is a coalition of leading conservation organizations and individual grassroots partners, working together to conserve fish and wildlife and their habitat, increase funding for conservation and management, and expand access to places to hunt and fish
Mid Elevation waters begin to open up
Bill Broadbear of the U.S. Forest Service just called me to say that the district ranger had decided to open the gate at Steven's Creek, allowing access to Willow Lake in the Ferron drainage on the east side of the Wasatch Plateau.

Bill cautioned recreationalists not to go any further than Willow Lake, due to huge snow drifts and deep mud between Willow and Ferron Reservoir. Ferron and Duck Fork reservoirs should definitely not be attempted this coming weekend. He also said that camping at the side of the road wasn't advised--trailers would undoubtedly become bogged down in mud.

Any time is a great time to go fishing!

FISHING REPORT FOR SOUTHEASTERN UTAH

GENERAL With the Memorial Day weekend coming up, the U.S. Forest Service has provided a report of road access for the Wasatch Plateau. The Gooseberry Reservoir road will be closed. The road from Cleveland Reservoir past Potter's Ponds will remain closed due to run-off and mud. The loop from Joes Valley back to Cottonwood Canyon will be opened. The road to Willow Reservoir may be opened, depending on the decision of the district ranger. Snow drifts and mud block access to Ferron and Duck Fork reservoirs.
BENCHES RESERVOIR The ice has come off. Tributaries are closed to fishing until July 8th.
BOULGER RESERVOIR The reservoir is partly open, and the access road is snow-free. Tributaries are closed to fishing until July 8th.
CLEVELAND RESERVOIR The reservoir is almost ice-free, and will likely be entirely open by the weekend. No fishing report.
DUCK FORK RESERVOIR The reservoir is about half open, but access is only possible by 4- wheeler, once the U.S. Forest Service gate is opened. Excellent fishing for big tiger trout is expected. Special regulations apply. Artificial lures and flies only. Closed to the possession of cutthroat trout. Tributaries are closed to fishing until July 8th.
ELECTRIC LAKE The lake is ice-free. Tributaries are closed to fishing until July 8th.
FAIRVIEW LAKES Both lakes are virtually ice-free. Access is expected to be difficult, due to snow drifts and mud.
FERRON RESERVOIR The ice cap has a few holes, although the reservoir remains mostly frozen. Access is available only by 4-wheeler. Tributaries are closed to fishing until July 8th. Four brook trout may be taken in addition to the normal limit of four trout.
GIGLIOTTI POND Good fishing continues. This year, anglers don't have to release bass or bluegill, which may be harvested along with trout. A total of 4 fish may be taken in aggregate.
GOOSEBERRY RESERVOIR Reservoir ice is slowly breaking up, but the access gate will be closed through the holiday weekend.
GRASSY LAKE A large snow drift blocks vehicle access.
HUNTINGTON CREEK High flows continue. The water remains cloudy, especially further downstream from the dam. Please watch your children to prevent accidental drowning. For the first time this year, anglers are encouraged to take special precautions to avoid the spread of whirling disease which has been found in the creek. Precautions include:
· Removing all mud and aquatic plants from your waders, boots, shoes, and fishing gear before departing from the fishing location,
· Disinfecting gear and equipment with 10 % chlorine bleach to kill the whirling disease spores, and
· Disposing of inedible, uncooked fish parts by burying away from the fishing location, or by placing in the garbage.
Whirling disease does not affect the edibility or flavor of a trout. The disease cannot be passed on to humans.
HUNTINGTON GAME FARM POND was stocked with 1,500 9-inch rainbow trout in early May. From the locked gate at the game farm, there's a Ό mile walk to the pond. The limit is four fish in the aggregate. Species include trout, bluegill, catfish and bass.
HUNTINGTON NORTH RESERVOIR Jerry Jones of Huntington reported that his wife Su caught a 15-lb catfish and 5-lb bass last week near the inlet. She waded into the water and fished with a piece of nightcrawler. Early this month, three fishermen reported catching bass ranging from 3-9 pounds. Special regulations apply. The bass limit is six, but only one bass may be over 12 inches. The Castle Country Bassmasters and Utah Parks and Recreation will be co-sponsoring a bass tournament on Friday, June 16th. Call 435-687-2491 for more information. The reservoir will be drawn down this summer to facilitate work on the dam. The DWR plans to postpone further stocking until construction is completed.
HUNTINGTON RESERVOIR (also known as MAMMOTH RESERVOIR at the top of Fairview Canyon) The ice pack has broken away from the shoreline and is driven back and forth by the wind. The ice may be off by the weekend. One Emery County angler reported excellent fishing for tiger trout. He reported catching a 4.5-lb tiger trout last weekend. Mr. Stilson cast a nightcrawler from shore and kept it moving on the retrieve. Excellent fishing is expected for this weekend. Special regulations apply. Closed to the possession of cutthroat trout or trout with cutthroat markings. Tributaries are closed to fishing until July 8th.
JOES VALLEY RESERVOIR The ice is off and baitfish are feeding on the surface close to shore. Fishing success goes from hot to cold. Some anglers get skunked, while others hit the jackpot. One Helper angler, Steve Regrutto, caught a 10 1/4-lb splake last Sunday. He let a 2-inch piece of chub meat settle to the bottom just beyond the mud line on the west side. Last Thursday, Brad Crompton of Price reeled in a huge splake only to lose it as he attempted to bring it into the boat. The fish broke his 8-lb test line. Brad judged the splake to be at least 10 pounds. He was using chub meat as bait. Reports have come in from Emery County anglers who have landed splake ranging from 3-13 lbs. They use large, whole chubs on large minnow hooks. Justin Hart caught a 10-lb. splake almost two weeks ago. He was fishing in six feet of water within casting distance from shore near an inlet. Justin used a whole dead chub with a minnow hook. He let the chub sink to the bottom and waited for the trophy to strike. Special regulations apply. The trout limit is two. Only one may be over 22 inches. All trout between 15-22 inches must be immediately released.
LASAL MOUNTAINS Conservation Officer Joe Nicholson reports that Kens Lake has provided good fishing action. Anglers have been using worms and marshmallows. Bass fishing has been good on the east side of the lake with spinnerbaits and jigs. Joe has received reports of catfish in the 8-10 lb range being caught here. Fishing has been good at Oowah for rainbow and brook trout with small yellow spinners or worms. Fishing has been fair at Dons and Hidden lakes. Anglers have been catching rainbow and brook trout on worms or PowerBait. Fishermen along the Colorado River have had good luck catching catfish with shrimp.
LOWER FISH CREEK The water output from Scofield Reservoir has dropped, although the water remains cloudy. Beyond the confluence with the White River, the Price River is brown and swift. Be careful, especially with children to avoid accidental drowning. Most trout range between 15-18 inches.
MILLER FLAT RESERVOIR The reservoir will not be accessible by the Memorial Day weekend, due to snow and mud.
MILLSITE RESERVOIR Fishing success remains good. On June 10th, the Division of Parks and Recreation in partnership with the Division of Wildlife Resources will sponsor a special kids' fishing event. There will be a drawing for prizes and a casting contest. June 10th is Free Fishing Day across the state.
PETES HOLE This pond is accessible by 2 WD truck. Good fishing is expected.
POTTERS PONDS These ponds will not be accessible for holiday weekenders.
SCOFIELD RESERVOIR Last Wednesday, fly fisherman Tom Ogden had good luck using a scud on sinking line on the west side of the reservoir. He caught 12 fish, the largest being a 20-inch rainbow trout. Fisheries biologists gill-netted the reservoir on May 23rd. They found an abundant population of both rainbow and cutthroat trout A number were fat 16-inch fish. Rainbows outnumbered cutts by 4:1. Fishing success has been good between insect hatches. Good fly patterns include scuds, Montana nymphs and hares ears. The best baits include trout egg sacs, saturated with ovarian fluid (egg juice); and dead redside shiners, which may be caught at the reservoir in minnow traps. Early morning is the most effective time to fish.
All tributaries are closed to protect spawning cutthroat trout until July 8th.
SOUP BOWL Accessible by 2WD truck.
WRIGLEY SPRINGS RESERVOIR Conservation Officer Jay Topham reported fair fishing with PowerBait or lures. Angler Randall Stilson reported good fishing with brass-colored Jakes Spin-A-Lures Sunday. He used a piece of chub meat, let it settle to the bottom just outside the mud line on the west side near the Littles Creek inlet.

Lake Powell Fish Report
May 24, 2006 By: Wayne Gustaveson
Lake Elevation: 3600 Water Temperature: 71- 75 F

Fishing for stripers in southern Lake Powell has been great all Spring. This past week the air temperature was hot and warmed the lake water to the low 70's. It is hard to believe, but the rapid increase in water temperature made fishing BETTER. Visitors coming for the Memorial Day
Weekend will have the opportunity to catch as many stripers as the boat can hold. Catches of 100 fish per boat are common.

WHERE: The main channel from the Dam to Warm Creek holds an immeasurable number of striped bass drawn there by the cool water and deep current. Stripers can rest comfortably in cool water and quickly rise 10 feet to feed. Best fishing spots are coves, shelves and rocky points or outcroppings that may shelter crayfish, which is the prime food source. Check corners where the lake makes a 90 degree turn, mouths of canyons, coves and outcroppings anywhere from the
dam to Warm Creek. Consistent spots include Buoy 3, the Power Plant intake, Buoy 9, first cove upstream from Buoy 9, and points behind the double islands in Navajo.

If you don't have a boat use the public fishing docks at Wahweap and Antelope Point for good success.

WHEN: Virtually any place along the main channel is good during morning and evening twilight but some spots work all day long. Mid morning is the only slack time and that coincides with lots of boat traffic cruising through the channel causing rough water. Fish early and come back later in the afternoon when boat traffic is less. Go into bays during mid morning and fish calmer water.

HOW: Use frozen anchovies on a bait hook with or without weight or use a Ό ounce jig head. Cut the bait into 1 or 2 inch chunks and put on the hook. Use the remaining anchovy as chum by cutting into small pieces and broadcasting around the boat. That keeps fish close by as they continue to eat and search for food.
WHY: Stripers are at a population peak. Shad forge is scarce in the southern lake. There is not enough forage to feed the vast number of 4-5 pound stripers. Keep all fish caught to help balance the populations. Put fish on ice in a cooler instead of on a stringer in the water.

Stripers DO NOT maintain good eating quality when allowed to get warm before cleaning.

Fishing in the northern lake and fishing for other species is good, but completely overshadowed by the feeding frenzy in the south.
Bass, walleye, crappie and catfish are readily caught on lures and bait in the mouths of canyons and coves lakewide. The only place that is not good is the very back of coves where rapidly rising lake water is flooding new ground which has not yet been occupied by fish.

If coming to Lake Powell for Memorial Day, do not forget the fishing equipment. You will be very pleased with the results.