Washington County and Arizona Strip to Implement Fire Restrictions
Due to the high fire danger in southwest Utah and northwest Arizona Color Country Interagency Fire Management officials will implement fire restrictions beginning Friday, May 26 at 12:01 a.m. for all of Washington County, Utah and the Arizona Strip (including Grand Canyon Parashant National Monument and that portion of Lake Mead National Recreation Area within the monument). These restrictions apply to all public and private lands in Washington County and the Arizona Strip and will be in effect until further notice.
The following acts are prohibited in Washington County and the Arizona Strip until further notice.
1. Setting, building, maintaining, attending or using open fire of any kind, except campfires within approved fire pits and grills provided, in improved campgrounds, picnic areas and permanently improved places of habitation or except as otherwise authorized. Devices fueled by petroleum or LPG products are allowed in all
locations.
2. Smoking, except within an enclosed vehicle, camp trailer, building, developed recreation site or while stopped in an area at least three feet in diameter that is barren or cleared to mineral soil.
3. Discharging, or using any kind of fireworks, tracer ammunition or other incendiary devices in any location on federal, state and unincorporated private lands. (Note that these acts are always prohibited on federal lands.)
Exemptions:
Ø Conducting activities in designated areas where the activity is specifically authorized by written notice.
Ø Any federal, state or local officer or member of an organized rescue or firefighting force in the performance of an official duty.
Ø Person with a written permit that specifically authorizes the otherwise prohibited act.
For more information on fire restrictions:
National Park Service 435 772-3256
Bureau of Land Management 435 586-2401
U.S Forest Service (Dixie National Forest) 435 865-3700
Utah Division of Forestry, Fire and State Lands 435 586-4408
Bureau of Indian Affairs 435-674-9720
Summer Camp offered
The Sundance Nature Center is pleased to announce its summer camp calendar for children. The Nature Center's summer camps are especially designed with three ideas in mind: having fun, spending as much time outside as possible, and learning about the spectacular environment of Sundance and Mount Timpanogos.
Each week, from June through August, we'll focus on a different aspect of the natural world of the North Fork Canyon. From water to wildlife, each theme is exciting and allows kids to participate in fun, hands-on learning experiences. Themes include Wildlife Week, Alpine Adventures, Wildlife Arts, Water World, and Happy Planet. All camps are led by a naturalist and include combinations of field studies and creative projects.
The camp is for children ages 8-12. Camp hours are Monday-Friday 9:30 AM - 12:30 PM, June 12 through August 11. The cost is $30 per day or $125 per week. For the complete camp calendar, visit the Sundance website at http://www.sundanceresort.com/kids_camp.htm , or please call the Nature Center at 801-223-4044.
For a full calendar of the Nature Center's programs for individuals, groups, and families, visit http://www.sundanceresort.com/nature.htm on the Sundance Website.
Summer At Sundance Starts May 26th
The moment we have all been anxiously awaiting is shortly upon us. The snow has melted, trails are being groomed and the mountain is ready for another fantastic summer season.
We will open for 7-day a week operation starting Friday May 26th. Our hours of operation are 10am - 6pm daily for scenic lift rides and 10am - 6:30pm daily for mountain biking.
Hiking: Sundance has over 10 miles of hiking trails. Ranging from moderate to strenuous, we have a little something for everyone. Trails are accessed via Ray's lift. Once at the summit enjoy a leisurely pace down the trail or the adventurous can venture higher up the mountain to Arrowhead summit at over 8,000 ft. Either way the views are sure to please.
Biking: With over 25 miles of single track trail, biking at Sundance is phenomenal. Many consider Sundance to have some of the best mountain biking in the state. Biking at Sundance can be enjoyed by using the chairlift to get you to the top and enjoy the ride down. Or you can challenge yourself and earn your downhill by pedaling your bike up our trails. Both are fun and both are adventurous.
Guided Hikes & Bike Clinics: Sundance offers a full range of guided experiences. Let one of our professional guides help you create memories you won't soon forget as they teach you the ins and outs of mountain biking. If biking isn't your thing, our guides can also take you on a hike and share with you some of the things that make Sundance so unique. Please allow 24 hours advance notice for all guided experiences.
Day Passes & Rentals:
Pass Type Full Day 10AM Half Day 2:30PM Twilight 4:30PM
Bike (Lift Use) $18 $14 $10
Bike (Trail only) $10 All Day
Bike Rental $45 $35 $25
Kids Rental $35 $25 $15
Helmet $5 $5 $5
Season Pass $125 Summer Season Only Expires Oct. 31st
1 Ride (Foot Passenger) $8 Round Trip
2 Rides (Foot Passenger) $10 Must be used on the same day. No refund if 2nd ride not used.
Additional Ride $4
Children 6 - 12 $7
Employee/Senior $5 Round Trip
HILTON NAMED NEW PRESIDENT/CEO OF UTAH ATHLETIC FOUNDATION
The Utah Athletic Foundation Board of Directors has unanimously selected Colin Hilton as the new President/CEO of the non-profit organization that manages the Olympic legacy facilities at the Utah Olympic Park in Park City and the Utah Olympic Oval in Kearns. He begins his new assignment on June 5.
Hilton previously worked as Park City's Director of Economic Development and Capital Projects, overseeing the several capital projects including Park City's new $12.5 million Recreation Complex at Quinn's Junction, and the new $5.75 million, four story 305 space, China Bridge parking addition. He succeeds John Bennion, who announced his resignation on April 26 and has accepted a position with Sorenson Capital, a private equity investment firm with offices in Utah and California.
"We are thrilled to have Colin Hilton taking the helm of the Utah Athletic Foundation," said Chairman Fraser Bullock. "He brings tremendous skills in operating a variety of complex functions, and he impressed the board with his excellent people and team building skills. His prior experience with the Olympic movement and facilities also make him well-suited for the job."
City Manager Tom Bakaly praised Colin's role in transforming the City's capital improvement landscape and wished Colin well in his new position. He said, "The City looks forward to working on collaborative projects with the Utah Athletic Foundation under Colin's leadership".
UTAH OLYMPIC OVAL AND THE UNITED WAY PARTNER TO HOST ANNUAL "GET UP & GO" SUMMER ICE SKATING PROGRAM
The Utah Olympic Oval and the United Way will once again host the Get Up & Go summer ice skating program for youth ages 5 - 18.
Through grant funding from Olympic Aid, Get Up & Go, will provide transportation, ice time, and skate rental each weekday from June 5 to August 18, 2006. Lunches will be provided for all youth taking part.
Schedule:
12:00-12:30pm Lunch
12:30-12:40pm Introduction
1:00-1:15pm Skating Lesson
1:15-2:00pm Free Skate
Every Friday is walk in day. Reservations are required in order to receive lunches and/or transportation.
Contact Info:
Ann Driscoll Phone: 801-963-7121 / Fax: 801-963-7112 / Email: ann.driscoll@olyparks.com
The Utah Olympic Oval is more than just a training and competition venue for speedskating. Check out our venue and see for yourself:
Birthday Parties, Corporate Events, Curling, Education Groups, Football, Hockey, Lacrosse, Learn To Programs, Running, Skating, Speedskating, Soccer
he Utah Olympic Oval is located at 5662 South Cougar Lane (4800 West) in Kearns. You may call (801) 968-OVAL or visit our website at http://www.olyparks.com for additional information.
DATES SET FOR SATURDAY FREESTYLE BIG AIR SHOWS IN SPLASH POOL
Exhibition dates have been set for the popular Saturday Freestyle Big Air Shows this summer at the Utah Olympic Park. Every Saturday from June 17-Sept. 2, the Flying Ace All-Stars will be performing memorable freestyle aerial shows in the 750,000-gallon splash pool. Showtime is noon for the 30-minute, high-flying spectacle.
The cost is $13 for adults (ages 18-64), and $11 for seniors (65+) and youth (ages 3-17), including day admission into the Olympic Park. Tickets are available at the gate or can be purchased in advance by calling (435) 658-4206.
Saturday freestyle aerial shows in the summer of 2005 are June 17, June24, July 1, July 8, July 15, July 22, July 29, August 5, August 12, August 19, August 26 and September 2.
Flying Ace Productions delivers these weekly aerial exhibitions as freestyle skiers and snowboarders soar 60 feet in the air and perform acrobatic feats. The athletes slide down plastic-covered rams at 35 miles per hour and launch off kickers before landing in the 750,000 gallon splash pool. Past Olympians Trace Worthington and Kris "Fuzz" Fedderson present a choreographed show with music and announcers. At times, there are multiple athletes in the air at the same time.
The narrated show educates visitors on the sport of freestyle skiing, the state-of-the-art training facility at the Utah Olympic Park and the amazing athletes. Each show features a variety of world-class athletes, including members of the Junior World Team, U.S. Ski and Snowboard Association and past and future Olympic athletes. These athletes train in Park City in the summertime to prepare their new trick for the upcoming winter season.
SUMMER INDOOR SOCCER LEAGUE REGISTRATION CONTINUING AT THE UTAH OLYMPIC OVAL
The Utah Olympic Oval is now accepting team registrations for our summer indoor soccer leagues. Did you know that the home to long track speedskating during the 2002 Olympic Winter Games is also the home for numerous public activities including ice skating, figure skating, speed skating, hockey, curling, running and soccer? That's right…soccer!
One of our Olympic-sized ice rinks is covered in artificial turf making it the largest indoor playing surface in the state. 200' long by 100' wide, the Utah Olympic Oval's indoor soccer field is always in high demand!
Summer Indoor Soccer League Information:
Mondays: Adult Co-ed Bronze / Silver Begins June 5th
Tuesdays: Adult Men's Bronze / Silver Begins June 13th
Wednesdays: Adult Men's Silver / Gold Begins May 31st
Thursdays: Adult & High School Women's Begins June 13th
Thursdays: High School Co-ed U15-U18 Begins June 13th
Thursdays: Adult Men's Silver / Gold Begins May 25th
Fridays: Adult Men's Bronze / Silver Begins May 19th
Saturdays: Adult Co-ed Bronze / Silver Begins June 3rd
Saturdays: High School Co-ed U15-U18 Begins June 17th
Registration fee is $450 per team with a $50 discount for early registration.
Please contact Alex Krelo, Sport Field Coordinator for more indoor soccer league information at 801-963-7127 or alex.krelo@olyparks.com .
The Utah Olympic Oval is located at 5662 South Cougar Lane (4800 West) in Kearns.
You may call (801) 968-OVAL or visit our website at http://www.olyparks.com for additional information.
MAY - SEPTEMBER 2006 UPCOMING EVENTS AT OLYMPIC PARKS
June 17, Saturday Freestyle Big Air Show, Utah Olympic Park
June 23-25, Heber Valley Pow Wow and Mountain Man Rendezvous, Soldier Hollow
June 24, Saturday Freestyle Big Air Show, Utah Olympic Park
July 1, Saturday Freestyle Big Air Show, Utah Olympic Park
July 8, Saturday Freestyle Big Air Show, Utah Olympic Park
July 15, Saturday Freestyle Big Air Show, Utah Olympic Park
July 18-21, Get Up & Go Adventure Camp, All Venues
July 22, Saturday Freestyle Big Air Show, Utah Olympic Park
July 25-28, Get Up & Go Adventure Camp, All Venues
July 29, Saturday Freestyle Big Air Show, Utah Olympic Park
Aug. 1-4, Get Up & Go Adventure Camp, All Venues
Aug. 5, Saturday Freestyle Big Air Show, Utah Olympic Park
Aug. 8-11, Get Up & Go Adventure Camp, All Venues
Aug. 12, Kearns Fire Water and Ice Celebration, Utah Olympic Oval
Aug. 12, Saturday Freestyle Big Air Show, Utah Olympic Park
Aug. 19, Saturday Freestyle Big Air Show, Utah Olympic Park
Aug. 26, Saturday Freestyle Big Air Show, Utah Olympic Park
Sept. 1-4, Classic Sheepdog Championships, Soldier Hollow
Sept. 2, Saturday Freestyle Big Air Show, Utah Olympic Park
Come Cowboy-Up at Simpson Springs Pony Express Station
June 3 Open House will bring history to life, from the courageous riders to the 'CCC'
Salt Lake City…The Bureau of Land Management Salt Lake Field Office will host an open house June 3 from 10 a.m. to 2 p.m. at the Historic Simpson
Springs Pony Express Station, just west of Salt Lake City.
The public is invited to take an adventure into the past to a time when horse riders traveled over 650,000 miles of wilderness to deliver letters for the first continental mail service. During its brief operation on 20 months, these riders delivered 34,000 pieces of mail.
The event is a part of the Centennial Celebration of the 1906 Antiquities Act, the first piece of legislation that protected archeological and historic resources on the public lands.
Dr. David Jabusch, Professor at the University of Utah and Pony Express expert will do a presentation that tells the real story behind the Pony Express, "The Folklore vs. Fakelore." In addition, a Pony Express 'rider' will visit the site with a genuine Mustang.
Visitors will be able to help piece together this area's past through "History Mystery" games. This site also has remnants of a Civilian Conservation Corps camp. Visitors will learn how they can help protect these places when they visit them. In addition, BLM's wildland firefighters will be at the site with a fire engine. Directions to Simpson Springs Campground can be found at http://www.ut.blm.gov/antiquitiescentennial/places.htm .
Historically Simpson Springs was one of the most dependable watering holes in Utah's west desert. Native Americans used it as did early travelers and explorers who counted on finding water here. It bears the name of one explorer, Captain J. H. Simpson, who stopped here in 1858 while searching for an overland mail route between Salt Lake City and California. A mail station was established in 1858, which was used by the Pony Express and Overland Express. When gold mining started at Gold Hill in 1893 Simpson Springs took on a new importance as a station for freighters and stages until the mid 1920's. In the 1930's, the spring became the water supply for the Civilian Conservation Corps Camp located just south of the springs.
BLM lands contain the largest, most diverse, and most scientifically important body of cultural resources of any Federal holdings. The Centennial Celebration will focus on creating awareness of cultural resources and the importance of preserving, protecting and sharing these valuable resources. In addition, the BLM is striving to share a citizen stewardship message to reach public land users, students, volunteers, partners, heritage tourists, and others.
Contact erin_darboven@blm.gov or call 801.977.4328 for more information.
As part of the Centennial Celebration of the 1906 Antiquities Act, the Bureau of Land Management will host an open house June 3rd at the historic Simpson Springs Pony Express Station, just west of Salt Lake City.
Activities will tell the 'real story' behind the courageous riders of the first continental mail service. For more information or directions see http://www.ut.blm.gov
As part of the Centennial Celebration of the 1906 Antiquities Act, the Bureau of Land Management will host an open house with activities at the historic Simpson Springs Pony Express Station, just west of Salt Lake City. The history of the first continental mail service will come to life as University of Utah Professor Dr. David Jabusch (Jay-bush) explains the 'folklore vs. fakelore' of these courageous riders. visitors can also discover the remnants of the Civilian Conservation Camp next to the site.
Come discover the past on the public lands. Join us Saturday June 3 from 10 a.m. to 2 p.m. For more information and directions see http://www.ut.blm.gov
FIBERGLASS BOATBUILDING PIONEER HONORED
Troy Wollard, age 94, who is regarded in most boat circles as the father of modern-day fiberglass boat building, was recently honored at a special ceremony in Miami, Florida. The proceedings were attended by many marine industry notables and included the dedication of a historical landmark marker by Florida's Department of State.
Wollard experimented with many ideas and concepts that utilized polyester resins and fiberglass materials in boatbuilding. In his efforts to build a better boat, Wollard constructed the first fiberglass female mold in 1947, which was used to build Challenger Marine's first fiberglass boat.
He is part of a well-known boatbuilding family. His brother Lee designed and built Norseman Yachts at Chris's Boat Yard. Wollard's nephew Don built Sea Lark boats and is regarded by many as the father of the Tunnel Drive.
Wollard's great-nephew David, vice president of sales for engine control supplier Glendinning, said, "Uncle Troy revolutionized fiberglass boat building. Virtually every fiberglass boatbuilder, large or small, builds boats more efficiently as a result of his efforts. All of us who make our living in the boating industry owe him a small debt of gratitude for his contributions."
The dedication of the historical landmark marker, which is located at 975 NW 95th Street, was attended by many well-known marine figures. Included were: Harry Schoell and Michael Hodgson of Schoell Marine/Infinity Yachts; Dudley Whitman, founder of Challenger Marine; Joe and Helen Lewis, owners of Jerry's Marine Service; Jim Gardner of Egret Boats and Bobby Hewes of Hewes Bonefisher/Redfisher boats
Help needed for Utah Barbecue Competition


Well, the time is coming near for the first ever Utah State BBQ Championship, and the Association has a LOT of work to do, and only a few people to do it. That's why we are now asking you, the public, for volunteers to join the UtahBBQ Steering Committee.

The Steering Committee will assist the Board of Directors in the various tasks that will need to be accomplished, not only for the purposes of the big event, but also in the day-to-day operation of the Association.

If you have any interest in volunteering, please let me know. If you have a particular area of expertise, or interest, please bring that to our attention as well! http://www.utahbbq.org

UTAH DIVISION OF WILDLIFE RESOURCES KICKS OFF THE 2006 FISHING SEASON

Group of Special Ed Children will Help Stock Willow Pond with Trout; More than 219, 000 Fish are being planted in Utah Waters Leading into Memorial Weekend

What: The Utah Division of Wildlife Resources (UDWR) will announce the official kickoff of the 2006 fishing season with the help of 60 special education and elementary children. The students will assist in stocking more than 1,000 trout into Willow Pond, learn how to fish and participate in classes on conservation and stewardship of natural resources.

Why: -Utah's official kick off of fishing coincides with Memorial weekend. The ice has melted, lakes and ponds are stocked, and school is ending, signaling summer vacations to begin.

-Leading into Memorial weekend more than 219,000 fish have been planted in 96 different lakes and ponds around Utah. For an up-to-date list of hot fishing waters and tips from biologists visit http://www.wildlife.utah.gov/fishing .

-New to 2006 is the 365-day fishing license making it easier to buy a fishing license once a year and enjoy four seasons of angling.

Where: The Murray City Willow Pond
-Directions: Take I-215 West to 4700 South, go East on 4700 to Redwood Road, South on Redwood Road, East on 5400 to 1300 West, South on 1300 to Bullion Blvd, East on Bullion Blvd, turn right on Murray Parkway, property on left
-Willow Pond is four acres, stocked with trout, channel catfish, bluegill and largemouth bass and a daily bag limit of four fish. There is handicap access, along with restrooms, picnic areas, fishing pier, parking, trail system, fish cleaning station, playground and other recreational areas.

When: Thursday, May 25, 2006
9:00 a.m. - school children arrive at Willow Pond
10:00 - noon - children will be fishing
10:30 - 11:30 a.m. - children will help stock fish into Willow Pond
11:00 a.m. - announcement by DWR Director Jim Karpowitz

Who: - Jim Karpowitz, Division of Wildlife Resources Director will provide an overview of what is anticipated to be one of the best fishing season Utah has experienced in 15 years.
- Walt Donaldson, DWR Aquatics Section Chief will be on hand to answer questions about sport fishing in Utah.
- Drew Cushing, DWR Aquatics Section Biologist will answer questions regarding the community fishing programs.
- 60 children in the fourth and fifth grades from East Midvale Elementary School
Cherie Call News

I have lots of fun news. First of all, come see me play at the Homestead Resort in Midway, Utah this Saturday! I'll be splitting the evening with Lincoln Highway, a very fun bluegrass group. We'll play a few songs together, and then we'll each take some time to play on our own. Admission is free, and we'll be out on the big grassy lawn in front of the resort. I do this show at least once every summer, and it's one of my favorites. Bring a blanket and the family! It will be a fun show. I will definitely play a few songs from all of my albums, old and new. If you have any burning song requests, drop me a note and let me know! I can't make any solemn promises, but I'll do my best to make it happen. Do note that if it rains, there's no alternative venue, and we'd have to cancel, so check the weather ahead of time if you have to make a long drive to be there. If you need to know how to get to the Homestead Resort, visit http://www.homesteadresort.com . We will be performing from 7 p.m. to 9 p.m.

You may notice that I have been doing slightly fewer shows and not as much traveling lately. This is partly because I've been taking a lot of time to write songs and do the preliminary planning for a new Christmas album that will come out in the late Fall. Some of you have heard my Christmas music on local radio stations in Utah at Christmastime. For the past several years my Christmas music has been difficult, if not impossible to find in stores, since most of it is from a little four song album called "One Star" that had a very limited release. I'm finally fixing that. We're sprucing up the songs from "One Star", and we're adding several new ones, and a couple of new versions of traditional Christmas songs as well. Last year many of you asked about the new song "Broken Hearts Like Mine" that I played live on FM 100 last Christmas. There will finally be a studio recording of that song that will be included on the album. I'm very excited about all of this and will keep everyone posted as the release date gets closer and holiday performances come up.

Another reason why I've cut down a bit on my summer shows is that I'm expecting a baby girl in August! Joe and I are so excited. That's an understatement, really. Naturally I've been reluctant to get on many planes or travel too far away as the due date gets closer. But I hope my fans outside of Utah still feel my love, and know that I'm still here and still writing songs. I will not be quitting music any time soon.

Thanks for your continued support. And if you live nearby, come say hello on Saturday in Midway!

Cherie Call
Trailblazer Adventure Program Tops Quarter Million in Attendance
(Columbus) - The U.S. Sportsmen's Alliance Trailblazer Adventure Program recently topped the 250,000 attendee milestone.
In a five-year period, Trailblazer, the largest scale outdoors youth outreach program of its kind, has grown from one event in 2001 to 32 events already held in 2006. Forty-one events are still to come around the country during the remainder of the year.
Attendees of Trailblazer Adventure Days are given the chance to experience, many for the first time, archery, shotgun shooting and rifle shooting and fishing, while receiving instruction on the importance of trapping to conservation and numerous other outdoors related skills and activities. They also learn about the rich heritage of hunting in the United States, from fox hunting on horseback to the challenges of predator calling and turkey hunting.
The Trailblazer Adventure Program is possible through a partnership of sportsmen's groups, sporting retailers and other organizations which recognize the significance of the work Trailblazer is doing. Without these partnerships, Trailblazer would not be able to reach the broad audience it has reached in just five years. National sponsors include the National Shooting Sports Foundation, Cabela's, The Outdoor Channel, Boy Scouts of America, National Wild Turkey Federation, the U.S. Army, the Masters of the Foxhounds Association of America, Fur Takers of America, Girl Scouts of America, Boys and Girls Club, Girls Inc., the Association of Fish and Wildlife Agencies as well as several local and state department of natural resources and state game agencies.
"Our national partners realize that the young people attending Trailblazer programs today are the sportsmen of tomorrow," said Bud Pidgeon, President of the U.S. Sportsmen's Alliance. "Our future is in the hands of these young people. We need to get the bows, fishing poles and shotguns in those same hands now to assure the future of America's outdoors heritage."
To learn more about the Trailblazer Adventure Program, including a list of events and locations in 2006, go to http://www.trailblazeradventure.org or contact the U.S. Sportsmen's Alliance at (614) 888-4868 or go to http://www.ussportsmen.org .
The U.S. Sportsmen's Alliance Foundation protects and defends America's wildlife conservation programs and the pursuits - hunting, fishing and trapping - that generate the money to pay for them. The U.S. Sportsmen's Alliance Foundation is responsible for public education, legal defense and research. Its mission is accomplished through several distinct programs coordinated to provide the most complete defense capability possible. For more information about the U.S. Sportsmen's Alliance Foundation and its work, call (614) 888-4868 or visit its website, http://www.ussafoundation.org .
GAS PRICES AFFECTING HOLIDAY TRAVEL
Modest Increase in Memorial Day Travel, Says AAA Utah
SALT LAKE CITY, May 22, 2006 - Year after year of rising gas prices appears to be making an impact in Utahns' travel plans. Although the number of people planning to travel this Memorial Day weekend is up slightly over last year, Utahns are increasingly pointing to high gas prices as a reason for cutting back on their vacation plans, according to a new survey from AAA Utah. Approximately 338,000 Utahns are expected to travel 50 miles or more this Memorial Day weekend. That is a less than a 1 percent increase in the number of travelers from last year.
"Gasoline prices are having more of an impact this year than we have seen in the past because of the cumulative effect of high gas prices year after year," explained Rolayne Fairclough, spokesperson for AAA Utah. "Highways and airports will still be very busy, but not significantly more so than last year."
AAA's survey found gas prices are the number one reason people give for traveling less or not at all this summer. The next highest reason is growing concern about personal finances.
The majority of holiday travelers will be taking to the roads and highways. About 320,000 Utahns say they'll travel by car. Higher airfares appear to be contributing to slightly lower enthusiasm for air travel. Approximately 49,000 Utahns say they plan to fly over the holiday. This is a slight decrease from last year. The remaining 17,000 travelers in the state expect to reach their destinations by other modes of transportation like buses, trains or boats.
"Higher prices for gas, rental cars, airfares and hotels mean that travelers will likely be looking for ways to cut costs in other areas," said Fairclough. "Look for the travel industry to respond with promotions like free gas cards, free room nights and complimentary amusement park tickets for hotel guests."
Nationwide, AAA estimates 37.6 million Americans will travel this Memorial Day weekend. About 31.4 million of those will travel by car, while 4.3 million plan to fly and 1.9 million expect to vacation via other modes of transportation.
New Favorite Destination "Hot Spots" for AAA Utah Travelers:
· Phoenix
· Santa Fe
Most Popular Domestic Air Travel Destinations:
· Hawaii
· New York
· Washington, D.C.
· Alaska
Most Popular International Air Travel Destinations:
· Italy
· Paris
· London
· Belize
New Favorite Destination "Hot Spot":
· Japan, Tokyo & Osaka
· Turkey
AAA Tips for Saving Gas:
· If you own multiple vehicles, drive the most fuel efficient car as often as possible.
· Consolidate trips and errands to cut down on driving time and miles traveled.
· Slow down. The faster a vehicle travels, the more fuel it burns.
· Avoid quick starts and sudden stops. This wastes fuel and is harder on the vehicle.
· Lighten the load. Don't haul extra weight in the trunk or cargo area of your car.
· Shop around for low fuel prices and fill up your tank before your road trip.
· Use the air conditioner conservatively. Most air conditioners have an "economy" or "recirculation" setting that reduces the air-conditioning load and saves gas.
· Visit http://www.aaa.com/gasprices for more gas-saving tips and information on where to find the cheapest gas in your area.
AAA's holiday travel figures are based on a national telephone survey of 1,500 adults by the Travel Industry Association of America, which conducts special research for AAA.
AAA Travel is the nation's largest travel organization. AAA Travel offers tips, cruises, tours and vacation packages throughout the world.
AAA Utah offers a wide array of automotive, travel, insurance and financial services to more than 135,000 members. AAA has been a leader and advocate for the safety and security of all travelers since it was founded more than 100 years ago.
Big Bears taken by Price Hunters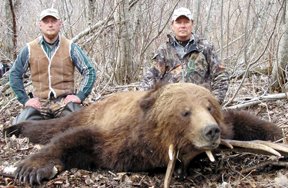 Hunters Ray and Steve Bridge of Price just returned from a 12-day Alaska hunting trip. Steve harvested both a black and brown bear. They squared at almost 7 foot and 8 foot respectively. Ray took a large, 1/2 ton brown bear.

Pictured in the .jpg photo is both Steve (left) and Ray (right) with the brown bear which Ray harvested. Ray's brown bear squared at 9 feet and weighed an estimated 1,000 pounds. The bear's front foot pad measured 9-inches across. The bear's feet were the largest their guide had ever seen. The bear's head is being supported by an elk antler.

Ray and Steve backpacked to their wilderness hunting area and slept under the stars at the side of active bear trails in order to observe bears and bear activity at night. This strategy gave them the opportunity to judge relative bear sizes. On a few occasions, curious and/or assertive bears approached too closely for comfort, making them wonder if they were fearless or just crazy.
AAA SWITCHING FLEET TO HYBRIDS
Auto Club to Purchase 400 Hybrid Vehicles
SALT LAKE CITY, May 18, 2006 - AAA of Northern California, Nevada and Utah's fleet of company-owned vehicles is going green. The company announced today it will be swapping out its entire fleet of 400 vehicles with hybrids.
The organization will be purchasing about 250 hybrid vehicles in 2006. The remaining 150 cars will be replaced over the next two years. The company has selected the Toyota Prius and the Ford Escape hybrid as their fleet vehicles. The cars are used primarily by insurance employees whose job requires the use of a vehicle.
The decision to convert the fleet to hybrids is part of the AAA Greenlight™ Initiative, a new program to promote the development and understanding of new automotive fuels and fuel-related technologies. More information about the Greenlight Initiative can be found at http://www.aaa.com/greenlight .
"We're the organization that reports the gasoline prices and we're the advocates for the motorist, so we're doing what's environmentally correct," said Mike Bregante, vice president of automotive services for AAA.
AAA made the decision to switch to hybrids after an exhaustive analysis confirmed that a move to hybrid vehicles will save the organization money in the long run.
"We would have done this anyway, but that's just icing on the cake," Bregante said.
The hybrids are 2006 models. Most of the vehicles are white and will display the AAA logo on the side. AAA is buying many of the vehicles through the company's Vehicle Purchasing Service, which eliminates the headache of car-buying by prearranging haggle-free prices with hundreds of dealers. AAA's Vehicle Purchasing Service is a benefit for AAA members. More information can be found at http://www.aaa.com .
AAA Utah offers a wide array of automotive, travel, insurance and financial services to more than 135,000 members. AAA has been a leader and advocate for the safety and security of all travelers since it was founded more than 100 years ago.
Support sought for National Wildlife Refuge System
Dear Friend,

Please contact your two U.S. Senators to express your support for a $415-million funding level for the FY2007 National Wildlife Refuge System budget!

Problem:
Last week, the House Appropriations Committee approved $388.7 million in Refuge System Funding for FY2007. This funding level is $6.9 million more than what President Bush requested; however, it is woefully short of what is needed to cover increased fixed costs within the Refuge System, such as rent, energy and utilities. While the costs of goods such as gas and building materials continue to increase for all Americans, it increases for our refuges too. Without adequate increases in funding to compensate, our NWRS's ability to fulfill its mission becomes increasingly impossible.

Solution:
The National Wildlife Refuge Association, along with the Cooperative Alliance for Refuge Enhancement (CARE), has recommended that the Refuge System be funded at $415 million in FY2007. This funding level would cover increased costs to the Service, while also making small progress in alleviating the $3.1 billion backlog plaguing the Refuge System. This amount is considerably short of what is actually needed, but it's a start.

Action Needed:
Action now moves to the U.S. Senate, where they will propose their own refuge numbers. Now more than ever, we need their support! Please contact your two U.S. Senators urging them to support a $415 million budget for the National Wildlife Refuge System, a $33 million increase over the president's budget request. Click on the link below to send a letter to your two Senators and see highlights from the House Interior Appropriations bill.

Deadline for responding:
Please take action by Saturday, July 01, 2006. To send a message, please click the link below: http://refugenet.e-actionmax.com/r.asp?aacwc =374418315825653704193796