NEW VANDALISM AT A POPULAR BLM ROCK ART SITE NEAR ST. GEORGE

ST. GEORGE, UTAH - New vandalism has been discovered at the popular Land Hill petroglyph site near St. George. The vandalism is believed to have occurred in past 30 days. Individuals have scratched their names and drawings on and around the site.

Land Hill is part of the Santa Clara River Reserve - a 6,500-acre area of public land collboratively managed by the Bureau of Land Management, City of Santa Clara and City of Ivins in part to protect archaeological resources of Land Hill. The area contains a high
concentration of rock art, some of which is more than 5,000 years old.

The damage to this rock art site cannot be permanently repaired. A professional rock art conservator will be hired to "inpaint" the scratched areas, which will make the vandalism less apparent. Since it will be exposed to sunlight, wind, and rain, the inpainting will only last about
five years. It will then have to be retouched.

In February of this year five juveniles were ordered to pay $7,500 in restitution after admitting to third degree felonies charges by the Washington County Attorney's Office for vandalizing a petroglyph on Land Hill. The third degree felonies were charged under the State of Utah's
Cultural Sites Protection Act. The juveniles also received detention along with community service or a fine.

BLM law enforcement officers investigating the vandalism are hoping someone will come forward with information about the incident, or will recognize the names scratched into the site. The scratching includes the names Ty, Thomas, Linda 2006, Shanna, and Brittney loves Steve.

The Bureau of Land Management is offering a reward for information which leads to the identification of the suspects. Anyone with information about this incident should call (435) 632-9111.

FISHING REPORT FOR SOUTHEASTERN UTAH

GENERAL In less than a week, we expect that ice will be off all mountain lakes and reservoirs.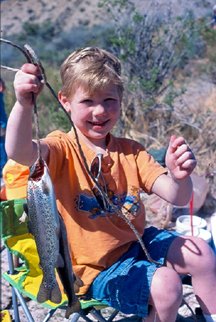 Runoff has stained water in creeks and streams, but gradual clearing is expected in the next two weeks. Anglers are reminded to avoid fishing tributaries in order to protect spawning cutthroat trout. Examples of restricted tributaries include those to Scofield Reservoir, Electric Lake, Gooseberry Reservoir, Ferron Reservoir and Duck Fork Reservoir.
CLEVELAND RESERVOIR The reservoir is opening up. Shoreline fishing is available on the east side with more open water appearing daily.
DUCK FORK RESERVOIR This reservoir is expected to be inaccessible until mid-June.
ELECTRIC LAKE The ice is melting faster than expected. Complete ice-off is expected by this weekend. The lake is already largely ice-free. One persistent ice sheet moves about the lake driven by the wind, but that is expected to melt shortly.
FAIRVIEW LAKES Water is opening up at these lakes, although the road remains inaccessible
FERRON RESERVOIR This reservoir is expected to remain inaccessible until after the Memorial Day weekend.
GIGLIOTTI POND The pond was stocked in early May. Good fishing is expected. This year, anglers don't have to release bass or bluegill, which may be harvested along with trout. A total of 4 fish may be taken in aggregate.
GOOSEBERRY RESERVOIR The reservoir is ice-covered and the access road is closed.
HUNTINGTON CREEK Flows are high due to runoff, especially on the left fork. The further downstream you go, the muddier the water becomes. Please exercise caution to avoid being swept away by the current. For the first time this year, anglers are encouraged to take special precautions to avoid the spread of Whirling Disease which has been found in the creek. Precautions include:
· Removing all mud and aquatic plants from your waders, boots, shoes, and fishing gear before departing from the fishing location,
· Disinfecting gear and equipment with 10 % chlorine bleach to kill the WD spores, and
· Disposing of inedible, uncooked fish parts by burying away from the fishing location, or by placing in the garbage.
HUNTINGTON GAME FARM POND was stocked with 1,500 9-inch rainbow trout in early May. Try an assortment of baits, lures and dry flies. From the locked gate at the game farm, there's a ¼ mile walk to the pond. The limit is four fish in the aggregate. Species include trout, bluegill, catfish and bass.
HUNTINGTON NORTH RESERVOIR Fishing has been sporadic this past week, but a few anglers have had good luck. One person reported catching a 20-inch brown trout off the dam. Another man reported catching a 2-lb. bass off the northwest shore. Early this month, three fishermen reported catching bass ranging from 3-9 pounds. Special regulations apply. The bass limit is six, but only one bass may be over 12 inches. The Castle Country Bassmasters and Utah Parks and Recreation will be co-sponsoring a bass tournament on Friday, June 16th. Call 435-687-2491 for more information. The reservoir will be drawn down this summer to facilitate work on the dam. The DWR plans to postpone further stocking until construction is completed.
HUNTINGTON RESERVOIR (aka MAMMOTH RESERVOIR at the top of Fairview Canyon) The ice is receding from the shoreline. There is a thin strip of fishable water along the dam and on the east side. Anglers have already been dropping lines into small holes through the ice. Excellent fishing is expected for tiger trout ranging from 16-19 inches. Special regulations apply. Closed to the possession of cutthroat trout or trout with cutthroat markings.
JOES VALLEY RESERVOIR The ice is off and baitfish are feeding on the surface. Big splake are patrolling the shoreline for Utah chubs. Justin Hart caught a 10-lb. splake last week. He was fishing in six feet of water within casting distance from the shoreline. Justin used a whole dead chub with a minnow hook. He let the chub sink to the bottom and waited. The best spots are tributary mouths, where water dumps into the reservoir. Fly fishermen should do well with large streamers. For those who like to throw hardware, try trolling a Rapala Husky Jerk. One angler caught four fish in 15 minutes with this crankbait. Special regulations apply. The trout limit is two. Only one may be over 22 inches. All trout between 15-22 inches must be immediately released.
LASAL MOUNTAINS Hidden Lake is open and accessible. Conservation Officer Joe Nicholson reports that fishing there has been fair. Most trout have been caught on worms and PowerBait. Ken's Lake continues to be good. Anglers have been catching trout in the 10-14 inch range on marshmallows, worms, silver spoons and Mepp's spinners. Joe says that anglers on the Colorado River have been catching channel catfish on shrimp and chicken livers.
LOWER FISH CREEK A variable volume of water is being released from Scofield Reservoir (100-200 cfs) to avoid downstream flooding and to slow down reservoir filling. The water in lower Fish Creek is still pretty high though. Beyond the confluence with the White River, the Price River looks like chocolate milk and is running bank-full. One angler, who commented on the DWR fishing forum, reported catching 14 trout with a 4-inch plastic minnow, having a bluish-black back and silver belly. Most trout range between 15-18 inches.
MILLER FLAT RESERVOIR The reservoir may or may not be open for the Memorial Day weekend, depending on road conditions.
SCOFIELD RESERVOIR Last weekend the catch slowed down due to a huge hatch of midges. Anglers who fished very early had the best luck. Fly fishermen who imitated the hatch did better than bait or spincasters. In recent weeks, glo bugs worked well. Tom Ogden recommends a Montana nymph or hares ear in a larger size than you would normally use, due to low water transparency. At this time of year, the best bait by far is egg sacs or salmon eggs. For best results, soak the eggs in ovarian fluid (egg juice). As the redside shiners in the reservoir begin to spawn, dead minnows will replace egg sacs as the most effective bait.
All tributaries are closed to protect spawning cutthroat trout until July 8th.

Lake Powell Fishing Report

May 17,
2006
By: Wayne Gustaveson
Lake Elevation:
3597 Water Temperature: 68-75 F

Good fishing continues as hungry sport fish compete for limited forage. Last year's forage
is at the low point for the year and newly spawned fish are not yet large enough to provide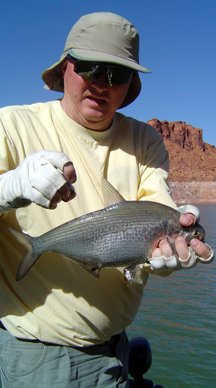 food for adult fish. The result is fast fishing for stripers, walleye, and smallmouth bass.

Stripers continue to travel the deep canyon walls from Glen Canyon Dam to Bullfrog and all spots in between. They are readily caught on anchovy bait fished at 30-50 feet near the wall and on cliff points and talus rock piles. Chum to get the school started and then harvest all fish caught
as the population is overabundant and must be downsized to keep the fisheries healthy. Some of
the hotspots include Navajo, Last Chance, Oak and Reflection, Jacks Arch, Escalante, Moki, Hansen Creek and Red Canyon.

There are less 4 and 5-pound stripers being caught each day but it is difficult to tell because juvenile striped bass have begun feeding on plankton in very large schools in 10-20 feet
of water. Theses stripers prefer a larger food item so a cast or trolled lure gets whacked a
number of times as it traverses the large school.

Juvenile stripers are in prime condition and provide a better meal than the thin 4-pound fish.
When a school of juveniles is located they can be caught quickly on small lures such as white
grubs, small spoons (Kastmaster or Wally lure) or small crankbaits. Stationary schools of juveniles are located inWahweap Bay (Castle Rock Cut), Navajo Canyon (points behind the double islands), and Padre Bay (buoy 21A). Find the schools by shallow, slow trolling a spoon or jig with small grub attached. When a fish is caught immediately cast ½ ounce spoons in the area (much like fishing boils) to keep the school active while the first fish is landed. I took 15 stripers in 15 consecutive casts using this method in Wahweap Bay.

Hungry stripers too big to eat plankton are searching for crayfish on all rocky shoreline
near deep water. Fishing a plastic tube or grub on the edges of the main channel is a sure thing
for stripers and walleye. Stripers are readily caught trolling the edge of the channel with deep
diving crank baits. Walleye are caught using the same trolling methods near shore where a bit of
mud is stirred up by wind or boat wakes. Use Hot-n-Tot and Wally Divers to target walleye or
deep Thundersticks or Deep Husky Jerks to target stripers. When a fish is caught trolling it's a
good idea to cast plastic tubes and grubs to see if a school of stripers or group of walleye is in the vicinity.

If this isn't enough then smallmouth bass are hot on most vertical rocky structure. Bounce a tube
or grub along bottom or drag them from reef to reef to catch bass up to 3 pounds.

Fishing continues to be incredibly good despite full moon, rising water, runoff stain, rapid
warming and many other variables that tend to slow things down. It hasn't happened yet. There
is still time for an excellent spring fishing trip.

Utah Resorts Smash Skier Visits Record for Third Consecutive Year
SALT LAKE CITY - Utah's ski industry is celebrating its third consecutive record-breaking year for skier visits. With at least two weekends of skiing remaining at Snowbird Ski and Summer Resort, the current estimate has Utah skier days having reached 4,045,030 during the 2005-06 winter season (the National Ski Areas Association defines 'skier days' as one person visiting a ski area for all or any part of a day or night for the purpose of skiing).
"We are thrilled to have reached this significant milestone of 4 million skier days," said Ski Utah President Nathan Rafferty. "It's great that word is getting out about the unrivaled accessibility of Utah's ski destinations. Delta Air Lines has made it even more convenient for skiers to get to Utah by now providing non-stop service for the State's top 50 markets. Thanks to Delta's expansion of its Salt Lake hub, Salt Lake City International Airport served over 22.2 million passengers in 2005, the most in its history."
For the second year in a row, more than 600-inches of the Greatest Snow on Earth fell on Utah's ski resorts. This winter was a 3.8 percent increase in skier days over last season's 3,895,578. Utah resorts have experienced an incredible 29 percent jump over the last three seasons.
"The growth trend, State funding for tourism promotion, and the improvements that several resorts have in the works for next year will give us strong momentum going into the 2006-07 ski season," added Rafferty.
Total statewide skier days for the past 10 years are as follows:
Season Skier Days Rank
2005-06 4,045,030 1
2004-05 3,895,578 2
2003-04 3,429,141 3
2002-03 3,141,212 5
2001-02 2,984,574 9
2000-01 3,278,291 4
1999-00 2,959,778 10
1998-99 3,095,347 7
1997-98 3,101,735 6
1996-97 3,042,767 8
Utah's official ski season continues at least through Memorial Day, May 29, at Snowbird Ski & Summer Resort where skiers and riders are currently enjoying a 114-inch base at mid-mountain.
UTAH GAS PRICE SETS NEW RECORD
AAA Report: State Average up 63 Cents from Last Year
SALT LAKE CITY, May 16, 2006 - Utah drivers now face all-time record high prices for gasoline, according to AAA Utah, which tracks fuel costs as a service to consumers. The average price for a gallon of regular, self-serve gasoline is now $2.91. Utah's average price is now 2 cents lower than the national average price of $2.93.
Utah's current average price, $2.91, is 57 cents higher than a month ago and 63 cents higher than last year. The national average price, $2.93, is 24 cents higher than a month ago and 77 cents higher than a year ago.
One reason gas prices have climbed is the switchover to ethanol. Refineries have been removing the MTBE additive and replacing it with ethanol, and local service stations had to make changes to accommodate the new fuel. Once the switch to ethanol is completed, prices are expected to level off.
"Utah enjoyed the lowest gasoline price in the country just a month ago. Since then, the price of gasoline has steadily increased. Today there are 21 states with a price higher than Utah," said Rolayne Fairclough, AAA Utah spokesperson. "Right now there doesn't seem to be relief for Utah motorists."
Motorists in every Utah city surveyed by AAA have been hit by sky-rocketing price increases since the last AAA report on April 11. Ogden saw the largest increase, 60 cents, bringing its current average price for regular self-serve to $2.90 a gallon. Moab's drivers face the highest prices of the cities surveyed in Utah. The current average price in Moab is $3.10 a gallon, a 59-cent increase from a month ago. St. George has the next highest prices. The current price in St. George is $2.98, a 57-cent increase from April. The average price in Vernal and Logan is $2.91. This is a 55-cent increase from last month for both cities. Provo's average price is $2.88, this represents a 59-cent increase from April. Despite a 58-cent increase from last month, Salt Lake City's average price of $2.87 is the lowest for the cities surveyed by AAA Utah.
All of the states in the Intermountain West experienced jumps in their average gas price but none experienced as great a jump as Utah's 57-cent increase. Idaho's price rose 51 cents to the current average price for regular, self-serve of $2.89. Montana's price increased 33 cents to $2.76 a gallon. Wyoming's price rose 36 cents to $2.73. Colorado's motorists only saw a 22-cent increase since April. The current price in Colorado is $2.83. Arizona's price jumped 43 cents this past month to $3.09. Nevada's motorists are now paying an average of $3.21 a gallon. This is a 52-cent increase since AAA's April report. California's price increased 52 cents to $3.38.
"The run-up we have all experienced at the pump has been nothing short of painful," said Fairclough. "There may be some relief after the switchover is completed and the typical drop in prices after the Memorial Day holiday. Even though prices are high, AAA urges motorists to fill up before their gas tank registers empty. Running on empty can harm vital and expensive equipment in their vehicles."
Tips for stretching every gasoline dollar include making sure tires are properly inflated, making sure vehicles are properly maintained with clean fluids and filters and replacing worn hoses and belts. Decreasing the loads vehicles carry can help gain fuel economy. Commuters may also consider carpooling and using mass transit as ways to save at the pump.
Another way motorists can reduce the amount of money they spend on fuel is to shop aggressively for the lowest price. AAA Utah has a new tool that can help. Located online at http://www.aaa.com/gasprices , the AAA Fuel Finder has real time information on gas prices at more than 85,000 gas stations throughout the United States.
AAA's Fuel Gauge Report is the most comprehensive retail gasoline survey available, with over 85,000 self-serve stations surveyed everyday nationwide. Data is provided in cooperation with OPIS Energy Group and Wright Express, LLC.
AAA Utah offers a wide array of automotive, travel, insurance and financial services to more than 135,000 members. AAA has been a leader and advocate for the safety and security of all travelers since it was founded more than 100 years ago.
New IGFA world record; 385 lb shark on 16 lb tippet is now heaviest fish caught on fly
DANIA BEACH, Fla., U.S.A. -- (May 17, 2006) -- The catch-and-release of a 385 lb lemon shark on fly has officially been approved as a world record by the International Game Fish Association (IGFA).
It also becomes the heaviest documented fish caught on fly tippet.
IGFA world records coordinator Rebecca Reynolds made the official announcement that Dr. Martin Arostegui, Coral Gables, Florida, USA had caught the heaviest fish ever documented on fly beating out a nearly 40 year old record.
A little background on Arostegui; last year the retired Miami-area physician received a lifetime achievement award from the IGFA for over 100 world record catches through 2004 and this past March took home a grand slam of honors at the IGFA World Record Achievement Awards ceremony for the most world records in 2005 in saltwater, freshwater and on fly.
None of his other catches has ever been this heavy on any tackle, said Arostegui.
Continuing his relentless pace for world records with extensive travel, planning, preparation and review of the IGFA World Record Games Fishes annual and continuously updated IGFA web site of world records, Arostegui's original plans were to catch and release a tiger shark on 20 lb tippet to beat the current 11-year old record of 220 lbs.
Guided by Capt. Ralph Delph, Key West, Fla., and fishing near the Marquesas Keys west of Key West, Florida, Arostegui used the scent line of a filleted barracuda to entice sharks onto the flats.
Instead of a tiger, a lemon shark smelled the scent so Arostegui switched to another fly rod with 12 lb tippet and a bright orange seven-inch long feathered fly streamer in an attempt to break another record he held. Like the tiger shark the lemon shark is a member of the whaler shark (carcharhinidae) family and once hooked Arostegui battled the fish for over an hour.
As he muscled the fish next to the boat, Arostegui said the toothy shark attacked the hull of Delph's 29 ft. Contender.
"When it opened its huge mouth, I said to myself this shark could eat half of me in one bite," joked the diminutive former emergency room doctor who stands 5 ft. tall and weighs 125 lbs.
Next in a carefully orchestrated technique that Arostegui and Delph have used before, Delph gaffed the shark in the soft, fleshy part of its tail as Arostegui dropped the fly rod and lassoed the fish in front of the tail with a cleated rope.
After a breather they enlisted the help of another flats angler and guide fishing nearby. The four men were able to wrestle the shark, while controlling its dangerous head, through the transom door into a specially designed eight foot long, three foot deep aerated, hydraulic live well. After an hour long ride back to Key West the pair, with the help of Delph's son Mike who is also a noted Keys guide, finished documenting the catch. For that Arostegui used a portable briefcase-sized ScaleMaster II from International Weighing Systems along with a special canvas sling to cradle the fish.
"Since I bought the scale in the Rolex/IGFA Offshore Championship tournament auction last year in Mexico, I've used it for documenting six other IGFA certified records, but nothing this heavy." Minus the weight of the ropes and cradle the lemon shark weighed 385 lbs (174.63 kg).
The avid angler who has practiced catch and release on over 90% of his fish catches slid the shark into the water of a nearby basin and while resuscitating it -- himself in the water -- measured the shark for its girth (49") and length (90") plus took photos.
Later, as he looked at the photos of himself and Capt. Mike Delph standing in the water before releasing the giant fish which an hour before had been biting the boat, Arostegui chuckled and said, "I don't recommend getting this close to a lemon shark, especially in his environment."
At the IGFA headquarters after preliminary line testing and documentation review, Ms. Reynolds said the 12 lb tippet over tested at 13 lbs so Arostegui's fish was entered in the 16 lb tippet line class.
The previous record for heaviest fish on fly has been on the IGFA record books since March 15, 1967 for a 356 lb 0 oz (161.48 kg) goliath grouper (jew fish) caught by Bart Froth in Islamorada, Fla., USA, on 12 lb tippet.
Arostegui also beat his own 257 lb 0 oz IGFA mark for a lemon shark that he recorded two years ago and also the heaviest shark on fly beating out a 353 lb. hammerhead shark caught two years ago, also in the waters near Key West, by Rick Gunion.
Founded in 1939 the International Game Fish Association is a not-for-profit organization committed to the conservation of game fish and promotion of responsible, ethical angling practices through science, education, rule making and record keeping.
IGFA members are located in over 125 countries and territories. The IGFA welcomes visitors to its 60,000-square-foot interactive Fishing Hall of Fame and Museum in Dania Beach, Florida. The phone number at the IGFA is 954-927-2628 and e-mail is HQ@IGFA.org. The web site is http://www.igfa.org .
(Photo caption) -- Capt. Mike Delph, left, Key West, Fla., USA and Dr. Martin Arostegui, right, of Coral Gables, Fla., hold a 385-pound lemon shark before releasing it back in Florida Bay waters. The International Game Fish Association certified the catch as a world record, Tuesday, May 16, 2006 saying it is also the largest documented fish caught on fly tackle replacing a 356 lb. goliath grouper (jew fish) caught in 1967. Arostegui, a retired doctor who holds more than 100 IGFA world fishing records caught the huge, toothy shark in early March near the Marquesas Keys, west of Key West, Fla. He and Capt. Ralph Delph went through elaborate methods to keep the fish alive to be weighed on certified scales, documented and released alive.
(Photo provided by the IGFA via Johnson Communications, Scottsdale, Ariz.)
CIVIL WAR ENCAMPMENT AT CAMP FLOYD STATE PARK
Fairfield - Camp Floyd State Park in conjunction with the Utah Civil War Association are hosting a Civil War Encampment on Memorial Day Weekend, May 27 and 29, 2006 at Camp Floyd State Park. The event will allow visitors to experience camp life and participate in several activities performed by soldiers of Johnston's Army; learn to drill and march, load and fire a Civil War period rifle, watch a battle and medical display. A candy cannon will be fired twice each day for the kids. Bring your picnic and have lunch with a soldier; participate in 1861 period games, make a candle, spin toy and go mining for gold; listen to a Civil War Fife and Drum band. The events will be conducted on both Saturday May 27th and Monday, May 29, 2006.
Saturday Evening activities include a Civil War period dance with a caller who will instruct the proper dance steps and style. All events are free of charge. Standard museum entrance fees of $2 per person or $6 per family still apply.
Established in 1858, Camp Floyd housed the largest concentration of U.S. troops then in the United State. The troops were sent to Utah to suppress a rumored Mormon rebellion which never took place. The army was recalled back east in 1861 for the Civil War emergency. Today, the park museum houses artifacts and exhibits from this historic event.
Camp Floyd State Park is located in the town of Fairfield, 22 miles southwest of Lehi on State Highway 73. For more information about the event or park, please contact the park at 801-768-8932.
Civil War Encampment Schedule
Camp Floyd State Park
May 27 & 29, 2006
10:00 a.m. - Drill and march
10:30 a.m. - Roll Cartridges / Rifle Shoot
11:30 a.m. - Battle / Skirmish
12:00 noon - Medical Display
12:20 p.m. - Candy Cannon
12:30 p.m. - Lunch
1:30 p.m. - Play period games; graces, hoops, Jacobs ladder, cup and ball, jacks, etc.
2:30 p.m. - Concert by Fife and Drum
3:00 p.m. - Candle making, mining, spin toy making
4:00 p.m. - Candy Cannon
4:10 p.m. - end
7:00 p.m. - Civil War Period Dance (Saturday Only)
9:00 p.m. end for the day. (Saturday Only)
FREERIDE MAGAZINE (FRM) ANNOUNCES THE LAUNCH OF WHITE MAGAZINE
New name reflects the bold, edgy nature of the nation's first ski & snowboard magazine
Park City, UT - On the heels of a successful first season, FreeRide Magazine has done the unthinkable: changed its name to WHITE Magazine. Success breeds success, and the winning formula of athlete-driven, reader-focused content inspired a new branding effort to better unite the culture of winter using what else? Snow, of course. It's the unifying medium for gravity-powered snowsports.
WHITE delivers a core focus of big mountain riding, and draws inspiration from Utah's famous backcountry. The local breeding ground of our younger audience, including freestyle terrain, rounds out the pyramid of on-snow content. WHITE transcends sport and delves into Utah's winter culture, rewarding readers with gripping stories and awe-inspiring photos, while continuing to inform and educate.
Community saves historic Zollinger Farm
Cache Valley residents and elected leaders contribute funds to help
The Trust for Public Land preserve the beloved family-owned apple orchard
Logan , UT --The Trust for Public Land (TPL) announced today the permanent preservation of Zollinger Fruit and Tree Farm as agricultural open space. TPL, with the support of federal and state grants, the landowners, regional foundations, local residents and Providence City, raised $1,478,000 in public and private funds for the purchase of some of the farm's development rights.
"Our family would like to thank the people at The Trust for Public Land," said Ron Zollinger, third-generation owner and manager of the farm. "They have been very helpful and pleasant to work with. This is one of the few organizations that is effective in helping landowners realize another option besides development."
Zollinger Farm is located between Logan and River Heights, near Providence in Cache County. A 48-acre orchard of apples and nursery stock, the farm has been in the Zollinger family for over 100 years. It is an authentic place for families to experience the historic life of the region and taste local food--Zollinger Farm apple cider, a blend of juices from apples grown on the farm, is legendary. And for its neighbors, it is a beautiful and welcome visual break in an increasingly developed valley. Said Holly Daines, a neighbor, "We are delighted with the preservation of Zollinger farm! All of our children and grandchildren will continue to enjoy the open, green space of this farm land. They will watch apple trees blossom in the spring, buy apples fresh from the tree in autumn and enjoy cider all winter--a small taste of our valley's agricultural heritage. The Trust for Public Land played a pivotal role in making this possible. Their organization has both the expertise and the dedication to make projects like this, which enhance our community, a reality."
With increasing population growth--according to the US Census, Cache County's population grew by 30.2% between 1990 and 2000)--farmlands, with their beauty and access to water rights, are especially vulnerable to development. The Trust for Public Land estimates that development consumes more than 600 acres--almost one square mile--of Cache County farmland each year. The loss of farmland has serious implications for the region's economy, character, air and water quality, wildlife habitat and the quality of life of its residents. But facing increased farming expenses, changing family priorities, and rapidly rising land values that prevent farms from expanding, many farmers have had few options other than selling their land for development.
The solution for the Zollinger family was the sale to TPL of a conservation easement that extinguishes some development rights and uses of the property. The Zollinger family will continue to own and manage the farm while the community is assured that the property will remain in agriculture, with all of the beauty and natural and cultural resource values that implies. TPL conveyed the easement to the Utah Department of Agriculture and Food with the responsibility for compliance with its provisions in perpetuity.
"I think landowners who enter into a program like this need to be committed to their stewardship over the property. The conservation of this land was our family's objective and now it's up to me and my son to continue with the kind of stewardship that keeps this property something the community can be proud of," said Ron Zollinger.
The farm is an increasingly rare piece of Cache Valley's heritage landscape. Throughout the community, residents and elected officials recognized the value of keeping the farm as it is. Providence City and more than a dozen private individuals and foundations stepped forward to help TPL raise $80,000. The funds were needed to match state LeRay McAllister Critical Lands Conservation Fund and federal Farm and Ranchland Protection Program grants ($300,000 and $686,000 respectively), a grant from the George S. and Dolores Doré Eccles Foundation ($40,000), and a contribution of 25 percent of the easement's value by the Zollinger family ($369,500).
"Without donations from people in Cache Valley, TPL could not have met the matching requirements of the federal funding," says TPL-Utah Director Shauna Kerr. "But everyone we asked, people like Dan and Manon Russell and their son Dan, Jr., Scott Watterson, Peter and Holly Daines, and many others, spoke so warmly about what this farm means to them and contributed generously."
The elected leaders of Providence recognized the value of preserving what makes Cache Valley so special and contributed $2,500 to the fundraising campaign. While the River Heights City Council also approved of making a contribution, no funds could be made available within the timeline necessary to complete the project.
Todd Weston, Mayor of River Heights, his wife Joyce, and their son Sam and daughter-in-law Judy Weston contributed personally to the effort to preserve Zollinger Farm. Said Mayor Weston, "It is a personal thrill to me and my wife Joyce to see this beautiful farm and orchard land preserved as it is in perpetuity in our River Heights neighborhood. For many years our family farmed the adjacent land. Two of our sons and their families now live in homes adjacent to the Zollinger Farm. We have formed a close friendship with the Zollingers, beginning with Ron's father Jesse, that has lasted a lifetime. I know of no other land in Utah that deserves to be conserved by the Trust for Public Land as does the Zollinger Farm. It is truly a Cache Valley treasure."
This is the fourth Cache Valley farm that TPL has helped preserve. Since 2003, TPL has preserved 2,051 acres of agricultural lands valued at more than $5 million, including a farm in Millville and two in Paradise. Said Kerr, "Municipalities must weigh a desire to grow their tax base through development against the transformation of their community character and the costs of providing services to new development. Conservation of agricultural properties, especially those with public operations like Zollinger Farm, can vary land use, preserve heritage and character, provide local foods and jobs, and protect places where wildlife shares the land with people--without removing farmers from the land."
The Trust for Public Land is a national non-profit land conservation organization with a mission to conserve land for people. TPL's work is dedicated to improving the quality of life in American communities by conserving land where people live, work and play. Since 1985, TPL has conserved more than 41,000 acres, valued at over $66 million, of agricultural land, sites of cultural significance, wilderness, and trails and parks throughout Utah. Founded in 1972, TPL has protected two million acres nationwide. Find TPL-Utah on-line at http://www.tpl.org/utah .