National Trails Day Events scheduled June 4
By Brian Brinkerhoff
Whether you hike or mountain bike, ride horses or ATVs, one annual event is focused on your interests this weekend and participation can be within minutes of your home. To celebrate trails and improve them for others, 1 million people across the country will head outdoors to help build, maintain, protect and enjoy America's trails on National Trails Day, scheduled June 4. Governor Huntsman Jr. has also declared June 4-11 as Utah Trails week.
This year's theme is "Take a Path to a Healthier You," improving awareness of health benefits- from reducing weight to reducing pollution by using trails rather than motorized vehicles. It recognizes the fitness benefits provided by U.S. trails to hikers, bicyclists, and equestrians.
National Trails Day was established to promote new strategies for community trail planning, increase public awareness, promote trail conservation, and celebrate the values and benefits of America's treasured pathways. Highlighting the emerging demand for more local trails, parks and open spaces, all events are locally planned and organized.
Mary Margaret Sloan, President of the American Hiking Society reported, "People who hike, or bike know just how amazingly beneficial foot power can be. We hope our Trails and Health theme will bring more people out to enjoy our country's vast network of backcountry, urban and suburban trails."
Sloan added, "National Trails Day is a great opportunity to get outdoors, meet your neighbors, do volunteer trail work and get your heart pumping. It's a fun way to stay fit, contribute to your community, and celebrate America's heritage of trails."
Utah Trails Week and National Trails Day festivities throughout Utah will include dedications of new trails, educational exhibits, trail rides and hikes, and trail maintenance activities. The first National Trails Day took place in 1993 to commemorate the 25th anniversary of the National Trails System Act. Since 1993, National Trails Day has become America's largest celebration in the outdoors.
The unifying concept behind National Trails Day is to establish 'Trails for all Americans,' which hopes to establish a nationwide system of trails, linking old and new pathways and bringing trail access within 15 minutes of the home or workplace of every American.
Although local organized activities are provided, the American Hiking Society also suggests visiting a trail near home to enjoy opportunities within steps of many Utah Valley communities. Trail users are encouraged to bring a trash bag and help clean up sections of nearby trails to improve the views for others to follow.
Trails Day is a perfect excuse to help neighbors and friends step outside to enjoy the outdoor experience for themselves. Whether you revisit a favorite hiking trail or discover a path you never crossed before, this is a great way to celebrate Utah Valley's local network of trails.
Trail users are should bring plenty of bottled water, food, and clothing for inclement weather. Users are also encouraged to be courteous while sharing the trails with others.
People are invited to get out on Utah's trails during the week to enjoy the outdoors with family and friends. Provided are a few nearby activities. All activities take place on June 4. To create and register your own event or see other events across the country visit http://www.americanhiking.org
Jordanelle State Park is hosting a "Trails of Jordanelle" event where high school students and other interested groups will be working on the Three Rocks Trail and Perimeter Trail. Please bring food and water and tools (please contact park for more information on tools). Be prepared for rain, snow or shine. For more information contact Kathy Donnell at kathydonnell@utah.gov This event begins at 9 a.m. To reach the site from Provo, head east on Hwy 189 up Provo Canyon. At the first stop light, (US 40), turn left. Follow that road approx. 4.6 miles to Hwy 32. Turn right on Hwy 32 and follow it approx. 7.5 miles to the Jordanelle, Rock Cliff turn off. Turn left and follow road to trail head.
Wasatch Mountain State Park is conducting biking, hiking, and equestrian tours of the Dutch Hollow Complex, beginning at 10 a.m.. Adopt-A- Trail sign up forms will be available for interested participants. A raffle will be conducted at the end of the day for prizes. Light refreshments will be provided in the morning. Everyone should bring their method of travel, sunscreen, water, and snacks. Be prepared for adverse weather conditions.
A Cascade Springs trail ride is also scheduled that morning for off highway vehicles, touring the Cascade Springs area. Contact Drew Patterson or Dawn Wuthrich for an update on the time of this event at (435) 654-1791.
From Provo, head east on Hwy 189 up Provo Canyon. At the first stop light, (US 40), turn left. Follow that road approx. 4.6 miles to River Road. Take a left on River Road and follow it approx. 2.2 miles to the Dutch Hollow turn off (right hand side of the road). Follow that road approx. .5 mile to the trail head.
REI sponsors Service Project
REI is looking forward to their Annual Service Project June 4 beginning at 8 a.m. to repair erosion and damage along the Pipeline Trail near Mill Creek Canyon.
REI and the Salt Lake Ranger District of the U.S. Forest Service are teaming up with many individual volunteers to give back to the nearby trail systems. Tools and lunch will be provided.
Directions to Site: Take Wasatch Boulevard to 3800S (this turns in to Millcreek Canyon Road) and go east. Follow the road approximately 4 miles to the overflow parking lot on the north side of the road and look for the REI canopy. For more information call (801) 486-2100 or visit http://www.rei.com and click on the "store & events" tab.
Trails Day activities await in Heber Valley
Wasatch Mountain State Park hosts a National Trails Day event Sat., June 4 at 10 a.m. at the Dutch Hollow Trail Complex with staff leading tours on horseback, bike, and foot. An off-highway vehicle ride is also scheduled that morning and begins at the Cascade Springs Trailhead.
Enjoy scenic views of the park and Heber Valley. Trails offer varying levels of difficulty for all skills and abilities. Information on the Adopt-A-Trail program will be available for those interested in helping the park's trail program. Drawings for prizes will take place after the tours for in attendance. For more information, call the park at (435) 654-1791.
Timpanogos Cave begins B.A.T.S. Program
Timpanogos Cave National Monument has started their 2005 Behind-A-Tour Specialist (BATS) and Volunteer Senior Ranger Corps programs. These popular programs allow participants 16 years and older to be involved with one of Utah's most popular natural resources.
BATS volunteers provide "hands-on" support to Timpanogos Cave National Monument Park Rangers by assisting with cave tours, patrolling the 1.5 mile hike to the caves, and handling other situations as they arise. This program can provide valuable experience to participants with an interest in natural resources and careers in other related fields. Volunteers are provided with uniforms and training and given freedom to participate as their schedule allows.
Volunteer Senior Rangers provide leadership and management of the BATS program and serve as year-round recruiters of youth to participate in monument projects. Projects include working at the visitor information desk, greeting visitors on the cave trail, cataloging historical items and supervising youth volunteers at the cave. For more information contact Ranger Gosse at 756-5238.
Utah Lake ready for Summer
Utah Lake State Park is ready for the summer boating season. Lake levels are close to capacity, with six feet of water in the boat harbor. Park staff anticipates water levels to remain adequate for most of the boating season.
"We are looking forward to an optimal boating season," commented Park Manager Ty Hunter. "As people take advantage of the water levels, remember to wear your lifejacket and boat safe this summer. Accidents can happen at anytime." In addition to boating opportunities, Utah Lake State Park day-use and camping amenities are open for the season. For more information, call (801) 375-0731.
Expo to Bring the Best of Northern Utah Outdoors
The Bridgerland Outdoor Coalition will host their 2005 Outdoor Expo June 3rd and 4th at the Stan Laub Center on Utah State University's campus in Logan, Utah. The largest outdoor show in the region, the BOC Outdoor Expo will feature celebrity seminars from experts in a wide range of outdoor activities.
"Our exhibits and displays are designed target the widest variety of outdoor users," said BOC spokesman Guy Perkins. "Whether you like to hike, bird-watch or ride horses or ATVs in the outdoors, the BOC Expo will help you understand everyone's importance in helping to take care of the common lands we share."
Learn how to make the most of every outdoor activity, from mountain biking and rock climbing to fishing and hunting. More than 200 booths will showcase different outdoor groups and the latest in outdoor equipment. A special exhibit will display select wildlife from the Bridgerland region, including taxidermy and live animals.
On Fri. the Bridgerland Championship Dutch Oven Cook Off awaits culinary enthusiasts. Entry forms are available at Kitchen Kneads or Logan or by e-mailing edwardq@campchef.com . The cook off is open to anyone interested.
Expo hours are Fri., June 3rd from 9 a.m. to 9 p.m. and Sat., June 4th 9 a.m. to 5 p.m. Admission to the Expo is $5 for adults and $2 for children. Friday, children receive free admittance with an adult.
Saturday evening, the BOC will host the area's largest wildlife fund-raising banquet, with all proceeds going to support local and regional habitat. For tickets, call Cody Johnson at (435) 232-2417 or Brad Lewis at (435) 753-2626.
State Park Events scheduled this Weekend
Wasatch Mountain State Park, near Midway is hosting several activities this weekend. On June 3 a campfire program will focus on Hawks Up Close, where participants will see hawks, eagles and falcons up close. Join park staff and volunteers from Hawk Watch, Intl. for a program about birds of prey. Program begins at 7 p.m. at the campground amphitheater.
June 4 will feature a Junior Ranger Program on Birds, Nests and Eggs. Children ages six to 12 are invited to learn what it means to be a Junior Ranger. Participants will earn a Junior Ranger Badge and Certificate. Meet at the campground office from 11 a.m. to 12 p.m. For more information, call (435) 654-1791.
Later that evening a campfire program will present the Division of Wildlife Resources Drug Dog. Join Division of Wildlife Conservation Officer Jodi Becker and her faithful companion, Bridger, as they discuss and demonstrate the life of a drug dog. This exciting program begins at 7 p.m. at the campground amphitheater. For more information, call (435) 654-1791.
Pony Express Days awaits this Weekend
From June 4 - 11 the Camp Floyd- Stagecoach Inn State Park and Museum in Fairfield will celebrate Pony Express Days. Watch pony and rider as they make a horse and mail exchange at Camp Floyd, with mail being carried from Missouri to California. There will be a picnic in the park; drinks and dessert provided, free museum and exhibit tours; kids activities. This event is scheduled in conjunction with Eagle Mountain's Pony Express celebration. For more information, call (801) 768-8932.
Women's Shotgun Clinics Offer Fun and Safe Shooting Instruction
Women are discovering how much fun recreational target shooting can be. According to a new study just released by the National Shooting Sports Foundation, the number of American women participating in the shooting sports has soared to more than 4 million.
Many women are being introduced to the shooting sports through women-only clinics sponsored by conservation organizations including the National Wild Turkey Federation and state wildlife agencies. The National Rifle Association and The National Shooting Sports Foundation also have programs to introduce and mentor new recreational shooters. These programs provide a safe and friendly environment for newcomers to learn various shooting disciplines.
Women in Utah may attend one of two women-only shotgun clinics in June. These clinics are sponsored by the Division of Wildlife Resources' "Becoming an Outdoors Woman" program, The National Rifle Association's "Women on Target" program and Sportsman's Warehouse.
A women's only skeet clinic awaits at the Provo Gun Club June 11 beginning at 9 a.m. This clinic is geared toward women who have some prior shotgun experience. Volunteer instructor Neal Davis learned the instinctive shooting techniques taught in the clinic 20 years ago
from Jerry Meyer, who later founded the L.L. Bean Shooting School. Davis enjoys teaching a variety of shooting techniques to the women who come to the skeet clinics he teaches for the BOW program. According to Davis, the ladies are always enthusiastic, eager to learn and they listen
carefully to the instruction offered.
A women's only beginning shotgun clinic will be held at the Heber Valley Gun Club on June 18 starting at 9 a.m. This clinic is for brand new and beginning shotgun shooters. Basic shotgun structure, safety and shooting fundamentals will be covered in the class, along with shooting
practice under the direct supervision of instructors Louise and John Bradshaw, and Gene Ekenstam.
Safety and proper gun handling is the first order of the day at both clinics. Students will learn proper stance, gun mount, hold points, break points, how to lead targets and more. Space is limited and pre-registration is required. For more information or to register, contact Wendy Mair, "Women On Target" volunteer coordinator and Heber Valley Gun Club volunteer officer at (801) 377-3350 or e-mail at hebervalleygunclub@earthlink.net .
Fish for Free on June 11
Fishing waters throughout Utah should see plenty of anglers Sat., June 11, as the Division of Wildlife Resources marks Free Fishing Day in Utah. People will not need a fishing license to fish in the state that day.
Tom Pettengill, sport fisheries coordinator for the Division of Wildlife Resources, reports that Division of Wildlife Resources staff will treat Free Fishing Day as they would a holiday weekend,
stocking additional fish to meet the additional demand. Anglers fishing June 11 may want to focus their efforts on lakes and reservoirs, where most fish stocked for Free Fishing Day will be placed.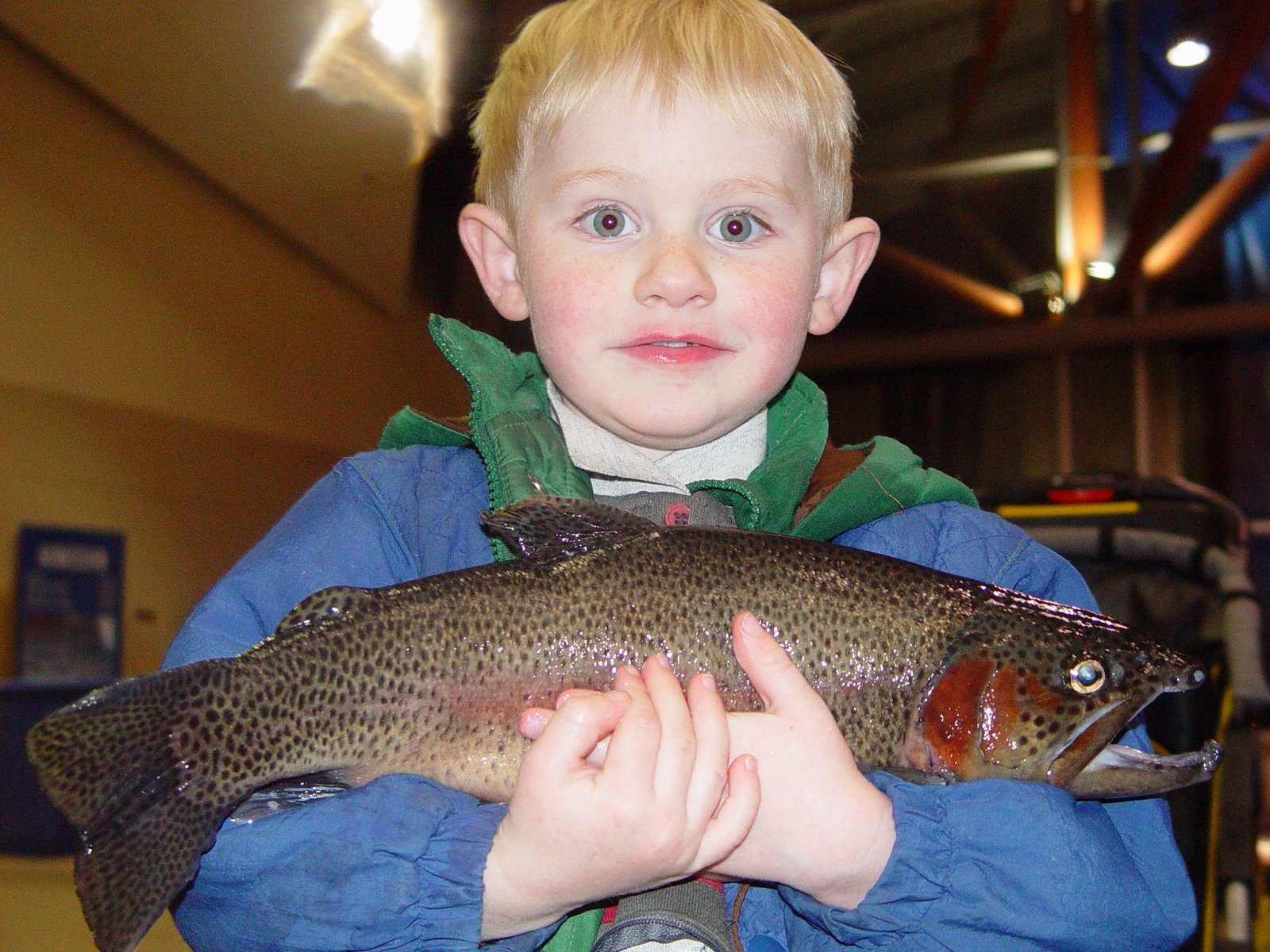 Pettengill reminds those fishing June 11 that while no license is required, all other limits and regulations found in the 2005 Utah Fishing Proclamation will be in effect. Anglers, especially those who might be fishing for the first time, are encouraged to pick up a copy of the proclamation and learn the rules.
Proclamations are available at the DWR's Web site ( http://wildlife.utah.gov ); from fishing license agents statewide; and at Division of Wildlife Resources offices in Springville and Salt Lake City.
Several free fishing events are scheduled on Free Fishing Day, with a "Kid's Fishing Event," at Wasatch Mountain State Park pond, about 2 miles west of Midway. This event runs from 9 a.m. to 1 p.m. Space is limited, and children who want to participate must register in advance by calling Wendy Wilson at (435) 654-1791.
The park's pond will be stocked with rainbow trout before the event. A presentation that teaches kids about fish and fishing will be given to participants beginning at 9 a.m. After going through the presentation, kids can fish at the pond. Volunteers from the Division of Wildlife Resource's Dedicated Hunter program will be available if participants want help fishing and cleaning their fish. Fishing poles, equipment and bait will be available for children who don't have their own.
Those with questions about Free Fishing Day may contact their nearest Division of Wildlife Resources office or the DWR's Salt Lake City office at (801) 538-4700.
Buy Buck Deer Permits Starting June 16
Hunters who haven't obtained a buck deer permit for this fall's hunts in Utah, will have another chance June 16 when permits not taken in this year's big game draw go on sale. More than 2,000 Northeastern Region rifle and muzzleloader, 16,600 Northern Region rifle and muzzleloader and 10,000 statewide general archery permits will be available.
There are three ways to buy a permit, and the time you can buy one on June 16 varies according to the method you choose. Beginning at 7:30 a.m., permits will be available from the Division of Wildlife Resources' Web site ( http://www.wildlife.utah.gov ) and from DWR offices. Permits also will be available from more than 190 hunting license agents, but the time license agents open their doors that morning will vary. "I would encourage hunters to contact their nearest license agent before June 16 to learn what time they'll open for business that day," says Judi Tutorow, wildlife licensing coordinator for the DWR.
A list of agents who'll be selling buck deer permits this year is available at http://www.wildlife.utah.gov/licenses . Tutorow says when permits have gone on sale in the past, long lines have formed at some of the DWR offices. To save time this year, she encourages hunters to visit the Web site or a hunting license agent.
"You need a major credit card to buy a permit from the Web site but if you have one, the Web site is a great option. Hunting license agents are also a good choice. Most of them are open on weekends and evenings and they may be closer to your home than a DWR office."
For more information, call the nearest Division of Wildlife Resources office or the DWR's Salt Lake City office at (801) 538-4700.