Family Campers and Rvers host Open House
On Fri., May 6th, the Family Campers & RVers will be hosting it's annual Spring Lasagna Dinner Open House from 6-8 p.m. (attendees may come & go) at the South Jordan Community Center (10778 South Redwood Rd). Cost is $5 per person. Interested individuals and families should RSVP by calling (801) 254-8725 or (801) 771-4005.
Information regarding FCRV will be presented with an opportunity for those interested to join FCRV at a discounted rate during the open house.
FCRV is the largest non-profit camping club in the United States & Canada. Members have the opportunity to get together monthly and camp together several times monthly during the camping season April thru October.
Local Prehistory Events scheduled
By Brian Brinkerhoff
To celebrate Utah's dinosaurs, ancient cultures, and pioneer relics, a wide array of activities and events have been scheduled for Prehistory and Heritage Week, May 7-14 and Preservation Month, conducted throughout May. Renae Weder, from the Utah State Historical Society, notes that communities throughout the state are sponsoring lectures, demonstrations, and tours that will inform residents of the rich and fascinating history, which surrounds us.
Tours of archaeological sites, lectures, workshops, demonstrations, activities, and more will highlight the varied historical events and periods of this region. For more information on these and other events around the state, see http://history.utah.gov/archaeology/prehistory2.html or call (801) 533-3564 or (801) 533-3529. Interested individuals may also contact local museums, state parks or national parks for more information.
On Sat., May 7 in Salt Lake City, the annual Prehistory Open House offers fun and learning for the entire family. Visitors will make Fremont figurines or "rock art,"string beads, grind corn, make fossil casts, learn to throw an atlatl, read dinosaur books and see various demonstrations. Navajo tacos will be available for purchase. The free open house is sponsored by the Division of State History, and is scheduled at the Rio Grande Depot, 300 S. 455 West, from 10 a.m.- 3 p.m. For more information, contact Renae Weder at (801) 533-3529. These events are sponsored by the Salt Lake/Davis Chapter Utah Statewide Archaeological Society, Utah Friends of Paleontology, Utah Division of State History, and Utah Geological Survey
On Sat., May 7 from 11 a.m.-5 p.m., an open house awaits at the Hutchings Museum of Natural History in Lehi. Located at 55 N. Center St., this free event promises to be a great nearby stop to learn about local history. For more information, contact Susan Witicker at 768-7180.
Antelope Island State Park is offering numerous events over the next two weekends. Storytelling by the park staff awaits on Sat. May 7 at 11 a.m.. At 3 p.m., there will be a lecture discussing identification and storage of artifacts. On May 8, a movie about the Fremont Indians is scheduled at 10 a.m., followed by ancient games for the children at noon. The whole family can check their skills at creating rock art, beginning at 3 p.m.. All activities take place at the Antelope Island State Park Visitor Center. For more information call (801) 721-9569.
Sat. May 14 at 2 p.m. brings a special historical presentation to one of Utah's earliest ranches. Bring a picnic basket and a blanket and enjoy this activity at the picnic area at the historic Fielding Garr Ranch on Antelope Island. Day use fee is $8.00 per vehicle (up to 8 people). For more information, call the park curator at (801) 554-9253
An open house is scheduled at the BYU Museum of People and Cultures May 14, from 11 a.m. to 3 p.m.. A new exhibit, "Seeking The Divine", will be presented along with demonstrations by members of Utah State Archaeological Society and BYU students in addition to Native American dancers. Located at 100 E 700 N, Provo, Utah, this event is free to the public. For more information contact Becky Shippen at (801) 422-0020.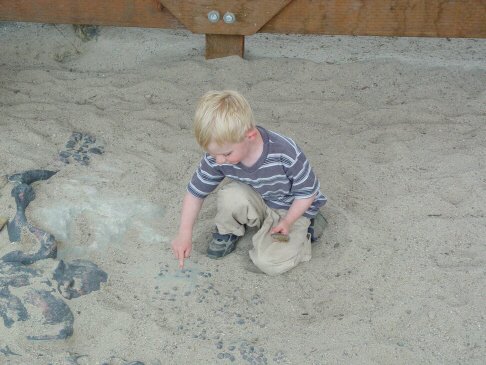 Fish Springs National Wildlife Refuge will offer various presentations on archaeology, zooarchaeology, and ethnobotany on May 14 from 9 a.m. to 5 p.m.. Visitors can experience flintknapping, cave tours and bird tours (May 14 is International Migratory Bird Day).
On the 14th (only), visitors will be allowed to camp at the refuge. The refuge will sponsor a potluck dinner and a special campfire program. Call (435) 831-5353 for more information.
The Division of State History will offer guided tours of Danger and Jukebox caves (near Wendover) on May 15. These fascinating locations offer a lot of historical significance and these tours are very limited to the general public. Space is limited, and reservations are required by calling Ron Rood at (801) 533-3564.
The Cleveland-Lloyd Dinosaur Quarry is open Fri. and Sat. from10 a.m. to 5 p.m. and Sun. from noon to 5 p.m.. Admission for adults is $3 and $2 for children.
Whirling Disease Discovered in Springville State Fish Hatchery
Local anglers are concerned with the recent discovery of whirling disease found at the Springville State Fish Hatchery as more than 20 percent of Utah's stocked fish goes off-line just before the peak of stocking season. Myxobolus cerebralis, the parasite that causes whirling disease, was discovered by fish pathologists with the Division of Wildlife Resources during a routine, annual inspection of the hatchery in April. The hatchery has been considered at risk since the discovery of whirling disease in the Provo River and Hobble Creek, which are adjacent to the hatchery.
In response to the finding, all stocking of fish from the hatchery has ceased while an emergency response team evaluates the extent of the infection and explores options for disposition of the fish with the Utah Fish Health Policy Board.
Recently remodeled state hatcheries at Kamas and Fountain Green have greatly expanded their fish production, which will lessen the impact of closing the Springville hatchery. A recent pilot study also has shown more economic methods for disinfecting hatchery water supplies. It's hoped these affordable methods will allow the DWR to reopen the Springville hatchery sooner than it could in the past until the hatchery is sanitized and reconstructed to avoid reintroduction of the parasite.
Jim Karpowitz, director of the Division of Wildlife Resources, reported, "The remodeled hatcheries at Kamas and Fountain Green are providing more fish than they ever have, and the Midway and Mammoth Creek hatcheries have recently reopened and are producing fish again."
He added, "We also have the best water conditions we've had in Utah in years, so there are plenty of reasons for Utah anglers to be excited about fishing this year. It should be a great year to gather your family together and go fishing."
Although fish, infected with the disease, are safe to eat, the presence and expansion will affect Utah's fishing quality forever, unless efforts can establish a means of eliminating it after it has been established.
Whirling disease is caused by a parasite that attacks cartilage tissue in trout and salmon. Young fish often die or develop severe deformities (including twisted spines or deformed heads), may develop a black tail, or develop a characteristic whirling behavior (swimming in circles).
Currently no known efforts have been effective in eliminating the problem, once it has established in a body of water. The Division has taken significant measures along the Fremont River, after it was first discovered in that drainage.
Anglers should be aware that the disease is spreading in Utah, but angler efforts can significantly limit the spread. Tom Pettengill, Division Sport Fisheries Coordinator, is optimistic for Utah and commented, "The rate of whirling disease spread in Utah has been far less than other western states. I was amazed at how many places in Montana have it now, and it's virtually all over Colorado."
In addition to efforts from the Division of Wildlife Resources in limiting this disease, thanks must be given to cautious anglers who thoroughly clean their fishing equipment (including waders, boots, boats, boat trailers, anchors, etc.) before moving onto other waters to fish. Pettengill reminds anglers that their efforts can play a significant role in keeping many Utah waters disease free. Measures include the following:
Avoid catching fish in one part of a stream or lake and cleaning them in another part. Pettengill reports that disease spores can easily spread to new areas through these actions. Often adult fish that had been infected (after reaching lengths of five to six inches) will not show signs of whirling disease, and will unlikely demonstrate head or body deformities, common with the disease. (Anglers are also reminded to leave enough skin, or the head attached, for species identification, when cleaning fish in the field)
Don't transport live fish--it's illegal. Live fish should never be moved from one water to another. Also, they should not be moved upstream in the same drainage. A disease may be confined to the lower reach of a stream, below a diversion or dam. By moving fish above the obstruction, you could move the disease into new areas.
If you observe fish stocking in public waters from a truck, not marked as a Division of Wildlife Resources vehicle, call the poaching hotline at 1-800-662-3337 as soon as possible. If you observe fish with possible symptoms, including deformities or erratic swimming behavior, call the nearest Division of Wildlife Resources office.
Whirling Disease and Utah Trout: What Anglers Need to Know, answers many commonly asked questions about the disease, including how it is transmitted, what the disease is, and describes the Division's efforts in containing it. It also clears up common misconceptions and provides tips that everyone can use in preventing it from spreading. Pettengill concluded, "I'd encourage every angler in Utah to pick up a copy."
Facilities open at Rockport
Rockport State Park facilities are now open for the season, with boat docks in place, launch conditions optimal, and spring fishing great for rainbow trout. Springtime at Rockport provides outstanding opportunities for viewing wildlife, as eagles, ospreys, hawks, herons and many other birds can be seen around the reservoir.
While water levels are currently dropping in preparation for a large spring runoff, the reservoir is expected to be at full capacity for the first time in eight years. Park managers are predicting excellent boating conditions throughout the summer.
Camping reservations can be made by calling 1-800-322-3770 or online at http://www.stateparks.utah.gov . Juniper Campground has 34 sites with water and electric hookups, and showers at the restroom.
New this year, Rockport Sports and Recreation offers boat rentals, food, bait and tackle, firewood, ice and other camping and picnicking supplies. Rockport Sports is located immediately south of the boat ramp and operates out of two yurts. For more information, call (435) 783-WAVE.
Fenced boat storage is also available near the boat ramp. Park hours are 6 a.m. to 11 p.m. An automated gate provides security after 11 p.m. Day use entrance fees are $7 at the main entrance and $5 below the dam. For more information call Rockport at (435) 336-2241.
Willard Dredging begins
Dredging begins at Willard Bay State Park South Marina on Mon., May 9 and should be complete prior to Memorial Day weekend. Vessel launching and retrieval will be available most days, however, there may be times when the launch ramp is blocked causing some inconvenience.
Park Manager Roland Bringhurst, commented, "After three years, the necessary permits were finally secured and funding made available for this project. While water levels are currently adequate for boat launching, we are looking toward the future and want to be prepared for low water levels."
The public is urged to use extreme caution when launching and retrieving boats at the South Marina. Dredging cables will not be visible and could damage boats. Stay within the areas marked by buoys. Recreationists are urged to use the North Marina during this time. For more information, call (435) 734-9494.
Edge of the Cedars reopens
Edge of the Cedars State Park Museum in Blanding is open after months of closure to repair damage caused by a broken water pipe. A grand re-opening is scheduled for Sat., May 7 beginning at 8 a.m. All-day events include silversmith demonstrations, American Indian singers and dancers and an evening program with refreshments served at 7 p.m. Day-use fees will be waived for this event.
Edge of the Cedars State Park Museum is open daily from 8 a.m. to 7 p.m. Day-use fees are $2 per person. For more information, call (435) 678-2238.
Fly Fishing Clinics scheduled for Women
The Division of Wildlife Resources' "Becoming an Outdoors Woman" program and Four Seasons Fly Fishing in Heber City are teaming up again this summer to offer women the opportunity to learn the art of fly fishing in the beautiful Heber Valley.
Women can choose from three different full-day clinics. Clinics await May 7, May 21 and June 11. Participants will meet at Johnson's Mill Bed & Breakfast in Midway and enjoy an outdoor classroom nestled under a grove of trees beside a quiet pond. Mark Forslund, owner of Four Seasons Fly Fishing, will discuss the basics of fly-tying, equipment and gear, ecological and ethical implications of catch-and-release, fish anatomy and useful tips for being an effective fisher-woman.
The ladies will practice their first casts on the nearby quiet pond and slow-moving stream. After a catered lunch, participants will divide into smaller groups and be led by professional guides to some great fishing spots the Provo River.
This is a great opportunity for women to discover a new outdoor activity along with other like-minded women in a relaxed and non-threatening environment. Women need not worry about asking silly questions or looking foolish. Instructors are patient, thorough, friendly and experienced in teaching women the art of fly fishing.
The cost of the clinic includes instructional handouts, all the fishing gear and equipment needed, three professional river guides, lunch and a lot of fun. Space is limited and pre-registration is required. To sign up or for more information, call Matt Seldars at Four Seasons Fly Fishing at 1-800-498-5440.
Boat Preparation Tips offered to Recreationists
As warmer days approach, boaters are getting anxious to get out on the water and enjoy the waves, but Mike Auten, of the Pennzoil Marine Pro Fishing Team, reminds recreationists to prepare their watercraft now to make their summer outings more enjoyable.
Often simple maintenance can save big repair bills later. Auten notes that a careful work-over is necessary each spring to combat a long winter of harsh weather conditions. He emphasized a few overlooked items.
Auten reports, "Without doubt, number one in boat maintenance involves the lower unit. The gear lube in the lower unit should be replaced at least once a year, even if you rarely use the boat. Water, either from condensation or a leak, will mix with the gear lube, resulting in corrosion."
He added, "Left unattended, the precision gears found in the lower unit may seize. Too many boaters must be towed back to shore with a ruined lower unit, only to face enormous repair bills at the shop." He recommends Pennzoil Marine's Lower Unit Gear Lube, formulated for high performance requirements with anti-wear additives, and anti-foaming agents.
Auten also recommends a quick check of the fuel tank. Any fuel left over from last year may have turned stale if it was not stabilized properly, prior to storage. Gasoline breaks down quickly, while in the tank, and water condensation inside the tank is unavoidable. He suggests using Pennzoil Marine's Fuel System Cleaner and Stabilizer to help clean the fuel system and stabilize the fuel for longer life and improved combustion efficiency.
Trailer bearings should also be inspected. He noted, "It only takes a few minutes to insert fresh grease into the wheel bearings. The bearings are subject to corrosion every time the trailer is backed down the ramp into the water. Without the grease, the bearings get rusty. The friction causes enormous heat build-up and the bearings can literally seal together." Pennzoil Marine's Premium Plus Multi-Purpose Grease will help minimize these problems.
Other items to check include tire pressure, battery terminals and battery charge, trailer brakes, boat and trailer lights, and electrical connections for corrosion or damage. In addition, live wells and bilge reservoirs should be inspected. Water left over the winter may cause splits in the fiberglass, causing serious leaks in the boat.
Auten concluded, "Year-round maintenance is the key. It's a good precaution that will keep the boat, engine and trailer trouble free, enjoyable and ready when it's time to get on the water."