Outdoor Banquet and Activities await
Recreationists are invited to participate in the American Legacy Outdoors National Banquet, scheduled June 11 at Charleston City Park, located within a half mile from Deer Creek Reservoir, before reaching Heber City from Provo Canyon.
This outing is designed for the whole family with vendor booths, family games, prizes, and great food. In addition there is a sanctioned Dutch oven cookoff, demonstration booths, and live entertainment from noon-6 p.m.. Visitors can save money on outdoor items, learn trapping and calling techniques, improve casting techniques and purchase custom made flies. Lucky individuals will win hunting or fishing trips, guns, prints, and many other items.
Banquet tickets are currently on sale and are limited. For more information, call (435)654-5757 or send an e-mail to info@americanlegacyoutdoors.com . Their website is http://www.americanlegacyoutdoors.com
Utah Wildlife and Rivers Festival offers 100 Bird Tour
A variety of activities await at the Utah Wildlife and Rivers Festival June 9-12 in northeastern Utah. Featured this year is the theme "Wildlife through the Ages," reflecting on the Flaming Gorge - Uintas National Scenic Byway. Activities showcase the beautiful scenery, wildlife, and fossil resources that can found along this scenic route between the Green and Yampa Rivers. For more information on all the activities at the Utah Wildlife and Rivers Festival check out their website at http://www.utah-wildlife-festival.com/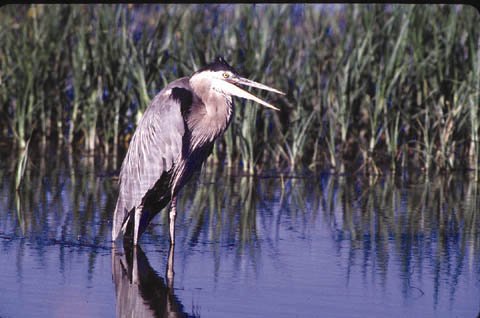 As part of the events, the 100 Bird Tour begins at Ouray National Wildlife Refuge (Hwy 88 from Hwy 40 in Uintah County) ending in the Ashley National Forest. This guided tour begins at 7 a.m. on Fri., June 10 or Sat., June 11 and takes participants through marshes, the Green River and its tributaries, lakes and reservoirs, desert shrub in addition to small grasslands, upland benches and the Uinta Mountains. Some of the Basin's best birders will be available to help locate and identify the birds. For more information on the bird tour and registration call (435)781-9453 or email info@utah-wildlife-festival.com . Groups are welcome.
Another tour will highlight Utah's Ospreys and is geared for young kids to serious birders. Flaming Gorge hosts one of the west's largest colonies of nesting osprey (fish hawks). In April, ospreys return to the Reservoir to nest. Several pairs, nesting on rocky pinnacles in the bay near the dam, are visible from the Dam Visitor's Center parking lot. Biologists will set up spotting scopes and displays for visitors to view and learn more about these fascinating birds of prey. Drop in anytime on Sat. between 9 a.m. to 3 p.m. at the Dam Peninsula of the Flaming Gorge Dam Visitor Center parking lot. For more information call the Utah Division of Wildlife Resources at (435) 781- WILD (9453)
Curt's Bird Walk is another activity friendly to families and serious birders, where participants take a birding hike with Curt, the Park Manager of Steinaker State Park. Last year he saw 30 different species of birds. You can bring your own spotting scope and binoculars or look through Curt's. The hike is an easy 1/4-mile along a maintained trail loaded with opportunities to see songbirds, shorebirds and waterfowl. This is a great event for kids and beginning birders, meeting June 11 at 8 a.m., at the Steinaker Scenic Byway turnout on Hwy 191. For more information call Steinaker State Park (435) 789-4432
Register now for Personal Watercraft Courses
As you plan your summer boating trips to one or more of Utah's lakes or reservoirs, Utah's boating officials remind you to include plans for Utah's Personal Watercraft Education Course. Utah law provides the opportunity for youths 12 through 17 to operate a personal watercraft (PWC, i.e. Sea Doo, Jet Ski, and Wave Runner) if they meet the following conditions:
1. Persons 12 through 17 must successfully complete Utah's PWC Education Course and carry their certificate with them whenever they operate.
2. Youths, ages 12 through 15, must also operate under the direct supervision of a person who is 18 years of age or older.
3. PWC operators who are less than 18 years of age, who have not met the above requirements, may not operate a PWC unless a person who is at least 18 years old accompanies them on board the PWC.
"Many people call with less than one week before their trip, hoping to get their child into one of Utah's PWC education classes," said Richard Droesbeke, boating education coordinator for Utah State Parks. "By planning ahead, they can avoid the disappointment of not finding an available class."
The course is designed to have the students study the materials at home, then come to a central location for the classroom portions of the course. The 1.5-hour classroom portion of the course includes instruction and review of important Utah boating laws and rules, viewing a PWC safety video, addressing common boating courtesies, identification of buoys and hazards, and passing a written test. Upon completion, the PWC operators are better prepared to safely enjoy Utah's waters.
The PWC Education Course celebrates its 10th anniversary this year. To date, approximately 18,000 youth have taken the course. To register and enroll in Utah's PWC Education Course, contact the Utah State Parks and Recreation Boating Hotline at (801) 538-BOAT (2628) from within the Salt Lake calling area or 1-800-RIDE-PWC (743-3792) from areas outside of the Salt Lake calling area, or visit http://www.stateparks.utah.gov .
Public Comment requested for Jordanelle State Park
Utah State Parks and Recreation is seeking public input on a concept plan for the Ross Creek Area of Jordanelle State Park. Park users and concerned citizens are invited to attend a short presentation and open house Wed., June 15 at 6 p.m. at the Hailstone Visitor Center.
The concept plan will identify issues relating to public use, resource management and future development at Ross Creek, which is located at the northern tip of Jordanelle Reservoir and is accessed from Highway 248. For more information, call (435) 649-9148.
In compliance with the Americans with Disabilities Act, anyone needing special accommodations (including auxiliary communicative aids and services) should contact Wendy Griffith at (801) 538-7418 at least five working days before the meeting.
Sail Fest scheduled June 15-19
Sailing fun awaits June 15 - 19 at the Great Salt Lake State Park Marina as Sail Fest offers recreationists an opportunity to learn more about the sport of sailing.
Opening ceremonies begin at the south marina Fri., June 15 at 6 p.m. followed by a barbeque and bonfire. Saturday's festivities include a free breakfast, cardboard boat races, face painting, market in the pavilion, street musicians, and a scavenger hunt.
Free sailboat rides are offered Sat.- to reserve a spot on the sailboat, please contact Diana Goodell at (801) 486-8226. Enjoy dinner and dancing at the pavilion Sat. evening.
Free Fishing Day Forecast offered
Many anglers will catch their first fish of the year this weekend as Free Fishing day offers families an opportunity to experience Utah's great fishing without the expense of a license. Awaiting Sat. June 11, interested individuals will be venturing out to try their hand at one of Utah's most popular outdoor traditions.
Conservation officers remind anglers to read the proclamations and understand the rules before venturing out. With the good spring fishing conditions, it's relatively easy to catch more than the daily or bag limit. Taking fish back to a camper or residence does not allow the angler to return and catch more fish. Also, the only legal fishing technique on almost all of Utah's waters is pole, line and hook with a few exceptions are listed in the proclamation. The use of nets, bags, coolers, clubs, hands, etc. are definitely illegal
Many lakes and reservoirs will be stocked for this popular day of fishing, but rivers and creeks will not due to the high runoff. Anglers are encouraged to focus their efforts on the still waters to avoid an unfortunate accident due to high stream flows. Many high elevation waters are still frozen and covered in snow. Low and mid elevation waters will likely provide some of your best offerings until things settle down. Provided are a few nearby popular waters to help you make your weekend selection.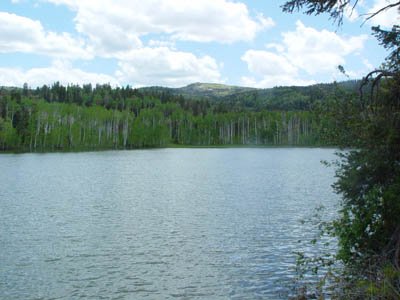 East Canyon - Fishing is fair to good from shore. Anglers report best success using worms and green PowerBait.
Strawberry Reservoir- Fishing has been best by casting or trolling minnow-imitating lures near shoreline in five to 20 feet of water. Some anglers are catching (and releasing) up to 50 fish in one morning while others report only slow success. Change techniques if action is slow. Early morning hours have been the most productive for success. Regulations for the reservoir include an aggregate limit of four trout or kokanee salmon. No more than two of which may be cutthroat trout under 15 inches, and no more than one may be a cutthroat over 22 inches long. Immediately release all cutthroat between 15 and 22 inches. Consider any trout with cutthroat markings to be a cutthroat. Don't feel compelled to harvest fish on every trip. Please do your part to ensure the future of this heavily utilized fishery by voluntarily releasing fish.
Jordanelle Reservoir- Water level is quite high on the reservoir. Fishing success was reported as fair to good again this week for trout and bass. Perch limit was raised to 50 fish this year. Bass limit is six, but immediately release all bass over 12 inches. Do your part to prevent the spread of whirling disease by cleaning mud from waders and equipment. Do not transport any parts of fish caught here to other waters.
Provo River (above Olmstead Diversion Dam) - Water level is very high, making fishing success slow. Concentrate on the edges and pools located behind structures where the water is slower. Please use caution especially if you have children fishing with you. Special regulations apply to much of this river. Please read the proclamation for details. Between Charleston Bridge and the Legacy Bridge (near Midway) the use of bait is allowed and a standard limit of four trout (any trout species and any size). Do your part to prevent the spread of whirling disease by cleaning mud from waders and equipment. Do not transport any parts of fish caught here to other waters.
Provo River (below Olmstead) - Water is running high and murky. Fishing success was affected by the high water. Expect slow to fair success and please use caution when wading in runoff conditions. Worms fished in slower side pools are a good bet for trout. Light fishing pressure.
Deer Creek Reservoir - Reservoir's water level is high. Walleye and perch success have both been slow. Fair success from shoreline and boats for trout. PowerBait or a worm/ marshmallow combination have been the most popular baits from shoreline. Trolling pop gear and worm have been effective. Boat ramps are available for launching. walleye limit is six, but only one can be over 20 inches; bass limit is six, but immediately release all bass over 12 inches long. Do not transport any parts of fish caught here to other waters.
Utah Lake - White bass success was pretty good on the warmer sunny days. Success was reported for the white bass near the Provo River inlet, from the State Park jetties, near American Fork and also a few are being caught near Lincoln Beach. Walleye success has dropped off a bit but catfish success continues to be fair to good. Dead minnows have been the preferred bait for catfish and walleye. Walleye limit is six, but only one can be over 20 inches. There is no limit on white bass. Largemouth and smallmouth bass limit is six, but immediately release all largemouth and smallmouth bass over 12 inches. For more information on conditions call Utah Lake State Park at (801) 375-0731.
Yuba Reservoir- Both boat ramps are open. Average water depth is 50 feet with the rising water levels. Trout success was "spotty" to "fair" with many of the trout going over three pounds. Fishing pressure is light. Remember: Anglers must release perch. For more info call the State Park at (435) 758-2611.
Burraston Ponds -Fair fishing success by using traditional baits.
Hobble Creek and Diamond Fork- Water is running high and murky. No anglers seen fishing Diamond Fork because of the murky water (although the runoff levels are controlled now). Hobble Creek catch basin is full and was stocked. Bait is allowed on most of Diamond Fork and all of Hobble Creek. Diamond Fork, from Springville Crossing to it headwaters, is artificial flies and lures only and it is closed to cutthroat trout possession.
Spring Lake and Salem Pond- Fair to good fishing success. Regulations on both waters include a limit of 4 fish. Daily bag and possession limit is an aggregate total of four fish for all species; for example, one trout, two channel catfish and one bluegill.
Payson Lakes- Gate to Payson Lake was opened up on May 26th. Expect fair success on the lakes.
Willow Pond - (Murray) - Fair to good success for trout and catfish. Best success was early in the morning. Try standard fishing techniques and baits.
Tibble Fork Reservoir- Fair success reported from shoreline by using traditional baits.
Vernon, Grantsville and Settlement Canyon Reservoirs- Fair fishing by using traditional baits at all three reservoirs.
Currant Creek Reservoir - Last report was good fishing, no ice. The road around the reservoir still has mud and snow. Good access to the dam.
Moon Lake- Reports of good fishing. Weather was warm and windy.
Pelican Lake- Anglers report good fishing for bass and bluegill beginning to show in the shallows. Reservoir is full. Be careful of strong afternoon winds. Catch rates are good for bluegill and bass.
Red Fleet Reservoir- Report of fair to good fishing for rainbows.
Matt Warner Reservoir - The reservoir is overflowing. Anglers are able to access the reservoir and enjoy good fishing.
Uinta Mountain Lakes and streams- High-elevation lakes, ponds and slow-moving waters are frozen with above average snowfall. Lower elevation streams are muddy. Be prepared still for serious spring weather; area may receive unexpected snowstorms and high winds. Note: four-trout limit with a bonus of four more brook trout -- see proclamation for details.
Scofield Reservoir - Aquatics Biologist Craig Walker advises anglers that the reservoir was recently stocked with fingerling rainbow trout. Anglers attempting to capture bait fish, such as redside shiners, are reminded that the 3-inch rainbows cannot be used as bait. Conservation Officer Stacey Jones reported fair to good fishing, depending on the location. She found boaters trolling in the Madsen Bay area to be most successful. She said that bank fishermen were doing best with dead minnows and worms. Stacey observed that when the wind died down, anglers had to compete with a large midge hatch, which put a lot of emergent and flying insects on the water, hampering fishing success. Sergeant Carl Gramlich indicated that the rapidly rising reservoir level had flooded a lot of dry ground, putting a lot of insects, worms and grubs into the water. Carl noted that the abundance of natural food in the water produced slower fishing conditions.
Boulder Mountain Lakes - Access is limited by snow but conditions are changing rapidly with warm weather. Some of the lower elevation lakes are now accessible. Vehicle access to the top is generally not possible until mid-June even on dry years, so it may be close to July this year. Special regulations on many of the Boulder Mountain waters include a trout limit of four of which only two may be over 14 inches.
Pine Valley Reservoir - Catchable sized rainbow trout have been stocked. Fishing is good using PowerBait, worms or spinners from shore