Celebrate Old-Fashioned July Fourth Holiday
This Is The Place Heritage Park is celebrating America's freedom as the pioneers did more than 150 years ago and visitors can participate at the annual Liberty Days celebration Sat., July 2 and Mon., July 4 from 10 a.m. to 9 p.m.
Each day will begin with a patriotic service complete with flag-raising ceremony, speeches, the national anthem, muzzle loader/black powder fire and a brass band. Additional activities throughout the day include Dutch oven cook-offs, muzzle loader demonstrations and crosscut sawing demonstrations. In addition, competition games await, such as tug-of-war, watermelon seed spitting, gunnysack and three legged races and an old-fashioned baseball game.
Recitations and speeches will be presented by notable pioneers including Eliza Snow, Mary Fielding Smith, Jane Manning James, Samuel Clemens, and Porter Rockwell. Pioneer artisan demonstrations will educate visitors including broom making, basket weaving and woodcarving. A blacksmith and cabinetmaker are new additions this year.
Escape the heat with a ride in a 19th century horse-drawn trolley, complete with tour guide or find the perfect souvenir at shops, Mormon Handicraft and historic Z.C.M.I.
Children will enjoy hands-on pioneer crafts including spool knitting, mini-loom weaving, hankie dolls and hand-rolled marbles. Becoming a pioneer is easy and fun at their Children's Pioneer Adventure, where children can dress like a pioneer while doing chores and playing games.
This is the Place Heritage Park is located at 2601 E. Sunnyside Avenue, Salt Lake City. Liberty Days hours are from 10 a.m. to 9 p.m. on July 2 and 4. Admission prices are $6 adults, $4 children/seniors. Call (801) 582-1847 or visit http://www.thisistheplace.org for more information.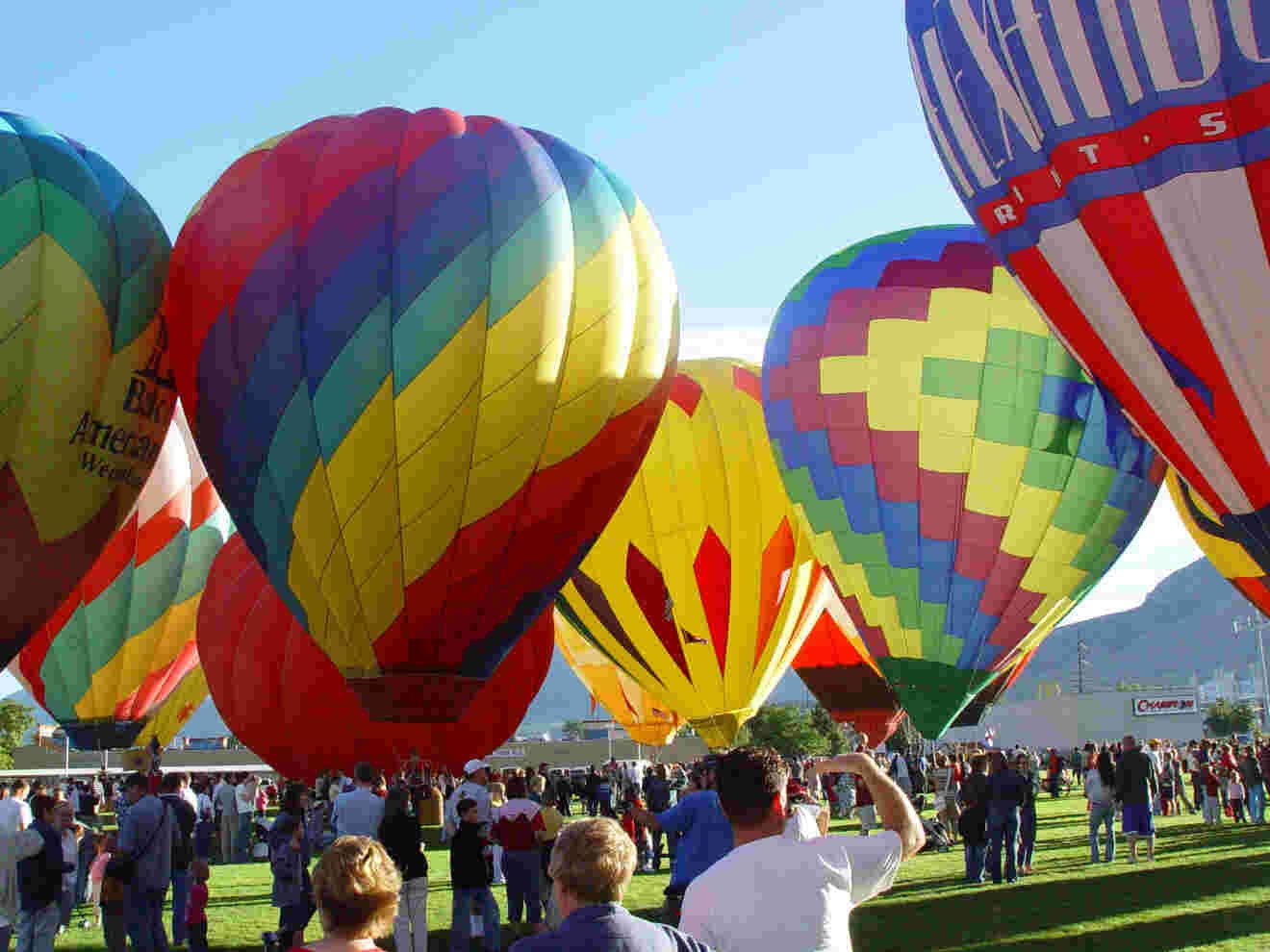 Balloon Fest offers spectacular viewing
Spectacular viewing awaits families at the Balloon Festival July 1, 2, and 4, as part of Provo's Freedom Festival, where approximately 25 hot air balloons take flight to greet the morning sun each day. The event offers families and children the privilege of walking around the balloons as they inflate.
Special activities for the pilots include a hare and the hounds contest, where hound" balloons try to drop bean bags onto a target laid out by the "hare." A joust tournament, also awaits participants where balloonists score points for popping large helium-filled balloons, tethered 200 feet above the field. Some of the nation's finest balloon pilots compete aggressively in these competitions for notoriety among their colleagues.
Activities around the field make this an excellent activity for the entire family and a reasonably priced Kiwanis Club breakfast is available for those who attend the event.
Every time Wayne Ross steps inside a basket and takes off, he realizes why the Balloon Fest is part of the Freedom Festival. Ross, commented, "It is truly humbling to observe this great country from the sky and reflect on our role in its greatness."
Organizers note that Eagle One- the first balloon traditionally to take off during the last 14 years will be retired this year.
More than 25,000 viewers will be able to see the balloons filled with fans and noisy propane fueled flames, creating an excitement among young and elderly viewers alike. Viewers are encouraged to arrive around 6 a.m., with flights scheduled from 6:30-8:00 a.m., weather permitting. Best viewing is available at Fox Field, located directly east of Utah Valley Regional Medical Center at 1100 North on Freedom Boulevard (2nd West).
Bill Talbot helped start the Balloon Fest 20 years ago to try and repay those who organized community activities that influenced him as a youth. He never fully appreciated how much work goes in to these events year after year. "I decided I couldn't repay those people for such wonderful memories, but I can share some of the same fun and magic with kids today," says Talbot. Essentially the same people who started the event continue making it a possibility.
"It is incredible seeing the sun come up over Heritage Mountain," says Talbot, stressing the importance of arriving at 6:30 to see the balloons inflate. "Once they are standing up, it is like a canyon of color." For additional information visit the Freedom Festival Web site at http://www.freedomfestival-usa.com or call the 24 hour information hotline (801) 370-8019.
Peregrine Falcons Nesting again in Downtown Salt Lake City
For the second straight year, peregrine falcons are back and nesting in downtown Salt Lake City. This is the second consecutive year that falcons have nested downtown since 1996. Bob Walters, Watchable Wildlife program coordinator for the Division of Wildlife Resources, commented, "It was bound to happen, and I'm just thrilled that they've returned to the big city to once again dazzle downtown spectators."
Judging by brief glimpses and observations of activities within a nest box on the east face of the Deseret Building at 100 South and Main streets, Walters says it appears three to four 3-week-old falcons have hatched. Peregrines use alternate nest sites in the wild, so it's not an unexpected surprise that the falcons have switched from the box they used at the Joseph Smith Memorial Building last year to using the Deseret Building nest box this year.
Peregrine falcons nested on the Joseph Smith Memorial Building (formerly the Hotel Utah) from 1986 to 1990 and from 1994 to 1995. In 1996, they also nested at the Deseret Building, which is about one block south of the Joseph Smith Memorial Building. The famous pair produced 16 young during that time. Eleven youngsters successfully departed from the downtown area to unknown, wilder haunts.
From 1991 through 1993, the pair nested in a nearby canyon where five young successfully mastered flight and left the area. Last year, in 2004, both a male and a female young-of-the-year falcon successfully fledged from the Joseph Smith Memorial Building nest site.
As in past years, volunteers helping Walters will periodically share glimpses of the peregrine family with other interested birdwatchers in the downtown area. During upcoming Watchable Wildlife program field trips, and impromptu lunchtime and evening gatherings, you can catch a glimpse of the falcons using binoculars and spotting scopes that will be available on the sidewalks along 100 South, Main and State streets near the Deseret Building.
"Look for people holding binoculars, or standing near scopes in these areas," Walters suggested. "Don't hesitate to step forward and inquire about a free look and to ask any questions you have about peregrine falcons and this famous pair and family of birds."
As in 2004, Walters says volunteers will be enlisted to watch over the young falcons and keep them from harm's away during their harrowing first flights. The peregrine falcon, which was removed from the federal Endangered Species list in 1999, is recovering statewide and continues to enjoy protection under the federal Migratory Bird Treaty Act.
History Camp Full
Due to the high interest in Camp Floyd State Park's History Camp, this event has reached it's limit of participants for the August activity. For more information, call (801) 768-8932.
Fire Restrictions at Antelope Island Set
Due to dry conditions, Antelope Island State Park has implemented a fire restriction from July 1 until further notice. Only charcoal fires in designated fire pits and gas grills are allowed. No open wood fires are allowed. For more information, call (801) 773-2941.
Safe Boating Tips offered
Utah State Parks shares three basic navigation rules to keep boaters safe on the water - proper lookout, safe speed, and safe distance. All three key principles will help avoid a collision with another vessel, person in the water, or potential water hazard.
The boat operator is required to keep a proper lookout, by sight and hearing, at all times while on the water. Be aware of where you are going and pay attention to the actions of other boaters. Be sure to look over your shoulder before making a turn.
Boats should be operated at safe speeds to safely react to potentially hazardous situations. Sometimes the best speed may be a wakeless speed. Never operate a boat faster than you feel comfortable or that your skills allow.
Operate boats at safe distances to have adequate time and distance to react to prevailing circumstances. Utah's Speed in Proximity law requires boat operators to operate the vessel at a wakeless speed when within 150 feet of another boat, person in or floating on the water, water skiers towed by another vessel, shore fishermen, launch ramps and docks, designated swimming areas, or whenever in a wakeless speed zone.
Iron Mission State Park Museum receives Donation
Iron Mission State Park Museum has received a sheep-shearing shed donated by the Larry Jones and Ann Jones Cherrington families. The family also donated nearly $10,000 towards the cost of moving the shed to the museum.
This shed, built by Erastus Jones in 1924, contained nine mechanical drop stations for shearing sheep. At its maximum capacity, over 1400 sheep could be sheared in an eight-hour shift. The shearing operation lasted for twenty years
Holiday Activities scheduled
The upcoming holiday weekend is offering several activities for the entire family. Take advantage of the numerous opportunities at our fingertips.
Fri. July 1
Rock Cliff Nature Center/ Jordanelle State Park Drug Dog Campfire Program, near Francis- Meet Conservation Officer Jodi Becker and her police dog Bridger. Learn about her job and how Bridger helps her patrol for poachers. Please no personal pets during the program. Begins at 7 p.m. at the amphitheater near the visitor center. For more information, call (435) 782-3030
Wasatch Mountain State Park Cowboy Poetry Campfire Program, near Midway- Join Don Kennington as he performs an array of fun and witty cowboy songs and poetry. Program begins at 7 p.m. at Huber Grove. For more information, call (435) 654-1791.
Sat. July 2 and 4
Antelope Island State Park Independence Day Weekend, near Syracuse- Join park staff at one of Utah's earliest ranches, the historic Fielding Garr Ranch. Children's activities include butter churning, laundry and other children's chores from 9 a.m. to 6 p.m. For more information, call (801) 773-2941.
Sat. July 2
Goblin Valley State Park -Junior Ranger Program: BUGS!, near Green River- Discover the mini-beasts of Goblin Valley. Children six to 12 are invited to learn about and become a Junior Ranger. Earn a Junior Ranger badge and certificate. Meet at 10 a.m. at the Observation Point Shelter. At 7 p.m., join the naturalist at the Observation Point shelter for Goblin Valley's talk show, Lifestyles of the Dry and Dusty. Help the show's host learn more about the animal inhabitants of the area. For more information, call (435) 259-9569.
Wasatch Mountain State Park- Junior Ranger Program: Caterpillars, Bugs and Butterflies. Children age six to12 are invited to learn what it means to be a Junior Ranger, as well as other cool stuff about nature. Earn a Junior Ranger Badge and certificate. Meet at Huber Grove from 11 a.m. to 12 p.m. For more information, call (435) 654-1791.
Rock Cliff Nature Center/ Jordanelle State Park- Junior Ranger program: Living with Fire- Children age six to10 are invited to the Junior Ranger program from 11 a.m. to noon at the Nature Center to learn about wildfires. Children will earn a badge and certificate. For more information, please call (435) 782 3030.
Rock Cliff Nature Center Campfire program on Chainsaw Bears- Artist Dick Smith demonstrates how to create a bear out of wood using a chainsaw. After the program a drawing will be held for the bear he made during his presentation. Program begins at 7 p.m. at the amphitheater near the visitor center. For more information, call (435) 782-3030
Wasatch Mountain State Park Bats Campfire Program: How many species of bats are there? Are they helpful or harmful to humans? Learn the answers to these and many other bat myths during this program beginning at 9:30 p.m. at the campground amphitheater. For more information, call (435) 654-1791.
Holiday Fishing awaits
With summer in full swing, anglers are now gearing up for the big July Fourth weekend at their favorite waters. Reports indicate great fishing, with access opening to the High Uintas and higher country throughout the state. Predictions indicate that this will be one of the biggest fishing opportunities of the year. Before fishing, however, anglers should check the 2005 Utah Fishing Proclamation to ensure the water they want to fish is open.
Wildlife managers are reporting that some anglers are leaving a large amount of litter at lakes and rivers. They request that anglers bring a garbage bag with them and fill it up with their own and other peoples' trash.
If you'd like to take the kids fishing, try crawfishing. Crayfish are abundant at Scofield, Strawberry and Huntington North reservoirs. All you need is some string and chicken scraps. Kids love to play with them and crawdads are delicious as well. Remember that transporting live crayfish is illegal. They must be dead before you leave the water, where the crayfish were caught.
Lakes and reservoirs will be stocked heavily in anticipation of larger crowds to improve overall success. Warmer temperatures are improving panfish and catfish success, however many streams and rivers are still running high and are not recommended. Anglers are reminded to clean their waders and gear before fishing new waters to avoid the spread of whirling disease. In addition, they should not transport any parts of fish caught to other waters. Recreationists should become familiar with regulations of individual waters before fishing at any location. Provided is a rundown of some of the more popular waters.
BLACKSMITH FORK RIVER - Fishing success was fair to good. Fly fishermen reported that they had best results in the mornings and evening hours.
ECHO RESERVOIR - Fishing success is fair to good. Boat fishermen are having better success than those fishing from the shore. Perch action was better near the inlet. Trolling with popgear and small castmasters (silver or gold) seemed to have better results.
PINEVIEW RESERVOIR - Fishing success is fair. Anglers are reporting some success using silver spinners, jigs, worms, and PowerBait. Good fishing success in the weeds/brush for bass with a green jig.
PORCUPINE RESERVOIR - Fishing success was fair for trout. Anglers reporting success have been using worms, PowerBait, popgear, needles, and flashers. Worms and PowerBait from the bottom have also provided fair success.
ROCKPORT RESERVOIR - Fishing success is fair to good. Boat fishermen are having better success than those fishing from the shore. Worms and PowerBait have produced the best results.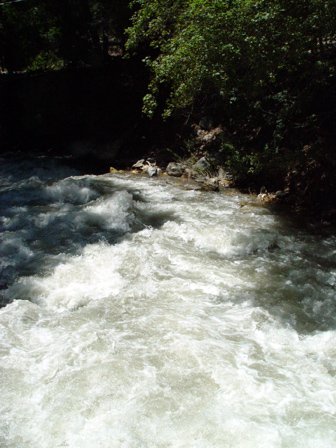 UINTAS - HWY 150 is open from Kamas, Utah to Evanston, Wyoming. Fishing access is limited. Lilly lake, Teapot, and Pass Lakes are open to fishing. There are still snow drifts and spots of wet ground. High-elevation lakes, ponds and slow-moving waters are still frozen with above average snowfall. Lower elevation streams are muddy. Be prepared still for serious weather; area may receive unexpected snowstorms and high winds. Note: four-trout limit with a bonus of four more brook trout -- see proclamation for details.
STRAWBERRY RESERVOIR- Cutthroats are spawning and tributaries are closed to protect them. Success on the reservoir seems to have slowed down a bit. Anglers report abundant midges on the surface -- perhaps matching the hatch will help with success. A good method for success still includes casting or trolling minnow-imitating lures near shoreline in five to 20 feet of water. Change techniques if action is slow. Early morning hours have been the most productive for success. Regulations for the reservoir include an aggregate limit of four trout or kokanee salmon. No more than two of which may be cutthroat trout under 15 inches, and no more than one may be a cutthroat over 22 inches long. Immediately release all cutthroat between 15 and 22 inches. Consider any trout with cutthroat markings to be a cutthroat.
JORDANELLE RESERVOIR- Reports of good success for both smallmouth bass and trout again this week. A very good bait includes a worm/marshmallow combination for trout. Tube jigs, grubs and various bass lures fished in shallow water near structure was providing good success for the bass. Water level is quite high on the reservoir, which provides much submerged cover for waiting bass. Perch limit was raised to 50 fish this year. Bass limit is six, but immediately release all bass over 12 inches.
PROVO RIVER (above Olmstead Diversion Dam)- Water level continues to be high but anglers still report decent success. Concentrate on the edges and pools located behind structures where the water is slower. Please use caution, especially if you have children fishing with you. Special regulations apply to much of this river. Please read the proclamation for details. Between Charleston Bridge and the Legacy Bridge (near Midway), the use of bait is allowed and a standard limit of four trout applies (any trout species and any size).
PROVO RIVER (below Olmstead)- Water is running high. Fishing success was slow to fair and pressure is light. Worms fished in slower side pools are a good bet for trout.
DEER CREEK RESERVOIR- Reservoir level is very high and bass anglers report some good success for smaller-sized smallmouth bass in the abundant submerged willows and rocky areas. Anglers are reporting fair success from both shoreline and boat for trout. Most bass average between 10 & 15 inches. Try both surface and below-surface bass lures to determine what they are hungry for. Trolling pop gear and worm have been effective. Boat ramps are available for launching. Trout limit is four (statewide); walleye limit is six, but only one may be over 20 inches; bass limit is six, but immeidately release all bass over 12 inches.
UTAH LAKE - White bass success is still considered "fair to good" by most anglers. Success for the white bass continues near the Provo River inlet, from the State Park jetties, near American Fork and also a few are being caught near Lincoln Beach. Walleye success has dropped off a bit but catfish success continues to be fair to good. Dead minnows have been the preferred bait for catfish and walleye. Walleye limit is six, but only one can be over 20 inches long. There is no limit on white bass. Largemouth and smallmouth bass limit is six, but immediately release all largemouth and smallmouth bass over 12 inches long. For more information on conditions call Utah Lake State Park at (801) 375-0731.
YUBA RESERVOIR - Both boat ramps are open. Trout success was "spotty," but many of the trout are weighing over three pounds. Fishing pressure is light. Anglers must release perch. For more info call the State Park at (435) 758-2611.
BURRASTON PONDS- Fair fishing success by using traditional baits.
HOBBLE CREEK & DIAMOND FORK RIVERS- Water is running high. Hobble Creek catch basin is full and was stocked. Bait is allowed on most of Diamond Fork and all of Hobble Creek. Diamond Fork, from Springville Crossing to it headwaters, is artificial flies and lures only, and it is closed to cutthroat trout possession.
SPRING LAKE & SALEM POND - Fair to good fishing success. Scheduled to be stocked again this week (catfish & trout). Remember that regulations on both waters include a limit of four fish. Daily bag and possession limit is an aggregate total of four fish for all species; for example, one trout, two channel catfish and one bluegill.
PAYSON LAKES - Fair success on the lakes by using standard baits.
WILLOW POND - (Murray) - Fair to good success for trout and catfish. Best success was early in the morning. Try standard fishing techniques and baits.
TIBBLE FORK RESERVOIR - Fair success reported from shoreline by using traditional baits.
VERNON, GRANTSVILLE AND SETTLEMENT CANYON RESERVOIRS - All three reservoirs are still at high water levels and anglers report mixed success by using traditional baits.
CURRANT CREEK RESERVOIR - Last report was good fishing, no ice. The road around the reservoir may still have mud and snow. Good access to the dam.
FLAMING GORGE RESERVOIR - All reservoir ramps are open with a surface water temperature of 62 degrees. Fishing from Anvil Draw to Buckboard was good for two-five pound lake trout over the river channel using three-inch jigs tipped with sucker meat or a minnow, or trolling small flatfish, spoons or a minnow behind flashers. There have been reports of larger lake trout caught in Linwood Bay, Antelope, Stateline, Jarvies and Mustang. Look for fish 70 to 110 feet deep over points and along the river channel. Techniques include trolling bottom structure using down riggers or steel line and flatfish, crank baits, or a flasher trailing a squid or small lure; or vertical jigging using tube or bucktail jigs with or without a minnow or sucker meat. There are many small- and medium-sized lake trout in Flaming Gorge, so please take advantage of the six-fish lake trout regulation (one over 28 inches) and harvest a limit. Rainbow trout fishing is fair at South Buckboard, Squaw Hollow, Anvil Draw, Linwood, Sheep Creek and Mustang. Shore fishermen should try a nightcrawler/marshmallow combo or PowerBait just off the bottom, or cast spinners or jigs. Kokanee salmon fishing was spotty, with good reports from Pipeline to Holmes Crossing at 20- to 40-foot depths. Other good areas include Gold Point, Hideout, Sheep Creek, Squaw Hollow and Big Bend. Try trolling a needlefish or small fluorescent spoon with or without a dodger or flasher behind a downrigger or with lead core line. Smallmouth bass fishing is good to excellent with fish moving into shallow water to spawn. Try crayfish colored grubs or crankbaits along gravel points or in the back of bays.
MOON LAKE - Reports of good fishing. Weather was rainy and windy.
PELICAN LAKE - Anglers report good to excellent fishing for bass and bluegill. Reservoir is full. Be careful of strong afternoon winds.
RED FLEET RESERVOIR - Report of fair to good fishing for rainbows, not hearing much yet on bass or bluegill.
BOULDER MTN LAKES - Access is now possible along the west side of the mountain, but the road to the top is still closed. Some reports of winterkill. Special regulations on many of the Boulder Mountain waters include a trout limit of four of which only two may be over 14 inches.