Airshow returns to Heber Valley
Returning to Heber Valley, an action-packed, fun-filled day awaits visitors at the Russ McDonald Airport, Sat., July 9th. Gates open at 9 a.m. and the Airshow starts at noon.
Festivities include aerobatic airshow performances including a Pitts S C-2, a P-51 Mustang, an Extra and an Edge, a warbirds fly-by exhibition and static aircraft displays. In addition, there will be food booths, a children's play land, opportunities to win prizes and airplane rides.
Museum displays, a swing dance party, seminars, and more is scheduled throughout the day. A tribute will be offered to Russ McDonald as part of the events. For more information, visit http://www.ok3air.com/2005_HeberAirshow/home.htm
Admission is $5 for adults along with free parking. Flights are available for purchase on a B-25 World War II historical aircraft, with rides scheduled from July 7th -10th. To reserve a spot, call 1-800-620-9005. This event is produced by OK3 Air.
Lavender Festival awaits Visitors
Hard hitting action awaits in Mona Sat. July 9 and July 14-16 as full contact jousting returns as part of Young Living Farm's Lavender Festival scheduled July 9 and July 11-16.
An exhibition of Medieval jousting and exciting activities from feudal Europe await with a human operated merry-go-round and other
activities in the village. Jousting events are scheduled at noon and 5 p.m.
The Lavender festival is open to the public from 10 a.m. - 8 p.m., featuring the largest lavender festival in the United States. Visitors may tour the world's largest aromatherapy distillery and see 160 acres of lavender in bloom. There will be lavender tours, crafts, & perfumery samples.
To reach Young Living Family Farms, take Mona Exit 245 on I-15 and follow the signs to the farm. Admission is $8 Adults; $6 Children (under 12) and $20 for an All Day Activity Pass. For more information, call 1-800-371-0819 or (435) 623-8006. To download and print free admission coupons for children, visit http://www.lavfest.com/
Star Party features night Skies
Utah Skies and the Snyderville Basin Special Recreation District will be host their 2nd event in the 2005 Summer Star Party Series Sat. July 9, beginning at dusk (around 9:30 p.m.).
This event will provide young and old with views of a lifetime. Participants will see Saturn, Venus and Jupiter along with galaxies, star clusters and nebulae that inhabit the summer night sky.
Trailside Park provides some of the best viewing conditions in Park City. Visitors should dress warmly, and feel free to bring your telescope or binoculars. Trailside Park is located one mile west of Highway 40 (Exit 2, Silver Summit). For more information visit http://www.utahskies.org/
Bat Workshop and Field Trip
Attracting bats to your backyard can be a welcome addition to families wanting a reduction of mosquitoes and other night insects. On Fri., July 8 at 7 p.m., Bill Fenimore, owner of the Layton, Wild Bird Center is hosting an event to help landowners learn how to reduce these pesky critters without pesticides. Mosquito's are vectors for the West Nile Virus that has now reached Utah.
Adam Kozlowski, Sensitive Species Biologist for the Utah Division of Wildlife Resources will conduct a free workshop on Bats at the center. Participants will learn how you can use bats as a natural mosquito repellent, with one Bat eating 1,200 mosquitos per hour. Adam will discuss how to attract bats by erecting a bat roost house and share numerous interesting bat facts.
The evening will be wrap up with a visit to a local nursery colony of 3,500 Brazilian Free-tailed bats, as they leave their roost for a night foraging on mosquitoes. Participants should meet at the Wild Bird Center at 7 p.m.. This free workshop is limited to the first 50 people who register at (801) 525-8400.
The Wild Bird Center is located at 1860 North 1000 West, Layton, Utah (across from Barnes & Noble, exit 335 off I-15). Driving directions available at http://www.wildbirdcenter.com/layton .
Horse Fair and Great Western Rendezvous scheduled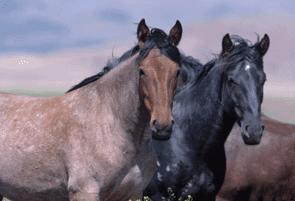 Rocky Mountain Outfitters and the Utah Arabian Horse Club have teamed up for a horse fair offering family friendly activities including wagon rides, pony rides, a real stagecoach, and plenty of food and drink.
The Kid's Korral offers activities for children, including branding. Take home a great 'made by them' souvenir. Watch a real blacksmith in action and the first 100 youth each day get a free lucky horseshoe.
Other activities include a BLM mustang 'gentling' clinic, followed by a horse auction. Pony Express riders will be seen in period costume and there will be a Tournament of the 7 Friendly Games, in addition to a Parelli clinic, Horse Vaulters and the Utah County Sheriff Posse.
The weekend also hosts a 25-75 mile endurance race, conducted by the Utah Arabian Horse Club.
Activities are scheduled Sat. 10 a.m.-6 p.m. and Sun. 10 a.m. - 4 p.m., along with a Saturday Chuck Wagon dinner and entertainment at 6 p.m. Admission is $7 adults, $5 youth, $25 for a family (with discount coupons available). Most activities are at no additional cost. More information and dinner reservations are available at 435-654-1655. $2 parking will be charged to support the youth programs at Soldier Hollow.
United States Dutch Oven Championship Cook Off on July 8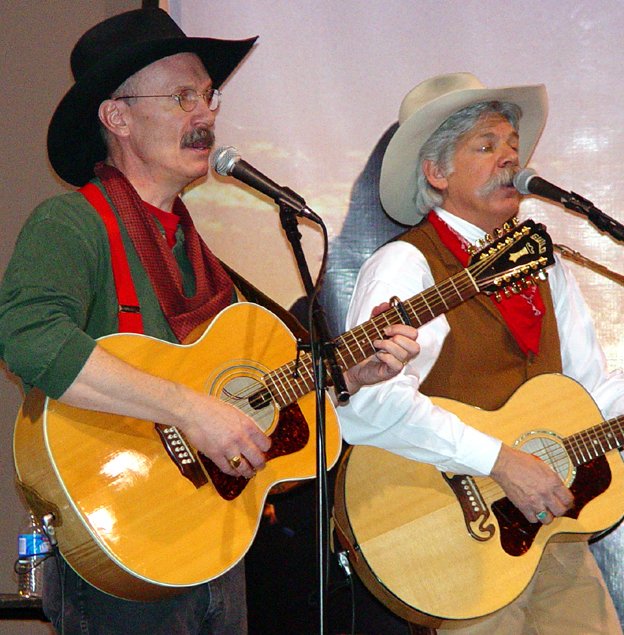 As part of the Days of '47, the 2005 United States Dutch Oven Championship Cook Off awaits at Wheeler Historic Farm on July 8, 2005 as ten world-class teams compete for the coveted title, preparing a main dish, bread and dessert in cast iron Dutch ovens.
"This event is the perfect complement to the Days of '47 activities," said Todd Carter, event organizer and International Dutch Oven Society member. "We hope to convert the more than 10,000 expected spectators to Dutch oven cooking."
Each team at the competition will compete for the title of US Champion and a prize of $1,000 cash. All teams will share additional product prizes worth more than $10,000. The event begins at 2 p.m., with an awards ceremony at 7 p.m.
"The finest Dutch oven competitors in the world are invited to this year's event," Carter said. "Their creations combine skill, talent and an element of artistry to create dishes that you would find on a menu at a five-star restaurant."
Musical entertainment also awaits spectators, featuring In- Cahoots, Steven's Party, and Kelly Roper. Camp Chef, a Logan, Utah-based manufacturer of Dutch ovens and high-end outdoor cooking equipment, is the event's title sponsor. Wheeler Historic Farm is located at 6351 S. 900 East in Salt Lake City, Utah. For more information, visit http://www.CampChef.com or call 800-650-2433.
Utah Lake boasts new Facilities
In addition to its great fishing, Utah Lake has many updated and renovated facilities that are drawing crowds and acclaim, especially since most facilities around the lake have been improved in recent years.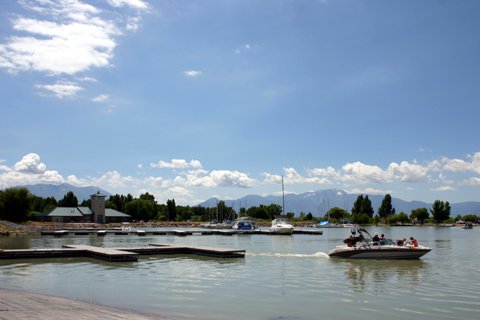 Utah Lake State Park, five miles west of I-15's Provo Center Street exit, has recently been renovated, boasting a new visitor center and other new facilities. The visitor center includes informative displays that cover the area's history and endangered June sucker, which is found only in Utah Lake. Improvements include new camping facilities, bathrooms and a newly constructed jetty (to improve the state park harbor and reduce sediment). Other improvements include a fish cleaning station and pavilions. A paved running trail follows the Provo River, making this destination a perfect vacation spot.
Lincoln Beach, located on the south end of the lake, has also been improved. The Division of Wildlife Resources, in cooperation with Utah County, excavated the marina and access channel and built a new concrete boat ramp, courtesy docks, public restrooms and a fish cleaning
station.
Two additional boat harbors - the Lindon Boat Harbor on the east side of the lake and the City of Saratoga Spring Marina on the west side - also have been improved with similar facilities. The DWR provided more than $600,000 to the Lincoln Beach, Lindon Harbor and Saratoga Springs
improvement efforts.
The color of Utah Lake's water ranges from sky blue to a beautiful shade of emerald green. With the right lighting, and mountain ranges such as Mount Timpanogos in the background, Utah Lake presents breathtaking scenes that attract landscape painters and photographers alike. In addition, the habitat at Utah Lake attracts a lot of wildlife, including hundreds of bird species, making it one of the state's best birding spots. Its excellent scenery, fishing, facilities and wildlife make Utah Lake a perfect place to discover.
Utah Lake is often overlooked as Fishery
Utah Lake is the largest freshwater lake west of the Mississippi, but in spite its enormous size, it is often overlooked by anglers who drive past it to their favorite trout pond. Many trout anglers don't fish Utah Lake because they're unfamiliar with warmwater fishing techniques. Other anglers are concerned about the lake's water quality. The lake is shallow and when the wind blows, it stirs up sediment that gives the lake a murky appearance.
Anglers have little to be concerned about, however. The Utah Division of Water Quality has found no evidence that fish in Utah Lake have elevated toxic pollutant levels and the water meets state water-quality standards for recreational use, including swimming and boating.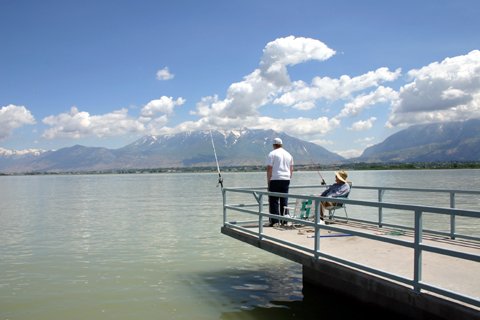 While walleye, channel catfish and white bass are the primary draws at Utah Lake, a growing number of largemouth bass anglers are also learning about the healthy numbers of big "bucketmouths" in the lake. Several panfish, including perch and crappie, also are available to
anglers.
The fish in the lake are not only diverse, many of them are also large. During the summer, it's not uncommon to catch several channel catfish that weigh more than five pounds. One angler recently reported catching two catfish that weighed more than 15 pounds each.
Obviously, if you want to catch big fish, you need to use a heavier pound fishing line. One of the most popular techniques for catching catfish or walleye at Utah Lake is to place a large circle-hook through the side of a dead red-sided shiner minnow and fish it along the
bottom.
Summer is also one of the best times of year to catch white bass. Action lures and bait alike can entice the white bass to strike. You can catch as many white bass as you like, as there is no limit on the number of white bass anglers can catch and keep at the lake. (For more information about fishing regulations at Utah Lake, obtain a copy of the 2005 Utah Fishing Proclamation. The proclamation is available from license agents and the DWR's Web site at http://www.wildlife.utah.gov .)
Largemouth bass anglers are often secretive about Utah Lake. What many anglers don't know is that the lake provides ideal bass habitat. Many bass over five pounds can be caught by casting bass lures towards the edge of vegetation and retrieving the lure back to your boat.
Although anglers at Utah Lake must release all largemouth and smallmouth bass greater than 12 inches long, bass anglers love catching these big fish. They're also excited that the water level at the lake is up this year. The higher water has submerged more vegetation, providing bass with more cover and increasing the chances that bass fishing will be even better throughout the year.
"Trout anglers should know that most of the warmwater species in Utah Lake are extremely tasty because of their white, flaky meat and the lack of bones in the filets," says Scott Root, Central Region conservation outreach manager for the Division of Wildlife Resources. "I'm a recent convert to fishing for warmwater species of fish. I enjoy fishing at Utah Lake after catching trout at another fishery because my family enjoys having a selection of different fish fillets at dinner. It's great to have a variety of breaded or grilled catfish, walleye and bass fillets to accompany our trout fillets. We've also incorporated more fish into our diet because fish
is low in fat and provides many health benefits."
Jordanelle Recreationists urged to use Caution
Park rangers are urging boaters to use caution while boating on Jordanelle Reservoir. Due to high runoff of the Provo River, debris, trees, and other vegetation have been deposited into the reservoir. Damage to boat propellers has occurred and there is a potential for more serious damage or personal injury.
Sand Hollow Reservations now taken
Reservations are now available for two campground areas in Utah. Sand Hollow State Park, located 14 miles northeast of St. George, is now on the Utah State Parks reservation system. This 50-site campground offers water, sewer, and electrical hookups for $20 per site, per night.
Also new to the reservation system, there are 20 sites at the Painted Rocks area at Yuba State Park. Each $8 site has a covered table and fire pit. There are pit toilets, but drinking water is not available.
To make a reservation outside the Salt Lake calling area call 1-800-322-3770. Within the Salt Lake calling area, call (801) 322-3770. Reservations may also be made online at http://www.stateparks.utah.gov.
Off Highway Ethics and Safety Tips provided
While temperatures across the state are warming, some mountain areas still have snow, limiting off-highway vehicle (OHV) riding areas. OHV use in wet snow and mud damage resources and can lead to scarring of trails and hillsides. OHV managers remind riders to use good judgment and consider riding alternatives to prevent future closures and loss of future opportunities.
Off-Highway Vehicle Education Specialist Eric Stucki reminds parents that now is a good time to register your child for an OHV education course. The Know Before You Go! training course is required by Utah law. These classes allow drivers eight through 16 to legally operate OHVs. Drivers 16 years and older must have a valid driver's license or OHV education certificate. Remember, children under age eight cannot operate an OHV on public land. Also, Utah law requires riders under 18 to wear a properly fitted and fastened helmet. However, officials encourage all riders to wear helmets.
Education classes help prevent injuries by teaching young riders and their parents about safe riding, weight distribution, handling, shifting, speed, and riding within your ability.
For registration materials or more information, call the OHV Information Center at 1-800-OHV-RIDE or 1-800-648-7433 from outside the Salt Lake area or 538-RIDE / 538-7433.