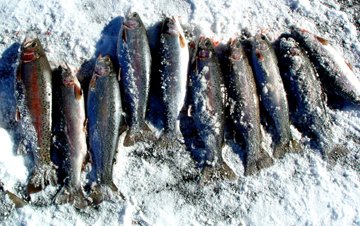 Great Fishing and New Regulations at Panguitch Lake

Panguitch -- Anglers who plan on ringing in the New Year with an ice-fishing trip to Panguitch Lake will find good fishing and some new fishing regulations.

Beginning Jan. 1, 2007, the trout limit at Panguitch Lake will be four trout. The trout must be under 15 inches, or over 22 inches, in length. All trout from 15 to 22 inches must be immediately released.

Bait fishing is still allowed at the lake, but anglers are encouraged to use artificial lures, which make it easier to release fish. Anglers are also asked to retrieve fish as quickly as possible and to not remove fish that are 15 to 22 inches long from the water. If you find that you've hooked a fish deeply, the best thing to do is cut your line and leave the hook in the fish. The hook will eventually dissolve or work itself free on its own.

A Popular Water

Located about 15 miles southwest of Panguitch, Panguitch Lake is one of Utah's most popular fishing waters. Thousands of anglers flock to its shores every year to try their luck at catching a limit of trout from the depths of this chilly high mountain lake.

Panguitch Lake is at an elevation of more than 8,200 feet and is usually safe for ice fishing by late December. And that's the case this year. The lake is frozen over, and anglers are reporting great fishing. Those who are brave enough to venture out in the cold and drill a hole in the ice are catching fish between 11 and 20 inches in length.

"Most of the 10-inch rainbow trout stocked this past summer are now up to 14 inches," says Chuck Chamberlain, regional fisheries biologist with the Division of Wildlife Resources. "A limited number of larger [trout] were also stocked last summer. While the larger fish in the "slot" (15 to 22 inches long) must be released immediately, they still provide some great fun and offer a challenge to the experienced fishermen.

"Anglers are finding fish between seven and 30 feet [deep], and the catch rate is fast enough to keep even the younger anglers interested."

Anglers should find success using a jig tipped with a meal worm or a night crawler. Power bait has also been effective. So have a variety of lures and ice flies.

Making Fishing Great Again

The DWR treated the lake in spring 2006 to remove all of its fish. Those fish included Utah chubs, which made up more than 90 percent of the fish in Panguitch. Chubs are a small fish that compete aggressively with other fish for food. If left unchecked, the chubs would have completely displaced trout in the lake.

After the chubs were gone, DWR biologists planted hundreds of thousands of trout back into the lake. Those trout included rainbow trout, Bear Lake cutthroat trout and tiger trout (a cross between a brown trout and a brook trout). The fish the biologists planted varied in size, from three inches to 20 inches. Many of the rainbow trout were about 10 inches in length. Without competition from the chubs, the trout have grown rapidly and are offering excellent fishing.

The Utah Wildlife Board placed special fishing regulations on the lake for 2007 to protect Panguitch Lake from future invasions of chubs or other fish that might compete with trout. The larger trout protected by the new regulations will feed on smaller fish, including chubs, and that should prevent them from becoming a problem in the future.

"We hope that we got rid of all the chubs in Panguitch Lake with the treatment last spring," says Mike Ottenbacher, regional aquatics manager for the DWR. "If chubs do come back, the bigger fish will keep the population under control
and prevent us from having to treat the lake again in the future.

"Similar management plans have been effective in other lakes around the state, such as Minersville Reservoir and Strawberry Reservoir," Ottenbacher says. "There is no reason that it won't work well here at Panguitch."

For more information, call the DWR's Southern Region office at (435) 865-6100.


Idaho Turkeys Find New Home in Utah

Manila -- Sheep Creek Canyon near Flaming Gorge Reservoir has 20 new residents: Merriam's wild turkeys released Dec. 22 by the Utah Division of Wildlife Resources.

The turkeys are from wild flocks trapped in the Bonners Ferry area of Northern Idaho near the Canadian border. Members of the National Wild Turkey Federation assisted UDWR biologists with the long drive to Northeastern Utah.

Biologists hope to establish a population of Merriam's turkeys along the bench above Flaming Gorge Reservoir and the eastern Uinta Mountains. The Merriam's subspecies was chosen because it prefers mountain habitats that include forests of Ponderosa pine interspersed with aspen, pinyon-juniper, Gambels oak and other mountain shrubs, grasses and wet meadows. Grasshoppers and other insects, nuts, seeds and green vegetation are important food items for Merriam's turkeys.

The Rio Grande subspecies, which is also found in Utah, is more of a riparian species that prefers the cottonwoods, willows and other vegetation found along larger rivers.

The wild turkey is the largest upland species in Utah. Males can weigh 18 pounds and stand 48 inches tall. Females are smaller, weighing about 10.5 pounds and standing about 36 inches tall.

UPCOMING UTAH STATE PARKS EVENTS

January 5 Jordanelle State Park - Heber
Moonlight Snowshoe Hike: Join park staff at the Hailstone Visitor Center for a moonlight snowshoe hike beginning at 7 p.m. Hot drinks and chili will be served. Admission is free, however donations are appreciated. For more information, please call (435) 649-9540 or (435) 782-3030.

January 6 Jordanelle State Park - Francis
Track Me If You Can! Join the park naturalist from 10 a.m. to noon and learn basic tracking skills necessary to understanding local wildlife. Bring snowshoes or borrow a pair from the park. Pre-registration is required. Day-use fee is $7 per vehicle with up to eight people or free to Utah State Parks Pass holders. For more information, please call (435) 782-3030 or (435) 649-9540.

January 6 Territorial State Park Museum - Fillmore
Celebrate Utah's Statehood with a celebration in the museum's Legislative Hall. Children's dances start at 7 p.m., and a cotillion with dance cards for youth begins at 8 p.m. Learn to dance the Finger and Patty Cake polkas, Virginia Reel, Schottische, Danish Slide Off and more. Casual dress attire recommended. Refreshments will be served. This event is free to the public. For more information, please call (435) 743-5316.

January 13 Wasatch Mountain State Park - Midway
Basic Snowshoe Clinic: Day two of the basic snowshoe clinic at the Educational Yurt. Join park staff from 9 a.m. to noon to explore the roots of snowshoeing, snowshoe types, health benefits, and more advanced techniques. Clinic begins
with an indoor discussion, followed by practical experience in the park. Bring your own snowshoes, or rent some from the park. For more information or to register, please call Wendy at (435) 654-1791.

January 13 Wasatch Mountain State Park - Midway
Wonderful Winter Wildlife: The Snowshoe Hare. Moving through deep snow is a trial for many wintering wildlife, others have adapted to life in a deep, white world. Learn about the trials of surviving the winter, and how one animal has developed several survival techniques and adaptations. Program is from 1 to 2 p.m. at the Educational Yurt. For more information, please call (435) 654-1791.

January 13 Snow Canyon State Park - Ivins
Volcanoes! Learn about volcanoes and the volcanic activity responsible for the lava flows in the park during a 1.5-mile round-trip hike beginning at 10 a.m. Space is limited and registration required. For more information, please call (435) 628-2255.

Lake Powell Fish Report

By: Wayne Gustaveson January 3, 2007
Lake Elevation: 3603 Water Temperature: 49-51 F

It's winter but fish are still biting. In Wahweap and Warm Creek the pattern offers more variety than it did in December. There are now more fish showing on the graph in the water column which means fish are moving more and not just lying on the bottom. I suspect the lower lake pattern will work lakewide

Stripers are the easiest fish to catch. Find a school on bottom or suspended in the water column. Chum with anchovies to attract attention, then fish with spoons or deep-diving shad imitating lures. I like the Norman Little N suspending crankbait in the winter. Trolling works now but use a slower speed and stop and go action for best results.

Look for gulls and grebes to locate fish holding areas. Stripers have been coming up to chase shad to the surface. The birds key on the activity and dive to catch any shad the stripers miss. Feeding periods are short. Most feeding occurs near mid day. It may be as early as 10 AM or as late as 3 PM but bright sunshine days stimulate striper feeding activity.

Once a school is found the active fish can be caught on lures but when they stop feeding, bonus fish can be taken on anchovy bait. Fish bait on the bottom to start but when fish rise up and venture into shallower water bring the bait up to the 20-30 feet level. The smaller, fatter fish are often cruising at 20 feet while the bigger fish are close to the bottom. Two rods make it possible to still-fish anchovies on the bottom while retrieving a crankbait at 20 feet for suspended fish. Once fish are located at a certain depth put one rod down and use the effective rod to maximize catch. Remember
to get a 2-pole stamp before using 2 rods at the same time.

A 2-hour trip now produces abut 40 stripers if a school is found or 2 fish if the school is missed.

Walleye and bass have moved in tight to brush where sunfish are hiding for the winter. Skim a deep-diving jerk bait or spinner bait over the brush top to find walleye waiting for an easy meal. One or two walleye are caught on the average trip with 5 or 6 bonus bass to round out a good day of fishing.
Women in the Outdoors sets Snowmobiling Trip
Hi Ladies! Hope you all had a great Holiday! The information below is on our first annual WITO Couples Snowmobiling trip hosted by the Wasatch Wilderness WITO chapter out of Salt Lake. Christine Prows is coordinating this event and has planned a very fun weekend. By word of mouth most of the spots have been taken. If you are interested please call Christine(801-282-4708) as soon as possible. We originally had Jan. 5th as due date for down payment, but we can extend to Jan. 10th if you are interested in attending. Right now I think we have all the double sleds reserved and rooms with 2 queens. You can also give me a call with questions (801-754-1193). Hope to see you all very soon! Your friend in conservation, Tracy Jarvis
Valentine s Day Snowmobiling Trip for Couples!
Hosted by the Wasatch Wilderness Women in the Outdoors chapter at Strawberry Bay Lodge (23 miles East of Heber on Hwy 40 at Strawberry Reservoir)
The NWTF S Women in the Outdoors program provides opportunities for women to learn new skills, meet people with similar interests, and obtain a greater appreciation of the outdoor world.
Friday, February 2nd
Arrive anytime after 3 p.m. to check-in
6:30 p.m. Valentine Steak Dinner, along with raffle and auction
Saturday, February 3rd
8:00 a.m. Breakfast in Strawberry Bay Cafi
9:00 a.m. Snowmobile set up
9:30 a.m. 3 hour guided ride or all day unguided ride
12:30 p.m. Lunch in Strawberry Bay Cafe
Directions:
23 miles east of Heber City on Hwy 40, on Strawberry Reservoir
Questions Please Call: Christine Prows (801) 282-4708 / wasatchwito@comcast.net
Price includes meals, helmet and suit if needed, use of snowmobile, lodging if chosen, and a great winter adrenaline rush. Along with some special outdoors bonding time with your sweetie.
Saturday February 3rd Only (Includes breakfast, lunch, gear, and snowmobile)
___$223 a couple- riding double on one snowmobile (double sized seat)
___$368 a couple- riding individually on your own snowmobile
Friday, February 2nd and Saturday the 3rd (Includes Valentine steak dinner on Friday night, Friday night lodging, breakfast & lunch on Saturday, gear, and snowmobile)
Room with one full bed:
___$311 a couple-riding double on one snowmobile
___$456 a couple-riding individually on your own snowmobile
Room with one queen bed:
___$327 a couple-riding double on one snowmobile
___$456 a couple-riding individually on your own snow mobile
Room with 2 queen beds:
___$341 a couple-riding double on one snowmobile
___$486 a couple-riding individually on your own snowmobile
I ll be taking the: ____ 3 hour guided ride _____ All day unguided ride
*ROOMS ARE LIMITED THEY WILL BE RESERVED ON A FIRST COME/FIRST SERVE BASIS*
50% deposit due on or before January 10, 2007
Balance due no later than January 20, 2007
No refunds or cancellations after January 10, 2007
REGISTRATION:
Name _____________________________________
Address _____________________________________________
City ___________________________, State _____ Zip __________
Phone # ______ - ______ - ____________________
Email Address _______________________________________________
Emergency Contact _____________________________ Phone #___________________
Make checks payable to: Wasatch Wilderness WITO
(Payment by credit card can be called into Christine at (801) 282-4708)
Mail form to: Christine Prows, 9983 So. Birdie Way, South Jordan, UT 84095
If you would like to receive updates about Women In The Outdoors please email: teamwito2000@yahoo.com .
Local Animal Shelters Start New Year with Pedigree® Food for Dogs; IPSSSDR Sponsor Donates Pet Food to Shelters on Race Route
Jackson, Wyoming--January 2, 2007--Towns along the 2007 International Pedigree Stage Stop Sled Dog Race (IPSSSDR) route will receive one year's worth of pet food for one pet, thanks to Pedigree ® Food for Dogs announced Race Director Frank Teasley. As title sponsor of the event, Pedigree contributes pet food to the communities on the race route. Towns on the 2007 route--Jackson, Lander, Pinedale, Big Piney/Marbleton, Alpine, Kemmerer/Diamondville, Evanston, Mountain View/Lyman, and Park City--distribute the food to local animal shelters as well as use the food as prizes during the IPSSSDR festivities.
This is Pedigree Food for Dogs' eighth year as title sponsor of the IPSSSDR. The Pedigree brand is passionate about dogs and committed to providing them with a lifetime of health and eating enjoyment from foods that are best suited to a dog's true nature. This superior dog understanding insures that the Pedigree brand supports activities and events in which the welfare of dogs always comes first. The dog-friendly nature of the IPSSSDR is one of the prime reasons the brand has chosen to support this national competition.
The International Pedigree Stage Stop Sled Dog Race was founded in 1996 by Frank Teasley to make sled dog racing more accessible to the public. The IPSSSDR, the largest sled dog race in the lower 48 states, is slated for January 26th through Februrary 3th, 2007, beginning in Jackson and traveling through ten Wyoming communities before finishing in Park City, Utah. For more information, visit the race Website at http://www.wyomingstagestop.org , contact the race via e-mail at wystagestop@blissnet.com or call (307) 734-1163.
FIRST-EVER SCIENTIFIC STUDY ON THE EFFECTS OF GLOBAL WARMING ON PARK CITY MOUNTAIN RESORT AND THE SNOW SPORTS INDUSTRY

Park City, Utah (January 2, 2006) - Powdr Corporation, Park City Mountain Resort, and KPCW radio proudly present the first-ever comprehensive scientific study of global warming's potential effect on Park City Mountain Resort and the Utah snow sports industry. The results of the $60,000 study will be presented at a town hall meeting at 6 p.m. on Tuesday, January 9th at the Eccles Center for the Performing Arts in Park City, Utah.

Modeled after a similar study commissioned by Aspen, Colorado, Scientists at Stratus Consulting and the Institute of Arctic and Alpine Research at the University of Colorado, Boulder, have projected what the snow pack will look like at Park City Mountain Resort in the years 2030, 2075 and beyond.

"I was shocked when I heard the results of this study for the first time," said John Cumming, CEO of Powdr Corp. "Bottom line, if global warming continues at its current rate, it will mean the end of snow sports and our business as we know it. However, as the study shows, there is still a window of opportunity for all of us to help save our snow, but we - and our political leaders - need to take decisive action now."

The program will commence with singer/song-writer, Kathy Mattea's climate change presentation, based on Al Gore's hit film, An Inconvenient Truth." Mattea was one of 50 well-known entertainers trained by the former vice-president to speak about scientists' findings on global warming.

Following Mattea's presentation, Brian Lazar from Stratus Consulting, will present the results of the study, which project what wintertime temperatures will look like month-by-month at Park City Mountain Resort during the rest of this century. Lazar bases his conclusions on seven different models of greenhouse gas emissions developed by the United
Nation's Intergovernmental Panel on Climate Change (IPCC).

To continue the program, snow modeling expert Mark Williams will show what the various temperature scenarios developed by Lazar will mean for the snowpack at Park City Mountain Resort. His findings are based on historical data from the Resort, the NationalWeather Service's SNOTEL site at 9,000 feet. Photos taken by Landsat Satallites were also used to determine snow coverage at the Resort.

The program will conclude with a presentation by the head of Aspen's City Department of Climate Change about what their town is doing to reduce its carbon footprint. In addition, representatives from the three area resorts, Park City Mountain Resort, Deer Valley and The Canyons, will participate in a panel discussion to communicate their plans to
help stop the effects of global warming.

Key funding for Save Our Snow was provided by Park City Mountain Resort, Powdr Corporation and KPCW radio. Additional funding was provided by Deer Valley, The Canyons and the Summit County Recreation, Parks and
Arts Tax.
International Pedigree Stage Stop Sled Dog Race Jr. Mushers Give Back to Their Communities
Jackson, WY--Select students from Jackson, Pinedale/Big Piney/Marbleton, Alpine, Uinta County and Park City, Utah, grades 5-8, will participate in a sled dog race of their own, the Jr. Stage Stop, on Saturday, February 3, at 3:00 p.m. during the final day of the International Pedigree Stage Stop Sled Dog Race ( IPSSSDR) in Park City, Utah.
Host communities for the International Pedigree Stage Stop Sled Dog Race are eligible to send two students to represent their towns in this short exhibition fun run. In order to participate in the race, students agree to perform 10 hours of community service work prior to the race, and donate $25 to the nonprofit Uinta County Community Youth Coalition.
The Jr. Stage Stop program was launched in 1999 by International Stage Stop co-founder Jayne Ottman, and Jackson Hole Musher Maria Hayashida to broaden the goals of the IPSSSDR, and to improve the status of youth in our communities statewide. The Junior Stage Stop provides an opportunity for youth to increase their self-esteem, social competency, community involvement and experience philanthropy.
Students do not need their own dogs or previous mushing experience to participate--equipment and dog teams are provided by the IPSSSDR. The 2007 Jr. Stage Stop is coordinated by the Uinta County Sled Dog Race Committee. The Uinta County Sled Dog Race Committee Rex Hamner, Paul Knopf, Jill Smith, Rick Schuler, Penny Lewis, Doug Smith, Andrew Spray, Nadine Pitts, Kay Evans, Kyle Eyre, Roxanne Youngberg,
Marian McLean, Dawne Morphew and DuWayne Jacobsen all worked together to organize race details.
For additional information, contact Jill Smith at 307-783-6459 or jsmith@evanstonwy.org .
PARK CITY
Junior Mushers Alternate Junior Mushers
1. Daniel Surfass 1. Micheleigh Schori
2. Andrew Kunz 2. Randy Felter
3. Evan Fleming
SECOND ANNUAL SPORTSMAN S WAREHOUSE FAMILY ICE FISHING DAY at FISH LAKE
Attention all Outdoor enthusiasts.
Have you ever had the chance to walk on water? Catch a fish and pull it up through AN 18-INCH hole in the ice? Felt the warmth of friendship and FAMILY ON 18 inches of ice?
On Saturday January 27th "Women in the Outdoors" Proudly presents our SECOND ANNUAL SPORTSMAN S WAREHOUSE FAMILY ICE FISHING DAY, at Fish Lake!
Come learn from friendly staff, such as Mike Fisher, how to catch the big ones at
Fish Lake on National Forest. Mike will also show what kind of equipment is needed for ice fishing. You won t want to miss out on this great winter outing. Pre-registration required (by Jan 24th) and will include:
$30 a person, $35 a couple (one membership), and $8 per youth (includes National JAKES-juniors acquiring knowledge ethics and sportsmanship- magazine)
Use of all supplies, gear, and instruction will be provided by Sportsman s Warehouse, hot lunch, door prizes provided by SPORTSMAN S WAREHOUSE, 1 yr. subscription to the "Women in the Outdoors" National magazine or the JAKES magazine for the youth, and the support of hunting and fishing for future generations.*Participants must have a current Utah fishing license.
Send fee and information below to Amie Taylor 676 E 400 N Payson Utah 84651.
Questions please call Amie Taylor at 801-465-0825. Checks payable to Women in the Outdoors.
Name or Names:
Address:
Phone:
Email:
Emergency Contact Name and Phone #:
Lodging available at the AQUARIUS MOTEL in Bicknell. Includes indoor pool and spa, all rooms have fridge, micro, and dvd player. Make this a little winter get away. Mention you re with the Sportsman s Warehouse Ice Fishing group to receive a 25% discount on your room. The Aquarius is 30 minutes from Fish Lake. Call 435-425-3835 to make reservations.

Uinta Basin Energy Boom Prompts Creative Housing

Salt Lake City, Utah -- The energy boom in the Uinta Basin is making hotel rooms a scarce and pricey commodity as oil and gas workers fill those vacancies. That situation is prompting some creative thinking on the part of the Utah Division of Water Rights, which needs to find housing in Vernal for seven employees next summer. They will evaluate and determine the extent of use of water for 1,500 water rights in the area.

Teresa Wilhelmsen, a Water Rights engineer, says they have never faced a similar situation before. "Usually, rooms are available and reasonably priced at government rates. But we need as many as seven rooms for up to six months during the field season. Not only are the rooms unavailable, the market is making them cost-prohibitive."

Wilhelmsen is currently reviewing the feasibility of purchasing used trailers for the employees. "While the initial investment for purchasing the trailers may be more than the price of the hotel rooms, the trailers will be sold after completion of the project. We should be able to recoup most of the initial cost."

Through a potential cooperative agreement with the Utah State Division of Parks and Recreation, the trailers will be set up at Steinaker State Park, which is about seven miles from Vernal. "This is a mutually-beneficial arrangement," said Wilhelmsen. "State Parks will provide the campsites and Water Rights will provide permanent improvements including sewer, water and power to the campsites. This will improve facilities at the park to meet the needs of future park visitors."

The project may extend into Spring 2008.