Utah Waterfowl Meeting Scheduled
The Utah Waterfowl Association will meet February 2nd, at Farmington Bay Waterfowl Management Area beginning at 6:30 p.m., with complimentary Chili. The meeting will begin at 7 p.m. DWR Director Jim Karpowitz will be present and give members an update on the DWR Budget shortfall and efforts to affect legislation in the current session to overcome this short fall. Director Karpowitz will also discuss DWR efforts in Phragmite controls within the state WMA's in Davis and Weber Counties.
Jeff Richards, UWA President will discuss efforts by your UWA board to have the legislature make a $200,000 appropriation for waterfowl habitat and research projects in Utah in 2006-2007. Projects that are of interest include Phragmite control, predator control, mercury contamination and its effects on waterfowl and hunters consuming waterfowl.
We welcome members' suggestions on other important issues that they would like to see discussed in future meetings. Please give us your feedback on the most recent waterfowl season with the split goose season. How did it affect you? Would you like to see it run the same next season or would you change it?
Bring a friend who shares your enthusiasm for waterfowl to join with the UWA in improving habitat and opportunity for water fowler's in Utah
The Stonefly Society of the Wasatch Welcomes You to their Dinner and Auction
Date: Saturday, February 4, 2006
Location: Desert Star Theater
Address: 4861 South State Street Murray, Utah 84107
Social Hour: 5:30 p.m.
Dinner: 6:00 p.m.
RSVP: Jason Haslam (jason@utahonthefly.com )
The Stonefly Society will be holding its annual banquet and auction Saturday, February the 4th at 6 p.m. at the Desert Star Theatre in Murray. Scott Sanchez will be the guest speaker and will discuss fly-fishing in Jackson Hole and the Snake River. Cost is $30 per person or $50 per couple. Dinner choices include Raspberry Chicken or New York Strip Steak. There will be a cash bar. Please RSVP by email to Jason Haslam and include the number of reservations and your choice of dinner entrees.
Terrific auction items include the following:
Dave Scadden Pontoon Boat
Camp Chef Products
Bucks Bag Float Tube
William Joseph Gear
Spey Rod & Reel Combo
Rainy Flies
Shirts
Hats
Fly Lines
Weekend Stay For 2 at Falcons Ledge
Bamboo Fly Rods
Half Day Guided Trip On Strawberry Reservoir
Exclusive Print Art
Boxes Of Specially Hand Tied Flies
Guided Trip For Redfish In Texas
You don't want to miss this event so RSVP to Jason today.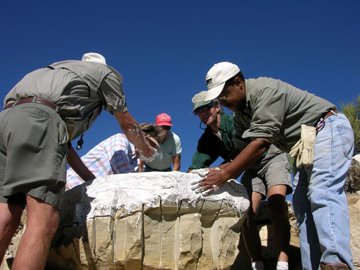 Scorpion Surprises Paleontologist
Salt Lake City, Utah -- Don DeBlieux thought he was working on something that had been dead for millions of years. So imagine his surprise when a live critter came out from the rock.

It was a scorpion that had been encased with the fossil of a yet-to-be-named ceratopsian dinosaur for about 15 months. "I had worked on the fossil for two months but didn't see the scorpion until I used our large rock saw and cut away more of
the rock and plaster," said DeBlieux, a paleontologist with the Utah Geological Survey in the Department of Natural Resources. "It came out of a small crack in the rock that had been plastered over until that day. It had survived all of those months without food and water."


The fossil had been completely encased in plaster before being transported to the laboratory in Salt Lake City. The scorpion must have crawled into a crack in the rock before it was sealed. The fossil was lifted by helicopter from the Grand Staircase-Escalante National Monument in September 2005, but it had been plastered in the fall of 2004. More than a year later, the plaster seal was broken to allow the work to begin to unearth the fossil. "It startled me. I didn't expect to see something moving! The scorpion crawled up a crack, and then disappeared again. I had to use some dental tools to get it out. I put it in a cup and took some pictures. It was pretty cool," said DeBlieux.
The scorpion was eventually released back into the wild. "I couldn't kill it," said DeBlieux. "Somehow, it had managed to survive so long."


Outdoor Retailer Winter Market 2006 Starts This Friday
SAN JUAN CAPISTRANO, CALIF. - Thousands of people from the outdoor industry are making their way to Salt Lake City, Utah for the 17th annual Outdoor Retailer Winter Market, which starts Saturday, January 28, 2006. This year's Winter Market promises to be an action-packed adventure for all the attendees with on going product demonstrations, industry events and seminars and more exhibitors than ever before. This event is closed to the general public.
This year's Winter Market will kick off with Outdoor Retailer's pre-show 3rd Annual Backcountry Base Camp at Brighton, in Big Cottonwood Canyon on Friday, January 27, 2006. Attendees will have the unique opportunity to test the latest skis, backcountry snowboards, snowshoes, sleds, boots, bindings, poles, stoves, footwear, outerwear, accessories, and more in a snow-covered mountain environment. The event will feature backcountry guided tours, a Nordic facility, a beacon search area, a snowshoe testing area, an avalanche seminar, and much more. The day will round off with the Base Camp Bash at the Alpine Rose.
Winter Market is also the home of the Outdoor Retailer Seminar Series. This series will bring retailers together for seminars about new sales and marketing strategies, trends in outdoor activities, and issues such as sustainability. The Seminar Series provides an environment for learning and knowledge sharing for all OR Winter Market participants.
Winter Market will also showcase the continuation of the successful Green Steps program. Outdoor Retailer created the program for exhibitors that want to highlight themselves as taking steps toward greener business practices. Green Steps hopes to raise awareness on sustainability and recognize companies within the outdoor industry that support and encourage a healthy environment. This year, OR is working with the Salt Palace to further the recycling efforts of exhibitor cardboard, powering the show with wind energy credits, and is excited that the Green Steps Association is bringing its pre-show forum to the Marriott on Friday, January 27 from 4:00 to 7:00pm.
About Outdoor Retailer
Currently in its 25th successful year, OR gathers approximately 37,000 attendees on a semi-annual basis for both Fall/Winter/Holiday and Spring/Summer markets. VNU Expositions Inc., headquartered in Northern Virginia, and its predecessor companies have been in the exposition and conference business for over 35 years.
Ski Utah Kicks Off Inversion Diversion Campaign

SALT LAKE CITY - Ski Utah announces its first annual Inversion Diversion campaign in an effort to encourage those living in the valleys to get up to the mountains to enjoy some fresh air, abundant sunshine and exciting winter recreation that Utah's 13 ski resorts offer.

According to the National Weather Service, Salt Lake City experiences an average of 12 heavy inversion days from November thru February, with January and February typically being the worst months. The worst year was 1931, during which there were 37 days of inversion.

"Salt Lake residents are truly fortunate to have numerous world-class resorts in their backyard," said Ski Utah President Nathan Rafferty. "The proximity of the mountains to the valley population makes it easy for people to get relief from dreary inversion days. In addition to offering the opportunity to soak up some sunshine and fresh air, the mountains offer a great place to enjoy a wide variety of outdoor winter recreation."

Eleven resorts are located within an easy one-hour drive of Salt Lake City, and it's more like 30 minutes to many of them. "For those new to skiing and snowboarding, getting up to the resorts to take a lesson for the first time is a great way to beat the inversion," commented Katie Eldridge, public relations director of The Canyons Resort. "Many resorts offer incredible deals on lessons for locals who are beginners."

For those seeking other outdoor activities, snowshoeing is a fantastic way to experience Utah's superior powder and spectacular scenery while benefiting from an excellent workout. Cross country skiing is another option for all ages - head to Alta, Solitude Nordic Center, Sundance, Snowbasin, Soldier Hollow, Mountain Dell Golf Course near Park City, White Pine Touring in Park City which operates trails on the Park City Municipal Golf Course, The Homestead in Midway, and Mill Creek Canyon above Salt Lake City. Those looking for family fun can slide down tubing hills such as Park City Mountain Resort's Gorgoza Park or the new six-lane hill that
opened this winter at Snowbasin.

Salt Lake City radio stations are cooperating with Ski Utah for the remainder of the winter in promoting clean air and mountain recreation. These stations will sound a foghorn in the morning to announce that it is an official Ski Utah Inversion Diversion day, signaling that it's time to head to the mountains and log on to http://www.skiutahlocals.com for the chance to win a variety of gear to enhance the mountain recreation experience.

One winner will be chosen on each Inversion Diversion day. Prizes include Scott goggles, DaKine packs, lift tickets to area resorts, ball caps and t-shirts. A tube of Ski Utah sunscreen will be added to each prize - winners will surely need that when heading to the resorts during inversion days. The grand prize to be given the end of March is a brand new pair of Atomic 162 Metron skis with bindings, one-night's lodging at The Radisson Inn Park City, and two lift tickets to Park City Mountain Resort to be used by April,16, 2006.


PARK CITY MOUNTAIN RESORT OPENS KINGS CROWN SUPERPARK
Park City, Utah - (January 26, 2006) Park City Mountain Resort's Kings Crown Terrain Park is now open for the season. The immense size of jump and rail features on the run can be spotted from highway 224 while driving into Park City; it's no wonder that Transworld Snowboarding magazine has named it along with our other three park runs "Terrain Park of the Year" for two years in a row. .
"We are excited to have finally opened this year's superpark to the public" said Jim Mangan, director of action sports marketing for Powdr Corp. "King's Crown is better than ever! The new rail features are very creative and unique. They're different from anything else you'll see at other resorts. "
The Kings Crown Superpark actually went under construction last summer when Mangan collaborated with KAB rails to install rails, a staircase, and other features in the park. The Superpark features ten unique jib features including a curved "C-wall", the "up-down" picnic table, a "hexagon" staircase with two handrails, and the "swing set". It also features three jumps of 40, 50 and 60 foot lengths adding to the variety.
On any given day you may find Park City All-Stars Tanner Hall, Pep Fujas, Jeremy Jones or Shaun White in the Superpark working on new tricks and lines for their upcoming movies and contests.
Along with the Superpark, Mangan and his staff have built three other parks, Jonesy's (small size), Pick N Shovel (medium size) and PayDay Jib park (lit at night). In addition, Park City Mountain Resort boasts one of the largest superpipes in North America. The Eagle Superpipe has 22-foot walls and is more than 400 feet in length.
"We truly have a park for everyone," said Mangan. "Kids can come up and enjoy the Jonsey's and Pick N Shovel Park, while pro athletes can come and train at the superpark; everybody seems really stoked".
The terrain parks at Park City Mountain Resort play host to numerous professional and amateur events during the season. This weekend, on January 28th and 29th, the "King of the Wasatch" competition will take place. This event is an open contest to local riders who pre-register at www. pcsbt.org. Four separate events will take place: ski and snowboard halfpipe in the Eagle Superpipe, and ski and snowboard slopestyle in the Pick 'N Shovel park. Competitors will enter the contest based on age and ability. This event is a platform to help local skiers and riders test their ability against others' of the same caliber. On March 11 and 12 the Eagle Superpipe will be home to the fourth annual World Superpipe Championships featuring the top pipe riders. This invite-only two-day event will feature the world's top skiers and snowboarders.
Park City Mountain Resort encompasses 3,300 acres, 3,100 vertical feet, nine bowls and eight peaks offering Signature groomed runs, bumps, powder, trees, terrain parks and the Eagle Superpipe, North America's largest superpipe. The Resort is conveniently located 36 miles away from the Salt Lake International Airport, offering more than 500 non-stop flights daily. Park City Mountain Resort is scheduled to open for the 2005-2006 season on Saturday, Nov. 19, 2005. For more information about Park City Mountain Resort visit our blog at http://www.parkcity.typepad.com or online at http://www.parkcitymountain.com .
STEP OUTSIDE® Eyes A Half-Million Newcomers
NEWTOWN, Conn.--STEP OUTSIDE®, the popular National Shooting Sports Foundation (NSSF) program that helps people get started in hunting, shooting, fishing and archery, is poised to reach a milestone: By the end of the year, the program will have reached a half-million newcomers.
NSSF officials aren't sure where or when in 2006 the milestone will be reached, but are making plans to celebrate the introduction of the 500,000th new hunter, shooter, angler or archer. Special recognition will be given later this year.
To find a STEP OUTSIDE event in your area, visit http://www.stepoutside.org .
Launched in 1997, STEP OUTSIDE partners with state fish and wildlife agencies, businesses, clubs and other organizations to assist in hosting recruitment activities, which provide newcomers with a hands-on introduction to America's outdoor traditions and a vehicle to future participation.
"That's not only 500,000 people who spent a day learning about hunting, shooting, fishing or archery, but potentially a half-million new lifelong participants of these activities," said Melissa Schilling, STEP OUTSIDE national coordinator.
A survey conducted last year found the STEP OUTSIDE program has made a significant impact on recruiting newcomers to the outdoors.
As a direct result of their STEP OUTSIDE experiences, 58.5 percent of survey respondents said they continue to participate in target shooting (shotgun), 52.9 percent continue to participate in fishing and 48.5 percent have continued to hunt (shotgun). Others said they have continued to participate in archery (35.6 percent), hunting with a rifle (39.2 percent) and target shooting with a rifle (45.2 percent).
The survey also showed that nearly all STEP OUTSIDE participants are purchasing outdoor sports equipment for their next experiences. When asked if they had purchased outdoor sports equipment in the past year, 91 percent said, "yes," while 93 percent said they plan to purchase equipment in the next year.
"There are 40 million Americans who participate in hunting and the shooting sports each year. If each of them were to take a STEP OUTSIDE with one person, the results would be astounding," added Schilling.
To learn more about NSSF's STEP OUTSIDE program, visit http://www.stepoutside.org .
See More Than 500 Elk at Hardware Ranch

Hyrum -- It's not too late to take a wagon ride through the middle of hundreds of wild elk at the Hardware Ranch Wildlife Management Area.

More than 500 elk, including at least 15 large bulls, were in the meadow at the ranch on Jan. 23.

The horse-drawn rides take visitors through the middle of the herd. During the rides, Division of Wildlife Resources personnel talk with visitors about the elk and the other animals at the ranch.

The ranch is open Thursdays through Mondays, from noon to 5 p.m. The only exception is Saturdays, when the ranch opens at 10 a.m.

The wait to take a wagon ride has been fairly short on the weekends. The ranch is closed on Tuesdays and Wednesdays, but if you visit on a Monday, Thursday or Friday, you can almost have the ranch to yourself.

The cost for the wagon rides is $5 for those 9 years old and above and $3 for children 4 to 8. Children under 3 years old ride for free. Please purchase your tickets at the ranch's visitor center before 4:30 p.m., which is when the last ride of the day leaves.

The Hardware Ranch WMA is located at Mile Marker 22 on east State Road 101 in Blacksmith Fork Canyon. The ranch is about 115 miles north (about a 2-hour drive) from Salt Lake City. It's about 17 miles east of Hyrum and 22 miles southeast of Logan.

The roads up Blacksmith Fork Canyon are usually plowed and sanded by noon each day.

For more information about the Hardware Ranch WMA, call (435) 753-6206 or visit http://www.Hardwareranch.com on the Web.

Café and Visitor Center

While the sleigh rides are the main attraction, Hardware Ranch is also well known for its informative visitor center and the excellent food served in the Hardware Café.

The restaurant is open from 10 a.m. to 4:30 p.m. on Saturdays and noon to 4:30 p.m. on Sundays. It offers a full-service menu with prices ranging from $4.50 to $7.95 per meal. Hot drinks and snacks are also available.

A "moonlight sleigh ride and dinner" package is also offered every Saturday night. The package includes a wagon ride among the elk and an all-you-can-eat Dutch oven and prime rib buffet for $25, plus tax, per person. The ranch will also offer moonlight rides on Valentine's Day this year. Reservations are required for all of the moonlight packages and may be made by calling (435) 753-6206.

In addition to the café and visitor center, good lodging, food and entertainment are readily available in Cache Valley, within 30 minutes of the ranch.


SCHEDULE OFF-HIGHWAY VEHICLE CLASSES NOW

Salt Lake - Utah State Parks and Recreation is scheduling off-highway vehicle (OHV) classes statewide. Know Before You Go! education classes teach fundamentals of safe and responsible OHV riding. Drivers eight through 16 years old must possess an OHV education certificate issued through this program. Drivers 16 years and older must have a valid driver's license or OHV education certificate. Children under age eight cannot operate an OHV on public land. For more information, please call (800) OHV-RIDE.

TRAIL PATROL VOLUNTEERS NEEDED AT ANTELOPE ISLAND

Syracuse - Antelope Island State Park staff are looking for those interested in hiking, mountain biking, and horseback riding to be apart of the trail patrol. The Trail Patrol is a great way to educate and serve the public, while enjoying the scenic beauty of the park. For more information or to sign up, contact Ranger Chris Haramoto at (801) 652-2043.


UPCOMING UTAH STATE PARKS EVENTS

February 1 - March 31 Antelope Island State Park - Syracuse
Park staff and volunteers display original artwork and photographs in the visitor center art gallery. The visitor center is open from 9 a.m. to 5 p.m. daily. For more information, please call (801) 725-9263.

February 1 - 28 Camp Floyd/Stagecoach Inn State Park and Museum - Fairfield
Pleasant Grove High School Art Exhibit: Art students at Pleasant Grove High School exhibit their work depicting the life, structures and artifacts from Camp Floyd / Stagecoach Inn. For more information, please call (801) 768-8932.

February 4 Rock Cliff Nature Center/ Jordanelle State Park Francis
Track Me If You Can! Join the park naturalist from 10 a.m. to noon and learn basic tracking skills necessary to understanding local wildlife. Bring snowshoes or borrow a pair from the park. Pre registration is required. Day use fee is $7 per vehicle with up to eight people or free to Utah State Park pass holders. For more information call (435) 782 3030 or (435) 649 9540.

February 4 Wasatch Mountain State Park - Midway
Snowshoe with a Naturalist: Winter is a great time to explore the environment, and snowshoes are a great way to do it. Join the naturalist for a two-hour snowshoe hike along Donkey Ridge in Dutch Hollow to get moving and get connected to your winter surroundings. Meet at the visitor center at 10 a.m. Snowshoe rentals available. For more information, please call (435) 654-1791
2005 Drawing Odds Available to Help Big Game Hunters Applying This Year

Hunters can learn the odds of drawing a Utah big game permit in 2005 by viewing a publication available at the Division of Wildlife Resources' Web site and at DWR offices.

"Drawing odds usually don't change drastically from year to year, so I think hunters who are applying for a Utah big game permit for 2006 will be very interested in seeing the publication," said Judi Tutorow, wildlife licensing coordinator for the DWR. "And the best part is, it doesn't cost anything to view it."

Hunters who have access to the Internet can view and download the 2005 Bucks, Bulls and Once-In-A-Lifetime Bonus Point Results and Drawing Success publication for free by visiting the DWR's Web site at http://www.wildlife.utah.gov . The publication is available by visiting the Hunting section of the home page and clicking on Big Game. After arriving at the Big Game section, scroll down to Big Game Statistics and click on 2005 drawing odds report.

The publication also can be viewed at DWR offices in Ogden, Salt Lake City, Springville, Vernal, Price and Cedar City. Copies may also be purchased at each location for $15, plus sales tax.

Hunters are reminded that applications for 2006 Utah big game hunting permits must be received no later than Feb. 17 to be included in the draw for permits. Mail-in applications must be received no later than 5 p.m., and applications submitted through the DWR's Web site must be received no later than 11 p.m. that day.

For more information, call the Utah Wildlife Administrative Services office at 1-800-221-0659, the nearest Division of Wildlife Resources office or the DWR's Salt Lake City office at (801) 538-4700.


Apply for Black Bear Permits Beginning Feb. 1

Applications will be available by Feb. 1 to hunt black bears during Utah's 2006 spring and fall hunts.

Hunters who have applied for a black bear permit at the Division of Wildlife Resource's Web site in past years will receive a postcard by Feb. 1, encouraging them to apply on the Internet again. Hunters may apply at the Web site beginning Feb. 1 (the Web site address is wildlife.utah.gov).

Hunters who have applied with a mail-in application should receive a preprinted application in the mail by Feb. 1. Beginning Feb. 1, hunters also may obtain applications from hunting and fishing license agents statewide, Division of Wildlife Resources offices and the DWR Web site.

To be included in the draw for permits, mail-in applications must be received no later than 5 p.m. on Feb. 28. Applications submitted through the DWR Web site must be received no later than 11 p.m. on Feb. 28.

Draw results will be posted by March 29.

Judi Tutorow, wildlife licensing coordinator for the DWR, says an instruction sheet to help hunters complete their application correctly will be included with the preprinted applications hunters receive in the mail. "Read through it completely before filling out your application," she advises.

Hunters who don't apply on the Internet are encouraged to mail their application early. "It will take a few days for your application to arrive in the mail, so you need to mail it early enough to give it plenty of time to arrive before the 5 p.m., Feb. 28 due date," Tutorow said.

She reminds hunters that they must specify whether they want a limited entry bear permit, or a limited entry bear archery permit, by checking the correct box on their application. Applications will not be accepted if a box isn't checked.

Tutorow also encourages hunters to obtain written permission from landowners before applying for a hunt that occurs on private land. "Written permission is required to hunt private property, and we encourage hunters to obtain that permission before applying," she says. "We don't want hunters to draw a permit and then find they can't use it because landowners won't give them permission to hunt the area."

The DWR doesn't have a list of people who own land where black bear hunts occur, so hunters need to take time to locate the landowners.

Less than 25 percent of Utah's black bear hunts occur on private property. Hunts that do occur on private property are indicated by an asterisk in the 2006 Utah Black Bear Proclamation, which will be available by Feb. 1.

Utah's spring bear season runs April 8 - May 31. The state's fall hunt runs Aug. 26 - Sept. 30 and Nov. 1 - 26.

For more information, call Utah Wildlife Administrative Services at 1-800-221-0659, the nearest Division of Wildlife Resources office or the DWR's Salt Lake City office at (801) 538-4700.

UTAH STATE PARKS SNOWMOBILE GROOMING REPORT
Below are current grooming conditions as of Tuesday, January 24. Utah State Parks staff encourages all riders to carry appropriate avalanche gear and get an avalanche advisory at 1-800-OHV-RIDE or http://www.avalanche.org.

Logan Canyon
January 19 - Garden City
January 19 - Temple Canyon
January 18 - Amazon
January 18 - Beaver Creek
January 18 - Franklin Basin
January 18 - Tony Grove
January 13 - Sinks Trail
January 13 - Swan Flat

Hardware Ranch
10 inches of new snow in the Sinks and six inches in Strawberry.

January 22 * Strawberry, Hodges, Mill Hollow, Elk Valley G.S, the Gorge, Saddlecreek, and Danish Dugway
January 20 - Danish Dugway, Elk Valley G.S, and Strawberry
January 19 - Strawberry, the Gorge, Elk Valley G.S, Mill Hollow, and Hodges Canyon

Monte Cristo
58 inches of snow at Dry Bread Pond and 74 inches at Monte Cristo

January 22 - Highway 39 to Millies Spring, Wasatch Ridge, Ant Flat to Hardware
January 21 - Arbs Basin
January 20 - Highway 39 to Dry Bread, Ant Flat to Hardware Ranch
January 19 - Curtis Creek Loop
January 18 - Highway 39 to Woodruff, Wasatch Ridge, Ant Flat to Scare Canyon

Wasatch Mountain
January 19 - Snake Creek Canyon
January 19 - Cummings Parkway to Cascade Springs
January 19 - Pine Canyon
January 17 - Pole Line Pass in American Fork Canyon
January 16 - Alpine Loop, Aspen Grove, and Pine Hollow
January 15 - Cascade Springs Road at Soldier Hollow
January 14 - American Fork Canyon

Mirror Lake / Mill Hollow
12 to 18 inches of new snow

Bear River Service to Whitney
Riders, please observe the posted speed limit signs in the parking lot and on Highway 150.

Approximately two feet of new snow accompanied with strong winds above 9,000 feet. Despite some mechanical problems with the snowcat, grooming is scheduled into the Whitney warming hut and along Highway 150.

Uintah Basin
As of January 21, current snow conditions are between one and 17 inches of snow. Higher elevations are the only places with any amount of snow at this time.

Due to lack of snow, no grooming is scheduled.

Scofield/ Joe's Valley/ Skyline Drive
January 24 - North Skyline has 48 inches of snow at the trailhead at Fairview top
January 24 - Fish Creek Ridge has 48 inches of snow
January 13 - Tucker/Starvation/Pondtown have six to 16 inches of snow at the trailheads and 44 inches on top

Be advised that Pondtown has some marked dangerous hazards about three miles from the trailhead.

January 20 - White River has 16 inches of snow at the trailhead and 48 inches on top
January 19 - Miller's Flat has 40 inches of snow - Be advised that the road has been plowed for the first half mile due to a logging operation
January 19 - Joe's Valley has four to 10 inches of snow at the lower trailhead and 35 inches at Middle Mountain.

Mt. Nebo
Grooming scheduled for January 26

Ephraim/ Manti/Twelve-Mile
All canyons in the complex received large amounts of new snow. Elevations above 7,000 feet received approximately two feet of snow and three to four feet at about 8,500 feet.

January 20 - Ephriam canyon
January 21 - Manti Canyon
January 19 * Mayfield and 12-Mile canyons

Fish Lake
As of January 23, two to six feet of good snow exists above 8,500 feet on Beaver, Fishlake and Monroe mountains. Below 8,500 feet, marginal snow with emerging bare spots exist. Many snowmobilers are staying on established roads to avoid potential hazards in traditional play areas.

January 23 - Monroe Mountain from Koosharem, Koosharem Guard Station, Monroe Peak, Monrovian Park, Cove Mountain, and Big Lake.
January 22 * Fishlake, Mount Terrill, Cold Springs, and Sandledges Trailhead
January 19 - All designated Beaver Mountain snowmobile trails were groomed. Best access from Puffer Lake above Elk Meadows Ski Resort. Marginal snow with emerging bare spots exist from City Creek (above Junction) to Grindstone Flat and below Kent's Lake.

January 13 - Gooseberry Drainage (east of Salina)

Cedar Mountain/ East Fork
As of January 23 there is approximately one foot of snow in the Duck Creek and Strawberry Valley areas. There are about two feet of snow in the Midway and Sage Valley areas.

January 27 * (scheduled) Midway to Sage Valley; Sage Valley to the Navajo Lake trailhead; Navajo Lake trailhead to Duck Creek Ridge
January 20 - Midway to Sage Valley; Sage Valley to the Navajo Trailhead; Navajo Trailhead to Duck Creek Ridge; Lar's Fork; Strawberry Point
January 17 - Cedar Breaks to Highway 143; Midway to Sage Valley; Sage Valley to the Dry Camp turnoff
January 24 - Cedar Breaks; Midway to Sage Valley; Sage Valley to Dry Camp turnoff

There is a section between Sage Valley and the Navajo Lake Trailhead that cannot be groomed due to logging.

Strawberry Valley
January 23 - Lake Creek
January 22 - Mud Creek/Clyde Creek
January 21- Coop Creek- Strawberry River
January 20 - Coop Creek-Strawberry River

Only a Month Remaining to Enter for Free Hunts
NEWTOWN, Conn.--Time is winding down to enter the Wingshooting USA Dream Hunts Sweepstakes for a chance to win one of nine free bird hunts--together valued at more than $34,000--at world-class hunting resorts around the country.
The prizes are offered to hunters visiting http://www.wingshootingusa.org by Feb. 28.
The Web site is designed to help bird hunters find easy access to good hunting. It's a project of the National Shooting Sports Foundation (NSSF), a nonprofit trade association working to keep sportsmen safe and active.
Anchoring the site is an easy-to-use search tool for daily-fee bird hunting preserves. The leader in listings for hunting and shooting destinations, Black's Wing & Clay, Waterfowl, in print for the past 12 years, provided data on over 1,000 preserves nationwide. By clicking on a U.S. map, visitors can find a bird hunting spot close to home or across the country.
Nine hunts will be given away. Each will give two people a totally unique bird hunting experience in a different part of the country. The North American Gamebird Association, an organization that promotes quality standards for hunting preserves, arranged the hunts. A winner could land a quail hunting adventure at a Southern plantation, or a high-plains excursion for pheasant and chukar.
Complete prize descriptions, official rules and entry form for the Wingshooting USA Dream Hunts Sweepstakes are available at http://www.wingshootingusa.org . (No purchase necessary. Sweepstakes open to legal residents of the 50 United States and the District of Columbia age 21 or older. Ends Feb. 28, 2006.)
That today's hunting preserves are convenient and numerous is a message reinforced by Wingshooting USA and the sweepstakes.
In a national survey, hunters identified their top five issues as 1.) Not enough access to places to hunt, 2.) Not having enough places to hunt, 3.) Work obligations, 4.) Poor behavior of other hunters, and 5.) Too many hunters in the field.
"Aside from work obligations, all of these problems disappear when you book a customized hunt with today's hunting preserves," said Doug Painter, president of NSSF. "With Wingshooting USA, we're reaching out with a message that highlights the wide range of benefits that hunting preserves can offer."