UTAH STATE PARKS HIKES - FROM SNOW TO LAVA

Salt Lake City * Three Utah state parks offer great hikes this weekend from a full moon snowshoe hike to a lava tubes tour.

Join Friends of Wasatch for a Full Moon Snowshoe Hike Friday, February 2. This annual snowshoe trek is lit by a full moon and open to hikers of all abilities. Entrance fee is waived for Friends of Wasatch members and $5 for non-members, with snowshoe rentals also available for $5/pair. Registration is required * please call (435) 654-1791.

On Saturday, visit Rock Cliff Nature Center at Jordanelle State Park for Track Me If You Can! From 10 a.m. to noon, join the park naturalist and learn basic tracking skills necessary to understanding local wildlife. Bring snowshoes or borrow a pair from the park. Day-use fee is $7 per vehicle with up to eight people or free to Utah State Park pass holders. Pre-registration is required * please call (435) 782-3030 or (435) 649-9540

From snow to lava! Take the Lava Tubes Tour at Snow Canyon State Park Saturday, February 3 from 10 a.m. to 11:30 a.m. This two-mile, round-trip hike is a unique opportunity to explore lava tube formations. Registration required * please call (435) 628-2255.

UTAH STATE PARKS LAUNCH AND ICE REPORT * JANUARY 30

Bear Lake State Park Marina: Closed 35 degrees, 6 inches of ice
Deer Creek State Park: Closed 32 degrees, frozen
East Canyon State Park: Closed 30 degrees, 12-18 inches of ice
Wide Hollow at Escalante State Park: Closed 32 degrees, frozen
Great Salt Lake State Park Marina: OPEN 26 degrees
Gunlock State Park: OPEN 48 degrees
Huntington State Park: Closed 30 degrees, 6-10 inches of ice
Hyrum Lake State Park: Closed 39 degrees, 4 inches of ice on west half of lake
Jordanelle State Park: Closed 33 degrees, mostly ice
Millsite State Park: Closed 30 degrees, 6-10 inches of ice
Otter Creek State Park: Closed 30 degrees, 8-10 inches of ice
Palisade State Park: Closed 35 degrees, 4 inches of ice
Piute State Park: Closed 30 degrees, frozen
Quail Creek State Park: OPEN 36 degrees
Red Fleet State Park: Closed 32 degrees, 13 inches of ice
Rockport State Park: Closed 32 degrees, 5-8 inches of ice
Sand Hollow State Park: OPEN 36 degrees
Scofield State Park: Closed 32 degrees, 12 inches of ice
Starvation State Park: Closed 32 degrees, 6 inches of ice
Steinaker State Park: Closed 32 degrees, 13 inches of ice
Utah Lake State Park: Closed 32 degrees, frozen
Willard Bay State Park: Closed 32 degrees, some ice
Yuba State Park: Closed 32 degrees, 5-8 inches of ice
Strawberry: OPEN 32 degrees, 20 inches of ice
Flaming Gorge: OPEN 32 degrees, 8 inches of ice

UTAH STATE PARKS SNOWMOBILE GROOMING REPORT * JANUARY 30

Hardware Ranch:
Friday, January 26: North from Ranch into Strawberry Valley and up to Hell's Hollow. From there through to Sinks and
made four passes. Conditions at the Sinks are good. Back down through Strawberry and north to Elk Valley Guard Station. Back south through Strawberry to the Ranch. Trail leaving the Ranch has patches of mud for about six miles, but is decent after that. More snow needed.
Monte Cristo:
As of January 24, 2007 there is 32" of snow at Dry Bread Pond and 43" at Monte Cristo.

Grooming completed:
Monday, January 22 * Ant Flat to Sheep Creek, Curtis Creek to Baxter Saw Mill, SR39 to Woodruff Gate and Wasatch Ridge
Saturday, January 20 * SR 39 to Little Monte
Friday, January 19 * SR 39 to Little Monte
Thursday, January 18 * Ant Flat to Scare Canyon, SR-39 to Woodruff Gate
Wednesday, January 17 * Arb's Basin, Wasatch Ridge, Ant Flat to Sheep Creek

Bear Lake / Logan Canyon:
Thursday, January 25, 2007
Groomer is down, no grooming last weekend.
Grooming completed:
Amazon - January 24
Beaver Creek - January 24
Franklin Basin * January 22
Garden City
Tony Grove January 22
Sinks Trail January 21
Swan Flat January 25

Wasatch Mountain:
Grooming completed:
January 26 - Snake Creek Canyon to the top of the narrows at Graveyard Flat.
January 24 - Cummings Parkway
January 22 - Alpine Loop to Sundance and Pine Hollow
January 22 * Soldier Hollow
Snow conditions at Tibble Fork, Pine Hollow, and Soldier Hollow are minimal. Tibble Fork and Silver Lake have not been groomed yet this year due to lack of snow.

Mirror Lake / Mill Hollow:
Snow conditions are poor with no new snow for quite a while. Snow depths range from three feet at high elevations on north facing slopes and no snow at lower elevations and on south facing slopes. Grooming as per schedule and the trails are in great shape. Use caution. No grooming all the way down to Lakecreek due to low snow conditions. If finding a vehicle stuck on the trail, please write down a license plate and call 911. They will then notify us so we can make plans to have it removed. Remember, it is illegal to operate a wheeled vehicle in excess of 800 pounds on a groomed snowmobile trail.

Bear River Service to Whitney:
The last snowstorm dropped anywhere from 6-10" depending on elevation. Despite the dry month of January, riding conditions have remained reasonably good. All trails have been groomed and cold temperatures have helped set a good base. On February 2, the International Pedigree Stage Stop Sled Dog Race will begin at the North Slope parking lot at 10 am. The race starts at the North Slope gate and ends at Deadhorse Trailhead. The north end of the trailhead will be reserved for the mushers, but plenty of parking is available to the south.

Uintah Basin:
January 18 * Entire Red Cloud Loop Complex, Dry Fork up to Leidy turnaround and out to the yurt at Summit Park, East Park to Hwy 191, other side of the Red Cloud Loop, and Taylor Mountain.
January 19 - Don Hatch Trail to Flaming Gorge Lodge, to Red Canyon Lodge and then to Deep Creek. Snow conditions are good, and better at higher elevations.

Scofield / Joe's Valley / Skyline Drive:
As of Jan 19, current snow conditions and grooming reports are as follows:
Waiting for more snow. The last storm only added two more inches of snow to most places. Depths are 55% of normal snow pack and grooming is suspended until enough snow is available.

North Skyline has 16" of snow at the trailhead at Fairview top, but snow levels are not sufficient enough to groom this trail in its entirety.
Fish Creek Ridge has 15" of snow on top of the junction, but snow levels are not sufficient enough to groom this trail in its entirety.
Tucker/Starvation/Pondtown has 6-8" of snow at the trailheads, and have not been groomed. Miller's Flat has 12" of snow, not groomed yet. Joe's Valley has 8-10" of snow at the lower trailhead and 15" of snow at Middle Mt. The trail is not groomed.

Mt Nebo:
Grooming was started from the Payson side and was completed as far as Devils Kitchen. There is only 3 to 4 inches of new snow from the last storm. The trail is in good shape, but there are a few more places that are starting to show pavement.

Ephraim / Manti / 12 mile:
Grooming Completed:
January 26 - Ephraim and 12-Mile canyons
Riders should use extreme caution when leaving the trail as delineator post and trail markers are not covered by snow. Without a new storm 12-Mile canyon will likely not be grooming next Friday. Ephraim Canyon is also questionable due to lack of snow.

Fish Lake:
Monroe and Fishlake mountains were groomed last week. Beaver was not groomed due to lack of snow.

Cedar Mountain / East Fork:
January 27 * Plan to groom Midway, Cedar Breaks and Brian Head. Use caution.
As a reminder, 1.3 miles of snowmobile trail just west of Sage Valley has been plowed. The Dixie National Forest has authorized this to allow loggers in and out. Be aware of logging machinery in this area.

Strawberry:
As of January 20, there is no new snow. Please be aware of others on the trail and trail hazards, as snow levels are low.

Wyoming Musher Wendy Davis Wins Day Four of IPSSSDR, Maintains Overall Lead
January 30, 2007--Wendy Davis from Lander, Wyoming, had the fastest time on Day Four of the International Pedigree Stage Stop Sled Dog Race (IPSSSDR) completing the 54-mile course in 3:50:49. Grant Beck, from Yellowknife, Northwest Territories, Canada was second with a time of 4:11:13. Jacques Philip from Nenana, Alaska, came in third in 4:11:30.
In overall standings, Davis maintains the lead in 12:28:52; followed by Beck, in second place, with 13:19:54. Philip moves into third place with 13:23:45.
Teams departed on Day Four from Big Piney/Marbleton, a new stage added to the 2007 IPSSSDR. Teams averaged speeds ranging from 9.7 to 14.0 miles per hour.
Following Tuesday's race, teams traveled to Alpine where the IPSSSDR will depart from the Greys River Trail at 9:00 a.m. on Wednesday, January 31.
During the week, the race travels to Kemmerer/Diamondville, February 1; and Evanston/Mountain View, February 2, before arriving in Park City, Utah, for the final stage and awards ceremony on February 3.
With its unique "stage stop" racing format, the IPSSSDR stops in a different community each night, allowing Wyoming's host towns to show their hospitality: Festivities for mushers and spectators alike include pancake feeds, dog parades, banquets, carnivals, and snowshoe softball
Pedigree® Food for Dogs is the title sponsor of the IPSSSDR. The Pedigree® brand actively supports a wide range of programs that promote responsible pet ownership and highlight the contributions dogs make to society.
The International Pedigree Stage Stop Sled Dog Race was founded in 1996 by Frank Teasley to make sled dog racing more accessible to the public. For complete times from today's race, visit the race Website at http://www.wyomingstagestop.org , contact the race via e-mail at wystagestop@blissnet.com , or telephone at (307) 734-1163.
Big Piney/Marbleton
1/30/2007 Day 4
54 Miles
Position Musher Finished
Bib #
Musher
Elapsed Time
# Dogs Started
Average MPH
1
12
Wendy Davis
3:50:49
10
14.0
2
13
Grant Beck
4:11:13
10
12.9
3
10
Jacques Philip
4:11:30
10
12.8
4
15
Sam Perrino
4:22:51
10
12.3
5
20
Melanie Shirilla
4:24:45
10
12.2
6
16
Jarle Halsnes
4:30:40
10
11.9
7
8
J.R. Anderson
4:31:32
10
11.9
8
7
Warren Palfrey
4:32:13
10
11.9
9
3
Magali Phillip
4:35:14
10
11.7
10
5
Kirk Barnum
4:37:45
10
11.6
11
4
Bruce Magnusson
4:39:39
10
11.5
12
21
Jerry Scdoris
4:55:18
9
10.9
13
19
Tim Hunt
5:06:39
9
10.5
14
9
Kate St, Onge
5:08:43
8
10.4
15
17
Wesley Rau
5:14:10
10
10.3
16
2
Stacey Teasley
5:22:58
10
10
17
1
Dan Carter
5:29:21
8
9.8
18
18
John Wood
5:32:12
10
9.7
| | | | | | | |
| --- | --- | --- | --- | --- | --- | --- |
| | | Accumulative Overall Time | | | | |
| Finish Position | Bib # | Musher | Day 2 | Day 3 | Day4 | Overall Time |
| 1 | 12 | Wendy Davis | 6:23:06 | 2:14:57 | 3:50:49 | 12:28:52 |
| 2 | 13 | Grant Beck | 6:58:45 | 2:09:56 | 4:11:13 | 13:19:54 |
| 3 | 10 | Jacques Philip | 6:48:46 | 2:23:29 | 4:11:30 | 13:23:45 |
| 4 | 15 | Sam Perrino | 6:59:19 | 2:12:25 | 4:22:51 | 13:34:35 |
| 5 | 8 | J.R. Anderson | 7:00:14 | 2:20:23 | 4:31:32 | 13:52:09 |
| 6 | 20 | Melanie Shirilla | 6:54:06 | 2:33:20 | 4:24:45 | 13:52:11 |
| 7 | 16 | Jarle Halsnes | 7:18:45 | 2:24:03 | 4:30:40 | 14:13:28 |
| 8 | 7 | Warren Palfrey | 7:31:18 | 2:23:05 | 4:32:13 | 14:26:36 |
| 9 | 4 | Bruce Magnusson | 7:19:19 | 2:28:45 | 4:39:39 | 14:27:43 |
| 10 | 3 | Magali Phillip | 7:25:14 | 2:30:00 | 4:35:14 | 14:30:28 |
| 11 | 5 | Kirk Barnum | 7:27:45 | 2:45:04 | 4:37:45 | 14:50:34 |
| 12 | 21 | Jerry Scdoris | 7:40:18 | 2:35:53 | 4:55:18 | 15:11:29 |
| 13 | 19 | Tim Hunt | 7:34:06 | 2:43:06 | 5:06:39 | 15:23:51 |
| 14 | 9 | Kate St, Onge | 7:42:53 | 2:46:24 | 5:08:43 | 15:38:00 |
| 15 | 1 | Dan Carter | 7:52:07 | 2:48:07 | 5:29:21 | 16:09:35 |
| 16 | 18 | John Wood | 8:06:05 | 3:01:29 | 5:32:12 | 16:39:46 |
| 17 | 2 | Stacey Teasley | 8:06:50 | 3:12:34 | 5:22:58 | 16:42:22 |
| 18 | 17 | Wesley Rau | 8:53:35 | 2:57:59 | 5:14:10 | 17:05:44 |
Motorized User Legislative Voice Day scheduled
Date: February 9, 2007
Time: 12:30 p.m.
Location: Main public foyer of the house building on Capitol Hill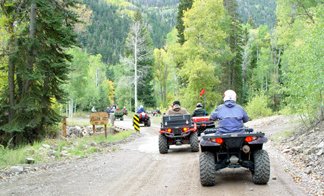 Objective: Is to gather a diverse group of motorized users and rally support for a group of bills affecting public lands. Show our Utah State Legislature and the governor's office we are a united voting block and want land issues and public access to be taken more seriously.
The current bills and issues affecting public lands will be addressed by Michael Swenson, Executive Director for Utah Shared Access Alliance (USA-ALL), Representative Mike Noel, and other legislators.
Come dressed looking the part. Wear your riding gear, armor, helmets, USA-ALL t-shirts, whatever you wear when riding your ATV, motorcycle, snowmobile, jeep, etc. PLEASE Get involved; bring your family especially your kids. Bring friends, co-workers, and any motorized user that supports responsible open access of public lands.
Leaflets will be handed out on how you can contact your representative in the legislature and gain their support. There will be opportunities for you to contact some of them that day. Just your simple presence will make a big statement to our elected officials. Let's get together and make sure these issues are addressed and your values are protected.
Free Parking: FREE all-day public parking for the 2007 Legislative Session for visitors with easy access and commute to Capitol Hill is located at the parking lot across from the Triad Building downtown. The parking lot address is 300 West South Temple-site of the 2002 Olympics Medal Plaza. No tokens are needed for this lot. Please communicate your intention to visit the Capitol Hill Complex to the parking lot attendant. The FREE UTA Bus #23 will service this lot and bring you to Capitol Hill. There is also free parking on the road just east of the capitol complex but space is very limited, you may have to park on this street north of the complex and walk a block or two back down to the capitol.
PLEASE help us with this by simply showing up, we would hate to put this on and only have a few people to show, we know thousands of you care, lets illustrate that by having a few hundred people there for support. Come and let our united voice be heard!
If you have ANY questions, or need help or directions please call our office we would be very happy to help.
JoAnne ButtsAdministrative Assistant
Utah Shared Access Alliance (USA-ALL)
PO BOX 131 PAYSON, UT. 84651
Main: 801.465.1145
Starlight Snowshoe Hike - JORDANELLE STATE PARK

Heber City-Join park staff on February 9th for a starlight snowshoe hike along the lake. Meet at the Visitors Center at Jordanelle State Park at 7:00 pm for the hike and refreshments. Jordanelle can provide snowshoes. After the hike we will enjoy a short presentation on stars followed by an opportunity to use telescopes.

Admission is $5.00/ person. Space is limited to 50 people so you must RSVP. Call (435) 649-9540 to reserve your spot today.

U.S. Snowboarding Returns to Mt. Bachelor for 10th Time Second Grand Prix stop opens Saturday
MT. BACHELOR, Ore. (Jan. 30) - U.S. Snowboarding returns to Mt. Bachelor for the 10th time this weekend when the second stop of the $300,000 Chevrolet U.S. Snowboard Grand Prix tour rolls into the Northern Cascades on Saturday, Feb. 3 with both halfpipe and slopestyle competitions.
Expected riders include Steve Fisher (Breckenridge, CO), who won his second X Games gold in halfpipe on Sunday, and Gretchen Bleiler (Aspen, CO), who boosted her X Games medals total to three with silver in halfpipe behind Austalian Torah Bright, also scheduled to compete. U.S. Snowboarding's Scotty Lago (Seabrook, NH) and Louie Vito (Bellefontaine, OH) are also slated to compete in both halfpipe and slopestyle.

As an innovator in snowboarding progression, both the halfpipe and slopestyle competitions slated for Mt. Bachelor are sanctioned as a Five Star Ticket to Ride (TTR) event. This means points are awarded toward winning the overall TTR World Tour, a culmination of Independent freestyle snowboard events globallly recognized as a tour and tied together by the TTR rating system. Now in it's fifth year, the TTR features a 10-month competition season including top rated snowboarding events over four geographical zones.

"The TTR plugs the Grand Prix into the world tour schedule and solidifies the series as a top-level competition that continues to push the progression of snowboarding," said Grand Prix Director Eric Webster. "It's where all the highest profile events come together for a global tour and validates the level of competition that the Grand Prix is able to continue to provide."

The event will gain exposure nationally with NBC airing halfpipe coverage on Sunday, Feb. 11 at 2:30 p.m. ET and again on Versus at 5 p.m. ET. The slopestyle event, part of the Paul Mitchell Progression Session, will air at 6 p.m. on Versus. Then, the Grand Prix goes global with a half-hour program distributed worldwide by the TTR.

"This is huge exposure for the Grand Prix, Mt. Bachelor and all the riders who come together to make this happen," added Webster. "The Grand Prix series produced four Olympic medalists last year and we saw an unbelievable field at Breckenridge in December already pushing the level of riding in the first contest of the year. As a five-star event on the TTR, Mt. Bachelor is going to see another big field of riders looking to add to their TTR World Tour points total."

Additionally, Rip-It Energy Drinks will award a best trick award of $2,500 during the slopestyle on Sunday.

Mt. Bachelor Schedule:
Saturday, Feb. 3 - Halfpipe Qualifiers and Finals
Sunday, Feb. 4 - Slopestyle Qualifiers and Finals

Remaining Chevrolet U.S. Snowboard Grand Prix Dates:
Feb. 24-25, 2007, Tamarack, ID:
Saturday, Feb. 24 - 22-foot Halfpipe Qualifiers and Finals
Sunday, Feb. 25 - Snowboardcross Time Trials and Heats

Current Grand Prix standings after one event:
Men
1. Danny Davis, Highland, MI
2. Mason Aguirre, Mammoth Lakes, CA
3. Tommy Czeschin, Mammoth Lakes, CA
4. Brad Martin, Canada
5. J.J. Thomas, Golden, CO
6. Ross Power, Stratton Mountain, VT
7. Steve Fisher, Breckenridge, CO
8. Rob Kingwill, Jackson Hole, WY
9. Crispin Lipscomb, Canada
10. Louie Vito, Bellefontaine, OH
-
Women
1. Kelly Clark, Mount Snow, VT
2. Elena Hight, South Lake Tahoe, CA
3. Soko Yamaoka, Japan, 41.6
4. Manuela Pesko, Switzerland
5. Holly Crawford, Australia
6. Lindsey Jacobellis, Stratton Mountain, VT
7. Gretchen Bleiler, Aspen, CO
8. Ellery Hollingsworth, Stratton Mountain, VT
9. Meg Pugh, Government Camp, OR
10. Kendall Brown, New Zealand

For complete details on the 2007 Chevrolet U.S. Snowboard Grand Prix tour, log on to http://www.ussnowboarding.com/grandprix and to check out the TTR, click http://www.ttrworldtour.com
New Shed Antler Rules Take Effect Feb. 1 in Northern Utah

Beginning Feb. 1, the collection of antlers shed by deer, elk and moose is prohibited in Northern Utah. Antler collection on both public and private lands is closed from February through April.

A growing interest in gathering antlers shed in the winter by deer, elk, and moose has led to increasing numbers of "shed hunters" spending time on ranges that big game animals use in the winter.


The very presence of people on these areas in the winter can have unintended consequences on big game animals. For example, the animals have to use their energy to avoid people. In some cases, antler hunters have intentionally chased animals to try and make their antlers fall off.

Irresponsible use of off-highway vehicles in these areas can also damage habitat that is critical to big game animals. The melting snows in late winter and early spring make the soils moist. Taking OHVs into these areas can cause increased erosion and can damage important plants.

Mule Deer Fawns

Winter is usually the most treacherous time of the year for mule deer fawns. Cold temperatures, deep snow and limited food can lead to the deaths of many fawns. Unnecessary disturbance by people just adds to the problem. Disturbance by people causes deer to flee and use their precious energy reserves. The deer need these energy reserves to make it through the winter.

Even under the best winter conditions, some fawns will die. That's why it's so important not to disturb deer during this critical time of year.

Shed Antler Restrictions in Northern Utah

A committee comprised of sportsmen, people from the agricultural community, and state and federal wildlife officials have determined that helping more fawns survive the winter is one of the first steps to increasing deer populations in Northern Utah. Based on the group's recommendations, all five of Utah's Regional Advisory Councils and the Utah Wildlife Board voted to restrict the collection of shed antlers in Northern Utah this year.

Collection Allowed After May 1

The collection of shed antlers is allowed from May 1, 2007 through Jan. 31, 2008.

When the season opens on May 1, please remember that you must obey all state and federal off-road vehicle rules. You must also respect the rights of private property owners.

Also remember that it's illegal to pick up antlers or horns that are still attached to the skull plate of a dead animal.

For more information about Utah's shed antler gathering regulations, call the nearest Division of Wildlife Resources office or the DWR's Salt Lake City office at (801) 538-4700.

Bighorns Moved From Montana to Little Hole

Dutch John -- Forty-two bighorn sheep were released at two sites along the Little Hole Road below Flaming Gorge Reservoir on Jan. 26.

The bighorns, nine rams and 33 ewes, were captured from two herds near Missoula, Montana. These bighorns from the Bonner and Rock Creek herds will supplement a herd that was reintroduced near Little Hole two years ago.

"Our original plan was to capture bighorns from a native herd at Willow Creek, just south of the Sun River near Augusta, Montana, on the east side of the Rocky Mountains," says Charlie Greenwood, a wildlife biologist with the Utah Division of Wildlife Resources (UDWR). "After high winds delayed the helicopter capture for two days, the Montana biologists
shifted us to the west side of the Rockies, to herds outside of Missoula."

In addition to avoiding high winds, being transferred to the west side of the Rockies provided the UDWR biologists with some benefits they weren't expecting.

"When we got there and talked with the [Montana] biologists, they were happy to give us a few more sheep than originally requested as they were beginning, or expecting trouble, with managing the herds due to their proximity to local communities," Greenwood says. "Taking ewes and a few young rams from their herds, to supplement or start other herds [in Utah], was an excellent solution to a potential urban/wildlife conflict.

"The only concern with taking more sheep was how to pay for them, but a few phone calls later we had the go ahead. The Foundation for North American Wild Sheep in Utah not only paid for the original numbers, it also agreed to cover the costs for the increase. We were able to bring back 42, instead of 25."

Under a contract with Pathfinder, a helicopter capture team, 27 bighorns were captured using a special net gun. The sheep were captured from the slopes above Bonner, Montana, just seven miles east of Missoula.

After their capture, the bighorns were given a physical examination, and veterinarians from the Montana Fish, Wildlife and Parks Department took numerous samples and swabs. After their physical, the bighorns were marked with individually numbered ear tags. Some also received radio collars before being placed in a special trailer.

The 27 bighorns captured from Bonner spent the night in the trailer until 15 more sheep from the Rock Creek area were added the following day. The biologists then drove non-stop to Utah and released the bighorns the following morning.

All of the sheep released at the two Little Hole sites emerged from the trailer in good shape. Greenwood and the other biologists believe the new bighorns have excellent genetics.

"Both the Bonner and Rock Creek herds were introduced from bighorns taken from native herds in the Sun River area in the late 1980s," Greenwood says. "I'm impressed with their size, health and potential horn growth. It looks like they have excellent genetics. The ewes all look big and healthy, and even though the rams we acquired were young, none older than 2=, they already have horns reaching back to a half curl."

The Flaming Gorge/Green River area has been a selected reintroduction site for more than 30 years. Biologists from the UDWR, the U.S. Forest Service and the Bureau of Land Management have been enhancing the range in the area in preparation for a release.

The range enhancement was given a big boost in 2001 when the Dutch John fire cleared away large expanses of pinyon-juniper. Following the fire, the UDWR and USFS were able to reseed many of the disturbed areas in preparation for the bighorn sheep reintroduction in Little Hole.

"Everything came together," Greenwood said. "From having good range conditions to getting extra bighorns. It should really give this herd a boost."

For those interested in seeing bighorn sheep in northeastern Utah, Greenwood recommends the Sheep Creek Canyon area along the Geologic Loop and SR-44, the Red Canyon Visitor Center area, and now along the Little Hole Road.

Visitors with a boat can also look for sheep along the shores of Flaming Gorge Reservoir. As the Little Hole herd continues to grow, it's also likely that people will see bighorns more often along the cliffs above the Green River.

For more information about viewing bighorn sheep in northeastern Utah, call the UDWR's Northeastern Region office at (435) 781-9453.

Big Game Applications Due by Feb. 16

Time is running out to get your application in for a Utah big game hunting permit, especially if you're applying through the mail.

To be entered in the 2007 Utah big game draw, mail-in applications must be received no later than 5 p.m. on Feb. 16. Applications submitted through the Division of Wildlife Resources' Web site ( http://www.wildlife.utah.gov ) must be received no later than 11 p.m. on Feb. 16.

With time running out, the Internet or an overnight mail service might be the best way to make sure your application meets the deadline.

Hunters are reminded that applications postmarked before or on Feb. 16, but that aren't received by 5 p.m. that day, will not be entered in the draw. Applications are not accepted in-person.

Apply on the Internet

If you have a major credit card that's valid through at least May 2006, you can get your application in within a matter of minutes. Just log onto the DWR's Web site ( http://www.wildlife.utah.gov ). Once you're on the site, you can apply for a permit by clicking on the 'Apply online for available hunt drawings' choice under the 'Purchase a license or permit' heading on the right side of the home page.

Mail Your Application Early

If you don't apply on the Internet, please remember that it will take a few days for your application to arrive through the mail at the Utah Wildlife Administrative Services office. Because of this, an overnight mail delivery service is probably the best way to help ensure your application is received by the 5 p.m., Feb. 16 due date, says Judi Tutorow, wildlife licensing coordinator for the DWR.

In addition to arriving on time, applications must be completed correctly. Tutorow encourages you to take your time when completing your application. Please call the nearest DWR office, or the Utah Wildlife Administrative Services office at 1-800-221-0659, if you have questions or need assistance.

The Utah Wildlife Administrative Services office is open 24 hours a day, seven days a week. DWR offices are open from 8 a.m. to 5 p.m., Mondays through Fridays.

Hunt Numbers

Hunters listing the wrong hunt number is a mistake Tutorow sees every year.

"The number for your favorite hunt may have changed from last year," she says. "Before entering your hunt number, double check and make sure the number you're listing on your application is the correct number for the hunt you want to apply for."

Hunt numbers are listed on pages 34 - 45 of the 2007 Utah Big Game Proclamation.

OGDEN NATURE CENTER ANNOUNCES 2007 BOARD OF DIRECTORS

The Ogden Nature Center is pleased to announce the appointment of seven new members to their Board of Directors. The new appointees represent the community with broad backgrounds and expertise in natural history, marketing, education and finance. New members include:

Ann Walters, McKay Dee Hospital

Bruce Dursteler, retired from Weber School District

Curt Singleton, retired from USAF, active Audubon member

John Cavitt, Associate Professor of Zoology at Weber State University

Kristine Simsich, Owner, ClayBird Marketing

Kent Jorgenson, Regional Marketing Specialist for Utah Transit Authority

Steve Rush, Pacificorps

The new executive committee includes Chair Adam Kozlowski, from the Division of Wildlife Resources; Secretary Bill Rembacz, retired; Treasurer Mike Jorgenson, retired; and Past Chair, Kim Wheatley of Option Technologies.

Ongoing board members include Amy Wicks (ex-officio), Caitlin Gochnour, Colleen Letendre, Jay Lowder (ex-officio), Lee Shirley, Nicole Okazaki, Russ Rogler, Sara Ewert, Steve Waldrip, Susie Hulet, Richard White, Yaeko Bryner
and Mary McKinley, Director of the Ogden Nature Center.

The 24-member board guides the mission, policies and finances of the Ogden Nature Center. The Ogden Nature Center's mission is to unite people with nature and nurture appreciation and stewardship of the environment. We are
located at 966 W. 12th Street in Ogden.

Tourism Board Approves Co-op Marketing Request to Promote Park City Events
Salt Lake City Members of the Utah Board of Tourism Development have approved a $50,000 cooperative marketing proposal to promote Park City events to out-of-state visitors. The board held a conference call this afternoon to discuss the Special Opportunities request from the Utah Symphony & Opera, Park City Jazz Festival, Kimball Arts Center, and Park City Chamber and Visitors Bureau. The vote on the joint applications was six votes in favor of the request and one abstention.
Park City is known for its world class skiing, but this cooperative marketing project also gives Utah the opportunity to showcase the historic mountain community as a premier summer performing and visual arts destination, said Leigh von der Esch, managing director of the Utah Office of Tourism.
This campaign will encourage out-of-state visitors to attend the 2007 Deer Valley. Music Festival, Park City Jazz Festival, Park City Arts Festival, and create and reinforce the message that Park City, Utah is an arts destination, said Mary Edwards, marketing manager of the Utah Symphony & Opera in a cover letter to the board.
The campaign will include print advertising in the New York Times and Wall Street Journal festival editions, Sunset Magazine, Los Angeles and San Diego arts sections, in addition to Performances Magazine and radio ads and promotion on K-Mozart in southern California.
The non-profit entities must provide a local match for the state s cooperative marketing dollars. The tourism board also received a report on the Utah Office of Tourism s negotiated media buy for the spring/summer season.
Removing Youth Hunting Barriers in Utah
01/31/2007
SALT LAKE CITY, Utah -- Legislation to remove youth hunting barriers has been introduced in the Utah state legislature.
House Bill 67 lowers the age that young people are allowed to hunt big game from 14 to 12. A licensed adult at least 21 years of age must accompany the young hunter. HB 67 has passed the House and is currently awaiting a vote on the Senate floor.
Reducing and eliminating age and other barriers that prevent people from hunting is a major component of Families Afield. Using data from the Youth Hunting Report, the National Wild Turkey Federation, the U.S. Sportsmen's Alliance and the National Shooting Sports Foundation joined forces to create the Families Afield initiative.
Last year, Utah removed the minimum age to hunt small game and upland game, including wild turkey. Hunters under the age of 12 have to complete the state's entire hunter education course before they can obtain a license and be accompanied by an adult age 21 or older while afield.
The Youth Hunting Report, written by Silvertip Productions, USSA and Southwick Associates Inc., found that some states experience better recruitment and retention of new hunters than others. They do so by permitting parents to decide when their sons and daughters are ready to hunt, and allow potential hunters to try hunting under the watchful eye of a mentor before completing a hunter education course.
The Youth Hunting Report also shows youth hunters are the safest hunters in the woods when accompanied by an adult. The findings were peer reviewed for statistical validity by the Triad Research Group. For more information on hunting safety data and the Youth Hunting Report, log onto http://www.familiesafield.org .
"Allowing young people to safely experience hunting with a mentor is the best way to make them appreciative of the hunting tradition," said Rob Keck, NWTF CEO. "Getting them interested in hunting at an early age will not only prepare them for hunter education courses, but lays the foundation for being good conservationists."
To date, Families Afield legislation and regulations have been approved in 12 states. Two of those states, Michigan and Ohio, established apprentice hunting programs. First-year results appear extremely promising. More than 18,000 apprentice licenses were sold in Michigan, plus nearly 10,000 in Ohio, during 2006. These 28,000 new hunters suggest a 26 percent jump in the two states' combined population of hunters age 15 and under.
The 12 states have changed laws and regulations to create additional hunting opportunities for youth and novice hunters are:
Florida
Illinois
Kansas
Kentucky
Louisiana
Michigan
Minnesota
Mississippi
Ohio
Pennsylvania
Tennessee
Utah
For more information about Families Afield or the NWTF, call (800) THE-NWTF
NPAA and RBFF Announce Anglers' Legacy Partnership
Alexandria Va. (February 1, 2007) - The Recreational Boating and Fishing Foundation (RBFF) and the National Professional Anglers Association (NPAA) today are announcing a new partnership to promote the Anglers' Legacy program. The partnership, which was formed at the 2007 NPAA Annual Meeting in Dubuque, IA in January, outlines NPAA's commitment to adopt Anglers' Legacy messaging and promote the program throughout their various efforts.

Anglers' Legacy was launched in July 2006 and targets the country's estimated 7.5 million most avid anglers. The program asks avid anglers to share their passion for fishing and help grow the sport by "Taking the Pledge" at AnglersLegacy.org and promising to take one new person fishing each year.

"One of the main reasons that professional and tournament anglers are NPAA members is for the opportunity to put something back into the sport of fishing," said NPAA President Tommy Skarlis. "By taking and fulfilling the Anglers Legacy Pledge and helping to spread the core messages of Anglers' Legacy, every NPAA member will be able to give and invariably re-receive the special gift of fishing."

In addition to their commitment to help spread the word, NPAA plans to make the simple and powerful Anglers' Legacy message a focal point for upcoming NPAA events. This will include onsite angler recruitment activities at the final day of the four regular season FLW Walleye Tour events.

"The opportunities placed before the NPAA by the Angler's Legacy program are incredible," said NPAA Secretary Johnnie Candle. "Angler recruitment has always been a focus of the NPAA, but one with little direction. By combining the efforts of the NPAA and the RBFF, huge strides will be made not only in exposing people to fishing, but in angler retention. Without angler retention, the efforts mean nothing."

About NPAA

The NPAA is a non-profit organization of professional anglers that promotes and educates its members. As one of the largest professional anglers associations in North America with membership open to professional anglers and aspiring pros regardless of sponsor or tournament circuit affiliation, NPAA provides a valuable platform for anglers to become involved in the issues regarding the sport of competitive angling and the fishing industry in general. The NPAA has two main goals: (1) To increase the professionalism of our members, and (2) To grow the sport of fishing and the industry as a whole.

For more information visit http://www.NPAA.net .

About RBFF

RBFF is a nonprofit organization established in 1998 to increase participation in recreational angling and boating, thereby increasing public awareness and appreciation of the need for protecting, conserving and restoring America's aquatic natural resources. Recreational boating and fishing are America's favorite sporting activities, with more than 50 million people participating every year--more than golf and tennis combined.

For more information about the Anglers' Legacy initiative visit http://www.AnglersLegacy.org or contact RBFF Public Relations Manager Dave Landahl at dlandahl@rbff.org or 703-519-0013 ext. 107.
UFOP, Great Basin Chapter News
Utah Friends of Paleontology Chapter Meeting
Thursday, February 8th 7:00 pm
Department of Natural Resources Auditorium
1594 W. North Temple, Salt Lake City, Utah
Speaker: Eric Lund,
Utah Museum of Natural History
The Softer Side of Preparation: Dealing With Nonmineralized Soft Tissues.
Upcoming meetings, lectures, and other events:
Wednesday, January 31, 2007: Frontiers of Science Lecture - Matthew P. Golumbek, NASA Jet Propulsion Laboratories. "Mars Exploration Results: Climate Change from Wet to Dry". Lecture begins 7:30 p.m. in the Aline Wilmot Skaggs Biology building, University of Utah campus and is free and open to the public.
February 17-18, 2007: Western Association of Vertebrate Paleontology (WAVP) Meeting, San Diego Natural History Museum, San Diego California. Contact Ian Brown at ibrowne@sdnhm.org for more information.
Wednesday, February 28, 2007, 7:00 pm: E.O. Wilson - The Future of Life
Utah Museum of Natural History Keynote Lecture for the Nature of Things, a lecture series presented in partnership with the Nature Conservancy at Kingsbury Hall on the University of Utah Campus. Dr. Edward O. Wilson is the Pellegrino Research Professor in Entomology for the Department of Organismic and Evolutionary Biology, Harvard University. Tickets are available for $10 at the Kingsbury Hall Box Office: 801.581.7100 and at www.kingsburyhall.org.
Thursday, March 8, 2007: UFOP, GBC Meeting. Speaker: Ralph Chapman, Idaho State University
Thursday, April 12, 2007: UFOP, GBC Meeting. Speaker: Lindsay Zanno, Utah Museum of Natural History
April 20-23, 2007: The 21st Annual Desert Symposium. Theme - "Tracks through Time: An Ichnologic Odyssey along Interstate 15" at California State University's Desert Studies Center at Zzyzx, on the shores of Soda Lake south of Interstate 15 between Barstow and Baker, California.
May 7-9, 2007: Geological Society of America Rocky Mountain Section Meeting,
St. George, Utah. See the GSA web site for details: http://www.geosociety.org/sectdiv/rockymtn/07rmmtg.htm
Thursday, May 10, 2007: UFOP, GBC Meeting
May 17-20, 2007: UFOP Annual Meeting/Dinosaurs of Utah Symposium, Green River, Utah. Hosted by the UFOP Castle Valley "Raptor" Chapter, Price, Utah
When: February 14, 2007
Where: Peery's Egyptian Theater & David Eccles Conference Center
Time: Dinner @ 6:30pm - Movie @ 8;00pm
Cost: All inclusive: $39.95 per person; movie only: $5
The Perfect Valentines Date
On February 14, 2007, Peery's Egyptian Theater and the David Eccles Conference Center will host the perfect Valentines date. The evening will begin at 6:30pm with an elegant four-course dinner - held in the Ogden Eccles Conference Center's Ballroom - prepared by the Conference Center's award-winning chef. The menu will be as follows:
Salad
Chef's Valentine Salad
Served with fresh rolls
Intermezzo
Chefs choice sorbet
Entree
Dinner - Combo Plate:
Tender Beef Medallions
Halibut En-Crute
Garlic Mashed Potatoes
Fresh Medley of Vegetables
Dessert
Dulce De Leche Cheesecake
Immediately following dinner, guests will enjoy a brief stroll into Peery's spectacular Egyptian Theater to finish the evening with one of the greatest romance classics of all time, "The African Queen" staring Katharine Hepburn & Humphrey Bogart. Movie begins at 8:00pm.
Prices are $39.95 per person, all inclusive, and a movie only price of $5.
Tickets are available at the Peery's Egyptian Theater Box Office (801) 395-3227 and online at www.peerysegyptiantheater.com
News from the Utah Rivers Council!

There are many fun and new opportunities to get involved at the Council, beginning with our River Roundup briefing on February 7 followed by the (rescheduled!) Advocacy Writing Training. Remember that New Year's resolution to get more involved in your community? It is February - don't let that resolution slip another day! Get out of the cold snow and come join us at one of these warm, in-door activities to help protect our rivers. Read on for details.

Happenings at the Council:

o River Roundup: Wednesday, February 7, 5:30-7:30. Are you looking for a way to get involved at the Council? Do you want to know more about key issues regarding the future of our rivers? Utah Rivers Council recently implemented a monthly way to do just that. The first Wednesday of every month the Council will host River Roundup, a two-in-one opportunity to volunteer at the Council and get a special insider briefing on current river issues - this month's briefing will provide an inside look at river legislation. Please RSVP to Chantal at 486-4776 or chantal@utahrivers.org . See you then!
o Rescheduled! Make your voice heard at the Capitol: Write a letter to your legislators to let them know how the decisions that they make affect you! Writing letters to elected officials about the issues that face Utah's rivers allow you to argue for action and remind elected officials that they represent the people. Join the Council for our Advocacy Letter Writing training on Thursday, February 15 at 6:00 p.m. Space is limited to 10 people. RSVP to Chantal at 801-486-4776 or chantal@utahrivers.org now.

o State Facilities Water Conservation Program - The Council is backing a bill that would create a State Facility Water Conservation Program. This bill is being sponsored by Representative Larry Wiley. This bill will ensure that the State practice water conservation at State facilities, thereby setting an example for the citizens of Utah to follow. Through this program the State will do its part to help Utah meet its water conservation goal of reducing municipal and industrial per capita water use by 25 percent by the year 2050. To view a bill summary visit: http://www.utahrivers.org/home/content/view/30/143/

o Be informed about 2007 legislation that will affect Utah's aquatic resources! In order to provide a legislative reference for our members, the general public, and legislators voting in the upcoming session, the Council has developed the River Outlook: 2007 Legislation. The Outlook lists and reviews the 2007 bills that will affect how water is managed in Utah. You will find summaries of such proposed legislation as the State Facility Water Conservation Program, In-stream Flow to Protect Trout Habitat, and the Land & Water Reinvestment Act (Severance Tax Amendments). The Outlook will give you the main points of proposed legislation, links to bill language, and how that legislation will affect Utah's rivers and streams. Find it at the Council's web site: http://www.utahrivers.org or for more information, call Amy Defreese at 801-486-4776. Voice your position on the legislation by contacting your Senate and House representative. Check http://www.le.state.ut.us/maps/amap.html to determine who represents you and how to contact those individuals.

News/Events:
o Two bills aim to cripple local government authority to manage land. Representative Mike Morley of Springville and Senator Sheldon Killpack of Davis County have introduced two bills that restrict the ability of local government to manage their own lands. House Bill 233 (Environmentally Restricted Zoning Districts) attempts to tell counties or municipalities that land use applications for environmentally restricted zoning districts are in essence exempt from the zoning rules designated for these environmentally sensitive lands. Read the language for this bill yourself at http://www.le.state.ut.us/~2007/bills/hbillint/hb0233.htm .

o Senate Bill 183 (Restrictions on Designation of Wetlands) prohibits counties and municipalities from designating or treating land as wetlands unless the land has been designated as wetlands by an agency of the federal government. Again, this legislation tells local entities that they cannot manage their lands as they see fit. It also places undue burden on cities to hire wetland consultants to conduct wetland delineations for submittal to the Corps. Corps designated wetland maps do not exist for the state, delineation verifications are conducted on a project by project basis. Therefore, the process described in this legislation results in direct, measurable costs for local governments. The fiscal note for this bill neglects to consider these costs. For bill language for SB 183, reference http://www.le.state.ut.us/~2007/bills/sbillint/sb0183.htm .

o Mountain snow a no-show - The high-pressure weather system that has parked itself over Utah and the rest of the West for most of the winter is taking a toll on the state's snowpack. The most recent glimpse of snowpack totals in Utah's six major river basins paints a fairly grim picture. Read the article here: http://www.sltrib.com/ci_5082612

o Roadless areas in Utah safe for now! Utah is witnessing a temporary victory for National Forest roadless areas. Governor Huntsman targeted these National Forest Lands last year in an effort to remove Clinton-era roadless designations and open them to state management. Legal uncertainties underlie Huntsman's most recent decision to table a petition that would establish new management guidelines for Utah's nearly 4 million acres of inventoried roadless forest. Read the Salt Lake Tribune coverage at http://www.sltrib.com/news/ci_5117038 .

o Residents of Utah County file protests to keep water - More than 1,300 residents of Highland, Lehi, and Alpine have filed protests with the State Engineer's office over a proposal to pump water from Utah County and pipe it to residents of Salt Lake County. Jordan Valley Water Conservancy District and East Jordan Irrigation Company are applying to pump water from 6 wells located in Utah County and transfer the water to Salt Lake County. This same proposal had been filed and stopped previously. The next step in this latest round may involve public hearings, which will not take place for around six months. Read the article in the Daily Herald at: http://www.heraldextra.com/index.php?option=com_content&task=view&id=208281&

o Senate Panel OKs bill to allow instream flows to protect trout habitat - The Senate Natural Resources, Agriculture, and Environment Committee recently voted unanimously in favor of a bill that would allow nonprofit fishing groups to temporarily lease water rights to provide instream flows in order to protect trout habitat. Current Utah water law only allows the Division of Wildlife Resources and Division of Parks and Recreation to hold instream flows. This bill would expand that to nonprofit fishing groups, who would be able to lease water rights for ten years. This bill will now go to a vote on the Senate floor and if passed to the House. Read the article at: http://deseretnews.com/dn/view/1%2C1249%2C650225825%2C00.html

o Mercury threat spreads across Utah - Initial tests reveal that mercury levels in fish exceed federally acceptable levels in 14 areas of the state. State officials stress that these are still based on their initial tests and that more research is needed to validate the findings. The Health Department is in the process of reviewing the data to determine if new fish advisories are required, limiting the amount of fish that should be eaten in a week. Several popular fishing areas were included in the hot spots, including Strawberry Reservoir, Deer Creek Reservoir, Bear Lake, and Scofield Reservoir. http://www.sltrib.com/ci_5091592?source=email

o County wading through water issues - Former Utah Rep. Evan Olsen will be wading through Cache County's water issues, and officials are hoping the experienced lawmaker can facilitate consensus on a water management entity. The terms of Olsen's recently-finalized contract with the county were released to The Herald Journal on Friday. For more of this story: http://hjnews.townnews.com/articles/2007/01/29/news/news04.txt