A Letter from the Utah Shared Access Alliance about Proposed ATV Laws
Dear Friends,
PLEASE READ AND ACT NOW!
We have a very important action alert item and we REALLY need your immediate action on this! Failure to heed our warning will cause the OHV community some serious heartburn!
Tomorrow at 3:00 p.m. on Utah's Capitol Hill a house transportation committee will be reviewing a bill that will dramatically change the way you and I are allowed to use OHV's on public land.
The bill is numbered as HB 355
Here are the details:
The bill will require adults to be in direct supervision of children AND at a distance of no more than 300 feet; and within which: visual contact is maintained; and advice and assistance can be given and received. Can you imagine how this would affect your next deer hunt? Keep the kids close, not over the hill or through a stand of trees; Or your next motocross race; are you going to ride along side your kids as they race? Or when your kids ride with your other kids, or the regular family outings many of us participate in; HOW WILL THIS AFFECT YOU? How will this affect rural Utah communities were responsible kids and adults use OHV's on a daily basis? This could change rural life in a bad way. And in case you were wondering SNOWMOBILES do apply! Any person found guilty of this will be given a class "C" misdemeanor.
Wait that's not all…
If you are in an accident with another person OF ANY KIND you MUST contact the nearest law enforcement agency ASAP. That means if you have a little fender bender with another person, no matter the cost of the repair, you must immediately or as soon as possible call and report the accident to the local law enforcement! How much will that cost agencies and tax payers to administrate? How will that affect your riding experience? How will that affect your next race? Are we going to stop a motocross race and report a pile up?!
You must also report accidents if:
injury requiring medical attention or death of any person; While we understand some of this why aren't they asking for similar reporting requirements from mountain bikers, horse back riders, kids on trampolines, etc… this is discriminatory, and there are better ways to glean this data.
property damage to the operator's property in excess of $1,000; What damage to your OHV wouldn't be under $1,000
property damage of any kind to the property of another. Again if you are in an accident and scratch your buddy's fender are you going to report it? No, but why should you be told you must and if you don't you are turned into a criminal?

Failure to give notice as required by this section is a class B misdemeanor. This is outrageous, stiffer jail times, steeper fines and oh yeah they can take away your regular drivers license. Doesn't this give you a warm fuzzy feeling?
And last but not least:
If you own an OHV and you allow a minor to use it you are liable for any damages caused by the negligence of the operator if that operator is under 18. We can see some wisdom in this, but not in the other terms of this bill.
Simply put this bill stinks. It is discriminatory, it will be difficult and costly to enforce and administrate and creates as many problems as it attempts to solve.
The OHV community was not consulted prior to its release, and the problems in the bill reflect that. We recognize there are issues that HB 355 attempts to address and are worthy of discussion. We would ask that the legislature hold off on this attempt until, law enforcement, State agencies, and the OHV community can collaboratively address the problems and if needed put a bill forward that actually works.
Here is a link to the actual bill http://www.le.state.ut.us/~2006/bills/hbillint/hb0355.htm
What you MUST do…
If you will do this we WILL make a difference so PLEASE HELP.
Here is a list of all the committee members and their contact info. PLEASE call them especially if they are your representative! Not sure of your district go here http://www.le.state.ut.us/house/DistrictInfo/newMaps/State.htm ; even if they aren't your rep let they and your rep know your concerns!
YOU MUST ACT before the committee meets at 3:00 pm Friday Feb 10. PLACE: Room W135, West Office Building, State Capitol Complex
Rep. Joseph G. Murray, Chair
Email: jmurray@utah.gov
Address: 1030 PEACH DR, OGDEN, UT 84404
Home Phone: 801-393-7062
Rep. J. Stuart Adams, Vice Chair
Email: stuartadams@utah.gov
Address: 3271 E 1875 N, LAYTON, UT 84040
Home Phone: 801-544-7676 Work Phone: 801-546-6000
Rep. Jeff Alexander
Email: jalexander@utah.gov
Address: 3127 PIUTE DR, PROVO, UT 84604
Home Phone: 801-375-1092 Work Phone: 801-224-8666
Rep. David Clark
Email: dclark@utah.gov
Address: 1831 RED MOUNTAIN, SANTA CLARA, UT 84765
Home Phone: 435-628-5108 Work Phone: 435-628-4479
Rep. Tim M. Cosgrove
Email: tcosgrove@utah.gov
Address: 477 E 6325 S, MURRAY, UT 84107
Home Phone: 801-685-0673
Rep. Bradley M. Daw
Email: bdaw@utah.gov
Address: 842 E 280 S, OREM, UT 84097
Home Phone: 801-226-5079 Work Phone: 801-434-7425
Rep. Brad L. Dee, BILL SPONSOR
Email: bdee@utah.gov
Address: 111 W 5600 S, OGDEN, UT 84405
Home Phone: 801-479-5495 Work Phone: 801-399-8623
Rep. John Dougall
Email: jdougall@utah.gov
Address: PO BOX 771, AMERICAN FORK, UT 84003
Home Phone: 801-492-1365 Work Phone: 801-492-1365
Rep. James A. Dunnigan
Email: jdunnigan@utah.gov
Address: 3105 W 5400 S SUITE 6, TAYLORSVILLE, UT 84118
Home Phone: 801-968-8594 Work Phone: 801-840-1800
Rep. Julie Fisher
Email: jfisher@utah.gov
Address: 865 S ORCHARD CT, FRUIT HEIGHTS, UT 84037
Home Phone: 801-544-3833
Rep. Kerry W. Gibson
Email: kwgibson@utah.gov
Address: 5454 W 1150 S, OGDEN, UT 84404
Home Phone: 801-731-8071 Work Phone: 801-731-7404
Rep. Brad King
Email: brad.king@ceu.edu
Address: 635 N 500 E, PRICE, UT 84501
Home Phone: 435-637-7955 Work Phone: 435-613-5246
Rep. Karen W. Morgan
Email: karenmorgan@utah.gov
Address: 8378 AUSTRIAN WAY, SALT LAKE CITY, UT 84121
Home Phone: 801-943-0067 Work Phone: 801-538-1029
Rep. Peggy Wallace
Email: pwallace@utah.gov
Address: 3297 W GREEN MESA WAY, WEST JORDAN, UT 84088
Home Phone: 801-233-9041 Work Phone: 801-965-3010
Rep. Larry B. Wiley
Email: lwiley@utah.gov
Address: 1450 W 3300 S, WEST VALLEY CITY, UT 84119
Home Phone: 801-487-8095 Work Phone: 801-535-6687
Shoshone Indian Ceremony at Farmington Bay Learning Center Dedication

A Shoshone Indian will bless the ground for the Learning Center at Farmington Bay Waterfowl Management Area (WMA) as a bald eagle and a golden eagle look on during festivities held Feb. 11 at the refuge.

Feb. 11 is the annual Bald Eagle Day activity at Farmington Bay. Hundreds of people are expected to visit the WMA on Feb. 11 to view bald eagles that are visiting Utah right now. About 200 bald eagles were at the WMA during Bald Eagle Day last year.

* At 10 a.m. that morning, a special activity will be held:

- The EnergySolutions Environmental Foundation will make a $150,000 donation to the Great Salt Lake Nature Center at Farmington Bay (the nature center is a place where school children can learn more about the Great Salt Lake).

- Karla Conway, the wife of former Division of Wildlife Resources Director Kevin Conway, will also make an announcement about a new wildlife award in Utah that honors her husband, who passed away in 2004 after a valiant battle with cancer. Karla will also present the first check to go towards the student scholarship portion of the Kevin Conway Award.

* A Shoshone Indian will perform a traditional blessing ceremony at the site as a bald and a golden eagle from Utah's Hogle Zoo look on *

WHAT: A special activity held at the Farmington Bay WMA as part of this year's Bald Eagle Day.

WHEN: Saturday, Feb. 11.

The special program will begin at 10 a.m. It should conclude at about 10:30 a.m.

WHERE: At the Farmington Bay WMA, west of Centerville.

To reach the WMA, travel north on I-15 and exit the freeway at the Centerville exit (Exit 319). Turn right off the off-ramp, then turn left on the frontage road and travel north to Glover Lane. Turn left (west) on Glover Lane and drive two miles to the WMA's north entrance (1325 W.).

The 10 a.m. ceremony will be held on top of the Goose Egg Island part of the WMA.

Estimated drive time from Salt Lake City is about 30 minutes.

Kevin Conway Award Honors Those Who Are Helping Wildlife

Groups and individuals across Utah are working hard to make the state a better place for wildlife.

For years, many of their efforts have gone unnoticed, but that's about to change. Starting in 2006, one of them will be recognized with a statewide award.

The Kevin Conway Award will be given to the organization or individual that has done an exceptional job of improving places in Utah where wildlife live or educating others about the state's wildlife resources.

The award is in honor of former Division of Wildlife Resources Director Kevin Conway, whose vision of improving habitat for wildlife in Utah has spread to groups and individuals across the state.

Conway passed away in 2004 after a valiant battle with cancer.

In addition to the award, a scholarship in Conway's name will be made available yearly to a wildlife management student at Utah State University, where Conway attended school.

Conway's wife, Karla, has already pledged the first $500 to the scholarship.

"We think this award will become the 'Heisman Trophy' for conservation work in Utah," says Bill Fenimore, policy advocate for the Utah Audubon Council. Fenimore spearheaded the idea for the award. "Once word gets out about the award, we're hoping it will spur organizations and individuals on to do even more to help the state's wildlife," he said.

Fenimore says everyone in Utah wins when there's more and better habitat for wildlife and when Utahns are taught to appreciate and help the state's wildlife.

"It doesn't matter if you're a hunter or an angler, if you're an avid bird watcher or someone who just enjoys seeing wildlife in your backyard," he said. "Everyone's quality of life is better when there's plenty of wildlife for everyone to enjoy. And I believe this award will help provide more wildlife for everyone. The award not only honors those who are doing so much to help wildlife, but it will encourage others to follow in their footsteps."

Fenimore says more than 60 groups have received letters informing them about the award. The diverse mailing list includes groups ranging from hunting and fishing organizations to water conservation districts. "All of these groups play an important role in helping wildlife in Utah," he said.

Fenimore says nominations for the award will be accepted over the next few months. DWR Director Jim Karpowitz will appoint a committee of people to narrow the list of nominations down. That narrowed list will then be taken to Mike Styler, executive director of the Department of Natural Resources, who will determine the final award winner.

The first Kevin Conway Award and scholarship should be presented in late 2006. The student who receives the scholarship can use it during the 2007 school year.

For more information about the award and the scholarship, contact Fenimore at (801) 525-8400 or birderb@aol.com

2002 OLYMPIC CAULDRON LIGHTING FEB. 10
In recognition of the XX Olympic Winter Games, which will be held Feb. 10 through 26, in Torino, Italy, Utah's own Olympic Cauldron will be lit during the evening hours on Feb. 10, 11 and 12 and will burn until 11 p.m. The University is extending a special invitation to the public to visit the Olympic Cauldron Park and the Salt Lake 2002 Visitors Center, located on the south end of the U's Rice-Eccles Stadium, 500 S. 1400 E. The Park will have extended hours, from 10 a.m. to 8 p.m. on Friday, Feb. 10, and Saturday, Feb. 11, and will be open from noon until 8 p.m. on Sunday, Feb. 12.

The lighting of the Olympic Cauldron on Friday, Feb. 10, will not include a formal ceremony as it is scheduled to correspond with the lighting of the flame at the end of the Opening Ceremonies in Torino. The Opening Ceremonies are scheduled to begin at 8 p.m. in Torino, which is 12 p.m. Mountain Standard Time (MST). Although the exact time of the lighting is not known, it is anticipated that it will be at approximately 2 p.m. MST.

A pin trading event, free and open to the public, will take place on Friday, Feb. 10, from noon until 8 p.m., in the Visitors Center. Members of the community are encouraged to bring and exchange pins.

Admission to the Park is free. In recognition of this anniversary occasion, admission to the Salt Lake 2002 Theater will also be free Feb. 10 through 12. The public is invited to view the Hoberman Arch and the cauldron, designed by Mark Fuller, University graduate and CEO of WET Design. In the Visitors Center, guests will enjoy murals, photographic exhibits, video footage and a short, commemorative film, which features highlights from the Salt Lake 2002 Olympic Winter Games.

For more information, please visit http://www.saltlake2002.com/main.html .
Make a Difference and Help the Division of Wildlife Resources
Provided is a letter from Bill Fennimore, with the Wild Bird Center with information as to how you can help limit the increasing hunting and fishing license fees. Send a similar letter (or cut and paste the letter below) to the following addresses before Wednesday to make a difference.
Greetings Wildlife Enthusiasts:
I attended the Natural Resources legislative subcommittee meeting today. They passed a recommendation to the Executive Appropriations Committee to use $3.7 Million from the General Fund for DWR this year and as "ongoing" money.
I sent the following letter to each of the Executive Appropriations members. Below the letter is the e-mail address of each committee member. Please send them your own e-mail or personal letter endorsing this use of general fund money for DWR. It is of the utmost importance that we make this request.
Thank you for caring and taking time to write.
Dear Executive Appropriations Committee Member:
The Utah Division of Wildlife Resources (DWR) has a budget shortfall of $3.7 million dollars. DWR is projecting a shortfall in the coming budget year. Their remedy to alleviate budget shortfalls is raising license fees. DWR receives 6% of its budget from the General Fund and the balance from hunting and angling license sales.
Why the shortfall? Hunting and angling license sales are down 20% over the last five years, 2001-2005 (Source: DWR Natural Resources Appropriations Subcommittee Briefing January 30, 2006).
It is not appropriate to raise license fees to further burden those hunters and anglers who have not dropped out, especially when there is a budget surplus exceeding $1 Billion dollars. Furthermore, there is a growing segment of the Utah population (806,000), a Watchable Wildlife nonconsumptive constituency whose needs are not being met satisfactorily. Yet they spend substantial money enjoying their wildlife interests.
The current expenditure and size for each of these groups follows:
Utah 2001 Statistics:
· 517,000 Anglers Spent $393 million
· 198,000 Hunters Spent $292 million
· 806,000 Watchable Wildlife Spent $556 million (sales tax from Wildlife Watchers expenditures go into the General Fund, not DWR)
(Source: USFWS 2001 National Survey of Fishing, Hunting, and Wildlife-Associated recreation.)
Hunters, Anglers and Wildlife Watchers share common ground and goals: love of outdoors and wildlife, a desire to protect wildlife habitat.
The Executive Appropriations Committee is asked to create an appropriation from the General Fund of $3.7 million that will cover the current shortfall, as well as ongoing general fund money that will adequately and appropriately fund DWR to fulfill its mission in future years.
Considering the number of nonconsumptive Wildlife Watchers (806,000, spending $556 million) whose sales taxes go into the General fund, it is appropriate to use additional general fund money in DWR budgets. A recent study of Wildlife Value Orientations in Utah revealed that 35% of the population believes that DWR is currently funded by revenue from hunting and angling license sales, as well as public taxes. It also showed that 63% of the population desired this formula to be the future approach for funding DWR (source: Dana Dolsen, DWR Wildlife Value Orientations in Utah 2005).
The Utah Audubon Council and Society chapters, as well as Utah Nonconsumptive Wildlife Watchers ask that you support this request.
Sincerely yours,
Bill Fenimore
Utah Audubon Policy Advocate
Below are the members of the Executive Appropriations committee.
Sen. Lyle Hillyard Cache Co. lhillyard@utahsenate.org Co Chair
Sen. Curtis Bramble Provo cbramble@utahsenate.org Vice Chair
Sen. Gene Davis Salt Lake gdavis@utahsenate.org
Sen. Mike Dmitrich Carbon, etc., Cos mdmitrich@utahsenate.org
Sen. Dan Eastman Davis Co. deastman@utahsenate.org
Sen. Beverly Ann Evans Duschene, etc. Cos bevans@utahsenate.org
Sen. Karen Hale Salt Lake khale@utahsenate.org
Sen. Peter Knudson B.E., Cache, Tooele pknudson@utahsenate.org
Sen Ed Mayne West Valley emayne@utahsenate.org
Sen John Valentine Utah Co. jvalentine@utahsenate.org

Rep. Ron Bigelow West Valley ronbigelow@utah.gov Co Chair
Rep. David Clark Wa. Co., Santa Clara dclark@utah.gov Vice Chair
Rep. Jeff Alexander Provo jalexander@utah.gov
Rep. Ralph Becker S.L. Co., Cent. SLC rbecker@utah.gov
Rep. Greg Curtis S.L. Co., Cottonwood gcurtis@utah.gov
Rep. Ben Ferry Box Elder, Cache bcferry@utah.gov
Rep. Patricia Jones S.L. Co., Holladay patjones@utah.gov
Rep. Brad King Carbon, Emery, King brad.king@ceu.edu
Rep. Rosalind McGee S.L. Co., E. Bench rozmcgee@xmission.com
Rep. Stephen Urqurhart Wa. Co., St George surquhart@utah.gov
Regards,
Bill Fenimore
Wild Bird Center
Utah Audubon Policy Advocate
1860 North 1000 West
Layton UT 84041-1858
(801) 525-8400 Store
http://www.wildbird.com/layton
CELEBRATE THE 2006 OLYMPIC WINTER GAMES AT THE UTAH OLYMPIC OVAL
The Utah Olympic Oval will host an Olympic Celebration to coincide with the 2006 Olympic Winter Games in Torino, Italy. Big screen TV's will show NBC's coverage of the Games inside the Olympic venue.
Discounted Public Skating will be offered every day of the Olympics (Friday, February 10 through Sunday, February 26). Skating admission is just $3 per person and skate rental is only one dollar during the Olympics.
Public Skating Schedule:
Fridays (February 10th, 17th, 24th): 7-10PM
Saturdays (February 11th, 18th, 25th): 1-3PM, 4-6PM and 7-10PM
Sundays (February 12th, 19th, 26th): 4-6PM
Monday - Thursday (February 13th - 16th and 20th-23rd): 7-9PM
Admission is free for TV viewing. Let's get the "USA, USA, USA" chant roaring once again as our competitors take to the ice in Torino! Every time a U.S. Speedskater wins a medal you're a winner too as a public skater at the Utah Olympic Oval. Your wristband to skate will serve as your ticket.
Don't miss your chance relive the excitement of the 2002 Olympic Winter Games at the Utah Olympic Oval this February 10 through 26.
The Utah Olympic Oval is located at 5662 South Cougar Lane (4800 West) in Kearns.
Please call (801) 968-OVAL or visit our website at http://www.olyparks.com for more information.
RECORDS FALL AT SOLDIER HOLLOW
On Saturday, January 28, record numbers of skiers and racers took to the tracks at Soldier Hollow as part of the final weekend of Heber Valley's Winterfest and the statewide Utah Winter Games.
When the dust (or make that snow flakes) settled, over 1,040 skiers enjoyed the day at Soldier Hollow, by far the largest skier visit day in Soldier Hollow's history. Locals who have skied many years in Utah are certain that this was the biggest cross country skiing day ever in Utah.
Of the skiers at Soldier Hollow on Saturday, 585 were racers, also a record for numbers of racers on one day at Soldier Hollow (and probably Utah). The vast majority of that number were junior racers from around the western U.S., as well as from local junior programs from Salt Lake, Ogden, Park City, and Heber Valley.
For more information please contact Howard Peterson at (435) 654-2002.
UTAH MUSEUM OF NATURAL HISTORY TO UNVEIL NEW LOBBY EXHIBIT AT SPANISH FORK ZIONS BANK
Spanish Fork, Utah, February 9, 2006 - The Utah Museum of Natural History at the University of Utah in partnership with Zions First National Bank is set to open a new lobby exhibit-Traveling Treasures: The Nature of Pattern at the bank's Spanish Fork office (190 N. Main St.) The kick-off event will be Tuesday, February 21, from 9 a.m. to 2 p.m. and will involve more than 100 school children from Brockbank Elementary. The four-case exhibit of 20 different objects will travel the state to a different Zions branch each month in the following locations: North Salt Lake, Smithfield, Ogden, Moab, Castle Dale, Price, American Fork, Hurricane, Salina, and Draper.
As Utah's oldest community bank, Zions is proud to sponsor and host the new Traveling Treasures exhibit because it brings to mind some of the natural wonders our surroundings have to offer to each of us. It reminds us to stop, take a moment, and enjoy," said Scott Anderson, Zions Bank president and CEO.
The new exhibit features artifacts from the Museum's collections that spotlight intricate and delicate patterns that happen in natural forms. For centuries scientists have marveled at the beauty of these patterns and have searched for their mathematical expressions and have found examples in the geometry of crystal systems, the curve of a nautilus shell, and the sequential branching of leaves on a stem. Artists and architects also have looked to the patterns of nature in pursuit of ideal proportions and how to duplicate them in their work.
These natural patterns can best be explained by understanding how mathematical expression and ideal proportion come together to form the golden mean: a ratio of 1 to 1.618. For example, a rectangle based on these proportions--a golden rectangle--can be enlarged or reduced indefinitely, without altering its shape. This concept can best be explained by looking at the three varying sizes of the Nautilus shells on exhibit. Though there are large, medium and small versions, each shell is the exact same shape. When a line is drawn through the successively smaller squares that occur within a golden rectangle, a logarithmic spiral emerges as depicted in the exhibit example of the split Nautilus.
"The theme of this traveling exhibit is one that makes everyone take a closer look at the objects and it is one that everyone can relate to," said Museum Exhibits Director Becky Menlove. "The golden mean remains an intriguing proportion into the 21st century because it is one that we encounter so often in nature. We hope this exhibit will encourage people to take note of some of nature's fascinating patterns around them."
To celebrate the February 21st exhibit kick-off event, the Museum's Entomologist Collection Manager Christy Bills will show for this one day only approximately 1,000 butterflies from the collection and talk with the students from Brockbank Elementary about the various patterns found on butterfly wings and the purposes they serve. The school children will participate in pattern related science activities provided by Museum education volunteers. Students will receive a Traveling Treasures passport, complete with their pictures, and will rotate through the following activity stations to:
· See 1,000 butterflies and learn how patterns help them to survive
· Look through microscopes at a variety of minerals to patterns at their best
· Make a plaster ammonite to understand to understand the "golden mean"
· Try their hand at weaving to create a pattern
· Play the Shell Identification game and learn their differences
The community partnership between Zions Bank and the Utah Museum of Natural History is approaching its 8th year, with the exhibit changing every two years. In addition, the Museum provides a free admission coupon to its current location on President Circle at the University of Utah that is mailed to Zions Bank customers throughout the state. The Nature of Pattern exhibit is free and open to the public.
"As the state's museum of natural history, Zions Bank affords the Museum a unique opportunity to bring some fascinating objects from the collections and travel them around the state for residents to see," said Museum Executive Director Sarah George. "We can't thank Zions enough for its on-going interest in the Museum and its desire to provide customers with quality experiences," said George.
U.S. SKI TEAM DAY AND PASS THE TORCH RACE AND TOUR AT SOLDIER HOLLOW
It's time to Pass the Torch on this, the first day of competition at the 2006 Olympic Winter Games in Torino, Italy. On February 11 there will be races for the racers, and tour with food and music for the tourers. We'll have a live update from the Olympics in Italy by U.S. Ski Team Nordic Director Luke Bodensteiner. Soldier Hollow will donate $1 from every trail pass sold to the U.S Ski Team. Be sure to join us.
Soldier Hollow is located in Midway, Utah at 2002 Olympic Drive. For more information on this event or other activities at Soldier Hollow please visit their website at http://www.soldierhollow.com or call 435.654.2002.
FEBRUARY - MARCH 2006 UPCOMING EVENTS AT OLYMPIC PARKS
Feb. 10, Skeleton Western Regional Championships, Utah Olympic Park
Feb. 10-11, FIS Freestyle Aerials NorAm, Utah Olympic Park
Feb. 10-26, 2006 Winter Olympic Games, Torino Italy
Feb. 25-26, Visa Winter Series #3, Utah Olympic Park
Feb. 28 - Mar. 5, Luge Junior Nationals, Utah Olympic Park
Mar. 3, Freestyle Intermountain Divisional Championships Big Air/Aerials, Utah Olympic Park
Mar. 3-4, Visa Winter Series #4, Utah Olympic Park
Mar. 8-11, Ski Jumping Nor Am Jr. Championships, Utah Olympic Park
Mar. 10-12, Champions Challenge, Utah Olympic Oval
Mar. 11, Freestyle Big Air/Aerials Competition, Utah Olympic Park
Mar. 11-18, Freestyle Junior Olympics, Utah Olympic Park
Mar. Junior Olympics, Soldier Hollow
SNOWBIRD, UTAH, LOCAL NICK GREENER CROWNED 2006 SUBARU U.S. FREESKIING CHAMPION
*Laura Ogden of Whistler, B.C. named women's champion
**Stacy Cash of Snowbird and Christian Boucher of Whistler, B.C., win Sickbird Awards
Snowbird, UT--The Ninth Annual Subaru U.S. Freeskiing Nationals concluded today, with 49 top competitors from around the world gunning for a $12,500 prize purse. The clouds that had settled in all week lifted for today's finals, leaving 35 men and 14 women to compete under clear skies and howling winds.
Champions were crowned on Snowbird's Tram Plaza deck, amid over 1,000 roaring fans and a live set by DJ Knuckles. Libby Bittner of Snowbird came from seventh place in the semi-finals to take third, behind Lynn Kennen of Alpine Meadows, CA, in second. A fired-up Laura Ogden of Whistler, B.C., was named 2006 Subaru U.S. Freeskiing Nationals Champion.
"It's so amazing," said Ogden. "I just picked a line that fit my style and tried to ski it as fast as possible. That's what the judges want to see, and fast is much more fun."
In men's competition, consistency was key, with final results being a cumulative score of one run in yesterday's semis and two runs in the finals. Christian Boucher of Whistler, B.C., who had skied the most aggressive lines of the day, was in the lead coming into the final run. However, Boucher went too hard and blew up on landing, leaving the door wide open. With clean, technical runs all weekend and a big, fast final line, local favorite Nick Greener claimed the 2006 championship.
"I'm really bummed that Christian [Boucher] fell," said Greener in a display of sportsmanship. "I wanted him to win. But of course, victory at my home mountain is incredible. I just skied how I always do here. Snowbird is an amazing training ground."
Although Boucher couldn't hold on to victory, his hard-charging approach earned him the coveted "Sickbird" award, which goes to the athletes who are pushing limits harder than anyone. Organizers also gave an unprecedented second Sickbird award to Stacy Cash of Snowbird, whose aggressive skiing left judges in awe.
"She skied so much faster than any other woman all weekend," said event organizer John "Dak" Williams. "We had to reward her." Unfortunately, Cash couldn't hold on to her speed, and lost a ski on her huge first jump in the finals.
Frenchmen Adrien Coirier of Les Arcs took second place, followed by Guerlain Chicherit of Tignes in third. Chicherit, who hadn't competed for two years, came out of nineteenth place in the semi-finals with a huge final run on an untouched part of the course.
"I chose a different line where no one had been," said Chicherit. "The landings were so soft, the snow was so good."
Updated Snowmobile Grooming Report
Please find below, Utah State Parks snowmobile grooming report for February 9:

Logan Canyon
Snowcat is being repaired.


February 5 - Swan Flat
February 4 - Amazon
February 4 - Beaver Creek
February 2 - Garden City
February 1 - Franklin Basin
February 1 - Tony Grove
January 29 - Sinks Trail
January 26 - Temple Canyon
January 26 - Cottonwood

Hardware Ranch
February 3 - Strawberry Valley to Hodges Canyon turnaround. February 2 - Hardware Ranch, Danish Dugway Gorge, Strawberry Valley to Elk Valley Guard Station, Mill Hollow, and Hells Canyon towards the Sinks.

Monte Cristo February 5 * Highway 39 to Woodruff, Ant Flat to Hardware Ranch
February 4 * Arb's Basin
February 3 * Highway 39 to McKinnon drift, Ant Flat to Hardware Ranch
February 2 * Curtis Creek Loop
February 1 * Arbs Basin, Ant Flat to Hardware Ranch
January 30 * Arbs Basin and Wasatch Ridge

Wasatch Mountain
Snowcat is being repaired.

January 17 - Snake Creek Canyon
January 17 - Cummings Parkway to Cascade Springs
January 17 - Pole Line Pass in American Fork Canyon
January 16 - Alpine Loop, Aspen grove, and Pine Hollow
January 15 - Cascade Springs Road at Soldier Hollow
January 14 - American Fork Canyon
January 11 - Pine Canyon


Mirror Lake / Mill Hollow
No new report.

Bear River Service to Whitney
No new report.

Uintah Basin
January 27 - Highway 191 to East Park; Trout Creek to gate below the Leidy Peak area; Red Cloud Loop through Iron Springs.

Scofield/ Joe's Valley/ Skyline Drive
February 8 - Joe's Valley
February 8 - Miller's Flat
February 6 - North Skyline
February 6 - Fish Creek Ridge
February 6 - Tucker/Starvation/Pondtown
February 3 - White River

Mt. Nebo
February 1 * Mt. Nebo Trail

Ephraim/Manti/12-Mile
February 5 - Manti Canyon
February 3 - 12-Mile
February 2 - Ephriam Canyon

Fish Lake
February 3 - all designated Beaver Mountain snowmobile trails
February 2- Sandledges to Cold Springs
February 1 - Koosharem to the Koosharem Guard Station; Monroe Peak to Monrovian Park; Cove Mountain from Koosharem Guard Station to Big Lake.
January 31 - Fishlake and Mount Terrill

Cedar Mountain/ East Fork
January 28 - Midway/Sage Valley/Navajo Lake trailhead/Duck Creek Ridge
January 27 - Midway/Sage Valley/Navajo Lake trailhead/Duck Creek Ridge/Lar's Fork/Strawberry Point/Strawberry Valley
January 26 - Midway/Cedar Breaks/Brian Head/Sage Valley/Dry Camp turnoff

Strawberry Valley
February 6 - Coop Creek to Lake Creek Trail head and back down Strawberry River
February 5 - Mud Creek/Clyde Creek and into Strawberry Marina
February 4 - Strawberry River to Lake Creek Summit, then back down through Coop
February 3 - Coop Creek to Lake Creek Summit and back down Strawberry River


IRON MISSION MUSEUM CURATOR RECEIVES AWARD
Cedar City -- Ryan Paul, museum curator at Iron Mission State Park Museum, received a Utah Humanities Council Humanities Award for his Road Scholar Program Traveling the Painted Canyons: The Utah Parks Company - Its People and Programs 1923-1970. Humanities Awards are given to a limited number of projects each year.

SIGN YOUR NAME AND HELP ENDANGERED ANIMALS!
You can protect endangered animals in the wild by taking a minute to support an important initiative. Utah's Hogle Zoo, along with the other 209 zoos and aquariums accredited by the American Zoo and Aquarium Association, are seeking public support for a petition asking Congress to increase the funds it allocates to protect wildlife in their native lands. You can sign the petition, now, online at http://www.hoglezoo.org . Click on the "Two Million for $2 Million" link and follow the directions to have your voice heard. Or you can visit Hogle Zoo and sign the petition in the Wild Zootique Gift Shop.
Signatures gathered now through February 28, will be presented to Congress in March during the AZA Legislative Meeting in Washington D.C. Your name and other information will support this petition asking Congress to provide $2 million for each of the wildlife species covered under the Multinational Species Conservation Fund.
AZA and its institutions are asking Congress for $2 million to annually fund conservation and research programs that protect wildlife species that you care about: tigers, great apes, Asian and African elephants, marine turtles and rhinos. These animals face tremendous danger in the wild from poaching, habitat loss, human-animal conflict and many other serious problems. The funding we're seeking will help protect them through the federal Multinational Species Conservation Fund, which has a 14-year track record of making a difference to protect wild animals.
The Multinational Species Conservation Funds are administered by the U.S. Fish and Wildlife Service. The funds have a proven record of successful wildlife conservation over the past 14 years, concentrating on wildlife species that you care about and want to protect, and that face enormous risks to their survival.
The funds are used for programs such as:
§ Fighting disease in great apes in Africa
§ Maintaining or increasing key populations of elephants in Asia and Africa; rhinos in Southern Africa, Indonesia and India; tigers in Russia and great apes in Africa
§ Providing anti-poaching protection for rhinos in Sumatra
§ Funding a domestic elephant chase squad to ward off wild elephants from farmers' fields in India, thus reducing human-elephant conflict.
NEW WINTER FEES AT ROCKPORT STATE PARK
Peoa - Rockport State Park managers have reduced group use fees to $1 per person. Cottonwood, Hawthorne and Twin Coves campgrounds are open and provide vault toilets and drinking water. The boat ramp is plowed for access to the lake. For more information, please call (435) 336-2241.

UPCOMING UTAH STATE PARKS EVENTS
February 18 Rock Cliff Nature Center/ Jordanelle State Park Francis
Track Me If You Can! Join the park naturalist from 10 a.m. to noon and learn basic tracking skills necessary to understanding local wildlife. Bring snowshoes or borrow a pair from the park. Pre registration is required. Day use fee is $7 per vehicle with up to eight people or free to Utah State Park pass holders. For more information call (435) 782 3030 or (435) 649 9540.

February 18 Snow Canyon State Park - Ivins
Three Ponds Hike: Hike amid the soaring cliffs and beautiful scenery of the Three Ponds
Trail on a 3.5-mile round-trip hike at 10 a.m. Space is limited. Registration is
required. For more information, please call (435) 628-2255.

February 18 Wasatch Mountain State Park - Midway
Snowshoe with a Naturalist: Winter is a great time to explore the environment, and snowshoes are a great way to do it. Join the naturalist for a two-hour snowshoe hike along Donkey Ridge in Dutch Hollow to get moving and get connected to your winter surroundings. Meet at the visitor center at 10 a.m. Snowshoe rentals available. For more information, please call (435) 654-1791.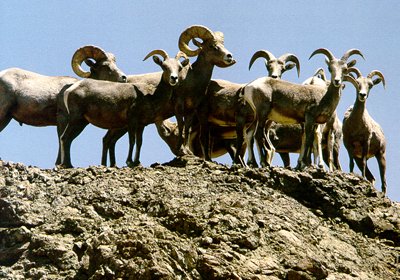 Bighorn Sheep Study Begins in Southeastern Utah

Moab -- A study to learn how hiking, biking and off-highway vehicle riding affect desert bighorn sheep is underway in southeastern Utah.

During the last week in January, the Division of Wildlife Resources used a helicopter to capture 15 bighorn sheep (4 rams and 11 ewes) in and near Canyonlands National Park.

A "gunner" in the helicopter fired a capture net over individual sheep, entangling the sheep in the net. A "mugger" then jumped to the ground and administered antibiotics and medications to the sheep before fitting collars around their necks. Affixed to the collars were Very High Frequency (VHF) and Global Positioning Satellite (GPS) radios and transceivers. The radios and transceivers will allow biologists to relocate individual sheep from the ground, from the air or via satellite.

The DWR is conducting the study in partnership with the Bureau of Land Management. Both agencies want to learn more about the effects jeeps, OHVs, bicycles and hiking have on the whereabouts and movements of these "wild woolies."

Desert bighorns have been part of the Utah landscape for thousands of years. Ancient Native Americans commonly depicted bighorn sheep in their petroglyphs and pictographs. Bighorns were probably the most common big game animal in Utah, but they were nearly extirpated from the state by the late 1800s.

During the past several decades, the DWR has made huge strides in returning the bighorn to its ancestral range and homeland. Rocky Mountain bighorn sheep and desert bighorn sheep are now
found in many of Utah's counties, and their numbers and distribution are expected to increase in future years.

Sky Should 'Turn White' at Snow Goose Festival

Delta -- The sights and sounds of thousands of pure white snow geese flying and feeding will be enjoyed at the Ninth Annual Snow Goose Festival.

Snow geese may be viewed at and near Gunnison Bend Reservoir, west of Delta. The festival runs Feb. 24 and 25, and March 3 and 4. Admission is free.

"Spotting scopes will be set up so participants can get a close view of the geese, and Division of Wildlife Resources personnel will be available to answer any questions they have," said Bob Walters, Watchable Wildlife coordinator for the
DWR.

Free wildlife-related workshops, and arts and crafts and photography exhibits, also will be offered each day of the festival.

Walters encourages visitors to view the geese with binoculars or spotting scopes. "People who get too close to the geese will probably scare them away, and that will spoil the viewing experience for everyone," he said.

When viewing from the side of roads, visitors are strongly encouraged to use caution and to watch for vehicles. Walters also advises participants to prepare for cold or wet weather by wearing the proper clothes.

The areas where people can see geese vary according to the time of day. "The geese usually feed in fields that surround the reservoir early in the morning and then fly back to the reservoir before 10:30 a.m.," Walters said. "They normally leave the reservoir between 4 and 6 p.m. and fly out to the fields again to feed."

Walters says DWR personnel will watch which fields the geese fly to and will direct visitors, who arrive after the geese have left the reservoir, to the proper fields.

For more information about the 2006 Snow Goose Festival call Walters at (801) 538-4771; the Division of Wildlife Resources' Southern Region office at (435) 865-6100; or the Delta Area Chamber of Commerce at (435) 864-4316.

Hunter Safety Instructors Needed in Central and Southwestern Utah

Training scheduled for Fillmore and Cedar City

You can teach young hunters to be safe, responsible and ethical by becoming a volunteer Hunter Education instructor.

New instructors are needed in central and southwestern Utah. In February, the Division of Wildlife Resources will hold training sessions in Fillmore and Cedar City to train new instructors.

Instructor training runs two nights a week, for three weeks. Seminars will be held at the following locations:

CEDAR CITY
* starts Feb. 20
Mondays and Tuesdays
7 - 10 p.m.
Division of Wildlife Resources
1470 N. Airport Rd., Suite 1

FILLMORE
* starts Feb. 22
Wednesdays and Thursdays
7 - 10 p.m.
Millard County Sheriff's Office
765 S. HWY 99

Qualifications

The instructor training is free. To be an instructor, a person must be at least 21 years old and must be cleared through a background check. Prior experience in teaching is not required.

"In addition to getting people familiar with what the course teaches, we also teach people how to be good teachers," says Mark Bearnson, assistant hunter education coordinator for the DWR. "We focus a lot on teaching techniques and how to relate to the young audience the instructors typically teach."

After being certified new instructors must teach at least one student course each year, or assist another instructor in teaching a course. Instructors also must attend a four-hour training seminar each year. Seminars are held throughout Utah.

Those interested in attending the instructor training are encouraged to preregister by calling 1-800-397-6999. They also may register the first night of class.

Rewards

Instructors aren't paid for teaching, but they do receive a lot of rewards.

"I think the biggest reward a hunter education instructor receives is the knowledge that they've had a positive impact on the life of a young hunter," Bearnson said. "The information in the course is very positive and ethics and safety oriented. The knowledge that the instructor has played a role in teaching a young hunter those things, you can't put a price tag on that."

Bearnson also said that instructors are doing much to further the sport of hunting. "Responsibility and ethics are taught throughout the course, and being able to tie everything that's taught in the course back to one's ethical conduct is very, very important," he said. "It's something these young people will carry with them forever."

Less than two weeks remain to join Utah's Dedicated Hunter program this year.

Among the advantages to joining the program are a guaranteed general season deer hunting permit in the region each hunter who joins the program would like to hunt.

Please see the pasted and attached DWR news release for more details.


Beat the Drawing Odds *
Join Dedicated Hunter Program

Want a guarantee that you'll be hunting deer in your favorite general season region in Utah this fall?

You can receive one by joining Utah's Dedicated Hunter program.

"Hunters who join the program are guaranteed a permit for the region of their choice. After what happened in 2005, that's a big incentive to join," says Jill West, coordinator of volunteers for the Division of Wildlife Resources.

In 2005, all of the permits for the Central, Southeastern and Southern regions were taken in the big game draw, and Northeastern Region permits that weren't taken in the draw sold out three hours after they went on sale over-the-counter.

"Based on what happened last year, we anticipate that permits for all four of those regions will go in the draw this year," West said. "Dedicated hunters don't have to worry about not getting a permit, though, because they're guaranteed a permit for the region of their choice."

In addition to receiving a guaranteed permit, those who join the program can hunt all three seasons in the region they obtain a permit for. They also get a chance to help Utah's wildlife by working on wildlife conservation projects.

Must Join by Feb. 17

To join the three-year program, hunters must complete a Wildlife Conservation course and submit an application no later than Feb. 17.

After paying their program registration fees and completing some additional requirements, hunters will receive a deer hunting permit for the region of their choice and a chance to hunt all three general seasons in that region.

The Wildlife Conservation course can be taken online at the Dedicated Hunter Web site (wildlife.utah.gov/dh/). The online course takes about 45 minutes to complete.

Additional Requirements

After completing the Wildlife Conservation course, hunters must pay their program fee ($195 for most residents and $1,032 for most nonresidents) by Feb. 17. The fee includes a participant's deer hunting permits, for the region of their choice, during the three years they're in the program.

More information about the program is available on page 26 of the 2006 Utah Big Game Proclamation and at wildlife.utah.gov/dh/ on the Web. Those with questions may also call the nearest Division of Wildlife Resources office or the DWR's Salt Lake City office at (801) 538-4700.

"The program provides hunters extra deer hunting opportunities in the region they want to hunt and helps them give back to Utah's wildlife by working on wildlife conservation projects," West said. "Hunters who have been in the program have really enjoyed it."