Great Skiing at Brian Head Resort
Brian Head Resort received 16" of fresh powder in the past two days! Current base depth is 30". Current lift and terrain openings are: Chair 3: Desbah, Heavenly Daze; Beginning and Intermediate terrain parks; Chair 5: Double Aught and Ed's Shortcut; Chair 6: both sides. For more details, visit our website at http://www.brianhead.com .
Camp Floyd State Park hosts Junior Pony Express Rider Program

Will your kids be looking for something to do during Christmas Break? Come meet the soldiers at Camp Floyd State Park in Fairfield, Utah, where they will be conducting a Junior Pony Express Rider program on December 28, 2006, from 9:00 a.m. - 5:00 p.m. The Pony Express which delivered mail from 1860 - 1861 had a mail and pony exchange at Camp Floyd. The program will be conducted throughout the day and is designed for kids. However, anyone is welcome to participate.

A workbook is included with the program which contains several fun, interactive activities, such as finding artifacts in the museum, word searches, fill-in-the-blanks and more. Upon completion of the workbook, kids will be awarded an official Pony Express wooden nickel for their accomplishment. They will also have the opportunity of tasting "Hardtack" a common food eaten by soldiers at Camp Floyd. The workbook, nickel and hardtack are included with paid admission of $2 per person, or $6 per family.

Camp Floyd was established in 1858 to quell a so-called Mormon rebellion, which never took place. Soldiers were stationed here until they were recalled for the Civil War that began in 1861. Today, the park and museum tell the story of this historic event.

Camp Floyd State Park is located in the town of Fairfield, 22 miles southwest of Lehi on Highway 73. For more information, contact the park at: 801-768-8932.

Here Comes Winter

While chilly temperatures and the recent snow storms may have many Utahns thinking winter is already here we've still a few days to wait until it officially arrives.

According to NASA Solar System Ambassador to Utah Patrick Wiggins, winter officially starts here in the northern hemisphere this coming Thursday, the 21st, at 5:22 p.m. MST when the Sun reaches its most southerly point in our skies.

Following this event, known to astronomers as the December solstice, the Sun will start creeping back to the north and the periods of daylight will gradually grow longer and warmer.

Things are reversed in the southern hemisphere where the December solstice is seen as the beginning of summer. The solstice also brings Utah's shortest day with barely 9 hours of daylight versus over 15 hours when the Sun is furthest north in June. Many of the holiday traditions we enjoy at this time of year originated in ancient solstice ceremonies.

"An example of this is our use of holiday lights." says Wiggins. "In ancient times people kept a very close eye on the Sun at this time of year since everyone could see that it was getting lower in the sky each day. They feared that if something wasn't done, the Sun would soon disappear altogether."

"So the worried people built great bonfires to entice the Sun to stick around and, sure enough, every year their efforts paid off and the Sun reversed course and started its gradual climb higher and higher into the sky."

For information on past and future solstices and equinoxes see Wiggins' Solar System Ambassador's web site at http://utahastro.info .

DNR Announces Annual Award Winners

Salt Lake City, Utah -- The Utah Department of Natural Resources (DNR) is pleased to announce the winners of Employee of the Year, Community Outreach Award, Manager of the Year and Executive Director's Award.

The award winners were nominated by their peers. There were numerous nominees for the awards this year. "It was difficult to pick winners because all nominees were excellent," said DNR Executive Director Mike Styler.

Each award recipient was recognized with a plaque and a cash bonus.

The 2006 Employee of the Year Award was given to Anita Candelaria, Office Specialist with the Division of Wildlife Resources (DWR). She is a 14-year state employee with eight of those years in DWR. Anita was recognized for her superior work ethic and administrative efficiency.

Her nomination cited, "Anita does not hesitate to get directly involved in the programs that conserve wildlife in Utah, such as volunteering to work at deer checking stations as well as all night spotlighting surveys of black-footed ferrets; participating in taking disease samples for chronic wasting disease from deer and elk and West Nile Virus from dead birds. She has designed data entry systems that move data directly into databases without editing or double entry, which has improved efficiency. She has learned the answers to frequently asked questions, rather than referring calls to others."

The 2006 Community Outreach Award was given to Andrew "Drew" Cushing. He has been a Community Fisheries Biologist for more than five years with the Division of Wildlife Resources, focusing on providing fishing opportunities close to urban centers through the construction of more than 25 community fisheries.
His nomination stated, "Drew has worked hard to accommodate program growth, provide consultation to communities, construct new waters, add volunteers to the mentoring program, implement intensive stocking programs for catfish and design outreach efforts and promotional programs. The rapid growth in program size and complexity has been accomplished without the addition of more staff in the Salt Lake office, a tribute to Drew's resourcefulness and adaptability. The program is now supported by more than 6,000 volunteer hours involving a great deal of coordination and management on his part."

There were two named for the 2006 Manager of the Year. The honors went to Shon Tripp, Palisade State Park Manager in the Division of Parks and Recreation and Kimm Harty, Deputy Director of the Utah Geological Survey.

Shon has been with State Parks for 25 years and was recognized for his open-door philosophy, work ethic and leadership skills. His award read, "Shon believes in working as a team and understands the importance of helping one another. He believes if one person succeeds, the whole staff succeeds; and if one fails, the whole staff fails. By working together the park has realized numerous successes and never felt the discouragement of failure."

Kimm is a 22-year veteran of UGS. She was honored for her verbal and written communications skills, and ability to diffuse potentially difficult situations. Her award lauded, "Kimm oversees the UGS training and work improvement needs. She is continually looking for ways to keep her and the staff current on management/supervisory issues. Kimm conducts meetings with employees from front line to senior management to discuss issues and strategies; she is very sensitive to demonstrating a service ethic when interacting with others, yet still manages to provide constructive, fair and honest assessments and advice."


Director Styler named Boyd Clayton as the recipient of the 2006 Executive Director's Award. Boyd is the Assistant State Engineer and a 27-year employee of the Division of Water Rights. He was instrumental in the design and development of the Division's water rights database.

His award also states, "Boyd was designated by the governor to be the state's representative regarding water issues in Snake Valley. He has been instrumental in trying to resolve issues with the Southern Nevada Water Authority. He drives to isolated areas to meet with locals and discuss their concerns and they appreciate his willingness to make this sacrifice."

REI COMMUNITY CALENDAR ANNOUNCEMENTS FOR JANUARY
SANDY CITY - The following presentations are offered free of charge to the public at the Sandy City REI store. REI is located at 10600 South & 230 West in the northwest corner of the South Towne Mall property. For more information, please call (801) 501-0850 or visit our website at http://www.rei.com and click on the stores & events link. SNOWSHOEING 101
Wednesday, January 10th, 7pm
The ease of snowshoeing has led it to become one of the fastest growing sports in the country. Simply strap on a pair and go on a winter hike, backpack, or climb. Join REI expert Craig Whetman, as he puts on another of our famous "how to" clinics on the basics of snowshoeing. This presentation will also focus on the appropriate selection of gear and the initial skills needed to get you outside and on the trails. If you have ever thought about getting into snowshoeing, this is a great introduction to the sport! A special segment by Craig Gordon from the Utah Avalanche Forecast Center will also address and highlight winter backcountry safety.
SKI CONDITIONING AND INJURY PREVENTION
Thursday, January 11th, 7pm
Ski injury free this year! Learn some basic exercises that will have you ready for the slopes. Plus learn new stretches that will help prevent common ski injuries. Specific stretches will also help shorten your recovery time, allowing you to get back on your skis or board faster. Join Jennifer Pruetz of Zenergy Bodywork & Massage this evening for some tips on staying healthy and performing at your peak.
ATLAS EXPLORE WINTER WOMEN'S SNOWSHOEING WORKSHOP
Thursday, January 18th, 7pm
Like to hike? Like the snow? This free clinic is for you! You'll learn snowshoeing basics from a seasoned athlete. You'll also receive a free goodie bag with a voucher for free trekking poles with an Atlas snowshoe purchase. Plus, participants will get the chance to win one of many great door prizes. Don't miss it!
GPS 101
Thursday, January 25th, 7pm
A Global Positioning System is a fun and accurate tool that can help you navigate through backcountry terrain or even down city streets. Join REI navigation expert Dan Stites as he unveils the mysteries of this fun and fascinating piece of technology. This presentation will cover basic GPS functions such as determining latitude and longitude, programming routes, and recording travel.
SALT LAKE CITY - The following presentations are offered free of charge to the public at the Salt Lake City REI store. REI is located at 3285 East & 3300 South. For more information, please call 486-2100 or visit our website at http://www.rei.com and click on the stores & events link and select Salt Lake City.
SKI & SNOWBOARD TUNE & WAX
Tuesday, January 9th, 7pm
Come join the ranks of do-it-yourselfers who are discovering that tuning your skis at home can not only be a great way to save your hard earned money, but one of the most gratifying hobbies you will ever undertake. Join REI shop master tech Jon Hulse this evening for some expert instruction on base preparation: structure, major and minor repair and stone grinding. By learning to tune your own skis and snowboards, you can ensure that your equipment will perform at its peak.
ATLAS EXPLORE WINTER WOMEN'S SNOWSHOEING WORKSHOP
Wednesday, January 17th, 7pm
Like to hike? Like the snow? This free clinic is for you! You'll learn snowshoeing basics from a seasoned athlete. You'll also receive a free goodie bag with a voucher for free trekking poles with an Atlas snowshoe purchase. Plus, participants will get the chance to win one of many great door prizes. Don't miss it!
GPS 101
Tuesday, January 23rd, 7pm
A Global Positioning System is a fun and accurate tool that can help you navigate through backcountry terrain or even down city streets. Join REI navigation expert Angie Zoulek as she unveils the mysteries of this fun and fascinating piece of technology. This presentation will cover basic GPS functions such as determining latitude and longitude, programming routes, and recording travel.
SNOWSTRUCK: IN THE GRIP OF AVALANCHES
Friday, January 26th, 7pm
Having spent decades trying to keep avalanches and people apart, Jill Fredston brings them together unforgettably in her new book, Snowstruck: In the Grip of Avalanches. She brings to life the forces of nature that can turn the mountains deadly--and the equally inexorable forces of human nature that lure us time and again into treacherous terrain. Fredston, one of North America's leading avalanche experts, is co-author of the well-known Snow Sense: A Guide to Evaluating Snow Avalanche Hazard and winner of the 2002 National Outdoor Book Award for Rowing to Latitude: Journeys along the Arctic's Edge. An impressive speaker, she will give a slide show in REI's Wasatch Conference Room.
2007 ACROSS THE ATLAS ALASKAN ADVENTURE TOUR
Tuesday, January 30th, 7pm
Presented by Mission Playground! In August of 2006, six adventurers completed an exhilarating, arduous and selfless journey through the undiscovered Arctic National Wildlife Refuge in Alaska. The team traversed the refuge's remote and rugged terrain by trekking, climbing, skiing and paddling inflatable canoes down the Kongakut River to the Arctic Sea, all for the sake of a tremendous cause. The primary goal of this journey was to promote efforts to protect wildlife, preserve the ecosystem and prevent commercial invasion of this environmentally precarious land, while simultaneously benefiting the Colorado Cancer Foundation. Hear the adventurers share their intimate experience of union with the ancestral history and incredible wildlife of an area seen by only 5,000 people since earth was formed.
COMMUNITY EVENTS:
WINTER TRAILS DAY
Saturday, January 6th
Looking to try out snowshoes for the first time? Want some instruction on how to kick and glide on Nordic skis? Fascinated by winter ecology? Winter Trails Day at the Solitude Nordic Center is your chance to get out there with some help from the experts! If you are a beginner or first timer on snow, come join the gearheads at REI, the pro teachers at the Solitude Nordic Center and the knowledgeable guides from Cottonwood Canyons Foundation. This day of guided snowshoeing, cross country and skate ski instruction and outdoor interpretation is not to be missed. Best of all, its FREE!
Sign up in advance to reserve a spot and either a pair of snowshoes or cross country skis by calling (801) 486-2100 and asking for REI's customer service department. View the schedule of classes and tours at www.rei.com and click on the stores & events link, and select Salt Lake City.
WASATCH CITIZEN SERIES AT MOUNTAIN DELL
Saturday, January 27th, 10am
Put on by the Utah Nordic Alliance. The Wasatch Citizens Series (WCS) consists of five events held each year at the major cross country ski areas along the Wasatch Front and Back. Two classical technique and three free technique races are included to provide the balance local athletes need to prepare for national and international competition. In addition to our sixteen age and gender categories, the WCS includes novice classes, to encourage beginners to get involved in the sport, and expert classes, for more serious racers. Awards are given to the top three finishers in each of these groups at each race. Points are awarded to all race finishers, and the top three skiers in each age group receive special prizes at the end of the season. Participants' ages range from 5 to 70+, and many families regularly attend the races. Please see http://www.utahnordic.com for more information.
CLASSES:
AVALANCHE AWARENESS CLASS
Friday & Saturday, January 5th & 6th
An introduction to rescue skills and avalanche beacon searches, route finding, snow pack evaluation and minimizing hazards. Cost is $99 per person. Please contact 801-550-EXUM (3986) or visit http://www.exum.ofutah.com for more information.
LEVEL 1 AVALANCHE COURSE
Friday, January 19th through Sunday January 21st
Learn safe travel in avalanche terrain; recognition of weather, snow pack and terrain factors contributing to avalanche hazard; dig snow pits and perform field tests to recognize weak and strong layers in snow pack and practice efficient rescue with avalanche beacons. Cost is $190 per person. Please contact 801-550-EXUM (3986) or visit http://www.exum.ofutah.com for more information.
STAY SAFE IN THE OUTDOORS; WILDERNESS FIRST AID CLASS
Saturday, January 20th, 9am
Created for all outdoor enthusiasts, the Basic Wilderness Life Support® certification is a one day course designed to help you prevent and treat injuries and illnesses common in outdoor activities. Developed at the University of Utah, School of Medicine the course will teach you to prepare for your outing, assess injuries and scene safety, decide whether to evacuate or treat a patient, and methods of evacuation. The curriculum was developed from our advanced course used to train medical professionals and will be taught by one of our certified instructors. The course includes morning lectures at REI and an afternoon outdoors (weather permitting) participating in hands on scenarios. At the end of the day you will receive your BWLS certificate. Please register by calling REI's customer service department at (801) 486-2100. Cost is $95 per person. For more information, please contact Bob Richards at AdventureMed, 801-990-2800 or visit http://www.bwls.org .
DWR Stops Bringing Tiger Muskies into Utah

Agency looking for new sources after disease found in eight states
A disease that's infected fish in eight states has led the Division of Wildlife Resources to stop importing tiger muskie fry (fish that are less than two inches long) from Minnesota.

A tiger muskie is a cross between a muskellunge and a northern pike. Because tiger muskies are hybrids, they don't reproduce. Not purchasing and raising imported fry from an infected state means Utah's tiger muskie populations won't be increasing any time soon.

Viral hemorrhagic septicemia (VHS) is the reason DWR officials have voluntarily decided not to bring tiger muskie fry into the state. VHS does not affect humans, but it does affect fish. And the DWR does not want to bring the disease into Utah.

"The risk of bringing VHS in from Minnesota waters, and infecting fish in Utah, is just too high," says Walt Donaldson, Aquatic Section chief for the DWR. "I know some of our anglers, especially those who fish at Pineview Reservoir, will be disappointed with this decision. But we have no choice. We can't risk bringing VHS into Utah and potentially infecting our native fish populations."

VHS Background

VHS is highly contagious and infects both cold and warm water fish. Fish that are infected with the virus often bleed internally, and they usually die.

Some fish that have VHS don't show any external signs that they're infected. Others do show signs. Those signs include bulging eyes, bloated abdomens, inactive or overactive behavior and bleeding in the eyes, skin, gills and at the base of the fins. These fish may also have lesions that look like the lesions caused by other fish diseases.

The VHS disease has been found in eight states near the Great Lakes. The federal government has placed limitations regarding shipping fish from these states to other parts of the country. It's not known if and when these limitations will be lifted.

More information about VHS is available at http://www.aphis.usda.gov/vs/aqua .

Tiger Muskies in Utah

Other Western states that purchase tiger muskie fry from the eight states that have the disease are in the same dilemma as Utah. Donaldson says the DWR has contacted several of these states to see whether they would be interested in joining Utah in starting a tiger muskie egg and fry program in the West.

"All of the Western states that have tiger muskies are affected by this, and all of us are trying to find new sources of disease-free tiger muskie," Donaldson says. "All of these Western states, including Utah, want to continue to provide tiger muskies for their anglers. We're going to work together to see it we can make that happen."


Tiger muskies are the largest sportfish in Utah. The current catch-and-keep record in Utah was taken earlier this year at Pineview Reservoir in northern Utah. The tiger muskie was more than four feet long (49 inches) and weighed more than 33 pounds. A 53<-inch tiger muskie was also caught and released at Pineview in 1998.

Tiger muskies are found in several reservoirs in northern, northeastern and southern Utah. When stocked with tiger muskie, these waters provide quality fishing that's very diverse.

Wildlife Transplants Help Wildlife and People

"Why are you taking our moose?"
That's a good question and the type of question that Division of Wildlife Resources biologists receive almost every time they conduct a wildlife transplant.

There are three basic reasons wildlife professionals move wildlife from one area to another:

1) to reduce threats to public safety.
2) to remove extra animals from a population.
3) to maintain quality habitat by keeping animals at a number their habitat can handle.

Moose
In the case of moose transplants, many are done to protect people. For example, by January 2006, the number of moose in the Ogden Valley and north Morgan County in Northern Utah had reached a point that some of the younger animals were being "kicked out" of the herds. They were dispersing into new areas and were running into conflicts with people.

Biologists had also noted that the large number of moose was damaging the habitat in the area were the moose lived.

Removing these dispersing animals did not adversely affect the population.

Bighorn Sheep
Bighorn sheep, hunters and wildlife watchers in Utah have also benefited from transplants that have restored sheep to their native range.

"We have historical documents, from miners in the 1930s, that mention finding bighorn sheep skulls out there," DWR Biologist Kirt Enright said about the Newfoundland Mountains in northwest Utah.

Bighorn sheep were moved to the mountains in 2001. And the bighorn sheep population on the Newfoundlands has grown fast. "In just five years we reached our goal to have the population reach a point that * hunting [could be allowed]," Enright said.

Two hunting permits were issued to harvest two rams on the Newfoundland Mountains in October 2006.

Wild Turkeys
The growth and expansion of wild turkey populations in Utah is another example of the benefits of transplanting wildlife. In just 20 years, Utah's wild turkey population has grown for almost no birds to about 18,000 today.

These turkey transplants would not have been possible without the enthusiasm and energy of sportsmen like John Leonard, president of the Utah Chapter of the National Wild Turkey Federation. Sportsmen have played a crucial role in supplying the funding and manpower needed to make wildlife transplants a success in Utah.
SOLAR ENERGY PROJECT COMPLETED AT YUBA STATE PARK

Levan, Utah -- A new system for gathering solar energy was recently constructed at Yuba State Park, south of Nephi, Utah. This is the tenth park in the state system to utilize photovoltaic (PV) solar panels to generate power in the parks.

The PV solar panel system powers a pump that moves water from a well to a storage tank. The water is fed, by gravity, through a new system to the Painted Rocks Campground for use by the public.

The Yuba State Park system was completed in partnership with the Bureau of Land Management (BLM). The PV equipment was purchased by Utah State Parks for about $15,000 and installed by State Parks and BLM crews. The pumping system completes a multi-year partnership that included constructing the campground, drilling a well, and constructing the water distribution system.

"The PV systems are in the more remote parks, which tend to be far away from main power grids," says Utah State Parks Project Manager Bill Maughan. "The systems actually save money by eliminating the need for costly power lines." In the case of Painted Rocks, it was an estimated savings of $80,000.

At Goblin Valley State Park, the PV system actually powers the entire park operation. The closest power grid is 60 miles away, and it would have cost millions to stretch power lines to the park. BLM also utilizes PV power in dozens of remote areas. The recently renovated Cleveland Lloyd Dinosaur Quarry is 100 percent solar powered. These systems have proven to be cost effective and have saved the agency thousands of dollars every year.

PV systems in other state parks also power picnic areas, sheds, shade areas, and restrooms. Several more PV projects are planned for other parks in 2007.
FISHING INVENTIONS OF YESTERYEAR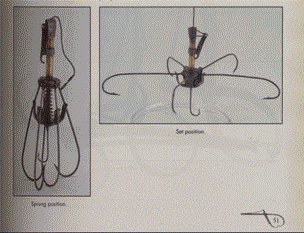 A new subject that deals with an historical aspect of fishing in the United States has just come to light. It is contained in a book entitled Spring-Loaded Fishhooks, Traps and Lures. The book deals with the evolution of mechanical fishhooks and metal traps meant to capture and/or kill fish, including one interesting lure, which shot a bullet!

The majority of these devises were patented and manufactured in some quantities, several dating back to before the Civil War. Big Emmitt Scott and his Sure-Catch Device 32 S&W caliber. While some of these inventions had but a single additional hook to strike the fish, others had multiple striking hooks. Pre-civil war spring hook shown set, sprung and enlarged. Fish trap in set and sprung position Some fish traps as the one shown here were designed to have jaws with multiple teeth protruding from them. Fish trap with 61 teeth in set position.
Spring-loaded fishing lures are also covered in this book. These lures were mainly designed to have hooks concealed in their bodies, which would only expand outward when struck by a fish. In this construction these lures would be practically weedless. Spring-loaded fish lure in set and sprung positions.

More information about this book is available by going to http://www.springhook.com
Autographed copies of this book can be ordered on http://www.springhook.com
Nature/Bird Walk Schedule
Join the Layton, Wild Bird Center on a free nature/bird walk. We leave from the Wild Bird Center, 1860 North 1000 West, Layton (across from the Barnes & Noble bookstore) at 10 a.m., (unless otherwise noted) and carpool to the destination. The walks are designed for birders at all levels, especially families. Dress for the weather and brings binoculars. Here is the schedule for January, February and March 2007:
1/1 Antelope Island (leave from Wild Bird Center at 7:30 a.m.)
Audubon Christmas Bird Count
1/6 Ogden Nature Center
1/27 Farmington Bay
2/03 Bald Eagle Day at Farmington Bay
2/10 Beus Pond
2/24 Kaysville Ponds, USU Botanical Gardens
3/3 Tundra Swan Migration at Farmington Bay
3/10 Riverdale Weber River Parkway
3/24 Kayscreek
3/31 East Kaysville Foothills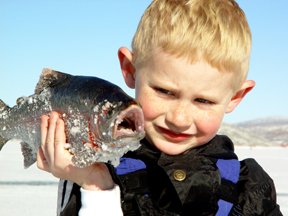 FIRST ANNUAL SCOFIELD FISHING DERBY
Scofield - Scofield State Park, Utah's highest elevation state park, hosts the Scofield First Annual Fishing Derby Saturday, December 30 from 8 a.m. to 3 p.m. The tournament is limited to only 49 participants, and a number of great prizes will be given away, including Cabela's gift certificates for those landing the top three largest fish.

Join the fun at the Scofield Madsen Bay parking area. Tournament check-in is 6:30 to 8 a.m. and free hotdogs and cocoa are served from noon to 2 p.m. Fish check-in is from 3 to 3:15 p.m.

Registration is required and fees are $10 per participant. For more information or to register, please call (435) 687-2491.
HOLIDAY HOURS AT BEAR RIVER REFUGE VISITOR CENTER
Bear River Bird Refuge's Visitor Center hours during the holidays will be:
December 23-24-25 CLOSED
December 26-27-28-29 12:00 p.m. to 4:00 p.m.
December 30-31, January 1 CLOSED
Regular hours will resume on January 2nd. They are:
Monday - Friday 8:00 a.m. to 5:00 p.m.
Saturday 10:00 a.m. to 4:00 p.m.
Closed on all federal holidays
END-OF-YEAR TRAVEL IMPULSE HITS MILLIONS
Nearly 600,000 Utahns to Travel for Xmas-New Year's, Says AAA
SALT LAKE CITY, December 18, 2006 - With the arrival of winter weather, the end-of-the-year holiday travel impulse is beginning to take hold of Utahns. The latest AAA Travel survey finds that approximately 600,000 Utahns are expected travel this holiday season, a 1.6 percent increase over last year.
"While Utahns are still impacted by high travel expenses, the desire to travel during this festive time of the year far outweighs budget concerns," said Rolayne Fairclough, spokesperson for AAA Utah.
According to AAA Utah, over 470,000 Utahns (80 percent) are expected to travel by motor vehicle, a 1.4 percent increase from last year. Airports will stay busy with over 90,000 (15 percent) residents expected to fly to reach their holiday destinations. Air travel is up 2.7 percent from the same holiday period in 2005. Over 30,000 (5 percent) are expected to travel by bus, train or boat cruises.
Nationally, AAA predicts that 64.9 million Americans will travel 50 miles or more from home between December 23rd and January 2nd. Nationally, travel is up 2.2 percent over last year.
For air travelers, this holiday season can add extra stress. According to latest government figures, 2006 is on track as being the worst year for lost, delayed, damaged or stolen baggage in more than a decade. The nation's 20 largest airlines' on-time arrival rate of 72.9 percent in October is down from 81.3 percent last year, according to the latest Air Travel Consumer Report.
"To avoid mishaps and unnecessary stress, make sure you are aware of all the new travel restrictions at airports," added Fairclough. "International travelers also need to be aware of new passport regulations that go into effect early next year."
According to the latest U.S. Department of Homeland Security rules, Americans traveling to Canada, Mexico, Bermuda and the Caribbean will need a valid passport starting January 23, 2007. This only includes air travel and not passengers driving or taking cruises.
· Passports are the most widely accepted forms of I.D. in the U.S. and abroad.
· Make sure you have a valid passport. Be aware that if your passport will expire in six months or less, you will not be permitted to travel.
· Most AAA clubs offer free passport photos.
· Liquids and gel carry-ons will only be allowed in containers no larger than 3 ounces and must be placed in a quart-size ziplock clear plastic bag. This includes all prescription medications and toiletries.
· Beware: The most dangerous seat on the plane can be the aisle seat. An estimated 1,500 travelers are injured a year by heavy carry-on bags that fall from the overhead bins.
· Consider shipping all your holiday gifts in advance instead of carrying them with you.
· Give yourself extra time for every travel segment of your trip.
· Leave early for the airport. On peak travel days it can take extra time just to approach the terminal.
· Call the airport parking lot ahead of time to ensure there are empty parking spaces.
· Travel with unwrapped gifts. If a wrapped gift sets off an alarm, TSA security officers will need to unwrap it.
·Put undeveloped film in carry-on bags because equipment used to X-ray checked baggage can damage your film.
-Put I.D. tags on all your pieces of luggage, even carry-ons.
· Use TSA approved locks for your luggage that allow security officers to open and relock the bags.
AAA's holiday travel figures are based on a national telephone survey of 2,000 adults by the Travel Industry Association of America, which conducts special research for AAA.
AAA Travel, a wholly-owned subsidiary of AAA, is the nation's largest full-service leisure travel agency. AAA Travel offers trips, cruises, tours and vacation packages throughout the world.
AAA Utah offers a wide array of automotive, travel, insurance and financial services to more than 150,000 members. AAA has been a leader and advocate for the safety and security of all travelers since it was founded more than 100 years ago.
PUBLIC COMMENT SOUGHT ON DRAFT PLAN FOR DEAD HORSE POINT STATE PARK

The Division of Utah State Parks and Recreation developed a draft resource management plan (RMP) for Dead Horse Point State Park. The draft RMP identifies issues relating to public use, resource management and future development at the park and will make recommendations to guide park managers for the next 10 years.

A planning team consisting of park users, local citizens, neighboring agency representatives, and park managers developed the draft plan through a series of team and public meetings.

The plan is available for review online at http://www.stateparks.utah.gov (Planning and Development link) or in hard copy at the Utah State Parks Administrative Office at 1594 West North Temple, Suite 116, Salt Lake City, Utah; the Dead Horse Point State Park Office, State Road 313, near Moab, Utah; and the Utah State Parks Southeast Region Office, 1165 South Highway 191, Suite 7, Moab, Utah.

Comments will be accepted until January 21, 2007 by:

E-mail: PLANSCOMMENT@utah.gov

Regular mail: Utah State Parks: Planning Section
P.O. Box 146001
1594 West North Temple, Suite 116
Salt Lake City, UT 84114-6001


UTAH STATE PARKS LAUNCH AND WATER CONDITIONS

Please find below, Utah State Parks current conditions as of December 19:

Bear Lake State Park Marina - OPEN 39 degrees
Deer Creek State Park - OPEN 40 degrees
East Canyon State Park - OPEN 33 degrees
Wide Hollow at Escalante State Park - OPEN 40 degrees
Great Salt Lake State Park Marina - OPEN 46 degrees
Gunlock State Park - OPEN 48 degrees
Huntington State Park - CLOSED 30 degrees
Hyrum Lake State Park - OPEN 48 degrees
Jordanelle State Park - OPEN 35 degrees
Millsite State Park - OPEN 30 degrees
Otter Creek State Park - OPEN 32 degrees
Palisade State Park - CLOSED 35 degrees
Piute State Park - OPEN 32 degrees
Quail Creek State Park - OPEN 45 degrees
Red Fleet State Park - OPEN 40 degrees
Rockport State Park - OPEN 40 degrees
Sand Hollow State Park - OPEN 52 degrees
Scofield State Park - CLOSED 32 degrees
Starvation State Park - OPEN 35 degrees
Steinaker State Park - OPEN 40 degrees
Utah Lake State Park - OPEN 40 degrees
Willard Bay State Park - CLOSED 45 degrees
Yuba State Park - OPEN 38 degrees

Strawberry - OPEN 32 degrees
Flaming Gorge - OPEN 32 degrees


UTAH STATE PARKS SNOWMOBILE GROOMING REPORT - DECEMBER 19

MONTE CRISTO:
As of December 19, 2006 there is 25" of snow at Dry Bread Pond and 38" at Monte Cristo. Snow is very slim at the parking lot, on Ant Flat Road, and on Highway 39.
Grooming was completed on the following dates and locations:
Sunday, December 17 - Wasatch Ridge and Arb's Basin
Saturday, December 16 - Wasatch Ridge and Arb's Basin
Thursday, December 14 - Red Spur
Wednesday, December 13 - Highway 39 to Woodruff Gate, Wasatch Ridge
Tuesday, December 12 - Arb's Basin

Upcoming grooming schedule:
Sunday - Cleanup and drift cutting on Highway 39 and Ant Flat
Monday - Curtis Creek Loop
Tuesday - No grooming / Machine maintenance
Wednesday - Arb's Basin, Millies Spring, and Ant Flat
Thursday - Curtis Creek Loop
Friday - Arb's Basin and Ant Flat
Saturday - Arb's Basin, Wasatch Ridge, and Ant Flat
(Schedule is subject to change based on needs, snow conditions and equipment condition.)

Fees at Monte Cristo Trailhead remain at $5 per vehicle. Season passes are $50 with a $10 discount offered until December 31. Passes available at trailhead or via phone at (435) 734-9494, leave message for a return call.

MIRROR LAKE / MILL HOLLOW:
Grooming has begun though conditions are fairly poor. Warmer temperatures make it difficult to leave a nice trail. Mirror Lake Highway and Soapstone have been groomed and should be in good shape for the weekend. There is not enough snow on Highway 35 to allow grooming at Mill Hollow or Lakecreek areas.

MT. NEBO:
The trail was groomed Wednesday, December 13. There is great snow at the highest levels of the loop road, but very little down at the bottom on the Payson and the Nephi side. Snow on the south facing spots has melted a bit. Grooming is planned for Thursday, December 21 if more snow falls.

No other areas have been groomed at this time.
2007 Official Utah Scenic Calendar Still Available at the Utah Office of Tourism
Life Elevated Edition Features More Images, Events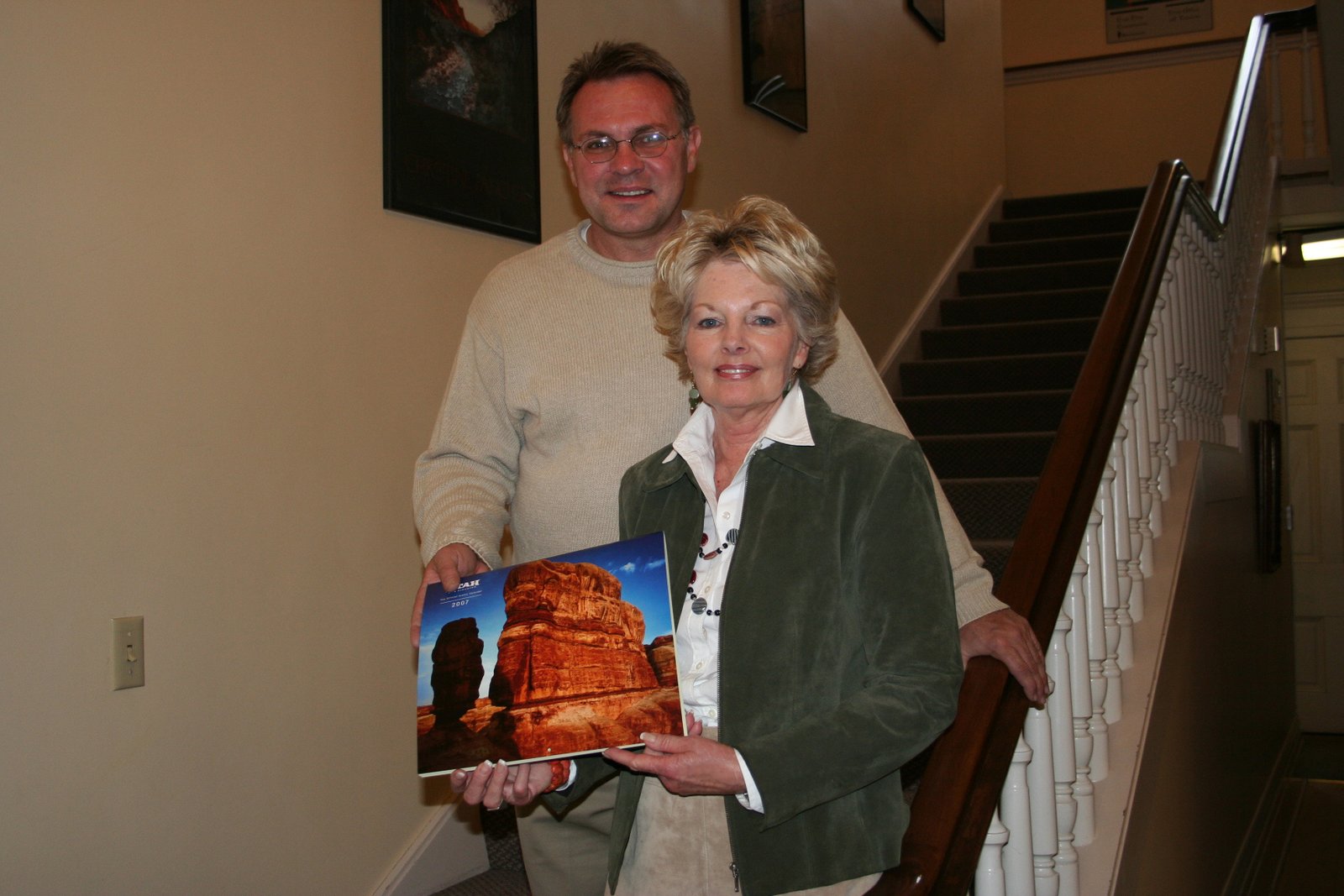 Salt Lake City The Utah Office of Tourism s award-winning 2007 Official Utah Scenic Calendar is available at Council Hall, local bookstores, and gift shops around the state. The 35th annual edition features recreational opportunities, activities, and events. The calendars make great holiday gifts for clients, family, and friends. This year, 35,000 copies were printed and two-thirds of those calendars have already been sold or used to promote tourism and business in the state.
The award-winning calendar is even more spectacular this year with the addition of more photos featuring Utah s beautiful scenery and people of all ages enjoying the outdoors, as well as a lift-up page providing information on activities and events, said Leigh von der Esch, managing director of the Utah Office of Tourism. We have more than doubled the number of photos, jumping from 35 photos in last year s calendar to 77 stunning images this year. We ve also added people in the images this year to show visitors what activities are available in Utah.
A photo of the Needles District of Canyonlands National Park adorns the cover of this year s calendar. Other areas of the state included in the publication include: Mill Creek Canyon; Big and Little Cottonwood Canyons; Uinta Mountains; Mt. Olympus Wilderness; Logan Canyon; Glen Canyon National Recreation Area; and Arches, Capitol Reef and Zion National Parks. The calendar also contains a greeting from Utah Governor Jon M. Huntsman, Jr.
The scenic calendar was coordinated by Janice Carpenter who has overseen the state s publication for the past 22 years. Carpenter is retiring this year, but the calendar will continue to be designed by Scott Hardy who has worked on the state s scenic calendars for the past 21 years. Scott and I have been through a lot of press checks together over the years, said Carpenter. It truly has been a rewarding experience and a labor of love, added Carpenter who reflected on the countless hours that it takes to produce the calendar every year.
The popular Utah Scenic Calendar continues to capture national and international honors for design and photography. In 2006, the calendar s graphic design, headed by Hardy, was awarded the Gold Award in the national category and the Silver Award in the world category of the Calendar Marketing Association s National Calendar Awards Competition. The 2006 calendar was also a finalist in the competition s top honor The Best in Show award, which it won in 2001. The 2005 edition was selected as one of the five best calendars. The Utah Scenic Calendar has won more than 30 National and World awards throughout the years.
The Utah Office of Tourism accepts wholesale or bulk orders of 25+ calendars. Individual orders of 24 or fewer may be purchased through the Zion Natural History Association (ZNHA) bookstore located at Council Hall, 300 N. State St., Salt Lake City, Utah, 84114. The suggested retail price is $15.99. The calendars are $8.25 each, plus tax and shipping, for orders of 25 or more. An order form can be found on the Internet at http://travel.utah.gov . If you have questions, please call (801) 538-1900.
Hello Friends of Utah Rivers Council!

Happy holidays to all our river friends! The staff and board of the Council send along our best wishes for a happy and healthy New Year. As you start to think about your New Year's resolutions, consider resolving to get more involved in river protection. Our Lobby Training is coming up on January 18th, or resolve to add your voice for river protection to that of 1,000 of your neighbors by joining the Council. For more information, read on!

Happenings at the Council:
o Learn to lobby for your rivers. Save the date! The Utah Rivers Council will host our annual Lobby Training on January 18th at 6 pm. Learn the basics of the legislative process, how to lobby, and what river issues will be hot in the 2007 session. RSVP to Sarah at 801-486-4776 or sarah@utahrivers.org . Held in partnership with HEAL Utah.

o Remain informed about 2007 legislation that could affect Utah's aquatic resources. In order to provide a reference for our members, the general public and legislators voting in the upcoming session, the Council is developing the River Outlook: 2007 Legislative Summary. While we would love to provide information on all of the bills proposed, we will focus on those bills that concern water resources in Utah. The Outlook will give you the main points of proposed legislation, links to bill language, and how that legislation will affect Utah's rivers and streams. Watch for the document in January on the Council's web site: http://www.utahrivers.org or call Amy Defreese at 801-486-4776.

o The Council is looking for great interns for spring semester '07! Every semester we rely on the brains and energy of several college students to move our campaigns forward. Internships this coming session are available on the water conservation, clean rivers, community outreach, and Wild and Scenic rivers (economic research) projects. For more information, contact Merritt at merritt@utahrivers.org or 801-486-4776.

o In 2007, why not resolve to support river conservation, get out and explore your rivers, and feel good about giving something back? Join the Council! You'll get 4 issues of our newsletter; special invitations to events, canoe trips, and hikes; action alerts about hot river issues; and the peace of mind that comes with knowing you are helping to protect the rivers they love. Contact the office at 801-486-4776 or use our online membership form at: http://www.utahrivers.org/RSPacket.pdf .

News/Events
o Jordan Valley Water Conservancy District and East Jordan Irrigation Company revisit an old proposal. The Jordan Valley Water Conservancy district and the East Jordan Irrigation Company have filed applications with the State Engineer to drill 6 new wells in Utah County. While the Districts have senior water rights, local municipalities are concerned about the effects of new withdrawals to the local water supply. Read the Daily Herald coverage at:
http://www.heraldextra.com/index.php?option=com_content&task=view&id=203354&Itemid=0

Ritewood Eggs penalty to support wetlands project. Remember the enormous manure spill (2 million gallons) into the Cub River from Ritewood Eggs in 2005? The Council's work helped make sure they were fined with one of Utah's biggest penalties for water pollution. The penalty will be used to create a wetland education project at USU, rather than having that money disappear into the general fund. Although we would have liked the money to go to a restoration project for the Cub River, the Council supported the idea of using the fine to do something good for the aquatic world. http://www.sltrib.com/search/ci_4818083 .

o Sale of land near Little Hole. The ownership of a piece of property that is currently owned by the School Institutional Trust Lands Administration across from Little Hole is still up in the air. There has been ongoing controversy over this parcel for many months now. SITLA has decided to postpone the auction of the parcel from January 2007 to May 11, 2007. For more information read the Salt Lake Tribune article at: http://www.sltrib.com/search/ci_4833551?source=email

o Endangered ferret habitat freezes drilling in portion of Uintah Basin. An endangered black footed ferret resides along the Utah-Colorado border. The Green River cuts through the corner of its habitat. BLM suspended 15 oil and gas leases due to the black ferret habitat. Read more in an article in the Tribune: http://www.sltrib.com/search/ci_4865127

The Roundup -- presenting the latest Monolithic news - December 20, 2006

Streaming Videos! Take a look at these! They include general information as well as specifics on Monolithic Dome homes, schools, sport facilities, churches, equipment and how-to instructions. http://www.monolithic.com/dvd/

NEW! Website Updates! You can quickly see just what articles have been updated with new information or pictures by clicking on Website Updates. (right side bar, middle of front page.) http://www.monolithic.com

NEW! Domes in Construction: Bandshell in Patchogue, NY South Industries, Inc. of Menan, Idaho recently constructed a 40-foot, Monolithic Ecoshell II bandshell. http://www.monolithic.com/gallery/construction/patchogue/

NEW! Photo Journal: A Monolithic Dome in Weatherford, TX This collection includes 26 photos of the building of a 50' x 18 Monolithic Dome that has 4 large augments and 2 standard-size ones. http://www.monolithic.com/gallery/construction/leehome/index.html

NEW! Almost Everything You Wanted To Know About Monolithic Dome Churches This very detailed article answers many questions for people contemplating a Monolithic Dome church.http://www.monolithic.com/gallery/churches/buy/index.html

NEW! The Road to a Home with Start of Construction Checklist Thinking about a Monolithic Dome Home? This is a must-read. http://www.monolithic.com/gallery/homes/getting_home/index.html

Al Schwarz's Robot Ranch Make a virtual visit to a complex of 7 interconnected, earth-sheltered Monolithic Domes.
http://www.monolithic.com/gallery/homes/robot/index.html

Buy New Monolithic Calendar Online! The Monolithic Calendar makes a unique stocking stuffer. Put your order in and we will process it immediately. http://shop.monolithic.com/products/2007-calendar

We extend Holiday Greetings to you and yours. Enjoy a Blessed and Merry Christmas!

Check It Out - For the latest on Monolithic Domes and related topics check our website. New articles, profiles and discussions, as well as updates of old ones, are posted often. http://www.monolithic.com/

David B. South, President, Monolithic Dome Institute
COLLEGE BASS FISHING PROGRAM TO EXPAND IN 2007
The prospect of competitive fishing having a prominent role in colleges and universities, complete with scholarships and inter-conference play, is much closer to reality today as Fox College Sports (FCS) announces its plans for a greatly expanded second season of the National Collegiate Bass Fishing Championship (NCBFC).
In 2007, the program will be boosted to include up to 15 preliminary fishing tournaments around the country in advance of the national championship to be held next fall, accompanied by broadened telecast coverage.
We re pleased to showcase college bass fishing to a national audience, said FCS executive vice president and GM David Rone. We had a great response from the BoatUS NCBFC tournament held (in October) in Texas, and we re looking forward to giving these students a national platform to display their skills.
The 2006 inaugural NCBFC included 41 two-person teams representing 24 schools. Top colleges and universities from well-known conferences like the Big Ten, Big 12, Pac-10 and SEC had a prominent presence in the debut. All competed for part of the $35,000 in prize money and for bragging rights as the best fishing school in the country. The North Carolina State team won the championship title and the first place prize of $12,000.
The three-day event had all the fanfare of any major college sports championship, including television cameras filming the tournament for a new series about the NCBFC. The first show is scheduled to run on FCS on Wednesday, January 10 at 8 p.m. EST and will continue weekly at the same time. Each telecast will highlight the competition and provide a behind-the-scenes look at the angler teams and the schools they represent.
These kids and their stories are what really make this show special, said Wade Middleton, the on-camera host. How they got here, their trials and tribulations along the way, and why they even came in the first place are as fascinating as the challenge of fishing itself.
Fishing is a unique opportunity for me to compete in a sport at the school of my choice where I couldn t otherwise because I don t have the skills to participate in basketball, football, baseball or such at this level, said Chip Porchi, a freshman at the University of Oklahoma. Just about any college student with the desire has the chance to fish the NCBFC, win prize money and end up on national television.
The full 2007 FCS tournament schedule will be announced next month. The championship will return to Sneaky Pete s Marina on Lake Lewisville near Dallas, October 22 27. For more information on the collegiate fishing program and participation requirements, visit http://FoxCollegeSports.com
BLM Announces New Appointments to National Wild Horse and Burro Advisory Board

The Bureau of Land Management today announced new appointments to its National Wild Horse and Burro Advisory Board. The nine-member board advises both the BLM (an agency of the U.S. Interior Department) and Forest Service (an agency of the U.S. Agriculture Department) on the management, protection, and control of wild horses and burros that roam
Western public rangelands.

New to the Advisory Board is Melissa Scott of Decatur, Tennessee, who is a teacher, trainer, and competitor in the horse community and an adopter of a wild horse. Ms. Scott will serve as the public interest representative on the board, whose members represent a balance of interests.

Newly re-appointed members are Gary Zakotnik of Eden, Wyoming, a rancher who is the board's livestock management representative; Larry Johnson of Reno, Nevada, President of the Coalition for Nevadab s Wildlife, as well as Director of Nevada Bighorn Unlimited, who serves as the board's wildlife management representative; and Richard Sewing of Cedar City, Utah. Mr. Sewing, who manages the National Mustang Association ranch and sanctuary, had served as the boardb s wild horse and burro advocacy representative from 2000-2003; as a re-appointed member, he will now
serve as the humane advocacy representative.

Advisory Board members serve three-year terms, on a staggered-term basis, with one-third of the Board subject to appointment each year. The Board meets at least two times a year and the BLM Director may call additional meetings when necessary. Members serve without salary, but are reimbursed for travel and per diem expenses according to government
travel regulations. In accordance with Section 7 of the Wild Free-Roaming Horses and Burros Act of 1971, Federal and state government employees are not eligible to serve on the board.

The 1971 law mandates the protection, management, and control of wild horses and burros in a manner that ensures healthy herds at levels consistent with the landb s capacity to support them. About 31,000 wild horses and burros roam BLM-managed rangelands in 10 Western states.

The BLM manages more land -- 258 million surface acres -- than any other Federal agency. Most of this public land is located in 12 Western states, including Alaska. The Bureau, with a budget of about $1.8 billion, also administers 700 million acres of sub-surface mineral estate throughout the nation. The BLMb s multiple-use mission is to sustain the health and productivity of the public lands for the use and enjoyment of present and future generations.
Moonlit Snowshoe Hike - JORDANELLE STATE PARK
Heber City--Join park staff on January 5, 2007 for a moonlit snowshoe hike along the lake. Meet at the Visitors Center at Jordanelle State Park at 7:00 pm for the hike. After the hike there will be hot drinks and food. Admission is free, donations are appreciated. Limited numbers of snowshoes are available at the park. For more information or to reserve snowshoes please call (435) 649-9540.

GRIZZLIES! GAMES! HOMECOMING! FUN!
Park City, UT (December 20, 2006) -- Start the New Year right by heading to the E Center on the Saturday before New Year's when the Utah Winter Games team up with the Utah Grizzlies to honor past Games participants and have lots of fun at the same time.
December 30th's E Center game with the Las Vegas Wranglers is Utah Winter Games Homecoming Night. The Games are coming of age this year and celebrating their 21st birthday in style. The nation's oldest and largest amateur winter games are asking all of their former participants to come to the Grizzlies game and wear their medals and any other swag they may have received.
In the 21 years of the Utah Winter Games, tens of thousands of people have skied, skated, slid, jumped, shot, kicked, and bumped their ways through virtually every winter sport imaginable, and now they can all get together to celebrate the new season and cheer for the Grizzlies.
There will be prizes, games, and activities from this year's sponsors. There will also be a raffle where the prizes include a ride on a Zamboni and some of those really handsome team jerseys autographed by players. Utah Winter Games participants will also get reduced price tickets.
Kick off the New Year's weekend in a memorable way by heading to the E Center, watching the Utah Grizzlies battle the Las Vegas Wranglers, and maybe winning a ride on the Zamboni.
The Utah Winter Games are the oldest and biggest amateur winter sports event in the country. They continue the legacy of 2002 in Utah by making it possible for large numbers of people of all skill levels to have a wonderful time with winter sports.
In the 2005-2006 20th anniversary season, more than three thousand people took part in 20 competitions in 15 sports and 32 instructional clinics. With the help of principal sponsor KSL, this coming season's Games will be significantly larger with more sports at more venues for more people.
The Utah Winter Games: All Ages, All Abilities, Always Fun.
For more information on the Grizzlies discounted tickets contact Jake Smith at 801-998-8007 or for information on the Utah Winter Games, please contact Christa Graff at 435-640-7921 or christa@graffpr.com or visit the Utah Winter Games web site at http://www.utahwintergames.org .
Winter Is a Tough Time for Wildlife

Dogs chasing deer and people chasing deer antlers: just two forms of wildlife harassment that can stress, injure and kill wildlife

Pronghorn antelope are normally fleet of foot, and they can usually run fast across sagebrush flats and hills. But when heavy snows come fast and furious to Utah's high deserts, pronghorns tend to slow down and huddle together. This slowing down and huddling together allows the pronghorns to conserve their energy. It's also a reminder that wildlife often have to change their behavior to survive the harsh realities of winter.

Gathering together, or herding, is a survival adaptation that deer, antelope and even elk utilize during the winter. Biologists believe that big game animals form these masses of bodies to take advantage of each other's body heat. Their fur is hollow, and huddling together provides extra insulation. Every ounce of heat the animals conserve is energy they need to make it through the winter. These adaptations have served them well for thousands of years.

But within the past few decades, some additional challenges have arisen that the animals haven't had to face before. These extra challenges cause concern for wildlife biologists every year. These challenges come mostly in the form of people or their pets getting too close to big game animals. Whether intentional or accidental, this "harassment" has the same damaging effect.

Some of these occurrences may seem harmless at first. For example, a cross-country skier may surprise and startle a herd, and the herd runs over a hill. That's the end of the story for the skier, who was thrilled to see these beautiful animals. But for many of the animals in the herd, that surprise visit may be the determining factor that causes some of them to die.


Wildlife Areas Closed in the Winter

The Division of Wildlife Resources has successfully acquired thousands of acres of rangelands that are critical to big game animals in the winter. Called wildlife management areas (WMAs), these areas have been painstakingly managed to provide food, water, shelter and space for wildlife. Outdoor recreationists are reminded that these winter range properties are closed to access until after the animals have migrated to their summer ranges.

FISHING REPORT FOR SOUTHEASTERN UTAH
ABAJO MOUNTAINS No report.
CLEVELAND RESERVOIR Todd Munford of King's Outdoor Sports indicates that access is difficult due to the snow pack, but well worth the effort. Todd suggests parking on the northeast side of the lake and fishing in the middle of the lake. The ice is 16-18 inches thick. The best bait is a 1/8 oz. Swedish pimple or Kastmaster, tipped with a wax worm. Fish in 10-20 feet of water and two cranks off the bottom. Todd urges patience and suggests that you stay in one place for at least an hour as the fish are roaming in schools. Once your bait is hit, expect fast action for about 10-15 minutes. Rainbows get up to 18 inches. Todd reports that a lot of fish won't be caught, but those you catch are nice.
ELECTRIC LAKE The lake is frozen. No report.
HUNTINGTON RESERVOIR (also known as MAMMOTH RESERVOIR )
The ice is more than 14 inches thick, says Todd Munford of King's Outdoor Sports. Bring along a shovel, since the snow pack is fairly deep in some areas. Todd suggests fishing off the east shoreline about 100 yards from shore. Try a 1/4 oz. green or chartreuse jig, tipped with a red shiner minnow or piece of nightcrawler. Jig often, jerking the bait up 6-12 inches, then let the jig settle. Hits are very light, and a lot of fish are missed. Tiger trout range from 12-16 inches. Conservation Officer Casey Mickelsen checked anglers last Friday. Anglers were having good success in 20-25 feet of water with jigs, tipped with nightcrawlers or chunks of chub or carp meat. Special regulations apply. Refer to the proclamation.
HUNTINGTON STATE PARK The ice is 3-5 inches thick. Fishing has been slow.
JOES VALLEY RESERVOIR The reservoir has partially iced over. It's that time of year when open water and/or ice conditions can change from day to day. Boat launching may be difficult. If you can launch a boat, Aquatics Manager Paul Birdsey recommends trolling with a 3-5 inch, brown/white, diving crankbait (such as a shad-imitating Rapala). For still-fishermen, Paul suggests using sonar to locate and anchor over underwater structure. Especially productive are underwater shelves on the edge of drop-offs. At such locations, try a 3/8 oz. hammered nickel spoon with a chartreuse stripe. Bait the spoon with a piece of chub meat. Special regulations apply. Please refer to the fishing proclamation.
LAKE POWELL Visit http://www.wayneswords.com for the weekly report, provided by Wayne Gustaveson, DWR project leader.
LASAL MOUNTAINS Mountain reservoirs are frozen and inaccessible. No report.
MILLSITE STATE PARK Conservation Officer Casey Mickelsen reports slow fishing. The reservoir remains mostly open.
SCOFIELD RESERVOIR This water continues to rank as the Number 1 ice fishing destination in central Utah. Good fishing continues, although some reports indicate a slowing trend. Lieutenant Carl Gramlich fished last Friday and reported slow fishing until 10 a.m. From 10-11:30 a.m., fishing was good. Carl fished in 10-12 feet of water with a chartreuse ice fly and worm. Carl fished one crank off the bottom and kept jigging the bait. Conservation Officer Mike Milburn fished last Thursday and confirmed slower fishing than a week earlier. Mike recommends that anglers try new locations and move around until better fishing is found. The ice was 8-9 inches thick. Biologist Nathan Sill and party fished on Saturday. Nathan used a slip float with a Kastmaster attractant about 12 inches above an ice fly, tipped with a nightcrawler. Nathan's party caught rainbow trout up to 17 inches. Success was sporadic. Best fishing occurred from 8-9:30 a.m. and then from 10:30-11 a.m. The bite was consistently very light. Todd Munford from King's Outdoor World reported very good fishing, especially along the east side. He suggests fishing in 10-12 feet of water and said that 7 a.m.-2 p.m. was the best time slot for him. Todd suggests fishing 6-inches off the bottom with a 1/8 oz. chartreuse paddle bug, tipped with a nightcrawler. Todd says that more fish will bite, if crawfish smelly jelly is applied to the paddle bug. Jigging every once in a while will enhance the chance of a strike, too. Rainbows were in the 14-18 inch class and weighed 1.5-2 lbs.