Early Season Skiing in Utah Boosted by 2 Day-Storm
SALT LAKE CITY - Following a warm Thanksgiving, a more familiar scene for this time of year is being enjoyed skiers and snowboarders at Utah's resorts. Mother Nature dumped over two feet of light, dry powder during the past two days, enabling ski areas to open additional terrain throughout this week. The National Weather Service is calling for another chance of snow Friday. Very cold temperatures are expected to remain in place for several days, allowing resorts to continue snowmaking operations.
The following Utah resorts are now open for the 2006-07 season: Alta Ski Area, Brian Head Resort, Brighton Resort, The Canyons Resort, Park City Mountain Resort, Powder Mountain (night skiing only; day skiing tbd), Snowbasin, Snowbird Ski and Summer Resort, Solitude Mountain Resort, Wolf Mountain.
Deer Valley Resort will open on Dec. 2 and Sundance Resort on Dec. 8. Beaver Mountain's opening date is to be determined.
Storm Totals:
Alta…29"
Brighton…30"
The Canyons Resort… 22"
Park City Mountain Resort…22"
Snowbasin… 15"
Snowbird… 28"
Solitude…26"
U.S. SKI TEAM ESTABLISHES ITALIAN TRAINING BASE
Men's Alpine Team to Train in Trentino Region
PAGANELLA, Italy (Nov. 28) - U.S. Ski Team athletes will take advantage of a new on-snow training opportunity beginning this winter. The U.S. Ski Team and the tourism office of the Italian province of Trentino have announced a partnership that will provide the team exclusive on-snow training at the northern Italian resort of Paganella near Andalo and Lago di Molveno.
The three-year partnership with Trentino S.p.A. is the first of its kind for the Team, providing exclusive on-snow training between European World Cups. It is part of an ongoing effort by the Team's parent organization, the U.S. Ski and Snowboard Association (USSA), to develop training facilities worldwide for its athletes. The Team also recently announced a partnership with Keystone Resort in Colorado for early-season training. The Keystone partnership was noteworthy for the Team's unique ability to control its snowmaking for early-season training through Keystone and York Snow.
"The Trentino partnership greatly expands our scope of training venues and provides us with a much-needed home base in Europe," said the Team's President and CEO Bill Marolt. "There's also a lot of passion and support from the Trentino officials directed to help our athletes - it's exactly what we're looking for in partnerships such as this."
"It's important for us to build alliances with international organizations like the U.S. Ski Team create awareness and exposure for what the Trentino region has to offer in winter sports," said the president of Trentino S.p.A., Tito Giovannini.
Under the terms of the partnership, U.S. Ski Team athletes will have lodging and training facilities for selected periods during the World Cup season. U.S. alpine coaches will wear advertising marks promoting the Trentino region.
Paganella is located immediately off the Italian autostrade south of the Brenner Pass, just an hour south of Innsbruck, Austria and just norththwest of Trento, Italy. It is easily accessible via the international airport in Verona.
"This will be a great training facility for us during the season," said U.S. Ski Team Alpine Director Jesse Hunt, who inspected the area in October. "It will provide us with slalom and giant slalom training, and possibly some super G."
"It's important for us to build alliances with international organizations like the U.S. Ski Team to help us better market what the Trentino region has to offer in winter sports," said Giovanini.
"Our region's winter sports program has grown tremendously in the past few years," said Eduino Gabrielli, president of the Paganella regional skipass company. "This partnership testifies to the quality of our resorts and will allow us to greatly increase our visibility." The Team plans to use Paganella's Olympica (Olympic) run, as well as Nuvola Rossa (Red Cloud).
The partnership grew out of several long-term relationships including Italian bicycle manufacturer Francesco Moser's work with American skiers, as well as USSA's relationship with Italian businessman Tito Giovanini, the president of Trentino S.p.A. Giovanini, who is presently an executive with Media Partners which manages USSA's international television rights, is a past employee of the International Ski Federation and was past director of the FIS Nordic World Championships in nearby Val di'Fiemme, Italy.
"One of the keys with the Paganella partnership is that it provides us with both lodging between races and the opportunity to train," said Hunt. "We have had other relationships but rarely one with both lodging and training. We'll continue to live and train in other locations, as necessary, but we look to find an important home base in the Trentino region for the next three years leading up to Vancouver."
The facility will be used primarily by the men's alpine team in 2006-07 including World Cup, Europa Cup and development-level teams. The Team hopes to expand the relationship in future years.
"Many people don't realize how long we're on the road compared to European teams," added Hunt. "Some of our athletes never get home at all during the season, while our counterparts often go home every week. Having a home base like this, where the resort makes us feel welcome, is really important in building our Team."
USSA is the national governing body for Olympic skiing and snowboarding. Founded in 1905, USSA manages year-round nationwide development and elite programs, including the national teams, in six distinctly different Olympic sports: alpine, cross country, freestyle, nordic combined, ski jumping and snowboarding, as well as two Paralympic sports - disabled alpine and disabled cross country. USSA is based in Park City, Utah. For more information, visit http://www.usskiteam.com or http://www.ussnowboarding.com
The FIS Alpine World Cup season opens Oct. 28-29 in Soelden, Austria, then moves to Levi, Finland Nov. 11-12 before heading to North America.
Lake Powell Fish Report By Wayne Gustaveson November 23, 2006
Lake Elevation: 3607 Water Temperature: 58-60 F

Striper fishing is hot at White Canyon and steady over the rest of the lake despite cooling temperatures.

It's a real bonus to still be able to launch fishing boats at Hite. Main ramp is useable but a bit muddy. Use 4WD if launching at main ramp. A better bet is the old floating marina site and temporary ramp road. That has better water depth and launching capabilities.

Carefully leave the shallow marina area (watch out for the cable) and motor to the mouth of White Canyon. Begin by trolling bright colored (chartreuse, chrome, etc) shallow divers. It won't take long to hook up with a one-pound striper. At this point it is possible to cast to the school with the same shallow running lures, or jig with spoons while fish are under the boat. Each trolling stop results in 4-5 caught fish as all lines are reeled in with fish and more are caught
while the first one is being landed. This process can be repeated as often as necessary. It is common to catch 50-100 fish depending on your perseverance. All of the small fish are in great shape and worthy of a Thanksgiving dinner. As a bonus it is possible to catch an occasional walleye or bass and some larger stripers while trolling.

Over the rest of the lake stripers have moved toward the backs of canyons searching for threadfin shad that have recently left the shelter of shallow weeds and brush. Search the back of the canyon where water depth is less than 10 feet with slow moving topwater lures and shallow running crank baits. It's possible to effectively search by trolling from the shallows in the back of the canyon to a water depth of 40 feet. If casting is prefereed, go to the back and use a slow popping retrieve with a lot of pauses to give the bigger stripers a chance to catch up for a surface bait. Other effective
slow moving baits are white spinnerbaits, suspending jerk baits, and rattletraps.

Stripers are bunched in huge schools. Find one of the mega concentration and the entire day can be spent in one spot. These schools move from one canyon to the next as stripers move to find food. It should only take a search of 3 or 4 canyons to find their hideout for the day. Of course, it is possible to catch all of these fish on bait but they are now shallow enough to take artificial lures as well. Some of the best lower lake canyons are Gunsight, Padre, and Rock Creek.

Bass fishing in now hit and miss with some really good days followed by 3 or 4 not so good. When it's good, suspending crankbaits and rattletraps are excellent baits. When fishing gets tougher, probe the bottom with plastics grubs and tubes. The best spring and fall big fish bait is the heavy living rubber jig head with a pork chunk or pork rind. Water is clear along the main channel but that really doesn't keep bass from biting. They just go deeper. In clear water, do not be afraid to fish at 40 feet or deeper where visibility is reduced.
Walleye are showing up with more regularity. The best technique is to fish the backs of canyons where stripers concentrate. Catch 25 stripers and then a walleye. Get 25 more and then another walleye. These cool water fish seem to frequent the same habitats in most seasons.

CIVIL WAR ORNAMENT WORKSHOP AT CAMP FLOYD STATE PARK

Fairfield -- In celebration of the holiday season and remembering simpler times past, Camp Floyd State Park hosts a workshop to create Civil War wooden ornaments Saturday, December 9 at 10 a.m. Create a peaceful holiday mood with family and friends at this pre-holiday event, which will be held in the historic, one-room Fairfield Schoolhouse.

The workshop includes a Civil War Paint-by-Number Wooden Ornament Kit, which contains four ornaments, paintbrush, paints, instructions, and a fun Civil War fact sheet. Each ornament features an imprint of a Civil War character or scene.

Pre-registration and a $14 fee, which includes the ornament kit, are required for the workshop. Kits may be shared with family or group members. An adult must accompany children under eight.

Established in 1858, Camp Floyd housed the largest concentration of U.S. troops then in the United States. The troops were sent to Utah to suppress a rumored Mormon rebellion, which never took place. The army was recalled back east in 1861 for the Civil War emergency.

Camp Floyd State Park is located in the town of Fairfield, 22 miles southwest of Lehi on State Highway 73. To register for the workshop or for more information, please call (801) 768-8932.

Hello Friends of Utah Rivers Council!

The Council has long been a leading voice calling for the protection of northern Utah's Bear River from proposed dams and diversions. Ever wonder why this river is so important to Utah and to the Utah Rivers Council? Come join us on November 28th for a discussion about just one of the reasons to protect the Bear - the incredible wetland habitat of the Bear River delta. For more information, read on!

Happenings at the Council:

o Come learn about the Bear River and the threats to the wetland ecosystem it supports: Join the Utah Rivers Council and Ducks Unlimited for a presentation and discussion hosted by the Bear River Refuge on November 28th at 7 pm. Steve Hicks, Manager of the Refuge, will speak about the migratory bird habitat present in and around the Bear River delta. He will also share how the Refuge manages river flows to sustain unique system. Amy Defreese from the Utah Rivers Council will present a summary of Bear River water development and the repercussions of diverting 220,000 acre-feet of water to the Wasatch Front. The event will be held at the Bear River Refuge Wildlife Education Center. For more information or directions to the Refuge, please contact Amy Defreese at 801-486-4776 or
amy@utahrivers.org .

o Join us for the Water Forum, sponsored by Utah Rivers Council and Western Resource Advocates. Come learn about the latest in water conservation, re-use, and transfers from agriculture, engage in a lively discussion with water providers and community members, and help shape the future of urban Utah water use. Join us for the Water Forum on Thursday, December 7th from 2:00 to 5:00 pm at the Salt Lake City Main Library. RSVP or questions: Call Taryn at 303-444-1188 x247 or taryn@westernresources.org

o The Council is hiring! We've bid a fond farewell to Lisa Fitzgerald - our membership and outreach coordinator. We are sad to see Lisa go, but excited to find someone to bring their new skills and enthusiasm to river protection in Utah. Please find the full job posting at: http://www.utahrivers.org/PDFdocs/membershipcoord.pdf .

News/Events:

o Legislature takes first step to approve instream flows for trout and water quality. On Thursday, November 16 an interim legislative task force recommended two bills: one that allows fishing groups to hold and temporarily lease instream flows in order to protect habitat of three native trout species; and one that would allow a publicly owned treatment work (sewage plant) to hold instream flows for water quality. The task force's recommendation of these bills will greatly increase their chances of becoming law in the upcoming legislative session. For more information visit: http://www.sltrib.com/search/ci_4677914 or http://www.deseretnews.com/dn/view2/1,4382,650208393,00.html?textfield=water+rights

o U.S. Senate has hearing on Washington County Growth and Conservation Act. This controversial bill had a hearing in DC on Thursday, November 16 in the Senate Energy and Natural Resources committee. Despite a great deal of opposition Senator Bennett and Representative Matheson are still strongly pushing this bill. They hope to get it passed prior to the end of this legislative session since the change in controlling party could reduce the chances for the bill to pass in the coming year. For more information visit: http://www.sltrib.com/ci_4676306

o Lake Powell pipeline and Washington County Growth and Conservation Act. The Director of the water agency in Washington County spoke out about how he views the connection or lack thereof between the Washington County Bill and the Lake Powell Pipeline. Read his statement at: http://www.thespectrum.com/apps/pbcs.dll/article?AID=/20061119/OPINION02/611190330/1014/OPINION . The Salt Lake Tribune published an editorial on the Washington County bill and the Lake Powell Pipeline, urging not to place the cart before the horse. Read the editorial at: http://www.sltrib.com/opinion/ci_4685093

Ozone Freeride Tour
Windzup is kicking off this winter season's Snowkite Freeride Tour, with a Backcountry Jam at Skyline this weekend. The snow is falling and the mountains are waiting to be overtaken once again!
The Freeride tradition continues, gathering riders to the foremost locations to experience Snowkiting. Free 'Learn to Fly' kite clinics and demonstrations are offered for both newcomers, and veteran Kiteboarders looking to test out the latest Snowkite gear. Often flowing with Tunes, BBQ & beverages, the Freeride events provide an opportunity to fuse with experienced Snowkiters and learn the most advanced techniques. Look for representatives from the Ozone Snowkite Team at the major events listed below, and check back to Windzup.com weekly for current details on these and other local demos that will be popping up across the country on this winters Tour.
Season Events
Dec 2-3 Backcountry Jam (Skyline, UT)
A gathering of snowkiters atop central Utah's Wasatch Plateau. Kick off the season, sleep in the snow, & ride the wind. The 'Learn to Ride' sessions are perfect for anyone trying snowkiting for the first time, and there is always plenty of expert advice flowing in the chilled atmosphere. Skyline sits at 10,000 feet and due to the elevation it is typical to have solid snow conditions by late November. Many riders make the annual pilgrimage to experience their first good rides of the year, while exploring the miles of seclusion over the panoramic views of Sanpete County. Bring a tent and bivy on the ridge or drop down the canyon to stay at the Skyline Motel, check out http://www.KiteUtah.com for details on the area.
Dec 9-10 Snowkite Freeride (Kirkwood, CA)
Dec 9-10 Montana Snowkite Round-up (Anaconda, MT)
Jan 1-15 To Cross the Moon (North Dakota)
Jan 13-14 Telefest and Snowkite Freeride (Lake Gogebic, MI)
Jan 20-21 Snowkite Rally (Mille Lacs, MN)
Febuary 2-4 Kitefree (Lake Winnipesaukee, NH)
February 17-19 Snowkite Rodeo (Georgetown Lake, Montana)
February 17-19 TC Kite Derby (Traverse City, Michigan)
February 24-25 Kitestorm (Burlington, Vermont)
February 24-25 Kite Crossing (Mille Lacs, Minnesota)
March 3-4 US Open Snowkite Masters (Skyline, Utah)
March 10-11 Snowkite Freeride (Hill City, ID)
March 10-11 Therapy Sessions (Lake Dillon, Colorado)
March 17-25 Cascades Snowkite Tour (WA to CA)
Updates and details will be posted on http://www.windZup.com during the 06/07 season. Keep in touch for current information as more dates will be announced!
FISHING REPORT FOR SOUTHEASTERN UTAH
GENERAL Some mountain reservoirs have iced over. Others remain open. Ice conditions can vary from day to day. Snow over the ice and warm water underneath causes ice to rot. Presently, ice conditions are potentially life-threatening. Anglers are advised to wait a week or two. When you do take your first ice fishing trip, please fish with a buddy. Take along rope and a floatation device. Each angler should carry his own set of ice picks for self-rescue.
ABAJO MOUNTAINS No report.
HUNTINGTON NORTH STATE PARK Aquatics personnel conducted a creel survey last Saturday. Fishing success was slow for 12-inch rainbow trout, using worms or PowerBait.
HUNTINGTON RESERVOIR (also known as MAMMOTH RESERVOIR at the top of Fairview Canyon) The ice sheet lays under 2-inches of water and 6-inches of snow. Aquatics Biologist Justin Hart warns anglers that ice conditions are dangerous. Please wait for thicker and safer ice. Closed to the possession of cutthroat trout.
JOES VALLEY RESERVOIR The reservoir opens to fishing on Saturday, December 9th.
LAKE POWELL Visit http://www.wayne@wayneswords.com for the weekly report, provided by Wayne Gustaveson, DWR project leader.
LASAL MOUNTAINS All mountain reservoirs are frozen.
SCOFIELD RESERVOIR Ice forms along the shoreline at night, making bank fishing difficult. The Madsen Bay boat dock remains open, but the Mountain View dock has closed. It's difficult to predict when ice-over will occur, but Aquatics Manager Paul Birdsey says that Christmas is a good target date.
Local News, Free Prizes at www.HuntandShoot.org
NEWTOWN, Conn-- HuntandShoot.org, a comprehensive online resource for new and experienced hunters and shooters, now features regular updates on hunting and shooting opportunities in all 50 states.

Five renowned freelance writers have begun compiling news on hunting and shooting access and opportunities in each state. Included are regular updates on state hunting seasons, reports on public hunting access, opportunities at shooting ranges and a growing list of other topics and news.

Also featured is NSSF's Hunt and Shoot Sweepstakes. Site visitors can enter to win a free Polaris ATV, a bird hunt for two at Flint Oak Ranch in Kansas, or NASCAR tickets.

Developed by the National Shooting Sports Foundation (NSSF), HuntandShoot.org is a one-stop resource for finding places to hunt and shoot, planning outdoor adventures or simply learning how to get started in hunting or shooting.

"The goal of HuntandShoot.org is to provide new and experienced hunters and shooters with a link to everything they need in one easy-to-navigate online location," said Doug Painter, NSSF president. "Regular state-by-state news updates are just one more reason to add the site to your 'favorites.'"

NSSF is the nonprofit trade association for the shooting, hunting and outdoor industry. Founded in 1961, it administers a variety of industry-service programs, with an emphasis on keeping hunters and shooters safe and active.

Visit http://www.huntandshoot.org .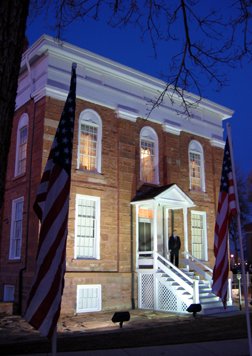 PIONEER CHRISTMAS EVENING AT TERRITORIAL STATEHOUSE

Fillmore -- Territorial Statehouse State Park Museum opens the Little Rock Schoolhouse for a pioneer family Christmas Monday, December 4 from 6 to 8 p.m.

Begin a new family tradition at Territorial Statehouse. Sit near a warm, wooden stove and make Christmas star ornaments by folding paper in traditional patters and dipping them in wax. Link paper chains, string popcorn and cranberries, hear pioneer stories, and learn about Christmas in early Utah times.

Territorial Statehouse in Fillmore is Utah's oldest existing governmental building. In anticipation of Utah's statehood, early pioneer Brigham Young directed construction of the building as the state's capitol.

For more information, please call (435) 743-5316.
Powder Mountain Now Open
Powder Mountain will begin its 35th year on Wednesday, November 29 when the Sundown Lift opens for night skiing and riding at 4:00 PM. The Sundown Lift and Lodge are open nightly until 10:00 PM.
The Powder Mountain shuttle will be at Wolf Creek Clubhouse to pick up night time customers at 4:00 PM. The schedule will be modified once the resort is open both in the daytime and evening.
The Snow Sports School will have instructors on hand at night for private and semi-private lessons. Once daytime operations start, evening lessons will only be available by appointment.
"Since Powder Mountain relies entirely on Mother Nature for its snowmaking, we don't make predictions about our opening date," said Kent Mathews, General Manager. "We are pleased that the latest storm has covered our slopes with the dry, fluffy powder we are known for."
Call the Snowline at 801-745-3771 or check http://www.powdermountain.com for snow conditions.
BLM seeks civil restitution for 2006 Jarvis fire and receives $66,000 for 2005 fire.

Washington County has filed charges on one individual and nine juveniles for causing the 2006 Jarvis fire. Earlier this fall, BLM receivedrestitution in the amount of $66,000 from the person that caused the 2005 Grapevine fire.

On November 21, 2006, charges were filed with the Washington County Juvenile Court on nine juveniles and in District Court on an adult, for causing the Jarvis fire on June 25, 2006. The fire burned over 50,000 acres and cost estimates have exceeded one million dollars. The adult who was over eighteen at the time of the fire is Logan Gubler of St. George. The charges filed against Gubler and the teens include Reckless Burning and Causing a Catastrophe (Class B Misdemeanor) along with Closed Fire Season Violations, because fire restrictions were in place in Washinton County (Class B Misdemeanor). Some of the juveniles are also charged with Obstruction of Justice (Class A Misdemeanor).

The BLM will seek civil restitution for fire fighting costs.

In October 2006, the BLM received a $66,000 civil restitution check for firefighting costs related to the 2005 Grapevine Fire in Washington County. The Grapevine Fire was an accidental human-caused fire that burned 29 acres west of Gunlock.

R.W. Hampton's 'For the Freedom' named 2006 Western Music Association Song of Year

Brian Ferriman, personal manager for Cimarron Sounds recording artist R.W. Hampton, is pleased to announce that Hampton's composition, 'For The Freedom', was named Song of the Year at the 2006 Western Music Association
Awards ceremony held on Friday, November 17 at the Hotel Albuquerque at Old Town in Albuquerque, New Mexico.

'For The Freedom' appears on Hampton's current Cimarron Sounds CD, I BELIEVE. It was written by the Miami, New Mexico resident to express his appreciation and admiration for those of our young people who choose to
serve their country upon graduating from high school. The narrator of 'For The Freedom' is a young serviceman from the Sangre De Cristo region, stationed in a far off country and in harm's way, sending a message back to his family at home. Well aware of his danger, he wants to express his love for his family because he knows he just might not get the chance to express those feelings in person ever again. The narrator's message also conveys his deep sense of responsibility to his country. His patriotism resounds through the song's powerful chorus:

Raise the stars and stripes every morning
Say a prayer for me each night
Remember, remember, please always remember
It's for the freedom we love that I fight
It's for the freedom we love that I fight

On one level, 'For The Freedom' is a deeply personal song for Hampton: his oldest son, Cooper, is a Marine infantryman currently serving in Washington, DC undergoing advanced training prior to his next posting. All three boys in Cooper's seven-person high school graduating class joined the service - a rite of passage played out regularly these days in many small rural communities across western America.

Hampton can be counted among America's foremost Western entertainers. His wonderfully rich baritone voice has been captured on ten CDs to date, among them two inspirational projects - including I BELIEVE - and one Christmas collaboration. But Hampton is more than just a gifted cowboy singer: he has a multi-faceted career, one that has seen him perform in a dozen Western movies, co-write and star in the one-man play, The Last Cowboy, narrate several national radio and TV spots, serve as the subject of a number of national print advertising campaigns and emcee several significant Western awards events. All this on top of being recognized nine times by various Western associations for his singing and songwriting.

Cimarron Sounds congratulates R.W. on his recent WMA award and wishes him continued success with his career.

More can be learned about R.W. Hampton at his website, http://www.rwhampton.com .

Anglers - and the Economy - Are Suffering From Overcrowded Boat Ramps
Overcrowding at boat ramps has become a significant problem for many U.S. anglers. According to a November poll conducted by AnglerSurvey.com, nearly 11% of anglers have had to cancel a fishing trip due to overcrowded ramps.
According to Rob Southwick, the economist at AnglerSurvey.com, "The ramifications can be significant. There are 35 million anglers in the U.S. who fish 557 million days annually and spend $75 per fishing trip. When 11% of anglers cancel just one trip a year, they also cancel $287 million in fishing expenditures. That hurts."
Considering the multiplier effects, the loss of $287 million in sport fishing sales also reduces state and federal tax revenues by $50 million and U.S. jobs by 7,400. Total economic activity in the U.S. is reduced by $802 million, and people's paychecks and business profits decrease by $208 million. "Additional or expanded boat ramps in many areas may be worth the investment," says Mr. Southwick.
AnglerSurvey.com is a monthly online survey of anglers nationally providing industry and policymakers with information on sportfishing trends and activity. For more information, contact Rob Southwick at Rob@southwickassociates.com .
Training Schedule for U.S. Luge World Cup Team Tuesday Through Thursday, Nov. 28-30
(November 27, 2006)--- The 11-member U.S. luge team will continue to prepare for Friday and Saturday's, Dec. 1-2, luge Challenge Cup and World Cup races in Park City, Utah with training scheduled for Tuesday through Thursday, Nov. 28-30, on the 2002 Olympic course. On Monday night, the squad was assigned its official training schedule for the remainder of the week.
WHO: The 11-member U.S. national luge team which will race in Friday's, Dec. 1, luge Challenge Cup and Saturday's, Dec. 2, men and women's singles luge World Cup races on the 2002 Olympic course in Park City, Utah.
WHAT: The team will continue to prepare for Friday's Challenge Cup event and World Cup doubles race and Saturday's men and women's singles World Cup events. Friday and Saturday's events mark the first time in almost three years that luge Challenge Cup and World Cup racing returns to the 2002 Olympic track.
WHEN: Tuesday, Nov. 28, from 9-11 a.m., Wednesday, Nov. 29, 2-4 p.m., Thursday, Nov. 30, 1-2 p.m. Nations Cup and World Cup qualifying racing is also scheduled to begin at 9 a.m.
WHERE: Utah Olympic Park, 3000 Bear Hollow Dr., Park City, Utah
American Wilderness Leadership Schools Announces 2007 Schedule
TUCSON, Ariz., November 30, 2006 - Safari Club International Foundation is proud to announce that it is now seeking student and teacher applicants to attend 2007 American Wilderness Leadership School programs offered at four sites through out the United States. All sites offer the AWLS experience for graduate credit.
The AWLS Central site is located at the Springbrook Conservation Center in Guthrie, Iowa. On the east coast, AWLS will be held at the Maine Conservation Center in Bryant Pond, Maine. The Laurentian Environmental Center in Britt, Minn. will host the AWLS North events and AWLS West will be held at SCIF's own site Jackson, Wyo.
The eight day sessions scheduled for 2007 at the AWLS West in Wyo. include one student session, July 9-16 for ages 15-18, and six teacher or educator workshops throughout June, July and August. Please contact SCIF for exact dates.
There will also be an eight day teacher session at both AWLS East in Maine, July 6-13, and at AWLS North in Minn., July 22-29. A five day session will be held at AWLS Central in Iowa, July 16-20.
As an option, teacher workshops at all four sites are available for graduate credit.
Each eight day session is designed to provide successful applicants with challenging experiences in the fields of wildlife ecology, management and conservation, together with instruction in firearm safety, fly tying, wilderness survival, archery, outdoor interpretive techniques, Project WILD and outdoor ethics. In utilizing a wilderness setting, participants are exposed to the techniques and skills necessary to have a safe, enjoyable learning experience in the out-of-doors.
The cost of placing individual participants is $800 for high school students and $800 for teachers and interested adults. The sponsor or parent is responsible for arranging and paying round-trip transportation expenses.
In 1976, Safari Club International, in an effort to promote conservation as a way of life, began the AWLS program. The mission of the schools is to offer an outdoor instructional program that concentrates on natural resource management and provides the participants with a base of knowledge to better comprehend and evaluate today's and future conservation issues.
For additional information on sponsorships and application forms, contact Don Brown, Director of Education for Safari Club International Foundation at (520) 620-1220, ext. 227 or by email at AWLSSCIF@safariclub.org by May 1, 2006.
New Report Documents Dramatic Success of Sportsmen-Supported Conservation Tax Incentive Programs
WASHINGTON - A new report by the Land Trust Alliance shows that efforts to conserve fish and wildlife habitat on private land through conservation tax incentives has saved more land in the last five years than has been lost to suburban development. This success in the face of accelerating development underlines the need to expand the availability of conservation tax incentives, as was done by the recently enacted Pensions Bill.
"The bad news the report delivers is that more than 2.2 million acres of fields and woodlands are succumbing to development every year, meaning that fish and game populations are being hit and hunters and anglers are losing places to hunt and fish," said TRCP President and CEO Matthew B. Connolly Jr. "The good news in the report is that locally led conservation strategies - especially those using conservation easements - are saving some 2.6 million acres each year from current and future development."
The LTA report found that acres protected by conservation easements have increased in the last five years by 148 percent. These private, voluntary agreements saved 6,245,969 acres in 2005, versus 2,514,566 just five years ago. A legislative provision passed in August expanded the availability and attractiveness of conservation tax incentives, but did so for only two years. Hunters, anglers and conservationists are calling for those provisions to be made permanent.
Many of the nation's 40 million sportsmen are intimately familiar with the benefits of conservation tax incentives including easements and the way the groups they belong to have used them to benefit fish and game species. Hunting- and fishing-oriented conservation groups like Ducks Unlimited, Pheasants Forever, the Rocky Mountain Elk Foundation and Trout Unlimited have used a host of conservation tax incentives, including easements, to implement arrangements with landowners that benefit not only ducks, pheasants, elk, and trout, but a wide variety of other species.
"The success of private land conservation boils down to this: When people appreciate the natural qualities of their environment, they are increasingly taking steps in each of their communities to conserve what makes that land unique," said Rand Wentworth, President of the Land Trust Alliance. "With the federal government reporting that we lose about two million acres to development sprawl each year, private, voluntary conservation gives everyday Americans the tools and resources they need to protect their natural heritage."