News from the BLM with regards to the Gas Lease Sale
The Bureau of Land Management is giving serious consideration to the Memorandum Decision and Order by U.S. District Judge Dale A. Kimball filed on August 2, 2006, Case No. 2:04CV574 DAK. To allow for a thorough review of this decision, the BLM is deferring 16 parcels from the August 15 Oil and Gas Lease Sale. A current listing of parcels available at the upcoming lease sale is now posted on the BLM web site.
In addition, the 16 leases identified in the US District Court ruling are in the process of being suspended. At this time, none of these leases have applications for permits to drill.
All updates on the August 15 sale and any future decisions regarding this and other related matters will be posted to the Utah BLM web site at http://www.ut.blm.gov
Contact: Christine Tincher, Acting Chief, External Affairs, (801) 539-4020.
UTAH STATE PARKS BOATING SAFETY TIP OF THE WEEK

Salt Lake - Be aware of carbon monoxide dangers while boating on Utah's waters. Carbon monoxide is a potentially deadly gas produced anytime a carbon-based fuel, such as gasoline, propane, charcoal or oil, burns. Carbon monoxide is colorless, odorless, and tasteless and mixes evenly in the air we breath. It enters the bloodstream through the lungs and displaces the oxygen your body needs. Do not confuse carbon monoxide poisoning with seasickness, intoxication or heat stress.

If someone on board complains of irritated eyes, headache, nausea, weakness, or dizziness, immediately move the person to fresh air and seek medical attention if necessary.

Sources of carbon monoxide on boats include gasoline engines, generators, cooking ranges, and space and water heaters. Cold and poorly tuned engines produce more carbon monoxide than warm, properly tuned engines. Boat exhaust leaks are the leading cause of death by carbon monoxide. These leaks can migrate throughout the boat and into enclosed areas. Regular maintenance and proper boat operation can reduce the risk of carbon monoxide poisoning.

Other areas of concern include being on or swimming near the rear decks of houseboats with the generator or engines running. Areas on or near a boat's swim platform are also dangerous. It is also best to avoid teak surfing, dragging, or being towed within 20 feet of the rear of a slow moving boat. Recent research indicates that high concentrations of carbon monoxide can easily be found within 10 feet immediately behind a slow moving boat.

For more information, visit http://www.stateparks.utah.gov or call (801) 538-2628 within the Salt Lake calling area or 1-800-743-3792 from outside the Salt Lake calling area.

Boat Smart from the Start! Wear your Life Jacket! Live by the rules!

FOREST SERVICE AND PARTNERS PROPOSE MCGATH DAM REPLACEMENT

ESCALANTE, Utah - The Dixie National Forest's Escalante Ranger District and its partners are proposing to replace McGath Dam, located on the south side of Boulder Mountain about 15 miles north of here.

The dam maintains McGath Lake, a popular brook trout fishery and important water source for area agriculture.

Dixie National Forest inspections of the dam over the past several years raised concerns about the dam's integrity. Forest Engineer Joe Black's 2005 inspection indicated the dam was deteriorating rapidly, threatening both public safety and natural resources in and downstream of
the lake.

Utah State Dam Safety Engineer Dave Marble conducted his own inspection of McGath Dam in May 2006 and confirmed Black's assessment.

Representatives of the Forest Service, Utah Division of Wildlife Resources and the principal water right holder met Monday to identify and consider a range of possible corrective actions that would alleviate safety and resource concerns while minimizing impacts on the lake and adjoining
areas.

The group developed a proposal to first construct a new dam to maintain the lake, and then remove portions of the old dam.

The Escalante Ranger District expects to begin formal development and analysis of the proposed action, including extensive public involvement, in October. The Utah Division of Wildlife Resources will pursue funding for the project from various sources.

Implementation is targeted for the summer of 2007.

Meanwhile, Dixie National Forest engineers have increased the frequency of inspections at McGath Dam.

Black said that the forest will take emergency actions if the structure deteriorates to the point that public safety and natural resources are in imminent danger. Such actions could include a controlled
breach of the dam to reduce pressure and prevent a catastrophic failure.

For more information about current conditions at McGath Lake, contact the Escalante Ranger District at (435) 826-5400.

UPCOMING UTAH STATE PARKS EVENTS

August 18 Wasatch Mountain State Park - Midway
Campfire Program: An Owl's Life - Owls are amazing birds with some remarkable adaptations. But how much do you really know about these creatures of the night? Join park staff for an evening learning about owls in a fun and interactive way. Program begins at 7 p.m. at the campground amphitheater. For more information call (435) 654-1791.

August 19 Palisade State Park Golf Course - Sterling
Palisade Amateur Golf Tournament: Pre-registration is required for the 8 a.m. shotgun start. Course is open to the general public after 2 p.m. For registration or tee times, call (435) 835-4653.

August 19 Antelope Island State Park - Syracuse
Living History Day: Learn to make pioneer handkerchief dolls, pick up a needle and quilt. Learn pioneer games such as farm ball and sack races. These activities are available all day. For more information, please call (801) 649-5742.

August 19 Rock Cliff Nature Center/Jordanelle State Park - Francis
Junior Ranger Program: Plant It! Children age six to 10 are invited to the Junior Ranger Program from 11 a.m. to noon at the nature center to learn about the many uses of plants. Children will earn a badge and certificate. For more information, please call (435) 782-3030.

August 19 Wasatch Mountain State Park - Midway
Junior Ranger Program: Caterpillars, Bugs and Butterflies - If you are between the age of six and 12 you can become a Junior Ranger by joining the naturalist in this one-hour program designed to get kids excited about nature! Program begins at 1 p.m. at the Huber Grove. For more information call (435) 654-1791.

Wildlife Board Meeting Scheduled
Cougar and waterfowl hunting rules for Utah's upcoming seasons are among the items the Utah Wildlife Board is expected to act on when it meets Aug. 17 in Salt Lake City.

Please see the pasted and attached agenda for more information about the meeting.

Utah Wildlife Board Meeting
Thursday, August 17, 2006 * 9:00 A.M.
DNR Auditorium, 1594 W. North Temple, SLC, Utah

AGENDA

1. Approval of Agenda ACTION
* Dr. Jim Bowns, Chair

2. Approval of Minutes ACTION
* Dr. Bowns

3. Old Business (Action Log) CONTINGENT
* Dick Diamond, Vice-chair

4. Division Update INFORMATION
* Jim Karpowitz, DWR Director

5. Proposed Fee Changes for 2007 INFORMATION
* Greg Sheehan, DWR Administrative Services Chief

6. Adjudicative Proceedings Rule for Licenses & Permits ACTION
* Greg Sheehan

7. Waterfowl Proclamation & Rule ACTION
* Tom Aldrich, DWR Waterfowl Program Coordinator

8. Disposition of Wild Deer & Elk in Domestic Facilities Policy ACTION
* Leslie McFarlane, DWR Wildlife Disease Specialist

9. Cougar Proclamation & Rule ACTION
* Kevin Bunnell, DWR Mammals Program Coordinator

10. Bobcat Management Plan ACTION
* Kevin Bunnell

11. Furbearer Proclamation & Rule ACTION
* Kevin Bunnell

12. Veach Board Appeal (time certain 2:30 P.M.) ACTION
* Martin Bushman, Assistant Attorney General

13. Other Business CONTINGENT
-- Dr. Bowns

In compliance with the Americans with Disabilities Act - Persons needing special accommodations (including auxiliary communicative aids and services) for this meeting, should contact Steve Phillips at 801-538-4718, giving him at least five working days notice.

Biologists Find Lots of Fish During Summer Surveys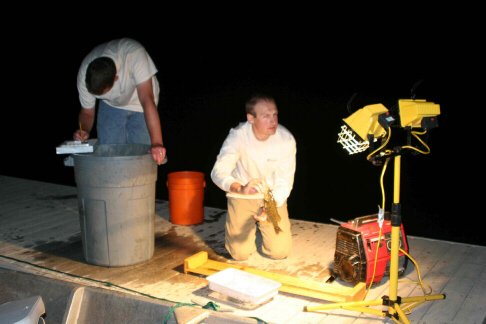 DWR fisheries biologists in northern Utah spend nearly 3,500 hours annually doing sport fish population surveys. This year's surveys of the High Uintas, Bear River and Cutler Reservoir had them smiling.

Ogden -- Summer is a busy time for Division of Wildlife Resources fisheries biologists. Annual surveys of fish populations for many of Utah's lakes begin as soon as the ice clears the water.

Pulling gillnets from ice water is a bone-aching experience, but most biologists soon forget their numb hands when a four-pound brook trout is weighed, measured and released back into a High Uintas lake for some lucky angler to catch.

Each year fisheries biologists in the DWR's Northern Region spend 3,500 hours surveying fish populations. That equals 420 days of effort, much of it jammed into about two-and-a-half months of time. For fisheries biologists, many workdays extend well beyond sun down.

Those long days were accompanied by long hikes this year as biologists surveyed many lakes in the High Unitas in the Provo and Duchesne river drainages. Their surveys showed good, healthy populations of trout in these high mountain waters. "We're getting reports from backcountry anglers that fishing is good in these wilderness lakes," says Randy Johnson, assistant hatchery manager at the Kamas State Fish Hatchery.

This year Northern Region fisheries biologists were also pleasantly surprised to find good populations of good-sized walleye in the Bear River and in Cutler Reservoir. They also found healthy populations of channel catfish.

"For every sport fish we found, there were probably 30 carp, so you have to work through that. But if you look for logs, vegetation and good back eddies, you should find the sport fish. That's where I'd go," says Aaron Webber, DWR fisheries technician.

It has been nearly 10 years since the Box Elder County portion of the Bear River was surveyed.

Cutler Reservoir in Cache Valley is the subject for fisheries research conducted by Utah State University. "I've known for some time that the walleye in Cutler Reservoir have been underutilized. This research from Utah State confirmed that again," says Craig Schaugaard, Northern Region aquatics manager.

For more information, call the DWR's Northern Region office at (801) 476-2740.

Boy Bitten by a Fox With Rabies

Cedar City -- A young boy is receiving treatment for rabies after being bitten by a fox in southwestern Utah, the Utah Division of Wildlife Resources and the Southwest Public Health Department reported Aug. 10.

The DWR and the SPHD received a report on Tuesday, Aug. 8, that a young person had been bitten by a gray fox while on a weekend campout with the child's family near Poverty Flats, a remote area south of SR-9 in Kane County.

The carcass of the fox was delivered to St. George Animal Control, which alerted DWR Conservation Officer Jonathan Moser. Moser collected the fox's head and delivered it to the Utah Department of Health in Salt Lake City to be tested for rabies. The UDOH later confirmed that the fox tested positive for the rabies virus.

The family was notified by the Southwest Public Health Department, which is coordinating appropriate medical treatment for exposure to the disease.

"This incident does not indicate that the general public should fear all wildlife, but it certainly does illustrate why it's a good idea to admire wild animals from a distance and to not do anything to lure them close or to try and capture them," says Doug Messerly, DWR regional supervisor.

"Even animals that appear healthy will defend themselves when they're in contact with people. A bite or a scratch can cause infection or even transmit other diseases besides rabies."

The majority of rabies cases occur in wild animals, such as raccoons, skunks, bats and foxes. Domestic dogs, cats and cattle are also susceptible to the disease.

In the United States, exposure to rabies is rare in humans, but it does occur from time to time. The numbers of human deaths in the United States associated with rabies is currently one or two a year, and death only occurs in people who fail to seek medical help until after the disease symptoms have started.

"If people observe any unusual or aggressive behavior in animals, they need to leave the animal alone and report the observation to local police and the Division of Wildlife Resources," Messerly says. "It can be a big mistake for people to try to help what appears to be an animal in distress. Please leave them alone, and let wild animals be wild."

Wildlife Needs Considered as Oil and Gas Work Moves Forward

New funding provides additional DWR staff members to determine the needs of wildlife

The directors of the Utah divisions of Oil, Gas and Mining and Wildlife Resources have signed an agreement that will fund the Division of Wildlife Resource's ability to provide analysis and recommendations to aid exploration and development of oil and natural gas resources throughout the state.

Under the agreement the OGM will help fund three DWR staff members, the funds coming from a legislative appropriation from the Oil and Gas Conservation Account.

"Increased activity in Utah's oil and gas fields has put a severe strain on DWR's ability to provide timely biological analysis and recommendations to our agency," said John Baza, director of the Division of Oil, Gas and Mining. "The analysis is important to ensure the protection of wildlife and its habitat while operators search for and develop essential oil and gas resources."

Oil and gas operators are required to secure a permit from the Division of Oil, Gas and Mining prior to commencing any drilling. The biological analysis is a required part of the evaluation before such a permit is issued.

"We help ensure that the needs of wildlife are considered as oil and gas development takes place, and that development takes place in a way that's in the best interest of wildlife," said Bill James, energy development and NEPA coordinator for the Division of Wildlife Resources. "The companies we've worked with have appreciated our input, and we have a good working relationship with them."

In addition to James, two additional DWR staff people, Ben Williams in Vernal and Nathan Sill in Price, work with the oil and gas companies and other government agencies to facilitate the development of oil and gas resources.

The Memorandum of Understanding between the two agencies was signed in late June.
For more information contact: Bill Dunn (203) 426-1320.
Nation's Largest Youth Shooting Competition Crowns Team Champions from Five States
1,500 From 26 States Compete at Scholastic Clay Target Program Nationals
SPARTA, Ill.?Youth baseball has the Little League World Series. Youth trapshooting has the Scholastic Clay Target Program (SCTP) National Championships.
National
Champion
Teams
2nd Place
Teams
3rd Place
Teams
Total
Winning
Teams
Tennessee
1
-
3
4
California
1
1
-
2
Ohio
1
1
-
2
Missouri
1
-
1
2
South Dakota
1
1
-
2
Alabama
-
1
-
1
Illinois
-
-
1
1
Wisconsin
-
1
-
1
More than 1,500 youth trap shooters from 26 states converged on the World Shooting and Recreational Complex in Sparta, Ill., Tuesday and Wednesday for the SCTP nationals. The two-day team competition, held in conjunction with the world's largest shooting competition?the Grand American World Trapshooting Championships?crowned national champions from five states in SCTP's five divisions.
"It's amazing to see what these young athletes can do when challenged on a national stage," said Zach Snow of the National Shooting Sports Foundation, national coordinator of SCTP. "A remarkable 304 shooters broke 190 targets or more out of 200. That's one in five shooters at this competition, and to do be able to do that at such a young age, and at a national competition, is astounding."
"Some of these teams' scores could stand up at the college level," remarked NSSF's Bill Christy, a former Virginia Tech clay target team coach.

Walking away as national champions were teams from Tennessee, California, Missouri, South Dakota and Ohio. But all didn't do it with ease. Three of five division titles were decided by just two targets, another by just three.

Across the country, more than 8,000 students in 41 states are now active in SCTP trap, skeet and sporting clays. The program has grown tremendously since its inception in 2000. Last year alone, SCTP grew by more than 50 percent, not to mention an 84 percent increase in female participation. In 2006, that growth continued, with over 2,000 more youths taking part in the program.
With four top-three teams, Tennessee had the competition's highest medal count, claiming the national championship in the rookie division and placing third in the rookie, junior novice and senior novice divisions. Tennessee's Chester County rookie team finished well ahead of the competition in the rookie division, nearly 50 targets ahead of the second-place team. The team includes Zeke Yeager of Corinth, Blake Carnell of Henderson, Dalton Mitchell of Luray, Kurt Lecornu of Henderson and Brandon Hughes of Reagan.
Said Chester County coach Janice Cooper: "Yesterday I had three boys that struggled. They shot in the 80s and were kind of getting down on themselves. I said, 'Well, the other boys picked you up and tomorrow is your time.' And today, those three guys shot in the 90s. They were terrific. They did it together. If you saw them on the line, they were encouraging each other and telling each other 'we need you.' It was exciting."
The competition's most remarkable feat may have been accomplished by 18-year-old Foster Bartholow of Rapid City, S.D., who didn't miss, hitting a perfect 200 of 200 targets. His performance helped propel South Dakota's Straight Shooters to the national championship in the senior experienced division. The team, which also includes, Donny Quinn of Hermosa and Rapid City's Matt Bartholow, Matt Ziegler and Weston Kintigh, all shot 190 or more targets only to edge another Rapid City-area South Dakota team by two targets.
"We've been working with this group for four years, and they work very well together as a team," said Straight Shooters coach John Bracken of Rapid City. "If one of them is off a bit, the other four pick him up. The next time, someone else picks the other up. Just like this week. I think they shot so well because they just love shooting, and they've got two good coaches."
A high school team from Missouri were crowned national champions in the senior novice division. With a 973 total score, the team from Steelville finished just three targets ahead of a high school team from Wisconsin. The lowest score on the Steelville team was a remarkable 193 out of 200. The team includes Coty Stites of Cherryville, Travis Caringer of Davisville and Steelville's Jeremy Jaycox, James Montgomery and Kyle Wallen.

"The only thing I can say is they did it," said Steelville coach Allan Stites. "The parents were behind them 100 percent, the school was behind us. They're country boys. We practice on a farm. We have a homemade thrower, turkeys and chickens running around, and a dog that chases the lost birds. They deserve it all. They were great."

The A&A Shooters from California's Amador County claimed the national title in the junior novice division, hitting 924 of 1,000 and besting their closest competitor by two targets. It was a team effort for A&A, which includes Cameron Warmby of Wilton, Jake Arthur of Ione, Bret Johnson of Pine Grove, Patrick Lindecker of Volcano and Patrick Teixeira of Jackson.
"They improved their score on the second day, which is what they had to do," said A&A coach Richard Lynch of Amador County. "That's how they won the state championship?by shooting better in their second 100. I think that's a testimony to the way these kids respond to what they're taught. The first thing we try to teach them is gun safety and etiquette, the second thing is marksmanship and the third is how to be a competitor. They're all very good students, and I'm just gratified."
In the junior experienced division, Ohio's Sportsman's Club Clay Crushers also held it together to defeat their nearest opponent by two targets. The team of Nathan Waldock of Attica, Matthew Ritz of Attica, Alisha Lutz of Attica, Joshua Reed of Willard and Clay Mesnard of Bloomville broke an impressive 956 of 1,000 targets.
"They shot better than they ever have. This is their best score yet," said Sportsman's Club coach Ron Waldock of Attica. "Last year they took second at the Grand and missed first by one bird, so they were after it this year. They're a team. These guys started with me when they were rookies, and they have just grown and grown."
Also putting in top-three performances at the event were teams from Illinois, Wisconsin and Alabama.
Other states represented at the SCTP national tournament included SCTP teams from Arizona, Colorado, Georgia, Iowa, Indiana, Kansas, Kentucky, Maryland, Michigan, Minnesota, Mississippi, North Carolina, Nebraska, Nevada, Oklahoma, Pennsylvania, South Carolina and Washington.
The top three teams in each division received college scholarship awards in the form of savings bonds, with first-place teams receiving $1,000.
SCTP was developed by the National Shooting Sports Foundation to offer young men and women in grades 12 and under an opportunity to compete as a team in trap, skeet and sporting clays. The program is administered in partnership with the national governing bodies for each of the three shotgun disciplines, the Amateur Trapshooting Association, National Skeet Shooting Association and National Sporting Clays Association. The ultimate goal is instilling in young participants a commitment to safe firearm handling, teamwork and leadership.
For more information, visit http://www.nssf.org/sctp .

Results
SCTP National Trapshooting Championships
(held Aug. 8-9, World Shooting and Recreational Complex, Sparta, Ill.)
Senior Experienced Division (Grades 9-12)
First Place--Straight Shooters (S.D.), 979 of 1,000 targets: Foster Bartholow of Rapid City, Donny Quinn of Hermosa, Matt Bartholow of Rapid City, Matt Ziegler of Rapid City, Weston Kintigh of Rapid City.
Second Place--Ziggy's Straight Shooters (S.D.), 977: Ryan Temme of Rapid City, Matt Jones of Rapid City, Brian Bormes of Rapid City, Skyler Burke of Rapid City, Adam Girtz of Black Hawk.
Third Place--Quincy Gun Club Sr. Claybusters (Ill.), 973: Brigham Vonder Haar of Quincy, Reagan Ruths of Quincy, Shelby Ruths of Quincy, Andrew Ludwig of Quincy, Jesse Wegs of Quincy.

Senior Novice Division (Grades 9-12)
First Place--Steeleville FFA (Mo.), 947 of 1,000 targets, plus 118 of 125 in shoot-off tiebreaker: Coty Stites of Cherryville, Jeremy Jaycox of Steeleville, James Montgomery of Steelville, Kyle Wallen Steeleville, Travis Caringer of Davisville.
Second Place--Burlington High School Demons (Wisc.), 947, plus 116 of 125 in shoot-off tiebreaker: Jon Ebbers of Burlington, Taylor Kojis of Burlington, Jared Wieners of Burlington, George Haubert of Burlington, Jake Wedmen of Burlington.
Third Place--Shelbyville Central High School (Tenn.), 940: Josh Phillips of Shelbyville, Clint Nichols of Shelbyville, Justin Gordon of Shelbyville, Nick Brown of Shelbyville, Robert Collins of Shelbyville.

Junior Experienced Division (Grades 6-8)
First Place--Sportsman's Club Clay Crushers (Ohio), 956 of 1,000 targets: Nathan Waldock of Attica, Matthew Ritz of Attica, Alisha Lutz of Attica, Joshua Reed of Willard, Clay Mesnard of Bloomville.
Second Place--Waterfall Valley (Ala.), 954: Stephen Mitchell of Russellville, Kollin Hester of Tuscumbia, Jacob Gist of Russellville, Alex Pounders of Russellville, Blake Reed of Spruce Pine.
Third Place--Southwest No. 1 (Mo.), 951: Charly Phillips of Seligman, Matthew Snyder Washburn, Brittany Wright of Washburn, Jason Cockrum of Washburn, Alan McNabb of Seligman.

Junior Novice Division (Grades 6-8)
First Place--A&A Shooters (Calif.), 924 of 1,000 targets: Cameron Warmby of Wilton, Jake Arthur of Ione, Bret Johnson of Pine Grove, Patrick Lindecker of Volcano, Patrick Teixeira of Jackson.
Second Place--Cranberry's Clay Crushers (Ohio), 922: Nate Sherman of Cardington, Garret Nigh of Galion, Kyle Gray of Edison, Art Bowersmith of Cardington, Shelby Shirley of Galion.
Third Place--No Fly Zone (Tenn.), 917: Kayla Watkins of Puryear, Drake Williams of Paris, Matthew Laxton of Buchanan, Garrett Page of Paris, Dillon Beloate of Puryear.

Rookie Division (Grade 5 and Under)
First Place--Chester County (Tenn.), 905 of 1,000 targets: Zeke Yeager of Corinth, Blake Carnell of Henderson, Dalton Mitchell of Luray, Kurt Lecornu of Henderson, Brandon Hughes of Reagan.
Second Place--Valley Busters (Calif.), 856: Jake Wilks of Ballard, Ashley Carroll of Solvang, Justin Mortensen of Santa Ynez, Jordan Puccinelli of Santa Ynez, Wyatt Caldera of Santa Ynez.
Third Place--Jefferson County (Tenn.), 838: Alex Swanger of Dandridge, Michael Hammer of Dandridge, Mason Shepard of Russellville, Hunter Davenport of Bean Station, Mason Thornton of White Pine.
AMERICAN WOMEN WIN TEAM JUMPING MEET IN GERMANY
USA Two lands sixth out of 15 teams
MEINZERHAGEN, Germany (Aug. 11) - The American foursome of Avery Ardovino, Abby Hughes, Alissa Johnson and Jessica Jerome (all Park City, UT) ignored light rain Friday and overwhelmed the field to win the first women's ski jumping team competition of the Continental Cup season by 45 points. A second U.S. team finished sixth among the field of 15 teams.

The U.S. women compiled 916.2 points for their eight jumps on the 68-meter hill to 871.0 for Germany-1 with Norway third (850.2). Hughes and Johnson were the top jumpers in each round (Hughes jumping second on the team and turning-in the longest jump of the day, 67 meters in the second round, and Johnson going third) while Jerome, as the team's anchor, was second longest in the first round among the 60 jumpers; the 14-year-old Ardovino, who arrived in Germany this week, was third with each of her jumps as leadoff jumper.

"This was a really fun day. We got some outstanding jumping from both of our teams," said Head Coach Casey Colby. "A downpour started just as they were warming up, although it let up, for the most part - we still got wet but it was fine by the end. Avery's just been on fire since she got here, and right off the plane - it's like her feet haven't touched the ground. This is a great hill, a perfect hill for her and she's gaining great confidence...

"And, obviously, the others jumped very well, too. Abby's been very consistent, Jess had the second-longest jump in each round and Alissa's been right there with the leaders, too. We don't jump a lot of a smaller hill like this, so they've adapted quickly," Colby said.

The women's tour continues Saturday with an individual competition on the K68 hill.

WOMEN'S SKI JUMPING CONTINENTAL CUP
Meinzerhagen, GER - Aug. 11, 2006
HS68 (Jump distances in meters) - Team event
1. USA-1 (Avery Ardovino, Abby Hughes, Alissa Johnson, Jessica Jerome, all Park City, UT) - 916.2 points
2. Germany-1 - 871.0
3. Norway - 850.2
4. Japan - 835.8
5. Canada - 803.2
-
6. USA-2 (Elisabeth Anderson, Eau Claire, WI; Karin Friberg, St. Paul, MN; Brenna Ellis and Lindsey Van, both Park City, UT) - 797.1