How to Take a Youngster Hunting
10 Ways to Ensure a Family-Friendly, Can't-Wait-to-Go-Again Experience
NEWTOWN, Conn.--About half of U.S. hunters live in states where parents--not politicians--decide when their sons and daughters are ready for big-game hunting.
These family-friendly hunting states are at record number.
And many other states are inching their way toward such freedom, creating smaller opportunities to introduce youngsters to the rewards and values of America's traditional outdoor lifestyle.
"Most adult hunters say that learning to hunt was an essential step in their lives. They learned responsibility, discipline and respect for nature and cycles of life. Invariably, hunting also has given them a lifetime of wonderful memories of being outdoors with family and friends," said Melissa Schilling, manager of hunter recruitment and retention programs for the National Shooting Sports Foundation (NSSF).
But what's the best way to start (or strengthen) your own family's hunting tradition?
NSSF's STEP OUTSIDE® program, which encourages hunters to introduce newcomers to the sport, offers parents the following tips.

1. Instill safety, etiquette and ethics. Teaching safety standards gives youngsters the responsibility they'll need to enjoy a lifetime of great hunting experiences. And by teaching etiquette and ethics you'll be showing what the traditional lifestyle is all about.
2. Keep it fun. Don't get too serious or competitive. There's no need to turn novices into pros on their first outing. It's far more important to just have a good time.
3. Start with basics. If you learned to hunt when you were young, today you likely perform the whole process automatically. Make a conscious effort to explain and demonstrate step-by-step what newcomers should do, so they will feel comfortable later doing these things on their own.
4. Create instant success. Recognize small accomplishments. Shooting game is always a bonus and helps them appreciate the experience even more. Youths also enjoy the pride of having provided a meal for their family.
5. Be positive. If you build a youngster's self esteem and confidence, it is more likely they'll enjoy hunting and want to go again. A well-timed compliment can go a long way.
6. Share your love of the outdoors. Help your young guests notice things around them. Stop and listen to birdcalls and sounds of a rushing stream. Draw their attention to signs of wildlife. Help them understand the important role that hunters play in the conservation of natural resources.
7. Provide appropriate equipment. Make sure the equipment you use is the right size and weight for a youngster.
8. Hands-on instruction helps. Everyone learns best by doing. Lecture is necessary, but as much as possible, intersperse the talking with doing.
9. Create a feeling of independence. Youngsters want to become increasingly independent. Having youths develop new skills and then giving them the freedom to practice those skills on their own will prove very rewarding for you both.
10. Choose the right location. Convenience is a consideration. Whether on public or private land, NSSF offers online resources to find great places to hunt through http://www.huntinfo.org and http://www.wingshootingusa.org .

Since its inception, STEP OUTSIDE has helped introduce thousands to target shooting, hunting, fishing and archery by encouraging outdoor enthusiasts to invite others to share in their outdoor experiences. The program has assisted state fish and wildlife agencies, manufacturers, distributors, retailers, hunting clubs and conservation organizations in providing first-time experiences for newcomers through grants, workshops and other sponsored events. Learn more at http://www.stepoutside.org .
To learn more about national efforts to expand family hunting opportunities, a program called Families Afield, visit http://www.nssf.org .
GOLF COURSES OPEN AT WASATCH MOUNTAIN
Midway - Two of four, 18-hole golf courses are now open at Wasatch Mountain State Park. The Lake Course at Wasatch and Silver Course at Soldier Hollow are open for play this weekend. The Soldier Hollow Gold Course will open within the week, and the popular Mountain Course will open as soon as weather and snow conditions permit.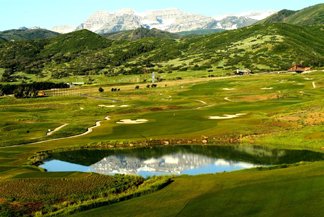 Regular green fees for the 2006 - 2007 are $37 weekdays and $39 weekends for 18 holes with cart. Junior and senior discounts are available.

Season golf passes are now available for Wasatch Mountain and Soldier Hollow golf courses. The pass is $1,000 and covers green fees, but cart rental is not included. Passes are available for purchase at both Wasatch Mountain and Soldier Hollow golf courses and the Utah State Parks Salt Lake Office at 1594 West North Temple Suite 116.

The pass is valid at Wasatch Mountain Golf Course Monday through Friday, and at Soldier Hollow Golf Course seven days a week. The pass expires one year from the month issued.

For more information or for tee times, please call Wasatch Mountain Pro Shop (435) 654-0532 or (801) 266-0268 and Soldier Hollow Pro Shop (435) 654-744 or (801) 261-4733.


VOLUNTEERS NEEDED AT EDGE OF THE CEDARS STATE PARK MUSEUM

Blanding - Edge of the Cedars State Park Museum staff need volunteers to assist with the Four Corners Indian Art Market May 6 and 7 from 9 a.m. to 5 p.m. Volunteers will work four-hour shifts.

The art market is a celebration of the contemporary and traditional Native American arts and culture. Activities include, Hopi and Navajo dancers, and performances by singer James Bilagody and flute-player Aldean Ketchum. Food, pottery, arts, crafts, and jewelry are available for purchase. For more information, please call (435) 678-2238.


FACILITIES OPEN AT ROCKPORT STATE PARK

Peoa - Rockport State Park facilities are now open for the season. Juniper Campground offers 34 sites with water and electric hookups, and shower access for $18 per night and $9 for each extra vehicle. Primitive camping is available for $9 per site.

Camping reservations are accepted beginning May 1 and may be made by calling 800-322-3770 or online at http://www.stateparks.utah.gov .

The reservoir is ice-free and courtesy docks are in the water. Fishing for trout has been excellent. The water temperature is in the 30s.

Park hours are 6 a.m. to 11 p.m. Day use entrance fees are $7 at the main entrance and $5 below the dam. For more information call Rockport State Park at (435) 336-2241.
Quarterly Schedule of Proposed Actions
The Schedule of Proposed Actions (SOPA) is a summary of all the projects on the Uinta National Forest that have decisions documented in a decision memo, decision notice, or record of decision. The SOPA contains description, location, and current status information for each project. For more information about any project, or to be placed on the mailing list for a specific project, please call, write, or email the Project Contact.
The SOPA is published every July, October, January, and April.
Current Schedule of Proposed Actions http://www.fs.fed.us/r4/uinta/nepa/current_sopa.pdf
CAMPSITES AVAILABLE NOW FOR MEMORIAL DAY WEEKEND

Salt Lake - Even though Memorial Day is still a month away, it's not too early to reserve a campsite at a Utah State Park. The following parks have campsites available for the big weekend, but are filling up quickly: Antelope Island, Bear Lake, Deer Creek, Fremont Indian, Huntington, Jordanelle, Otter Creek, Quail Creek, Red Fleet, Rockport, Scofield, Snow Canyon, Starvation, Steinaker, Utah Lake, Wasatch Mountain, Willard Bay, and Yuba.

To make a reservation or for more information, please call (801) 322-3770 from within the Salt Lake calling area and (800) 322-3770 from outside the area or visit http://www.stateparks.utah.gov .

PURCHASE ANNUAL STATE PARKS PASSES NOW

Salt Lake City - With the summer season approaching, now is the time to purchase your Utah State Parks Annual Pass. The $70 Annual Pass waives day-use fees into most state parks. Passes do not discount overnight camping or special use fees, such as golf.

Utah seniors, 62 and over, may purchase a Senior Adventure Pass for $35. The Adventure Pass offers the same benefits as the Annual Pass.

You may also request a free Utah Field Guide. This brochure offers vacation ideas, descriptions, photographs, and facilities at Utah's 42 state parks.

If you are planning to boat, fish, picnic, or visit any state park museum, buy your pass and pick up your free Utah Field Guide. Passes may be purchased at any state park, region office, or the Salt Lake office located at 1594 West North Temple. For more information, please call (801) 538-7220 or toll free 877-UTPARKS.

UPCOMING UTAH STATE PARKS EVENTS

April 21 Edge of the Cedars State Park Museum
Permanent Waves exhibit: Join park staff from 6:30 to 8:30 p.m., for a reception honoring artist J.R. Lancaster. Lancaster speaks about his work and inspirations. The event is free and open to the public. For information, please call (435) 678-2238.

April 21- May 19 Iron Mission State Park Museum - Cedar City
Photography exhibit by Robert Warren. For more information, please call (435)
586-9290.

April 21 - 22 Wasatch Mountain State Park - Midway
Spring Celebration - Raptors and Basic Birding: Join park staff and Friends of Wasatch Friday from 6 to 7 p.m., for an evening learning about birds of prey. Meet a live raptor and learn about HawkWatch, Intl. On Saturday from 9 a.m. to noon, learn the basics of birding through an indoor discussion, followed by an outdoor bird walk. Registration is required. For more information, please call (435) 654-1791.

April 22 Antelope Island State Park - Syracuse
History of Sheep Ranching on Antelope Island: Join park staff at 1 p.m., for an informative lecture on how Antelope Island's sheep industry at the historic Fielding Garr Ranch influenced Utah's wool market. For more information call (801) 649-5742.

April 22 Fremont Indian State Park and Museum - Sevier
Earth Day Celebration: Enjoy a handmade papermaking workshop from 10 a.m. to 3 p.m. Cost is $10 and registration is required. For more information, please call (435) 527-4631.

April 22 Snow Canyon State Park - Ivins
Whiterocks Revealed: Join park staff on a 1.5-mile roundtrip hike at 9:30 a.m., and learn what distinguishes Whiterocks, aside from its beauty, from other areas of the park. Space is limited and registration is required. For more information, please call (435) 628-2255.

April 24 Snow Canyon State Park - Ivins
Snow Canyon Family Adventure Night Series (F.A.N.S.) - Desert Animal Adaptations:
Join park staff from 6 to 8 p.m., and explore through short stories, interactive games, and animal origami how the desert environment poses interesting challenges for survival, and the unique adaptations desert animals have developed for living here. This program is free with payment of $5 park entrance fee. Space is limited and registration is required. This program is recommended for families with children between the ages of six and 12; please call to discuss program suitability for younger children. For more information, please call (435) 628-2255.

April 22 Antelope Island State Park-Syracuse
Volunteer Day: Join park staff at 9 a.m., to improve and enhance the park through weed removal, fence repairs, building corrals, rock removal, and trash pickup. Participants are encouraged to bring water, hat, sunscreen, bug spray, gloves and are welcome to bring rakes, shovels, hammers, and saws. For more information or to register for this event, call (801) 209-4678.

Catch a Big Splake at Joes Valley Reservoir

Orangeville -- The best time to stand on the shore and catch a 10-pound splake at Joes Valley Reservoir is only a short time away.

From the end of April (which is when ice-off generally occurs) through the month of May, shoreline anglers have an excellent opportunity to catch a trophy-sized splake using little or no special equipment.

Anglers fishing at Joes Valley seem to have the best luck using pieces of Utah chub, a bait fish that can be caught easily at the reservoir.

What's a Splake?

Splake are sterile trout that are developed by crossing a brook trout and a lake trout. Hence the name.

Sterile trout such as splake cannot reproduce. This makes it easier for fisheries managers to keep the number of trout at a level that provides them with plenty of food. Because there's plenty of food to
eat, the trout grow rapidly. Splake also grow bigger faster because they're not using their energy to reproduce.

Getting to Joes Valley

Joes Valley Reservoir sits between the towns of Ephraim and Orangeville in the Manti-LaSal National Forest in central Utah.

Although the Skyline Drive provides access to Joes Valley from Ephraim, this route is impassable for much of the year and should be avoided. A better route is the scenic 19-mile drive along SR-29 from the town of Orangeville. This paved road provides easy access to the reservoir, which sits at an elevation of about 7,000 feet.

Tips for Catching Splake

Large splake become active following ice-off and move close to shore in search of their primary prey-the Utah chub. The best places to find the big predators are at the mouths of the reservoir's tributaries, such as Seely Creek on the reservoir's west side.

Early morning is the best time to wet your line. As the sun warms the water, the big fish are driven into colder, deeper water and are harder to find.

Fisheries biologists agree that "the bigger the bait, the bigger the fish you'll catch. " However, the smaller splake will not feed on larger bait. If you use an entire chub as bait may, you probably won't catch as many fish.

To catch chubs for bait, simply use a minnow trap or fish with a small hook and a piece of worm on a fishing rod and reel. Once you've caught a chub, kill it and then hook it securely to your line with a moderately-sized bait holder. Remember that fishing with live bait, including live chubs, is illegal (that's how Joes Valley got its chub problem in the first place)!

Use a sinker of your choice to put your bait on the bottom of the reservoir, or just off the bottom. Big splake can be taken in as little as two feet of water or hooked farther out from shore as they cruise the shallows looking for a bite.

Lots of 4- to 6-pound Fish

Splake as large as 15 pounds have been documented at the reservoir, although a fish that large is extremely rare. Anglers can and do take splake up to 10 pounds and fish in the 4- to 6-pound class are abundant. And while you're hunting for that trophy splake, get ready for the chance to hook a cutthroat trout that could go up to 20 inches in length or a tiger trout that goes up to 15 inches long.

Special regulations apply to all of the trout caught at Joes Valley. The limit is 2 fish, but only one can be greater than 22 inches in length. All fish between 15 and 22 inches must be released immediately. These regulations are designed to build and maintain the quality of the fishing at Joes Valley and to control the reservoir's greatest nemesis-the Utah chub.

Relaxing at Joes Valley

While you're waiting for a jerk on your line, you'll be rewarded with a spacious panorama of forested mountains, craggy escarpments and a well-watered valley. The U.S. Forest Service operates a lakeside campground at Joes Valley. Visitors will also find a marina, parking areas and restrooms.

You can expect to see deer, elk and an occasional moose during your visit. And birdwatchers will enjoy a variety of birds, including eagles, hawks, osprey and peregrine falcons.

If you or someone else in your party gets tired of fishing, plenty of off-highway vehicle and hiking trails are available in the surrounding mountains.

Except for holidays, the fishing pressure at Joes Valley Reservoir is usually light. You can expect a relaxed, easy-going experience. Fishing tackle, groceries and fuel can be purchased in Orangeville on your way to the reservoir.

If you haven't experienced Joes Valley Reservoir before, plan a trip this spring. You should return home with a nice fish and some wonderful memories!


Hunters Should Know Big Game Draw Results by April 28

By April 28, many hunters will be excited after learning they drew a permit to hunt big game animals in Utah this fall.

Others will be disappointed because they didn't draw a permit. Those who want to hunt buck deer during one of Utah's general seasons should mark June 15 on their calendar, though. That's when general buck deer permits not taken in the draw will become available on a first-come, first-served basis.

Draw Results

Utah's 2006 Big Game Draw will be conducted this month. If you applied for a 2006 Utah big game permit, you should receive a letter in the mail by April 28, letting you know if you drew a permit.

Beginning at 8 a.m. April 28, hunters who don't receive a letter in the mail can learn whether they drew by logging on the Internet at wildlife.utah.gov
or by calling the Utah Wildlife Administrative Services office at 1-800-221-0659.

Results of the limited entry, once-in-a-lifetime and Cooperative Wildlife Management Unit permit draw also will be posted at Division of Wildlife Resources offices in Ogden, Salt Lake City, Springville, Vernal, Price and Cedar City; the Lee Kay Public Shooting Range in Salt Lake City; and the Cache Valley Public Shooting Range in Logan.

Permits Not Taken in the Draw

In addition to your draw results letter, if you applied in the draw you should receive a list of the permits that weren't taken in the draw. This list will also be available on the DWR's Web site and at its six offices.

"All of the limited entry, once-in-a-lifetime and CWMU permits will probably be taken in the draw, but some general buck deer permits may still be available," says Judi Tutorow, wildlife licensing coordinator for the DWR. "If you don't obtain a buck deer permit in the draw, you can obtain one of the deer permits that weren't taken in the draw. The remaining permits will be available, on a first-come, first-served basis, beginning June 15."

If you have a major credit card, you can obtain a remaining general buck deer permit at the DWR's Web site (wildlife.utah.gov). If you don't have a credit card, you can obtain a permit beginning June 15 at any of the DWR's six offices or from license agents that sell Utah hunting permits.

Permits to hunt bull elk during Utah's 2006 general seasons also will go on sale June 15.

For more information, call the Utah Wildlife Services Administrative office, the nearest Division of Wildlife Resources office or the DWR's Salt Lake City office at (801) 538-4700.
REWARDS OFFERED IN FOUR POACHING INCIDENTS

PRICE, UTAH--The Utah Division of Wildlife Resources (DWR) is posting rewards up to $1,000 for information leading to the arrest and conviction of the person or persons responsible for shooting and wasting the following big game:

· A 3x3 buck deer shot in Soldier Creek below the mine toward the end of February,

· A buck and doe shot on Porphyry Bench about ¼ mile from the RR tracks in early March,

· A doe deer, shot with archery tackle near Sunnyside Park in mid-March, and

· A large 5x5 buck deer shot in a field west of Huntington in mid-March.

The DWR asks that persons, having information about these poaching incidents, call Lieutenant Carl Gramlich in Price at: 435-636-0270 or the Help Stop Poaching Hotline at: 1-800-662-DEER. Names of informants may remain confidential or anonymous.

Wanton destruction of buck deer robs real sportsmen of potential trophies, which might have been harvested during the legal hunting season this fall.

The loss of does may seem less significant, but the deer herd loses the fawns which these individuals may have produced, and slows population recovery.


First Shots Gives First-Timers a Hands-On Intro to Shooting
NSSF Partners with Range Owners For Spring Events
NEWTOWN, Conn.--When it comes to learning about shooting and firearms ownership, not knowing how or where to start can be an intimidating hurdle for newcomers.
First Shots, a program from the National Shooting Sports Foundation (NSSF), is partnering with shooting ranges across the country to provide welcoming opportunities for first-timers interested in learning about the safe, recreational use of handguns. It's also a chance to give shooting a try.
"For many individuals, especially in states with more restrictive handgun laws, an aura of mystery surrounds handgun ownership," said Cyndi Dalena, NSSF director of shooting range promotions. "First Shots gives range owners and retailers an opportunity to educate the public on local requirements and offers newcomers a chance to try shooting."
Upcoming First Shots events this spring are scheduled for April 26 at Smith & Wesson Shooting Sports Center in Springfield, Mass.; May 14 at Center Target Sports in Post Falls, Idaho; and May 20 at Sprague's Sports in Yuma, Ariz.
First Shots events provide the public with a chance to learn the rules and requirements of handgun ownership along with comprehensive information on safety, shooting sports opportunities, individual and group training and range access. It also answers new shooters' questions regarding firearms and firearm ownership.
First Shots is one of many NSSF programs working to increase awareness of and participation in the shooting sports. For more information on First Shots and upcoming events, visit http://www.firstshots.org .
NSSF, founded in 1961, is the trade association for the firearms and recreational shooting sports industry and promotes the safe ownership and responsible use of products its members make and sell. For more information, visit http://www.nssf.org
Ski Utah Hosts Annual Local Media Day at Solitude Mountain Resort with Utah Governor Jon Huntsman, Jr. in Attendance
Press Conference Sums up Successful 2005-06 Season
SALT LAKE CITY - The Utah ski industry gathered at Solitude Mountain Resort on April 8 to show its appreciation to local media outlets for their comprehensive coverage and support of Utah's thirteen ski resorts following a season of fantastic snowfall.
Utah Governor Jon Huntsman, Jr., known for his enthusiastic support of the state's ski industry, shredded up the slopes and raced against Ski Utah President Nathan Rafferty. The governor kicked off the press conference by recognizing the ski industry's $872 million contribution to the states' economy and later discussed Utah ski resorts' unrivaled accessibility, with 11 resorts located within 60 miles of Salt Lake City International Airport. He also congratulated Ski Utah for encouraging Utah's youth to adopt an active lifestyle by offering free skiing and snowboarding to 5th and 6th graders state-wide.
Paul Foy of Salt Lake City's Associated Press was the recipient of Ski Utah's annual award for Excellence in Snowsports Journalism.
During his season-ending summary, Nathan Rafferty listed the many recent successes of the state's ski industry but noted that it was still too early to determine whether 2005-06 would be the third consecutive record-breaking winter for skier days. Last year, Utah had 3.9 million skier days, a 12 percent increase over 2003/04 and a 17 percent increase over 2002/03.
He also drew comparisons between this winter and last. The snow hit earlier last season, and Utah had the most snow in the West, resulting in the longest season on record at 201 days. This year was an average start, but the snow fell consistently, with plenty of 6 to 12-inch storms to provide powder conditions all season long. Other parts of the West saw a record snow year while the East was left relatively dry. Once again, Utah experienced above-average snowfall, and several resorts have now passed the 600-inch mark.
"The past two seasons prove that Utah clearly stands on its own. We don't need an abnormally early start to have a great year, nor do we have to rely on neighboring states to have poor snowfall in order for us to be successful. The bottom line is we need consistent snowfall throughout the year, which we have been fortunate to have," said Rafferty.
Delta Air Lines' expansion of its Salt Lake City hub has contributed to Utah's ski tourism boost. The airline now offers non-stop service to all of the airport's top 50 markets and served 16.7 million passengers in 2005 compared to 12.9 million in 2004. In 2005, Salt Lake City International Airport served more than 22.2 million passengers - the most in its history. According to the U.S. Department of Transportation, the airport ranked #1 in the country for on-time departures and #2 for on-time arrivals in 2005.
Rafferty credited the media for its help in contributing to Utah's growing popularity. This year, SKI magazine readers ranked Deer Valley Resort as #1 in North America while Skiing readers voted Alta/Snowbird #1 in the United States. Transworld Snowboarding once again ranked Park City Mountain Resort #1 for its terrain park facilities. This winter, local television networks began scrolling ski conditions across the bottom of the screen during the morning news broadcasts.
Other significant indicators that point to a successful ski season include:
- Salt Lake City lodging occupancy is up 7 percent over last year.
- Park City is very close to last year's all-time lodging record.
- Salt Lake City International Airport car rental has increased by 10-15 percent.
- Park City Transit saw its one millionth passenger of the season on March 23, opposed to April 12 during the 2004/05 season.
- www.SkiUtah.com visits are up 29 percent over last year.
- 2005/06 marks the 2nd consecutive year Ski Utah issued more than 5,000 5th and 6th grade passports.
Rafferty concluded by highlighting the continuing momentum moving into the 2006-07 season. The Utah Office of Tourism will sponsor next year's Warren Miller ski film, which will hit 189 cities in 35 states with more than 400 screenings, offering fantastic exposure for Utah's Greatest Snow on Earth®. The Utah Office of Tourism will continue to offer funding to Ski Utah to enable the organization to expand its marketing and advertising efforts to lure more destination skiers to the state.
NO END IN SIGHT AS GAS PRICES RISE
AAA Utah Says State Average 11 Cents Higher Than Last Year
SALT LAKE CITY, April 11, 2006 - The national average price jumped 33 cents during the past month to $2.69 a gallon, reports AAA Utah. This price is 41 cents higher than a year ago. While Utah's average price rose 4 cents since March to $2.34, it remains the lowest in the country. Last year at this time the price in Utah was $2.23, 11 cents lower than the current average.
"The situation is likely to get worse as we move into warmer weather and people drive more," said Rolayne Fairclough, AAA Utah spokesperson. "There doesn't seem to be anything on the horizon that would suggest prices will come down. In fact, most of the market forces that could affect prices, like the forecast for hurricane season and international tensions in oil producing regions of the world, appear to be conspiring to push fuel costs up."
According to AAA Utah, which tracks gasoline prices as a service to consumers, most prices in the Intermountain West have experienced double digit increases since AAA's last report on March 14. Idaho's price for regular, self-serve gasoline increased 6 cents to its current average price of $2.38. Montana's motorists saw prices increase 20 cents this past month. The current average price in Montana is $2.43. Wyoming's price increased 14 cents to $2.37. Colorado's drivers experienced sticker shock as their average price surged 26 cents to $2.61. Arizona's drivers saw their prices increase 29 cents to $2.66. Nevada's price jumped 24 cents to $2.69. California motorists are now paying $2.86, a 29-cent increase from March.
All of the Utah cities surveyed by AAA experienced increasing gasoline prices except one, Vernal. The average price in Vernal, $2.36, is the same as in the March AAA survey. Moab saw the greatest increase, 10 cents, for a new average price of $2.51 for a gallon of regular, self-serve gasoline. The prices in Ogden and St. George both increase 6 cents this past month. The current price in Ogden is $2.30. The current price in St. George is $2.41. Salt Lake City's price rose 5 cents to the current average, $2.29. Provo's current average price, $2.29 is 4 cents higher than a month ago. Logan's prices increased 3 cents to the current average of $2.36.
As prices increase, motorists can save money on fuel by consolidating trips, carpooling, decreasing the unnecessary load in their vehicles and making sure their car is properly maintained. Replacing dirty filters, worn belts and hoses can help vehicles run more efficiently, thereby increasing fuel economy. Motorists can also shop aggressively for gasoline at http://www.aaa.com/gasprices . The AAA Fuel Finder that has real time information on gas prices at more than 85,000 gas stations throughout the United States.
AAA's Fuel Gauge Report is the most comprehensive retail gasoline survey available, with over 85,000 self-serve stations surveyed everyday nationwide. Data is provided in cooperation with OPIS Energy Group and Wright Express, LLC.
AAA Utah offers a wide array of automotive, travel, insurance and financial services to more than 135,000 members. AAA has been a leader and advocate for the safety and security of all travelers since it was founded more than 100 years ago.
National Hunting and Fishing Day Adds New Sponsor: GunBroker.com
SPRINGFIELD, Mo.--GunBroker.com, the world's largest online auction of firearms and accessories, and a staunch supporter of conservation causes, has officially joined the renaissance of National Hunting and Fishing Day.
The company has offered a sponsorship package to help return the federally recognized holiday to its early glory as the most successful sporting campaign in American history.
National Hunting and Fishing Day is set for Sept. 23. A new Web site dedicated to the celebration has been launched at http://www.nhfday.org .
The movement to energize the 35th annual commemoration is being driven by Wonders of Wildlife, the National Fish and Wildlife Museum and Aquarium. Based in Springfield, Mo., the museum is the official home of National Hunting and Fishing Day. Wonders of Wildlife also is the only hunting- and fishing-focused facility that's both affiliated with the Smithsonian Institution and accredited by the American Zoo and Aquarium Association.
"We are honored to partner with GunBroker.com in re-energizing this celebration of our hunting and angling heritage," said Tony Schoonen, Wonders of Wildlife executive director. "GunBroker.com is a company who cares about the preservation of this heritage and the conservation of our natural resources."
Jack Alberty, vice president and general manager of GunBroker.com, said, "GunBroker.com is very proud to be a part of the continuing efforts to promote National Hunting and Fishing Day. It is of utmost importance to support the youth of America and future generations to engage in hunting and fishing as a pastime and a passion."
Partners in National Hunting and Fishing Day also include the National Shooting Sports Foundation, which founded the annual commemoration, The Outdoor Channel, Bass Pro Shops, Realtree, Woolrich, "Outdoor Life" and "Field & Stream" magazines, and the National Wild Turkey Federation. More are expected to come on board to help unify America's hunters and anglers into the cohesive force that hallmarked early years of the celebration.
President George W. Bush recently acknowledged the importance of the day, as well as Wonders of Wildlife, in a special video release that can be seen at http://www.nhfday.org .
Country music star Tracy Byrd has been named honorary chairman for National Hunting and Fishing Day 2006. Byrd also served that role in 2005.
National Hunting and Fishing Day, formalized by Congress in 1971, was created by NSSF to celebrate the conservation successes of hunters and anglers. From shopping center exhibits to statewide expos, millions of citizens learned to appreciate America's sportsman-based system of conservation funding. That system now generates more than $1.7 billion per year, benefiting all who appreciate wildlife and wild places.
National Hunting and Fishing Day is observed on the fourth Saturday of every September.

For more information, visit http://www.nhfday.org .
SBA Honors National Small Business Champions For Their Support for Small Businesses
WASHINGTON, D.C. - Nine small business owners and leaders of small business support organizations from across the country were recognized today by the U.S. Small Business Administration for their outstanding achievements on behalf of small business. SBA Champion Awards were presented at an evening reception on April 12 in Washington, D.C. as part of the annual observance of National Small Business Week, April 9-15.
"The SBA takes great pride in honoring people who are among the true champions of small business and whose tireless efforts have provided tangible and significant support to small businesses and their communities," said SBA Administrator Hector V. Barreto. "They provide the tools, information and support that small business owners need; and most of all, help to create an environment in which the spirit of entrepreneurship can flourish."
The award winners are recognized for their efforts and excellence in many different aspects of small business. SBA Champions can be, but are not limited to, small business owners, supporters of small business, women, minorities, families, exporters, journalists, veterans, or young entrepreneurs.
This year's Champion Awards recognize winners from California, Illinois, Minnesota, Nebraska, New Mexico, North Carolina, Utah, Vermont and Virginia.
The winners are:
2006 Financial Services Champion
Rita Mitchell, Vice President, Regional Sales
Wachovia Small Business Lending
Thousand Oaks, California
2006 SBA Young Entrepreneur Champion
Genevieve F. Thiers, CEO & Founder
Sittercity.com
Chicago, Illinois
2006 Veteran Champion
Andrew Douglas Davis, Chairman & Co- Founder
Comfort for Courage
Minneapolis, Minnesota
-- more --
2006 Exporter Champion
John Miller, President
Oxbow Pet Products
Murdock, Nebraska
2006 Jeffery Butland Family-Owned Business Champion
Pedro A. "Tony" Fernandez, President
Albuquerque Printing Company
Albuquerque, New Mexico
2006 Journalist Champion
Jerry Chautin, Business Writer, columnist, and SCORE Volunteer, Cherokee Scout
Murphy, North Carolina
2006 Minority Champion
Elaine K. Bland, General Manager
Lickity Split Chocolate Studio, LLC
Blanding, Utah
2006 Women in Business Champion
Janet Bullard, Office and Program Manager
Vermont Commission on Women
Montpelier, Vermont
2006 Home-Based Business Champion
Rosemin A. Mohammed, Owner
ABC 123 Academy
Dale City, Virginia
Selected from nomination packages submitted to SBA field offices in their communities, the awardees are being recognized on the basis of having met one or more of the following criteria:
· Demonstrated entrepreneurial potential necessary for long-term business success and economic growth.
· Showed evidence of success, if a small business, as measured by sales and profits.
· Displayed voluntary efforts beyond business/professional responsibilities to advance small business interests within the small business community, state and/or nation.
· Provided support of the small business community as a whole, not solely for individual personal advancement.
· Engaged in other accomplishments demonstrating the nominee's effective support of small business.
Small Business Week 2006 is co-sponsored by the following organizations: Sam's Club, Intel, Microsoft, SCORE, Raytheon, the Kauffman Foundation, Nationwide, IBM, Verizon Communications, Johnson & Johnson, BAE Systems, KBR, Cisco Systems, Fiducial, Aetna, Administaff and Symantec.
For additional information on Small Business Week 2006, including a full schedule of events and information on all award winners, go online to http://www.sba.gov/sbw .
.
First Rescue by TerraFix PLB Aids Teenage Hikers in Distress


FORT LAUDERDALE, FL - APRIL 13, 2006 - Four 19-year-old hikers became the first people to be rescued on land, outside of Alaska, by ACR Electronics¹ TerraFix406 MHz GPS PLB. Three of the hikers had fallen into a creek while on a six-day backcountry hike in Olympic National Park in Washington State.
After pulling their companions out of the swift moving water, all four youth were wet, had damp gear and had no means to build a fire. Weather conditions were deteriorating: 45-degree temperatures, non-stop rain and gale winds.

Later that day when two in the party showed signs of hypothermia, the group assessed their situation as grave with imminent danger, and set off their TerraFixPLB. Within minutes an orbiting satellite picked up their distress signal. Vital information, pinpointing the hikers¹ location, was relayed to
the U.S. Coast Guard District 13 Rescue Coordination Center (RCC) in Seattle, Washington.

Since the PLB was registered, the rescue center was able to contact the parents, who had rented the beacon for their son, and confirmed that four teens (three boys and a girl) were on a 17-mile trek along the western coast of Washington. Steve Perkizas, the father who initially leased the TerraFix, praised the park employees. ³The forest rangers were great, they kept us informed,² he said.

Once identification was confirmed, the RCC in Seattle launched a HH-65 helicopter from Port Angeles, which arrived on scene and located the group who had set up camp near the ocean¹s edge. The helicopter could not land on the beach or drop a swimmer because of high tide, high winds and heavy rains, according to Officer Larry Nickey, Fire and Aviation Management, Olympic National Park. Park rangers were dispatched and eventually met up with the hiking party. They found that two teens were suffering from mild hypothermia and took them in to be treated.

In this new era of technology, Nickey said PLBs are great tools. ³The park service is all for these beacons. The first thing people need to do in an emergency is to try and rescue themselves, and only utilize PLBs when there¹s a real situation,² he said. ³This was a happy ending. The four young
adults learned a valuable lesson and the PLB put rescuers less than 100 yards of where they (the teenagers) were.² Having critical knowledge of the teens¹ location minimized the expense of
operating the helicopter and the efforts of the park rangers. Alternative scenarios to the outcome of this accident include the possibility of a multi-day, large-scale search at significant expense to the public. The beacons must be registered with NOAA and they must be used responsibly.

Perkizas said he and his wife rented the PLB because they wanted some kind of protection for their son and they realized a GPS alone would not alert someone if help was needed. He was assured that his son knew how to operate the PLB in case of an emergency because they had reviewed the operating
procedures together. ³It was easy to teach Jason. The instructions were very specific: push two buttons simultaneously,² said Perkizas. It was a lesson Jason no doubt learned. ³I was really happy with the PLB. It was a good idea,² Jason said. ³It¹s designed to not go off accidentally and it¹s easy
to use.²

All in all, it was a situation that Jason doesn¹t want to happen again. ³The beacon is an important thing to have with you. It helps in a dire situation. Streams might not be a good thing to cross,² he said. Chances are his mother, Etel, would agree. When she first greeted her son after his rescue,
she hugged him and said she hadn¹t slept at all that night.

Kevin Stoltz, president of PLB Rentals, LLC, credits a cautious father and a great working relationship with REI and G.I. Joe's outdoors stores with getting a PLB in the hands of the teenagers. "Our partnership with REI and G.I. Joe's provides for the on-line rental of the same ACR PLBs they sell.
The father of one of the teens learned about our on-line PLB rental service from the informational rack cards in the stores. Little did we know at the time that this would be the first activation of a rented PLB,² Stoltz said. For more information, go to http://www.plbrentals.com or call 425-299-5662.

ACR Electronics, Inc., a Cobham plc Company, designs and manufactures a complete line of safety and survival products including EPIRBs, P-ELTs/P-EPIRBs/PLBs, Bridge-based Information Systems, SARTs and safety accessories. The quality systems of this facility have been registered by UL to the ISO 9001:2000 Series Standards. Recognized as the world leader in safety and survival technologies, ACR has provided safety equipment to the aviation and marine industries as well as to the military since 1956.